The attendance of Class XII students in practicals is better compared with the attendance of students of classes VIII to XI in several private schools in the city.
Students have had no practical classes in the past two years, as campuses were shut because of Covid, and many wanted a hands-on experience before the board exams, school heads said.
In most schools, the attendance for the practical classes was 100 per cent. The attendance in other streams or classes was lower.
In La Martiniere for Boys, all students of Class XII science turned up for practical classes on Monday. In Class XII humanities and commerce, the turnout was 10 or even less in each section.
Of the 1,000-odd students from classes VIII to XII of the school, only 258 turned up.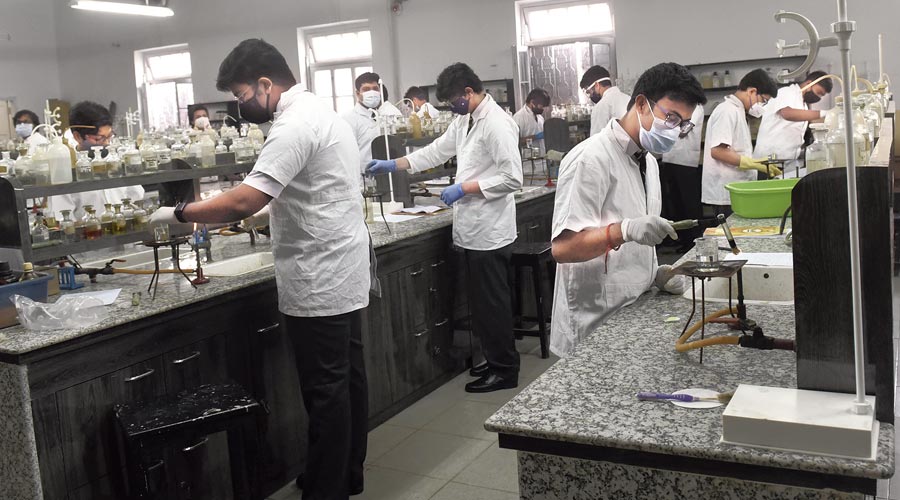 Students of La Martiniere for Boys attend practical classes on Monday.
At The Heritage School, all students turned up for practical classes last week. The school had not scheduled practicals for Monday. On Monday, 93 of the 210 students in Class VIII and 160 of the 217 students in Class XI turned up.
At St James' School, too, all Class XII science students were on the campus to attend practicals on Monday. And no one objected to attending classes, officials of the school said.
In contrast, a section of parents of Class IX students has written to the school authorities with the request that in-person classes be not held now.
For ISC practicals, schools have to upload the marks by February 28. The earlier deadline was January 31 but the Council for the Indian School Certificate Examinations extended it by a month.
Several schools held practicals in December, after the semester 1 exams ended. Some are conducting the sessions now. "Class XII students have no choice but to appear for the practical exams. How can they appear in the exams without any practice?" said John Stephen, acting principal of La Martiniere for Boys.
The batch that will appear in the school-going exams this year had no practical classes in the past two years.
"Students need hands-on experience and the experience to handle apparatuses, which is not possible at home. Theory classes can be done online but not practicals," said a teacher of a city school.
"One cannot do practicals online because they need to handle apparatus," said Neville Holt, vice-principal of St James' School.
Seema Sapru, principal of The Heritage School, said the enthusiasm to attend classes is more among Class XII students because they have an exam ahead.
Usually for science subjects — physics, chemistry and biology — students attend 45 to 50 hours of practicals in an academic year.