Magpet Polymers Private Limited, eastern India's largest PET converter, launched a full circle process to not only manufacture PET bottles but also to address the concerns of PET bottle disposal and recycling.
The company launched its R-PET project on January 24 at ITC Sonar Hotel. The R-PET project is a wholesome initiative which includes installation of smart bins for disposal of PET bottles. The disposables collected through these bins would then be recycled under METAPET. 
The launch took place in the presence of Firhad Hakim, mayor of Kolkata Municipal Corporation and minister in-charge for Urban Development and Municipal Affairs; Shashi Panja, minister in-charge, departments of Industry, Commerce and Enterprises and Women and Child Welfare.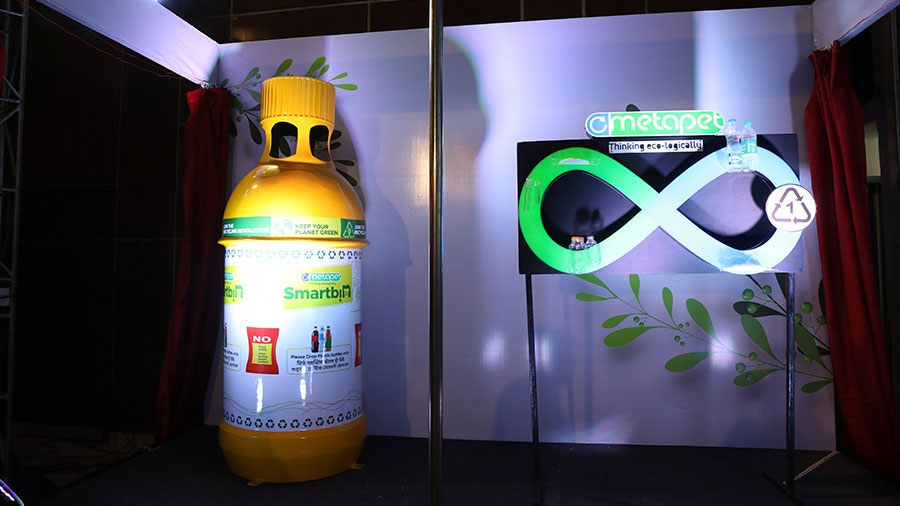 A model of smart bin on display
Hakim who was the guest of honour said, "Magpet Polymers Private Limited has introduced smart bins with in-built sensors which will alert the central management system when the bins are full. This initiative would also resolve the issue of recycling plastic waste, which is highly commendable."
After unveiling the smart bin, Devendra Surana, managing director, Magpet Polymers Private Limited, said, "The bin has been designed keeping the Indian conditions and users in mind. Bins usually end up being spittoons, that's why we kept the height of the bin at 5ft 8 inches. This takes care of the aesthetic appeal and the element of technology. The holding capacity of the bottles are higher. The sensors will transmit data to our central data management at our office and based on that, the emptying out of the bins can be done more systematically.''
The launch of the R-PET project was followed by Eco-Logue, a symposium for the future of PET packaging and recycling. It was inaugurated by Kalyan Rudra, chairman, West Bengal Pollution Control Board. Speakers at the symposium included Mehul Shah, senior general manager, sales and marketing, IVL Dhunseri; Bharat B Mehta, senior vice-president PET, Reliance Industries Limited; Madhulika Sharma, vice-president and chief sustainability officer-ITC Limited; K Ganesh, senior general manager corporate affairs, communications and sustainability Bisleri International Private Limited and Pradeep Kumar Pandey, president, packaging development, Emami Limited.
Minister Shashi Panja said, "It was a pleasant surprise for us too when Devendra and Indranil Goho (president and CEO, Magpet Polymers Private Limited) explained how it would work. Even as waste management is being discussed all over, this is such a unique idea."
These smart bins will be installed across Kolkata in the next two months.