Officers of the dog squad of the detective department of Kolkata police have written to their superiors seeking two air-conditioners of 2 tonnes each and six industrial coolers to protect the animals from any heat-related medical emergency.
Most of the 42 dogs in the squad are Labrador. Among the other species are German Shepherd, Cocker Spaniel, Beagle, Rottweiler and Doberman.
The senior-most member of the squad is almost seven-and-a-half-years old and the youngest is one-and-a-half-years old.
"Almost all of them are susceptible to extreme exhaustion in this heat," said an officer of the dog squad.
The rising Celsius hasn't stopped the dogs from attending to duty calls and none of them has taken ill during the current heat spell.
The officers realised the need to stay prepared after seeing some of the dogs restlessness and panting excessively, sure signs of exhaustion caused by extreme heat.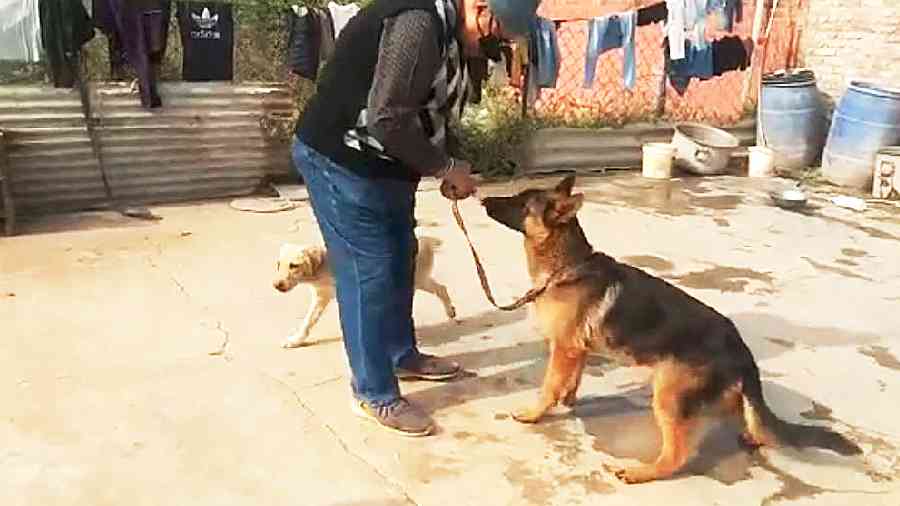 Dogs being fed
"We have asked for two ACs of 2-tonne capacity each for the sick kennel, which does not have any cooling system," said a senior officer.
Out of the 42 kennels, close to a dozen don't have a cover over its concrete roof. The rest have a grooming and training centre on the floor above.
Officers have appealed for half a dozen industrial coolers for the dozen-odd kennels whose roofs are exposed to the sun. "We thought of installing the coolers after dog handlers noticed that the animals were getting fatigued after duty," an officer said.
"We have almost done away with the routine of two hours of physical exercise daily. That has been replaced with swimming in the morning and evening. Since most of the dogs are born here, they are not used to such extreme heat conditions, unlike their counterparts in, say, Rajasthan."
Unless out on duty, the dogs are brought to the 40ft-long pool and made to swim and chase balls.
The diet for the dogs has been tweaked, too.
Ghol, made of curd and salt, is being offered to the dogs every day, apart from the usual quota of curd, to ensure the digestive system does not take a hit. Beef has been replaced with chicken and in the afternoon, when Celsius varies around a punishing 40 degrees Celsius, the dogs are given a drink rich in oral rehydration salts.
"The coats of some of the dogs, including German Shepherds and Cocker Spaniels, have been trimmed and those out on heavy duty in the heat are being wrapped with cool jackets," the officer said.
"The handlers are carrying water bottles containing ORS. The dogs are being rehydrated at the slightest hint of sluggishness."