The Kolkata Municipal Corporation (KMC) has launched an awareness campaign to prevent electrocution, said Sandip Bakshi, the mayoral council member in charge of the civic body's lighting department.
Civic employees are touring neighbourhoods in autorickshaws playing a recorded message that lists the steps (see chart) the residents need to follow to reduce chances of electrocution, which is a major cause of concern in Kolkata during the monsoon.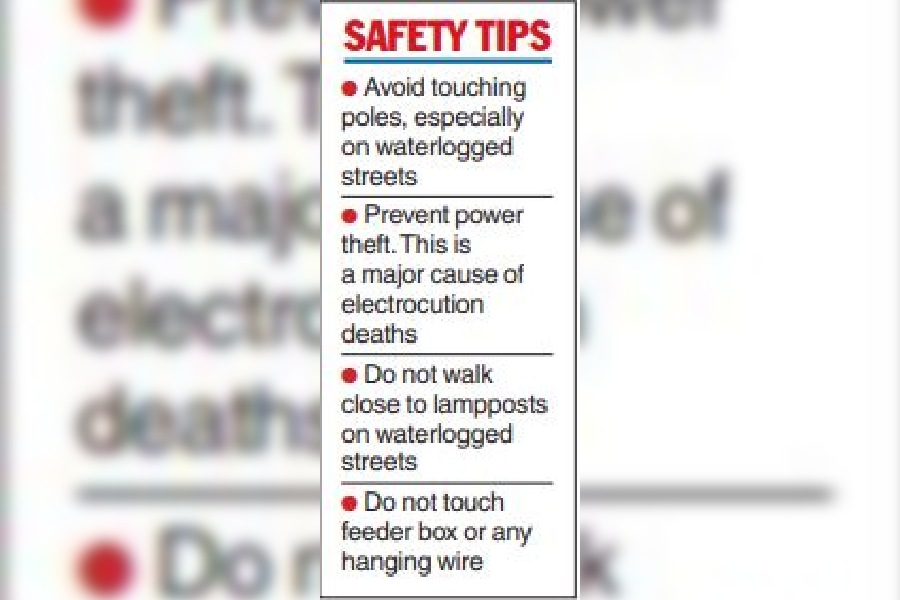 Several instances of electrocution, especially on waterlogged streets during the monsoon, were reported from the city in last few years.
At least three persons died after being electrocuted in the Kolkata municipal area last year, Bakshi said at a meeting of councillors on Saturday.
On May 14, an elderly woman and her daughter died possibly after being electrocuted in Ekbalpore.
Residents of the locality told police that the two collapsed while trying to save another member of the family who had received electric shock while hanging clothes out to dry on a metal wire.
Leaks in electric poles, accidentally touching a live wire used to steal electricity and touching live wires inside uncovered junction boxes can lead to electrocution, said an electrical engineer.
Chances of electrocution are more on a waterlogged street because pedestrians often try to hold on topoles when they lose balance while wading through water.
The pre-recorded message that is being played from autorickshaws asks residents and others to not touch any electric pole on a waterlogged street, avoid touching any hanging wire and stay away of feeder boxes.
The message contains an appeal to desist from power theft, which is a major cause of electrocution. The twin deaths in Ekbalpore on May 14 are believed to have been caused by widespread power theft in the locality.
"There were three deaths in the city last year because of electrocution. We are making announcements from moving autorickshaws telling people that they should follow certain things to reduce risks of electrocution," Bakshi said.
He appealed to all councillors of the KMC to help civic officials identify the places that should be covered by the campaign.
The Kolkata municipal area has around 3 lakh lampposts, said a KMC official.
"The height of junction boxes attached to poles has been raised so no one can touch it by accident. Such boxes are now at 6ft from the road. The boxes that have not been raised have been wrapped with tapes," the official said.
Mayor Firhad Hakim had said last week that the poliroce must start murder cases against people involved in stealing electricity if someone gets electrocuted after touching a wire used for power theft.
He made the statement after meeting Kolkata's police commissioner Vineet Goyal at the KMC headquarters.