An ice cream maker with a built-in compressor is great but we can make do with one that uses a frozen bowl insert. It's about how much one can spend versus willingness to spend. It's something I felt using the new Sony WH-XB910N, which is a mouthful but well-tuned, minus a few bells and whistles of the WH-1000XM4 but with a few upgrades to WH-XB900N. It's ANC-enabled but how effective is it?
Just right for Mr Bean
On the upside, the pair of headphones comes in a well-designed hard-shell case, making it easy to carry around while travelling or during commutes, both of which have finally become a reality. Having it stuffed into a cramped backpack shouldn't give you a headache.
Brownie points are also won in way of design. The plastic body has two different textures while the ear cups are big and deep enough to accommodate most ear sizes, including those of Rowan Atkinson… and me. A big win is the quality of leatherette, which has a natural feel, comfortable enough for hours of wearing. This can be as good as, say, on a Bose.  The other win has to do with flexibility. I have a Mr Bean head, but the XB910N has it covered. (Uff, the name.) And 252g feels just right and slightly lower than competition.
Codec-friendly sound solution
The features that will tilt decision in favour of this pair are battery life and codec support. With ANC turned on, roughly 30 hours of music can be enjoyed and with ANC off, 50 hours, that's enough for international travel. An improvement — over WH-XB900N — comes in the form of about 4.5 hours of music playback with 10 minutes charging.
The other part is codec. For the iPhone user, it really doesn't matter because it tops out with AAC. When it comes to Android, there is support for SBC, AAC and LDAC. That's right, no aptX or aptX HD because Sony is pushing its excellent proprietary audio coding technology, LDAC. There is something for the Apple user (also). There is a 3.5mm audio jack, so you can connect the headphone to the new 16-inch MacBook Pro. What's missing is use case for the USB-C on the headphones; it's meant for charging alone.
Hand in hand with codec is audio quality. Sony has one of the best apps in the market that allows full control over its app in terms of equaliser setting. It's customisable though you have to remember that it's a bass-friendly device. In fact, it's a part of the Extra Bass series. If on the 1000XM4, you max out the bass slider, the result won't be as deep as on this one. It helps, especially while watching films, by giving a sense of immersiveness.
The media controls, like before, can be controlled by the touchpad, which is accurate. Plus, there is support for the default voice assistant on your phone. What I felt missing is proximity wear sensor. So the music doesn't automatically pause when you take off the headphones or start playing when you put it back on.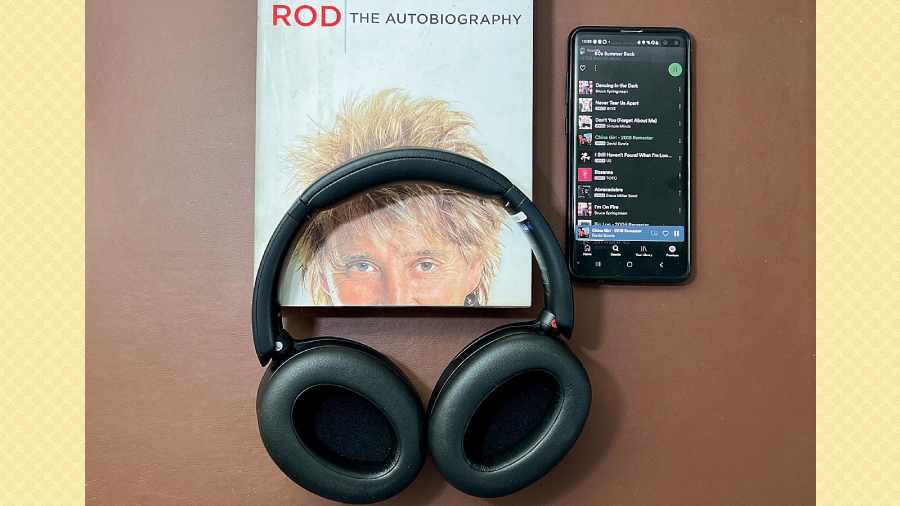 The quality of leatherette is top-notch
You are also paying for…
The microphone array. Call quality using this pair is more than decent. There is sparkle in the voice and if you are in crowded places, most of the chatter gets cut off. It also does a great job at cutting out wind. A couple of notches lower than the Apple AirPods Max (which is in a different price category), yet the microphone is more than good enough to hold conversations.
There is also Ambient Mode, which has been a strength for Sony. Better than on WH-XB900N, there is a good deal of clarity. There is the Quick Attention feature, which sets in when you cover the touchpad on the headphones, so that you can talk to people. Really helpful during commutes or in the office. But you have to keep it covered for the mode to be in function. So if you are talking to someone for 30 seconds, you know where your hand has to be.
Money also goes towards the multipoint connection feature. The headphones can be paired to two Bluetooth devices at the same time. If a call comes in, the headphones will know which device is ringing.
Should you buy it?
During the couple of weeks we had with the headphones, there were no connectivity issues (uses Bluetooth 5.2) and absolutely zero syncing issues. It helps that the device supports DSEE (turn it on in the app) to upscale audio. Obviously Sony has cut some corners to make it less expensive than its premium WH-1000XM4. But that doesn't mean, cutting out features that matter. Not everyone will be willing to pay over 25K for the WH-1000XM4. There is variety in the form of this new arrival. Also, it's perfect as a travel companion.
For Sony, 'Extra Bass' is not marketing hoo-ha. There is enough of those thumping notes that you can feel.  And if that's what excites you, go for the Sony WH-XB910N — it's the new top pick for a pair of solid mid-tier ANC headphones.
At a glance
Sony Headphones Connect app offers good control over EQ
Device: Sony WH-XB910N
Price: Rs 14,990
High notes
• Truly extra bass
• Good levels of noise cancellation and ambient mode
• Supports a range of audio codecs
• Excellent battery life
• Can be paired to two Bluetooth devices simultaneously
• Comfortable leatherette
Muffled notes
• Proximity wear sensor is missing
• USB-C connector is only for charging
Who is it for?
• Anybody looking for a good quality pair of headphones for travelling or commutes
• Those looking for a comfortable solution for long hours of music and conversations
• If you are interest in customisable EQ and good ANC