The espresso martini's history is a lot more interesting than the commentary around it. In the late 1980s, an unnamed supermodel (widely believed to be Naomi Campbell) had asked the late London bartender Dick Bradsell to make something that would 'wake her up, then f**k her up.' It was then, at the Soho Brasserie that the celebrated bartender mixed the vodka espresso, known today as the espresso martini.
It's easy to see the intent behind the cocktail's design. It gets you buzzed, yet keeps you defiantly awake. But is it really what you want in a pick-me-up? The idea of mixing a stimulant like coffee with a high proof vodka makes very little sense unless, of course, one considers its merits as a connoisseur's cocktail - something nuanced and rich but not repeatable like a tropical lowball.
"The espresso is combined with a coffee liqueur, to give the beverage a second deep vein of coffee taste. When you combine all of the ingredients in a shaker, you'll get a caffeinated drink that's surprisingly balanced, with just the proper amount of booze, coffee, and sugar," shares Suman Dutta, the general manager at Kolkata's Hard Rock Cafe.
It's quite simply a foamy, energising digestif with a dessert-y kick. And who doesn't like dessert cocktails? Then why has the espresso martini been 'bimbofied' to no end? Tik Tok deems it high-maintenance and bartenders detest making it, especially on busy nights. One reason, of course, is its list of contents. Unlike most coffee-based cocktails, an espresso martini needs… well, an espresso machine. For a pre-closing rush or even on weekend nights, making espresso and chilling it can be quite nightmarish for bartenders.
An espresso martini at Royal China
In a recent viral Tik Tok video, a rather terrified bartender was heard urging a customer to keep her voice down while ordering the cocktail. "Please keep your voice down….This drink is contagious. If I make one for her, everyone is going to want one," he said. A long-time loyalist who simply doesn't get the hate around espresso martini is Shatbhi Basu, consultant mixologist for Kolkata sky bar LMNO_Q and also India's first female mixologist.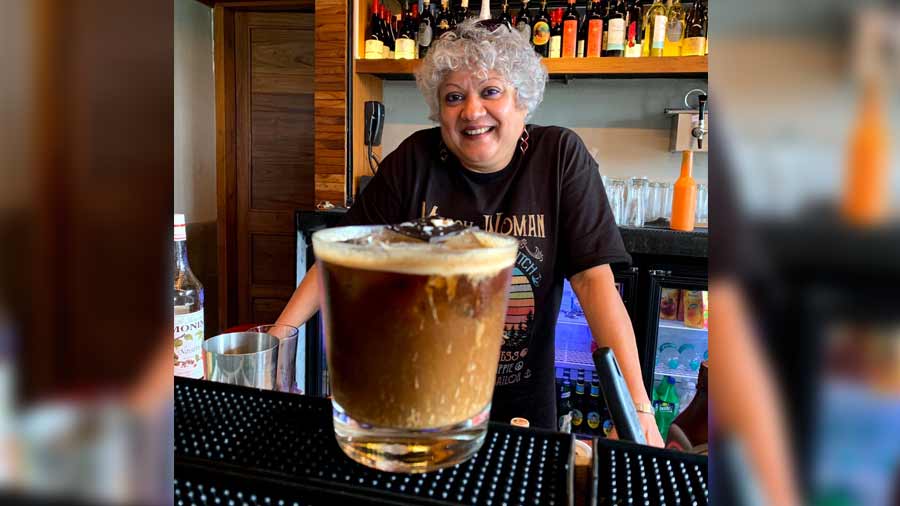 Shatbhi Basu is all for the espresso martini
"Are people really divided (about it)? Maybe because they like to think of coffee as just a hot beverage to be drunk at cafes. Not at a bar. They're missing out! Coffee works beautifully with rum, whisky, tequila and now with gin too. And even with tonic!  Look at one of the earliest coffee cocktails, the Black Russian and its popularity. It evolved into the White Russian and the Mudslide. All amazing!" Basu shares.
For caffeine seekers
Cold brew enthusiast Rumela Basu finds it impossible to hate the espresso martini because of her love for coffee liquors. "When it comes to coffee liqueurs, I haven't met one that I haven't enjoyed so far," she shares. 
"Cold brew coffee? Love it. Kahlua? Yes, please. Vodka? If it is being served with the other two, definitely! While I will almost always pick tea over coffee, I love a good cold brew or a flavourful cuppa," Rumela tells us. In fact, the widespread popularity of cold brew is helping mixologists across the world troubleshoot their way through making an espresso martini.
Not only is a classic cold brew concentrate an efficient base for the cocktail, but a cold brew prevents the hot liquid from melting the ice and diluting the drink too much. It doesn't need to be made from scratch like espresso and even pre-bottled cold brews can be a replacement since they don't need extra cooling time. "The strongly flavoured coffee works well as a substitute for fresh espresso and maintains the perfect temperature," Hard Rock's Suman Dutta confirms.
"I understand the polarising quality of an espresso martini. However, if you gave me a chilled glass of that at the end of the day when I'm winding down at a lounge, or spending a balmy evening by the beach, I would not be complaining at all," Rumela weighs in.
For buzz seekers
A few days ago, NAO Spirits, makers of craft gin brands Greater Than and Hapusa, launched its second limited-release gin, No Sleep, in collaboration with Sleepy Owl Coffee. The coffee-infused gin doesn't use artificial coffee concentrate and instead uses Sleepy Owl's cold brew made with 100% Arabica Coffee from Chikmagalur.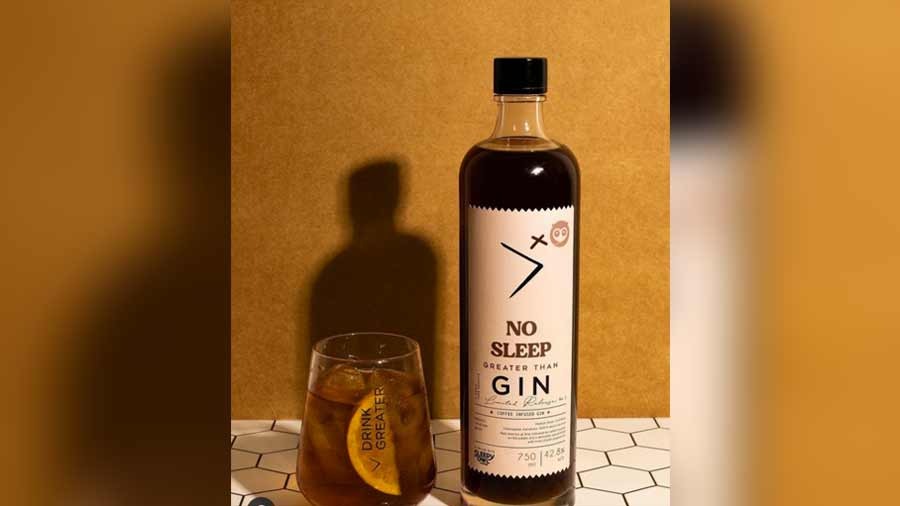 No Sleep gin by Greater Than X Sleepy Owl
"Coffee is a versatile mixer that works with several spirits. The bold notes of coffee complement the flavours of alcohol. You can't go wrong with an espresso martini! Having spent a fair amount of time in the US, I've had my share of espresso martinis. There's something about that country trying to dowse you in alcohol, but keeping you awake. It's a concoction you can't fault," Ajai Thandi, Sleepy Owl Coffee's co-founder reminisces.
Bradsell, who designed the espresso martini used the grassy Polish Zubrowka vodka to make the velvety cocktail. It makes complete sense that India's craft gin movement would steer the new crop of mixologists to re-imagine the cocktail with the domestic gin brands considering they are decidedly more herbaceous than vodka.
"The team of Greater Than started the craft gin movement, and now they have infused cold brew with their classic gin. The result is an intersection of the coffee's bold, fruity aromas, with the crispness of the classic Greater Than Gin," Thandi points out.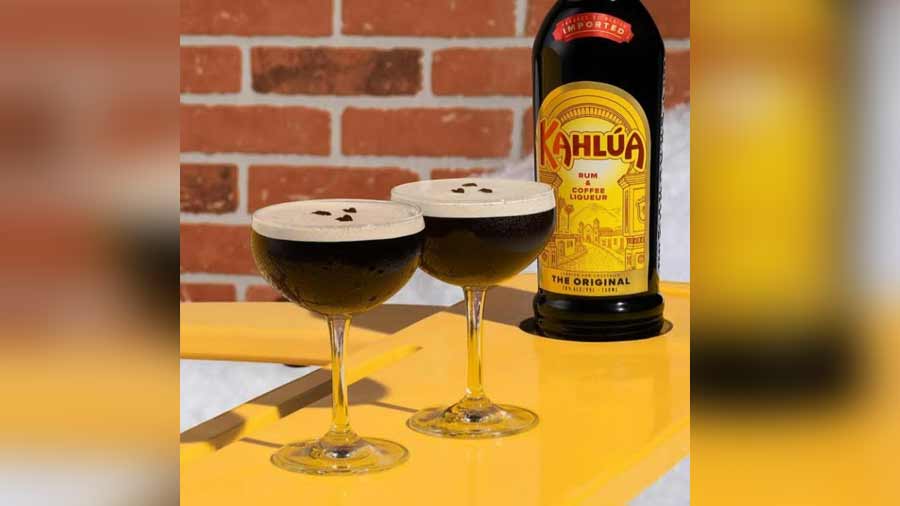 @kahlua/Instagram
Despite being polarising, an espresso martini remains incredibly popular. It's possible that Bradsell was drawn to the alcohol and coffee pairing owing to its versatility and Shatbhi too, believes this pairing to be extremely adaptable.
"You can give it little nuances that change it and add to its complexity. It never gets boring, be it a classic version to hazelnut twist, a mocha whiff, or even a creamy number with a generous drizzle of your favourite cream liqueur. I even make a couple of iced espresso versions and steamy ones, too. That's the beauty of it.  I'm hoping someday when I'm on holiday someone makes me a really fabulous espresso martini for breakfast!!! Dark, roasted coffee and hazelnut with that perfect layer of foam on top. Oooooh!" the veteran mixologist chimes.