From good old Ambassadors to chauffeur-driven 'limos' and now vintage wheels — wedding rides have made a long journey.
Vintage cars are now high on demand among brides and grooms, wedding planners and people involved with the car rental business said.
Top gear
Bangur-based Rahul Goyal, who deals in car spare parts, got married in March 2022 and rented a 1960s Ford. "I always wanted to own a vintage car. But I never got a good deal. So, for my wedding, I decided to rent one. The ride to the venue was special as several people stopped to click photographs," said Rahul.
Namita Shaw, a wedding planner, agrees that nothing can match the class of vintage wheels. "Even a few years ago, the demand for vintage cars was negligible. Once in six months, some client would ask for one. However, all that is past now. The demand has gone up manifold," she said.
Agreeing with her, Donna Arorra, proprietor of Shubharambh Wedding and Events, said, "During the ongoing wedding season, every two out of three clients are asking for vintage cars. And not just the groom, even brides hire such cars for their special red-carpet entry to the (wedding) venue or for the varmala ceremony."
Animal-friendly
In a bid to keep the white horse and the dulha (groom) apart, Sanjana Jha, a Salt Lake-based homemaker who tied the knot in the first week of November 2022, rented a 1950s Chevrolet as she was against the tradition of the groom riding a white horse.
"I have seen how these poor animals suffer and it is not acceptable to me. So, we got a vintage car to get that grand feel," Sanjana said. Interestingly, she is not alone. Wedding planner Arorra said certain Indian communities hire a hoodless vehicle/wedding buggy. But of late, many of them have started hiring hoodless vintage cars instead.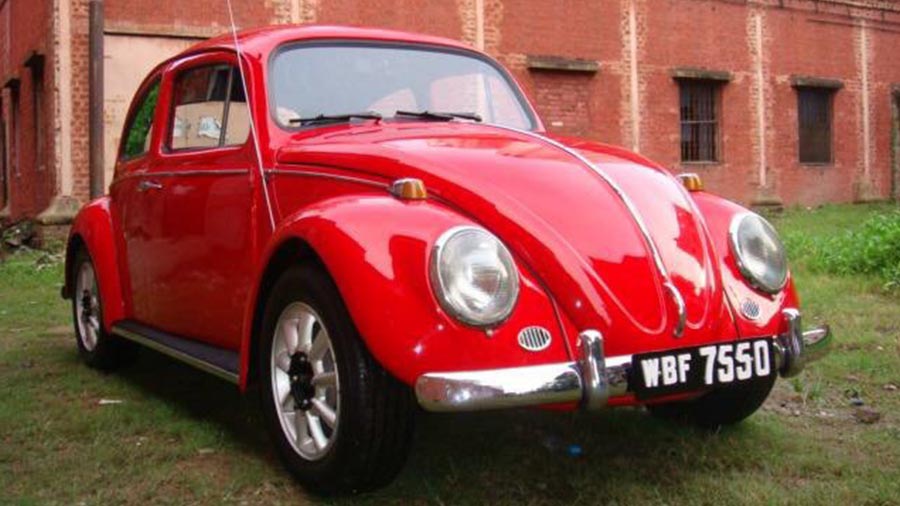 A 1950s Volkswagen Beetle
A costly affair
After the pandemic, the wedding budget has gone up manifold and people don't mind shelling out more for their special day. According to Sohel Kabiri, co-owner of a car renting agency, most people ask for vintage cars without specifying the model. "It's easier for us to get a car for them. But when clients seek a specific model, it becomes an expensive affair," he added.
The cost of renting these cars depends on their availability and the condition. Kabiri said the rent can range between Rs 35,000 and 45,000 for six hours. "It can go up to Rs 1.5 lakh if the car is of a rare model like the 1960s Triumph Spitfire or maybe a 1913 Stoewer," Kabiri added.
Treasure trove for vintage cars
Thanks to the British Raj, Kolkata still has the largest collection of vintage cars, compared to other metros. So, it's easier to get such cars here. On the other hand, maintaining such cars is a costly affair and hence clients feel the pinch while hiring these beauties.