Lakme Fashion Week partnered by FDCI (Fashion Design Council of India) is one of the most anticipated events in the country's fashion calendar. This year's edition was held at the Jio World Garden in Mumbai from March 9 to 12.
The four-day event was packed with a plethora of talented designers, brands and industry stakeholders, making it the ultimate destination for emerging talent, sustainability and fashion businesses. From veterans like Manish Malhotra and Tarun Tahiliani to newcomers and even GenNext designers, the shows presented a stunning array of collections from across the country.
The collections unveiled at the Fashion Week set the trends for the rest of the year. t2oS attended the shows and took notes to bring you 10 trends that you can expect to see plenty of this year.
1. Dark romanticism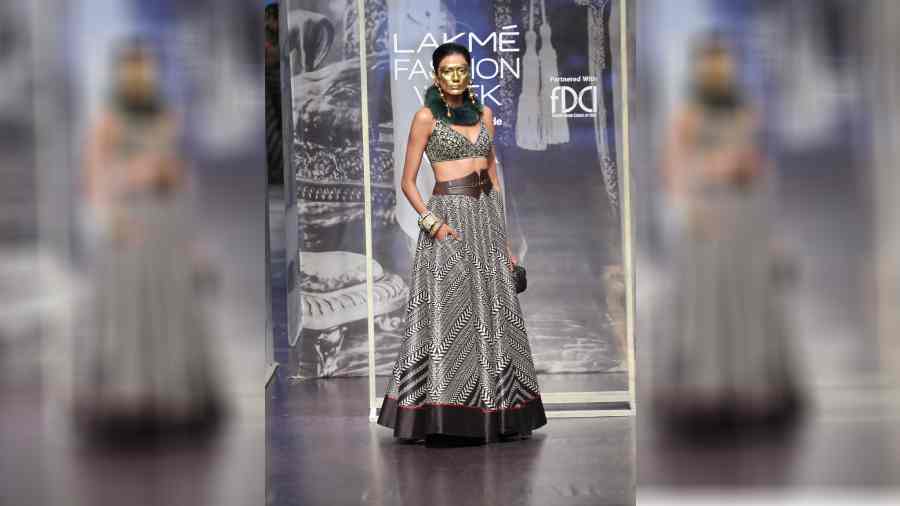 Dark Romanticism as conceptualised by JJ Valaya
Dark romanticism is a timeless trend that has been around for ages. When it comes to fashion, black is always a classic and versatile choice. From stars like Tamanna Bhatia and Rashmika Mandanna to PLU (people like us), black is the go-to hue for making a bold and chic statement.
Rina Dhaka's collection that drew inspiration from nature and florals and brought together a delightful mix of sparkles and swirly lines, was filled with dark gothic shades of black, complemented by a hint of cherry blossom red and reflective neon yellow. Each piece was designed to make a statement and was perfectly paired with black accessories to complete the look.
The dark romanticism trend is all about embracing the mysterious, dark and alluring side of fashion. Think dark, moody colours and fabrics, intricate detailing, and daring silhouettes.
2. Vibrant hues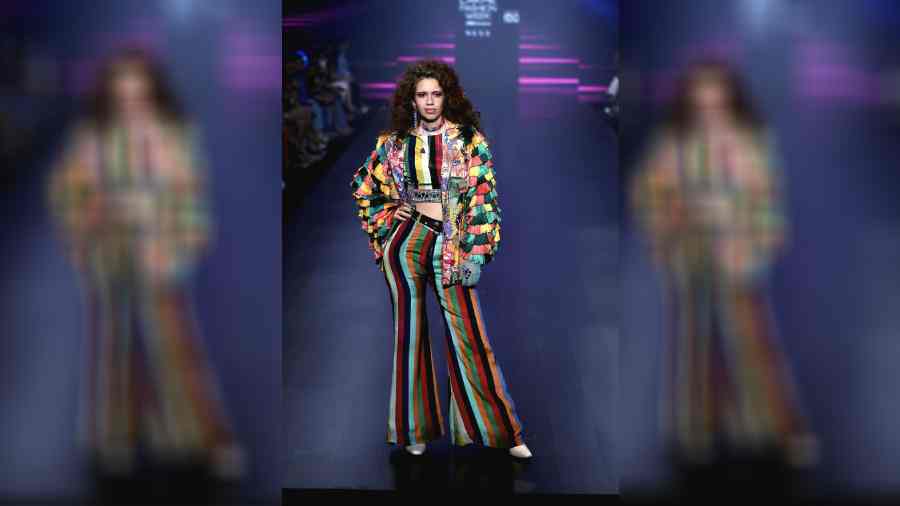 An Eshaa Amiin outfit in vibrant hues
It's official, bright colours are in! The runway at this year's Lakme Fashion Week was a riot of hues, with designers playing it safe no more. Instead, they took a chance with vibrant and neon hues, and the result was a stunning show that was a feast for the eyes.
Designers like Esha Amin, Siddartha Tytler, Arpita Mehta, Jajaabor, Bhumika Sharma and Namrata Joshipura showcased the most fun, vibrant and eye-catching collections. It was a much-needed breath of fresh air in a fashion industry that too often plays it safe with classic colours.
The runway was filled with an array of bright and beautiful colours, from electric blue and sunshine yellow to hot pink and cherry red. The clothes themselves were just as vibrant and fun as the colours. Ranging from ultramodern and edgy to classic and timeless, these designers showed the best and brightest of their collections. The result is a fashion landscape that is both exciting and happy.
3. Corset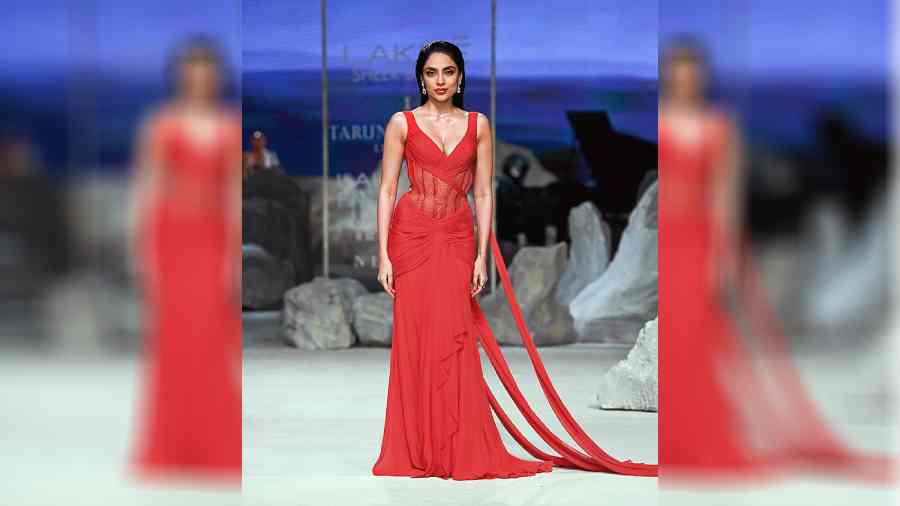 Tarun Tahiliani incorporated corsets in his saris too
From the runways to everyday closets, the corset has taken over the fashion world and how! Designers have embraced the trend and taken it one step further by incorporating it into interesting silhouettes. From Arpita Mehta to Tarun Tahiliani and Siddartha Tytler, designers have been experimenting with the corset trend to create a variety of looks.
Arpita Mehta gave the corset a fun summer holiday twist in her showcase, featuring it in a variety of patterns, with sequins and mirrors. She tied her corset look in with her vibrant colours and beach-inspired silhouettes, creating a fun and flirty look.
Tahiliani took the luxe route, styling a modern-age corset-style concept sari on his showstopper Sobhita Dhulipala. The corset was embellished with crystal highlights around the waist, creating a glamorous look that was both unique and luxurious. Siddartha Tytler also incorporated corsets in his collection, but for men. In his collection titled 2085, Tytler styled the bright corsets over suits, adding a chic and formal look to the mix. This look was certainly a departure from the traditional corset look, but it was a great way to keep the trend alive and relevant.
4. Print overdose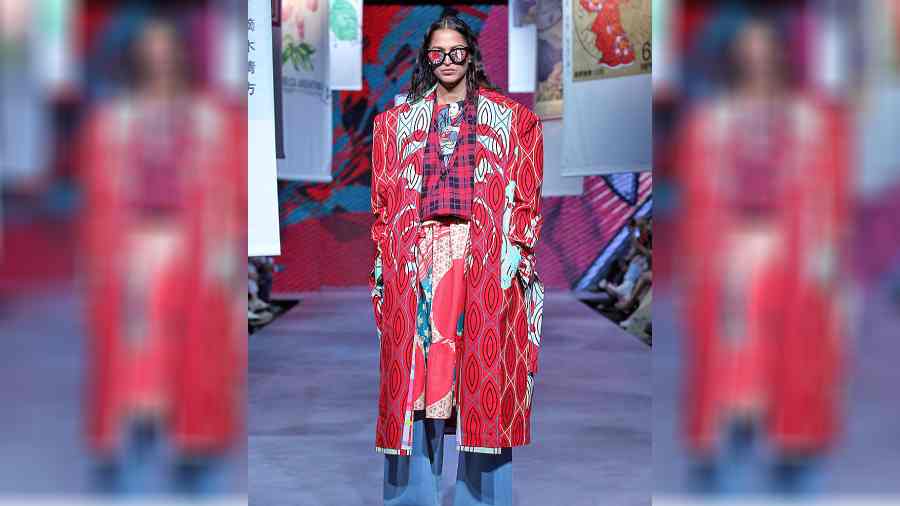 Print overdose was the way for two point two
Is there such a thing as too much print? We don't think so. From Eshaa Amiin and Jajaabor's fun and flowy outfits to the more streetwear looks of Sahil Aneja, Two Point Two, and Manish Malhotra, designers are embracing prints like never before.
Prints are popping up everywhere, from dresses to blouses, skirts to trousers, and even on footwear. The most exciting aspect of the print trend is its diversity — from florals to abstract and geometric. From bold and intricate to subtle and chic prints, there is something for everyone. It's becoming easier and easier to find prints that speak to your personal style, whether you're looking for something to make a statement or something that adds a subtle and elegant touch.
No matter what type of print you are looking for, prints are a great way to add a unique, personalised touch to your wardrobe.
5. Shimmer and glitter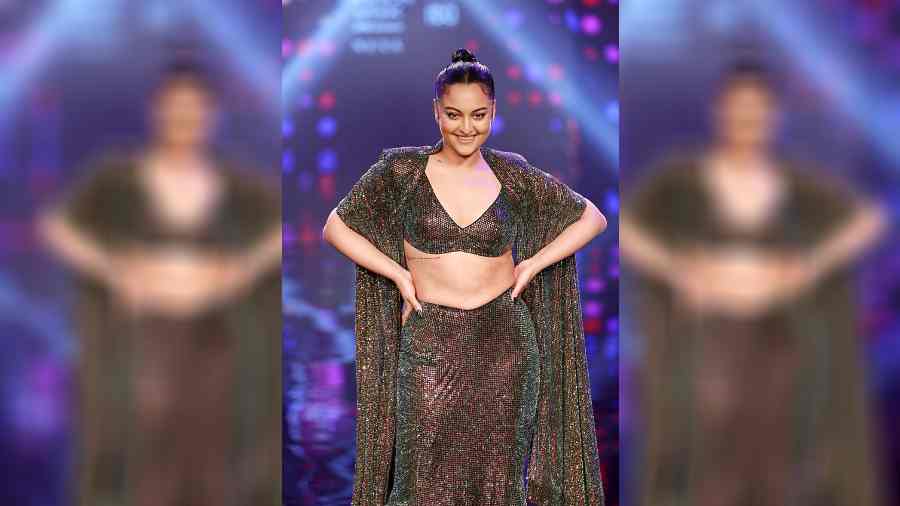 Itrh chose the shimmer & glitter path
Fashion Week is incomplete without a splash of shimmer and glitter! This season, the runways were no exception, with designers taking to the ramp to showcase some of the most dazzling looks.
Leading the charge was Itrh, the fashion house that had the audience captivated with its Dancing Queen collection. Featuring shimmery long and short dresses with the most stunning back cuts, shimmery blazers, capes, and modern saris, this collection was a showstopper.
Adding to the glitz and glamour was Monisha Jaising's collection, luxuriously embellished with elegance and incorporating the essence of a wedding on a tropical island. With sunshine, beachside, poolside, and resort glamour, this collection was a visual feast.
This season, it's all about going all out and investing in glamorous, shimmery saris and cocktail gowns. Sequins and studs are definitely the way to embrace the spotlight and make your big day all about you.
6. Capes and jackets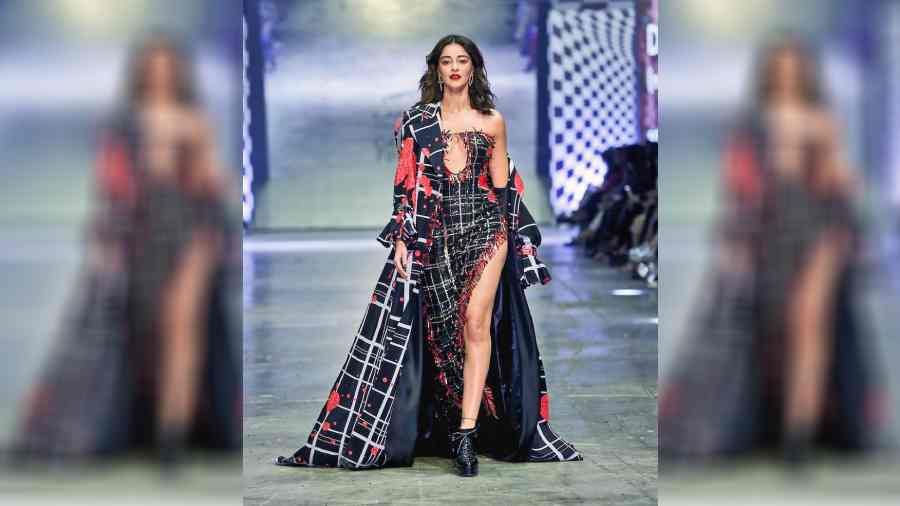 Manish Malhotra wowed with capes and jackets
One of the biggest hits on the runway this time around were the long flowy capes, stylish jackets, and chic trench coats.
Designer Sameer Madan, in his collection Untamed, featured a series of leather jackets and trench coats in femme fatal colours like red, black, and white, along with a little leopard-print detailing. This collection was a hit with the audience for its edgy yet sophisticated appeal.
Karisma Kapoor was styled as the showstopper for Rana Gil's collection, in a heavily detailed shimmery jacket, which was inspired by Italian landscapes. The jacket was an instant hit, as it had the perfect blend of glamour and subtlety.
Namrata Joshipura also showcased her collection of blazers with a postmodern disco twist. The vibrant and colourful blazers had an eclectic mix of styles and cuts.
Capes are making a strong statement on the runway. From bridalwear to resort wear, long and flowy capes can be seen in abundance. Choose from printed, embroidered, and embellished capes to add an extra flair to your outfit. The lightweight design of the capes makes them perfect for the summer months and their versatility allows them to be dressed up or down, depending on the occasion.
7. Classics with a twist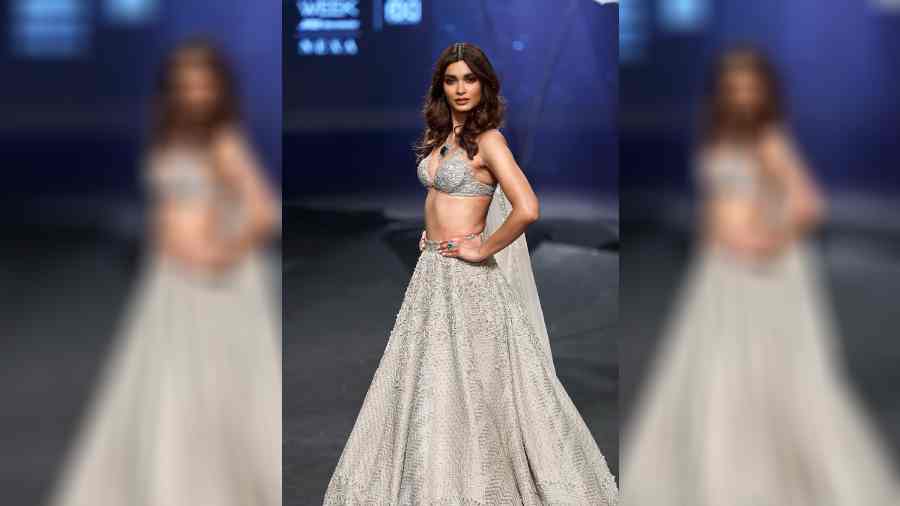 Disha Patil put a twist on the classics
This year, designers Tarun Tahiliani, Anushree Reddy, Punit Balana and JJ Valaya decided to turn up the glamour with their stunning bridal lines. Their collections were replete with gilded hues, classic silhouettes with a modern edge and an inherent sense of romanticism. For brides looking to create a heritage look, these designers showcased classic bridal styles in their quintessential aesthetics.
Tahiliani's collection was inspired by royalty and his signature style. His ensembles featured intricate detailing and a colour palette of ivory, black, gold, and pink. He presented some stunning lehngas and saris crafted with rich fabrics and delicate embroidery.
Anushree Reddy's collection showcased an array of vibrant colours and sensuous silhouettes. From traditional lehngas to modern sari styles, her pieces were crafted with luxurious fabrics and intricate embroidery.
Punit Balana's collection was a modern take on age-old designs, and featured timeless silhouettes with a contemporary twist. He also presented some stunning lehngas, saris, and anarkalis with a modern twist.
Finally, JJ Valaya presented a luxurious bridal collection with a classic touch. His signature style of traditional silhouettes and ethnic embroidery shone through the pieces that he presented. From anarkalis to lehngas, his collection featured bold colours, intricate craftsmanship, and modern cuts.
8. Easy breezy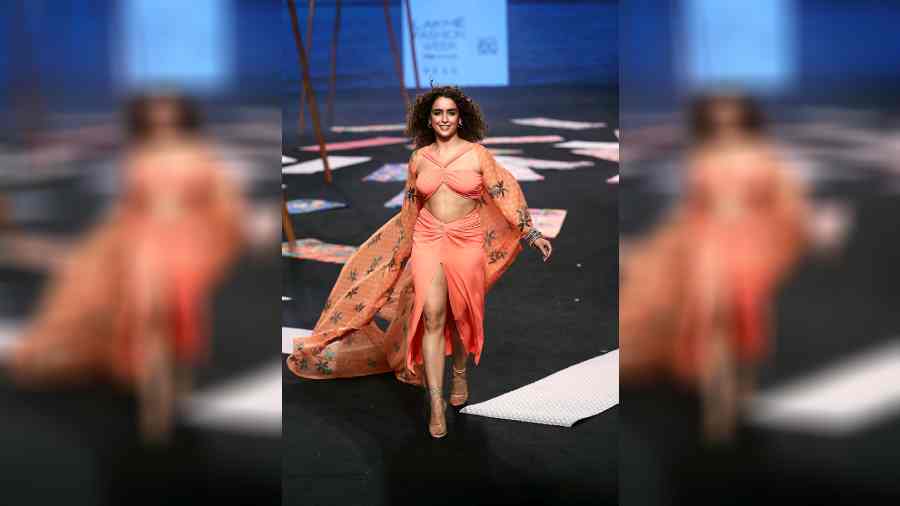 Easy breezy was the ethos for Aakriti Grover
This spring, Lakme Fashion Week showcased some of the best of the season's trends. While most designers showcased elegant gowns, Indian pret wear and streetwear, designers like Arpita Mehta, Limerick, Flirtatious by Aakriti, and Eshaa Amiin gave us airy kaftans, kaleidoscopic prints, and bright and vibrant colours to prep us for the summer.
The collections featured flowy dresses which can be worn during the day and the night. Arpita Mehta and Jajaabor created dreamy looks with their kaftans and shawls, while Eshaa Amiin's collection featured bright and beautiful ensembles that were made for the summer. Limerick and Flirtatious showcased bright swimwear that is sure to make you stand out from the crowd. The swimwear was a mix of one-pieces, bikinis, and coverups, making it the perfect resort look.
The collections were an ode to the beauty of the season and the joy of embracing the sun, the beach, and the pool while looking effortless and stylish.
9. Sustainability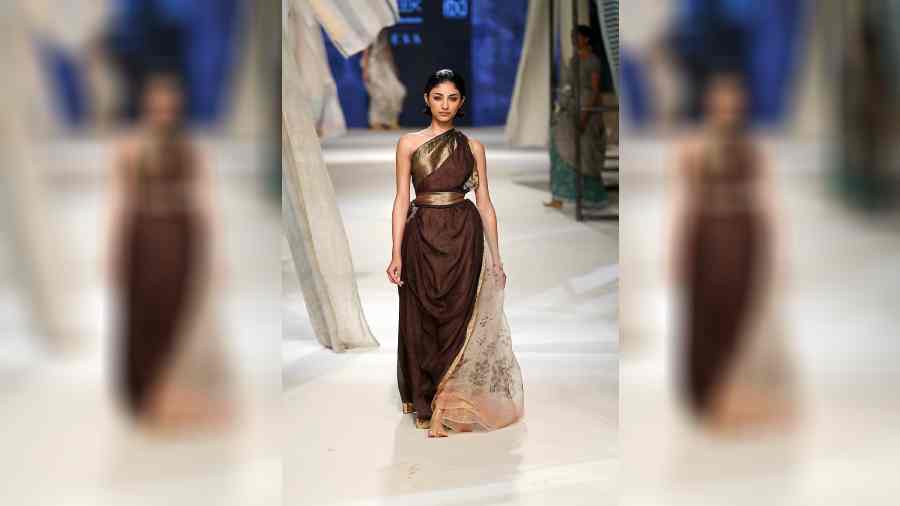 Anavila appealed with the sustainability theme
Sustainability was a major focus area of this edition of Lakme Fashion Week. Day One of the event was dedicated to designers that promote eco-conscious fashion and mindful practices.
Leading the way was Anavila, who has been a pioneer of sustainable fashion in India. Her collection, Dabu, highlighted a labour-intensive practice of dyeing that honours local practices and raw materials. The collection featured handwoven fabrics and intricate embroidery, showcasing the beauty of traditional craftsmanship.
Divyam Mehta's collection was a synergy of rural wall paintings and artisanal construction, with a modern twist. The collection featured geometrical patterns on khadi fabrics as well as hybrid draping styles.
Suket Dhir created a collection featuring apparels made with khadi for different seasons, as well as cotton and cotton silks woven in twill, plain and Jaamdani weaves. The fabrics were adorned with silk linings and trims, satin and kantha.
Shruti Sancheti, on the other hand, used khaddar to create her collection that also featured zero-waste clothing made from upcycled materials.
These designers proved that there is beauty in conscious fashion.
10. Modern suiting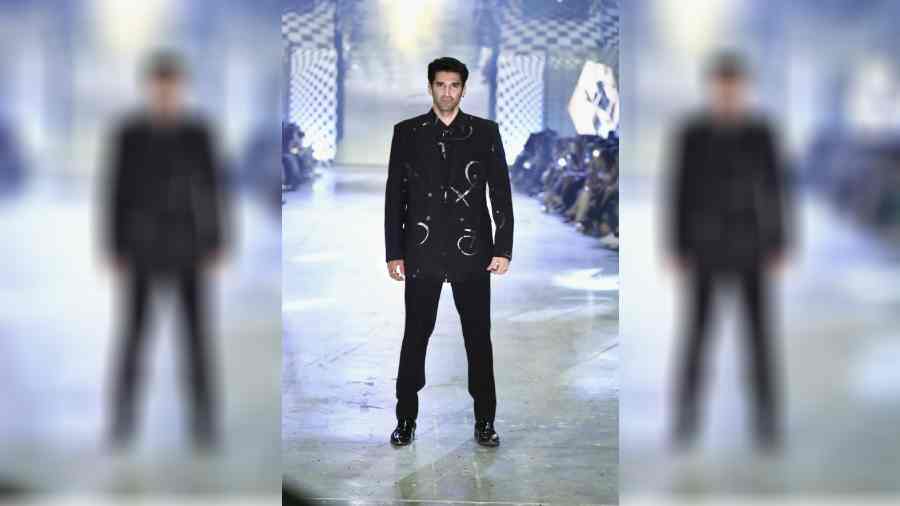 Manish Malhotra had a take on modern suiting
Forget the classic tuxedo look and usher in a new era of style-savvy dressing in modern printed suits. Take a cue from some of the most fashionable men in India that are guaranteed to turn heads.
The beauty of modern printed suits is that they're incredibly versatile. Whether you're going for a classic look or something more daring, you'll find plenty of options to choose from. This season, look out for silhouettes inspired by brutalism — bold and angular patterns, smart cut, bespoke tailoring, and abstract prints on dark backgrounds.
The collections of Dhruv Vaish and Sahil Aneja both celebrated individuality. Actor Vijay Varma turned showstopper for Divyam Mehta at the Khadi India Showcase and Aditya Roy Kapur turned showstopper for the Lakmé Unapologetically MÉ X Diffuse by Manish Malhotra Grand Finale. Each of them made a statement in structured modern suits.
These modern printed suits are perfect for the fashion-forward groom who isn't afraid to stand out from the crowd. Whether you opt for bold, bright colours or toned-down, understated prints, your modern printed suit will be sure to turn heads and make a statement. The contemporary, tailored cut of these suits ensures that you look chic and sophisticated, while the prints add an extra touch of personality.
Pictures: Sandip Das and Shazia Ahmed