Belaseshe is the story of a Bengali family, the dynamics of which changes with time. It is said that every end is the beginning of a new journey. Belashuru says that life is an endless journey of love, understanding, compromises and most importantly, the will to never give up. Belaseshe told us the story of Biswanath and Arati, an elderly couple who wanted to seek divorce (which shocked their children) after spending almost their entire lives together. Here are snapshots of the key characters...
Biswanath, played by Soumitra Chatterjee, is the lead character of the film and the head of the family. In Belaseshe, Biswanath is the 'father figure', who is firm, responsible but also thinks about his own well-being. He was the one who wanted the separation from his wife, Arati. In this film, Biswanath and Arati are faced with a different set of challenges. Biswanath has become more caring and responsible towards his wife. Most importantly, realisation has dawned that he has not dedicated much time for his family and by acknowledging his mistake, he tries to compensate to his near and dear ones. Belashuru will show the unparalled love story of Biswanath for Arati; it is, in every way, timeless.
In Belaseshe, Arati, played by Swatilekha Sengupta, is the simple middle-class wife of Biswanath, whose world revolved around her family. Biswanath had wanted divorce from her, which had shook her completely. In Belaseshe, there was a famous dialogue by Arati, where she shared, much to her despair, that she would want her husband to die before her, as she knew that at their ripe old age, he would not be able to survive without her. Belashuru will prove whether her words were right or not.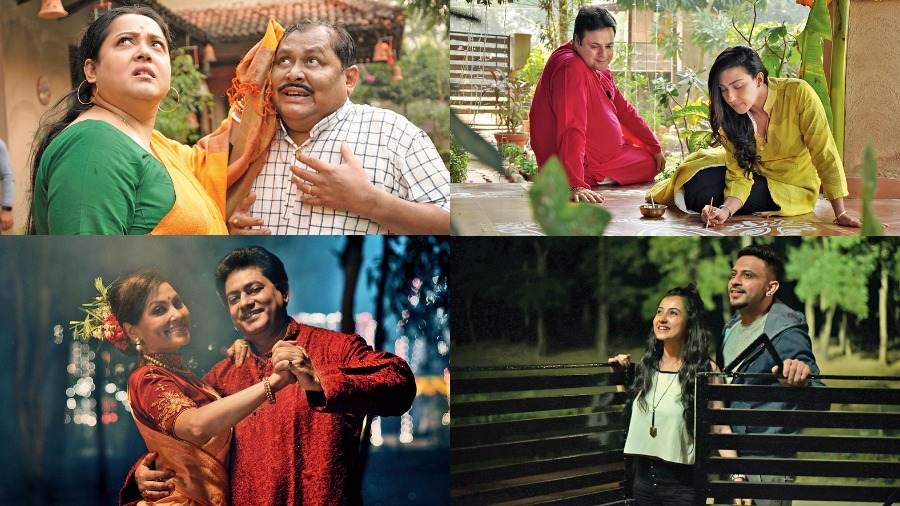 Buri (played by Aparajita Adhya) and Jyotirmoy (played by Kharaj Mukherjee) are the eldest daughter and son-in-law of Biswanath and Arati. Buri-Jyotirmoy reflect the image of a happy couple, who has a lot of love and laughter going on between them. Their chemistry is the joy of the film. Jyotirmoy and Buri impart humour to the film, while their sense of responsibility and dedication for the family is constant.
Barin (Shankar Chakraborty), the only son of the Biswanath and Arati, is separated from his wife Sharmistha (Indrani Dutta) now. Sharmistha who dreamt of becoming a fashion designer was never encouraged by her husband who was possessive of his wife, rather his male ego made him more insecure. All these led to their separation. Sharmistha is now a successful designer. The fact that love can never be caged, it blooms the best when freed, is shown in Belashuru through this couple.
Malashree/ Mili (played by Rituparna Sengupta) was stuck in an unhappy marriage and always wanted freedom from it. After marriage, Mili came to know many things about Bijan (played by Sujoy Prosad Chatterjee) that went against their relationship. Being discontent with her married life, Mili was involved in an extramarital relationship to seek happiness in vain. Belashuru is about Mili and Bijan coming to terms with their relationship. Mili, who once wanted to give up on this relationship, comes to the understanding that "after a certain age, when there's no more physical attraction in a relationship, friendship is the only thing that lasts".
Piu (played by Monami Ghosh) is the youngest and the most loved member of the family. Piu and Palash (played by Anindya Chatterjee) were a young, loving couple in Belaseshe. Belashuru sheds light on their marital life yet again. Piu and Palash reflect the modern-day crisis of today's couples. Palash being a rising film-maker, finds it hard to strike a balance between his work and life, which leads to Piu's constant disappointment. Their journey, struggle and prioritising love over work is another aspect of Belashuru.