Chocolate and jewellery come in small boxes. In fact, they say many good things in life come in small packages. So does the Apple Mac Mini. It's one of those micro-sized computers that have been capturing the imagination ever since Steve Jobs placed it on his palm in 2005 as if to remind the world of the classic story, The Little Engine That Could. But there is a twist. In 2023, the Mac Mini continues to be a little box but it sure does pack a punch.
The Mac Mini is Apple's most flexible computer. It's about building your own adventure. What you get is just a machine and a power cord in the box. The rest is what Steve Jobs had said while introducing the machine: "Bring your own display, keyboard, and mouse." This makes perfect sense.
Take the example of someone taking the first steps towards content creation. The person would like to have the most efficient and powerful chip to run the show but, at the same time, would want to have full control over the peripherals. With the Mac Mini, plug in what you want or your budget approves and you're good to go. You may already have a monitor, keyboard and mouse lying around. Plug them in. The Mac Mini itself is tiny, so it's always easy to plan accessories around its footprint. With a Mac Mini around, you can pair a very large monitor. And you can plug in a good, inexpensive USB keyboard. It's the perfect alternative to expandable, hulking desktops.
The new Mac Mini with M2 chip shifted my expectations of a budget computer. And I mean, of the entire PC industry. This year, Apple has introduced two versions — one comes with the M2 chip and the other with the M2 Pro chip. For most users, the former is more than enough.
PORT SELECTION
Here's a quick run-through of the device. On the M2, there are two Thunderbolt 4 ports, which go up to four in the M2 Pro version. Besides that you get two USB-A ports, one HDMI port, a Gigabit Ethernet port (configurable to 10Gb Ethernet) and a 3.5mm headphone jack.
This is a decent port selection for a Mac. You can always opt for a higher model and, at the same time, there is also the option to purchase hubs that can add ports to the Mac Mini. For most people, and by that I mean 90 per cent, the port selection is going to be fine.
What about display support? The M2 version simultaneously supports up to two displays — one display with up to 6K resolution at 60Hz over Thunderbolt and one display with up to 5K resolution at 60Hz over Thunderbolt or 4K resolution at 60Hz over HDMI. With the M2 Pro, there is simultaneous support for up to three displays. I'm usually a one-monitor kind of a person, so this doesn't bother me. I think two monitors would be the most I'd ever use at once.
A NO-BRAINER OF A PURCHASE
Let's talk about the biggest internal change. The M2 chip itself. To explain, one can write a Miguel de Cervantes-style geeky piece that discusses single-core and multicore performances, which would be, for a handful, as exciting as discussing War and Peace. Or we can talk about real-world scenarios. No doubt, the M2 Mac Mini performs very well with CPU and GPU-related tasks, especially when you consider its budget-friendly price point. The M2 chip comes with an eight-core CPU (four performance cores and four efficiency cores) and a 10-core GPU while the M2 Pro version has a 10- core CPU (six performance cores and four efficiency cores) and a 16- core GPU. In simple words: It's blazing fast, no matter the variant you choose.
From the moment you turn on the machine, everything is highly responsive. If you're opening an app it might actually open faster than on many other Macs because of the faster single-core performance. Photoshop, Premiere Pro, Final Cut Pro… just throw any intensive task at the machine, you will not have to wait. For most, things will be restricted to web browsing, having a zillion tabs open, running multiple apps open at once, Word processing, Excel sheets, watching or listening to media, storing important files, browsing photos… all of this happens instantaneously. There's no need to look at a higher configuration.
Ever since Apple transitioned to its own silicon, computing power has changed drastically. It has become far more cost and power efficient. In fact, these chips have become selling points for computers. Buying a Mac today is not just about appreciating Apple's software or aesthetic design; it's about experiencing performance (and battery life) that no one else is offering. What Apple is now doing is keeping that momentum going for all its products.
I don't think there is a better computer in the market for the pricing. There's nothing as quick or as responsive. This is Apple's bestvalue Mac ever and if you want a Mac desktop that isn't an all-in-one, this is a no-brainer purchase.
The Mac Mini can fit anywhere
There are enough ports to see you through for years
FUELLING CONTENT
We are living in an era where content is king. You want to make content for social media, for YouTube, in the form of podcasts or record music. Yes, you can run a small to mid-size recording studio for music and voiceovers with the set-up. The M2 Mac Mini can handle all of that. Sure, if you are looking at producing an hour-long 4K film then you would like to get the Mac Mini M2 Pro version. Otherwise, this is the device I would recommend for anybody who is starting their journey as a content creator. On using the machine, more people will expect other computers (from rival companies) to be able to handle tasks as efficiently as the Mac Mini.
I wouldn't suggest you use the base-level model with 256GB storage. Get the 512GB version because the size of videos and even audio files continue to flourish. Plus, for future protection, get the 16GB memory version. Perhaps it's this decisionmaking process that is the only flaw with the machine. Some people may choose budget over future-proofing. Having 512GB as entry-level would have made making choices easier.
Another advantage content creators can enjoy with the Mac Mini is portability. All right, it's not a MacBook but if you have two setups — home office and, well, office — then just slip the Mini into a bag and carry it to your other address, plug in the monitor-keyboard, and voila.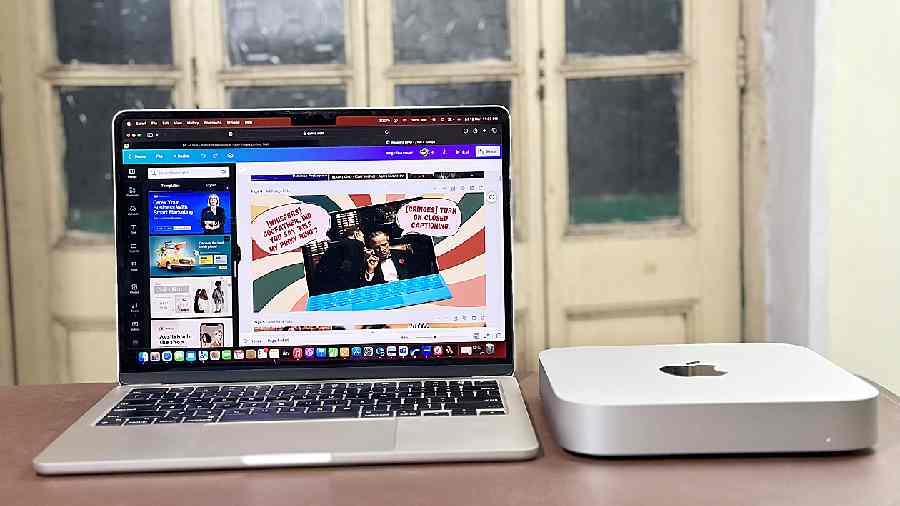 Though the MacBook Air and Mac Mini both come with M2 chip, the two machines are meant for different use cases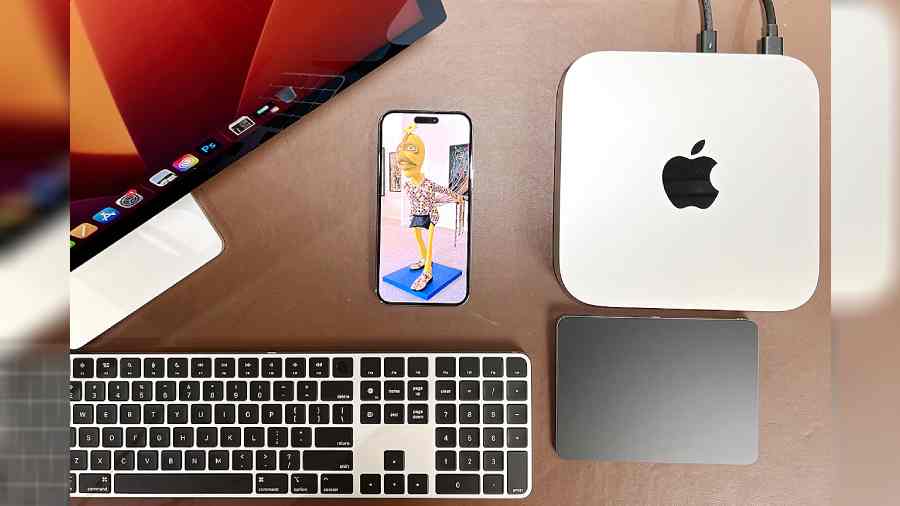 You can hook it to Apple peripherals (in picture) or choose other brand
SHOULD YOU BUY MAC MINI OR MACBOOK AIR?
This is a question many ask and the answer is simple. Yes, the MacBook Air also comes with the M2 chip but the experience is very different. With the MacBook, you get a trackpad, a screen, a keyboard… the works. The Mini is for those who need to sit at a desk and work, like video editing on the big screen. It's for people who like to take advantage of something like the Magic Trackpad while working in a desktop setup. It's for those who want to mix and match accessories. So it's an easy choice.
If you're a pro on a budget, you just need to worry about the memory variant of the Mac Mini and then you can work around with expandable storage. Even when you are made to factor in things like display, keyboard and mouse, the overall pricing may work out cheaper because you can go with peripherals from any company.
There are people who nitpick about the additional cost of accessories or the price of storage/ memory upgrades on Apple's end. Avoid such conversations because it's pointless. The Mac Mini is not only great for regular users, but you can also scale it up to become a very competent Mac for a professional content creator. The possibilities with this little box are endless. The Mac Mini (M2) is a smart choice for most people. As a product, it remains as revolutionary as it was before. What it does differently in 2023 is catapult the minimum requirements of a desktop. Everyone else will now have to play catch up.