THE PUJA AND THE PEOPLE
For the longest time, I thought Durga Puja just meant the Goddess Durga and her family smiling as millions of Bengalis cast digestive caution to the winds and gorged on Egg Rolls and Biryani. Even a mother goddess is powerless before indigestion. Unsurprisingly, the winners of a recent Grand Family Feasty Durga Puja special Bengali spread at a five-star hotel were sponsored by an antacid brand. 
Yet the characters that make it uniquely Durga Puja are far more varied than the faithful stuck with new clothes and old ombol (indigestion).
The story starts, as all stories must, much earlier.
In his Hootum Pyenchar Naksha, the vignettes of 19th Century Calcutta, Kaliprasanna Sinha talks about clay modellers from Krishnanagar settled down in Kumartuli and Siddheswaritala, dressmakers selling topis, chapkans and girdles, Dhakai and Santipuri cloth dealers, attar sellers, jatra agents, sweet sellers, Sanskrit school pundits collecting stipends and shoe lifters having a bonanza harvest at some babu's mansion while everyone gapes at the dancing baijis.
Durga Puja is clearly not a five-day play involving just a goddess and her devotees. It's an ensemble production over months where many play bit parts. 
There are the clay sculptors who bring mud and straw to life in the winding lanes of Kumartuli. There is something marvelous, writes Indrajit Hazra in Grand Delusions — A Short Biography of Kolkata, about seeing, as if in slowed down stop-motion, "wood turning into straw, turning into wet clay, turning into hard clay, turning into form, turning into colour, right until covered by a cloth before the first day of Pujo, the magical creation would rise to one step short of flesh." 
"First, she is my child. Then suddenly she becomes my mother. It makes me nervous. But she guides my fingers," says a 72-year-old artisan in the book Durga Puja: Celebrating the Goddess Then and Now.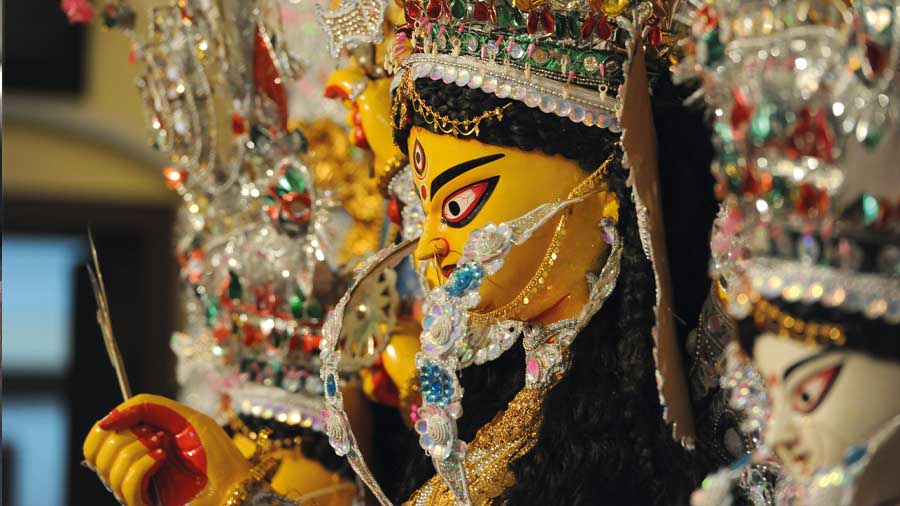 For others, Durga Puja's most iconic harbinger is Birendra Krishna Bhadra, whose swelling baritone ushered in the Mahishasura Mardini on Mahalaya dawn. It was as if a lamplighter was going from home to home stirring old radios to life with the magic mantra of Ya Devi Sarvabhuteyshu. Our poets talked of the messengers of autumn — fields of feathery white kaash flowers or orange-tipped shiuli blossoms. We had only a crowded market near our Kolkata home. But the voices of Mahalaya, many of them long dead, would reverberate through the dawn, welcoming the Goddess home while we drifted in and out of sleep, letting us know that the season had changed and the post-monsoon sunlight had turned buttery golden.
All over the city the pandal-makers hammer away, these days more and more under the expert guidance of a theme Durga Puja designer. Some pitch themes to organisers and see who picks it up. Some are hired directly. Thankfully, the innovation has moved to the pandals these days rather than the Goddess herself, no longer made out of bottle caps and nails.
The house pujas have their clan meetings to divide up responsibilities and figure out finances. The sarbojanin community pujas have the neighbourhood boys with receipt books going door to door. There's bickering and bargaining, gossip and complaints about who had to chop the most fruits, whose son was cheated out of the sit-and-draw competition prize and how commercial pujas are becoming, as if that was ever not the case.
After all, Nabakrishna Deb organised the big puja of 1757 to wow Robert Clive, fresh from his victory in Plassey. It was a puja complete with nautch girls, beef, ham and alcohol at the Sovabazar Rajbari. Though the old zamindars are gone, even today Ganesh and Kartik at one North Kolkata puja wear pants in a nod to English sahibs past.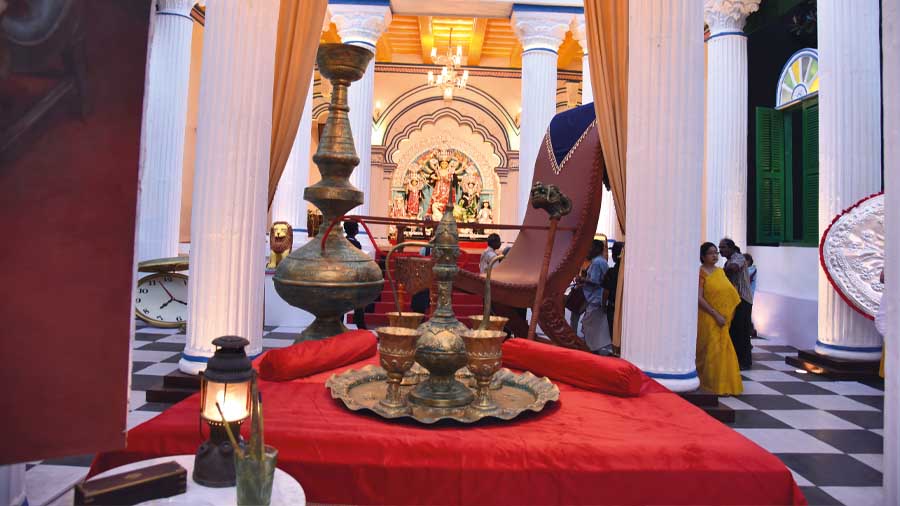 As Puja itself comes upon us, the rest of the cast comes centrestage. The priest chants his mantras. Sometimes it's a priest whose family has been doing it for generations. Sometimes, as in Silicon Valley, it's some Oracle vice-president moonlighting as the priest. Meanwhile in Kolkata the dhaakis show up with their big drums. Cooks are hired to churn great pots of Khichuri and mashed vegetable Labra as bhog. The food vendors set up stands selling Bengali favourites like Batter-fried Fish, Chicken Lollipop, Mutton Biryani and Chilli Chicken. "Is there some kind of traditional food during Durga Puja for your family?" a friend visiting from abroad once asked me. I was stumped. Eventually I replied "Eating out." Pressed further, I would have had to say, "Zinetac and Carmozyme."
Ultimately, of course, it's about the people. They dress in shiny new clothes and pandal-hop all night, stuffed to the gills with greasy food. The teenager dolls up in her new sari for anjali, and her math tutor, a college student, suddenly looks at her with new eyes. The gay boys know which park puja becomes their unofficial evening promenade. The Goddess needs many types of soil for her Mahasnaan or great bath. One of those comes from a prostitute's doorstep. Clearly everyone can have a role in this multi-starrer extravaganza.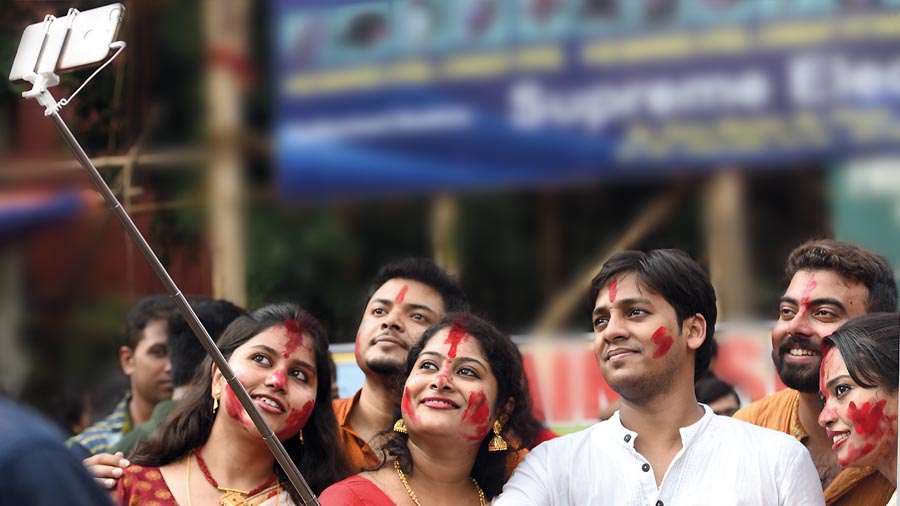 Making it all happen are those we don't think about — the policemen guiding traffic, the Metro train workers, the taxi drivers, the electricians rushing pandal to pandal, the sweepers, the restaurant cooks and food delivery boys working round the clock because if the city never sleeps, neither can they.
Without all of them there would be no home for the Goddess to come back to. In films like Rituparno Ghosh's Utsab, this is the time for the dysfunctional clan to gather once more at the old, peeling family home. This is when cosmopolitan Bengalis from Gurgaon and Bandra go to long-lost village homes with names like Guptipara and Amadpur. Chirodeep Chaudhuri, the Mumbai-based photographer who documented the puja at his ancestral home in Amadpur over a dozen years in A Village in Bengal, brings to life characters lost in the razzmatazz of a Kolkata puja — a group of men worshipping a Kola Bou beside a placid pond, a little boy sitting at a table surrounded by the women of the house, a joke about a missing string in someone's pyjamas that never grows old. Compared to Kolkata, this might seem the anti-Puja, yet both are authentic. The difference is the orgiastic excess in Kolkata with its hoardings for cheap whisky and nylon saris is on much firmer ground than the puja in Amadpur, at an ancestral home, where nobody actually lives anymore.
At a traditional house puja in North Kolkata I remember seeing plates of offerings to the Goddess — rice, paan, dates, cut fruit. The plates' edges were curved like the petals of a flower. The banana leaves on top of the plates had been trimmed the same way, matching curve for curve. It was of no particular significance, just a doily for little piles of chopped fruits. But I wondered who had taken the trouble to trim them just so, a gesture both dainty and melancholy, evoking a time when the mansion was bustling with wives, children, servants who sat around and gossiped while they snipped banana leaves and chopped fruit and piled rice into little mounds.
This time most of the children had not made it back for the Pujas from places like Bengaluru and Boston, yet the rituals persevered doggedly. Like the pujabarshiki annuals from the big media houses. Once the giants of Bengali literature
entered our homes every Puja through their pages. Now my newspaper wallah asks hopelessly every year whether I want any. No one waits for a Puja album with quite the same excitement as they did in the time of Hemanta Mukhopadhyay and Salil Chowdhury.
However, the dhaak beats on. Khokon from Baranagar still gets lost in the thronging crowds. His parents still wait at the information booth for him. It's about tradition despite markers of change. Some dhaakis wear T-shirts with the logo of a mobile company. Fortunately, the priest is still unsponsored.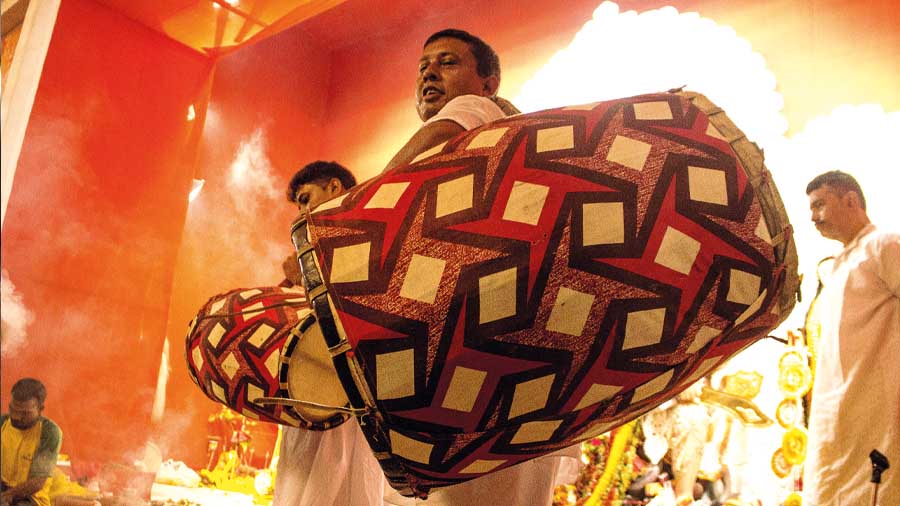 Too crowded. Too crass. Too commercial. No Puja is complete without the Puja naysayer who shudders and says he leaves the city during Puja. But in an India where public space is shrinking, where entertainment venues are fortresses with bouncers and cover charges and dress codes, Durga Puja is about taking back the streets. This is our last great commons, not yet air-conditioned off into a bubble of restricted access in the name of progress.
We all come here, rich and poor, uncomfortable in new clothes, sweating, tired but hell-bent on having a good time, eating the same two-in-one ice creams and greasy Biryanis. We admire the same murtis and pandals and at the end of five days, we will all suffer the same bouts of indigestion — choa dhekur and ombol.
The Bengali mother will then shake her head and say reprovingly "All that eating out." And the mother Goddess will smile benignly because both know aschhe bochhor abar hobe.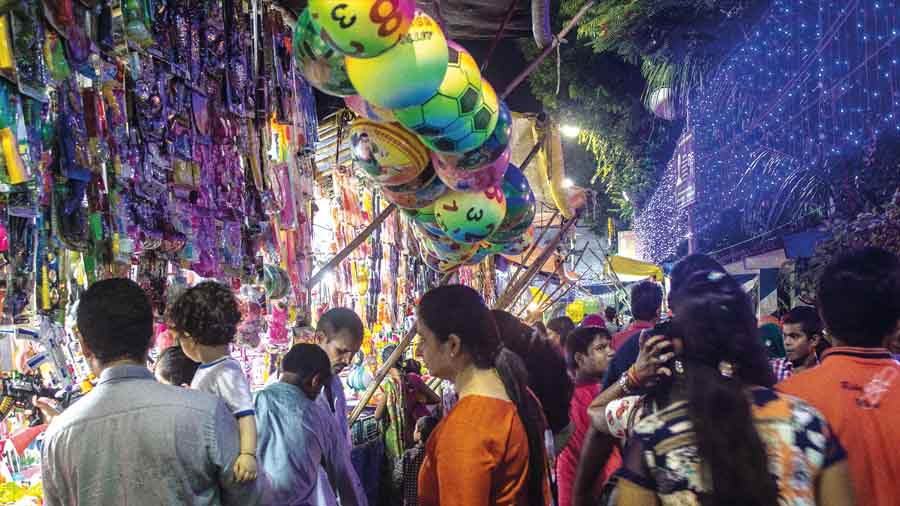 Sandip Roy is a journalist and author of the novel, 'Don't Let Him Know'. A columnist with several publications and previously a commentator for National Public Radio, USA, he is now a podcast host and tweets at @sandipr
Excerpted from Durga Puja: The People's Festival produced by The Bhawanipur Education Society College in 2019