Good things come in small packages.
Dim sums are bite-sized portions served in bamboo steamer baskets or on small plates. They can be had with tea, as starters or as the perfect companion for an early evening gossip sesh with pals. In Kolkata, they were first found in fine-dining restaurants and luxe rooftops. Now, these light and decadent morsels are also available at quirky home-kitchens catering to the Asian-inspired palate. 
My Kolkata curated a list of some of the best dim sums available in and around the city...
Chicken Dim Sum from Aura — SkyBar
The Chicken Dim sums at Aura are tiny bundles of joy, worthy of the hype that surrounds them. The dim sums are wrapped in pak choi and steamed with a drop of chilli oil on the nose for an earthy, briny flavour. Pak choi is an ideal backdrop to the nuanced mix of crunchy celery and juicy chicken, making for a flavour-packed dim sum.
Catering to the vegetarian palate, this Robinson Street hotel rooftop lounge offers a range of options with Truffle Edamame Dimsum being the top pick. Snuggled in traditional tapioca wraps, its mellow truffle flavour medleys with the buttery nuttiness of the edamame to create just the right balance.
"We've tried to create a menu with a couple of bar nibbles that are spice oriented because that's what Kolkata loves. Our dim sums go well with any kind of tipple, so they're definitely a favourite with our customers," said Raseena Chablani, consultant at Aauris.
Steamed Xiaolongbao Scallop & Shrimp Dim Sum from Ping's Cafe Orient
The Xiaolongbao Scallop and Shrimp Dim Sum at this Asian restaurant off Park Street follows the traditional Chinese recipe to the tee. The dim sums are traditionally served in a deep soup spoon, but Ping's is #streetstyle, so a bamboo steamer is their go-to plating choice. A healthy gluten-free wrap swaddles a filling that is buoyant with a flavour-packed soupy broth, scrumptious shrimp and succulent scallops. Homemade chilli oil, spring onion sauce and black bean jam are table sauces readily available to dip into for a dash of spice.
Prawn Har Gau from Yauatcha
Har gau is arguably the most popular dim sum available around the world as its flavours cater to almost every palate. The beauty of Yauatcha's shrimp dim sum lies in its simplicity. It is filled with shrimp and crispy bamboo shoots. The staff at the Quest Mall restaurant recommend devouring the dim sum in one bite with a tiny drop of their bittersweet dipping sauce.
If you like your food fiery, pair it with a spice-infused chilli oil.
Crystal Dimsum from House of Dimsums
Cloud kitchen House of Dimsums was founded during the lockdown in 2020 and is run by mother-daughter duo, Muskan and Sonali Sethi.
The flavours of the Crystal Dimsum made at this Mayfair Road address are subtle yet sinful. They're filled with a mash-up of shiitake and black fungus mushrooms, water chestnuts, crunchy carrots and a splatter of coriander. An airy translucent potato starch wrap hugs the mix, allowing the vibrant hues of the veggies to peek through. Pair it with a zesty chilli oil and ginger garlic soy sauce, and you're sorted.
Broccoli and Pinenut Dimsums from LMNOQ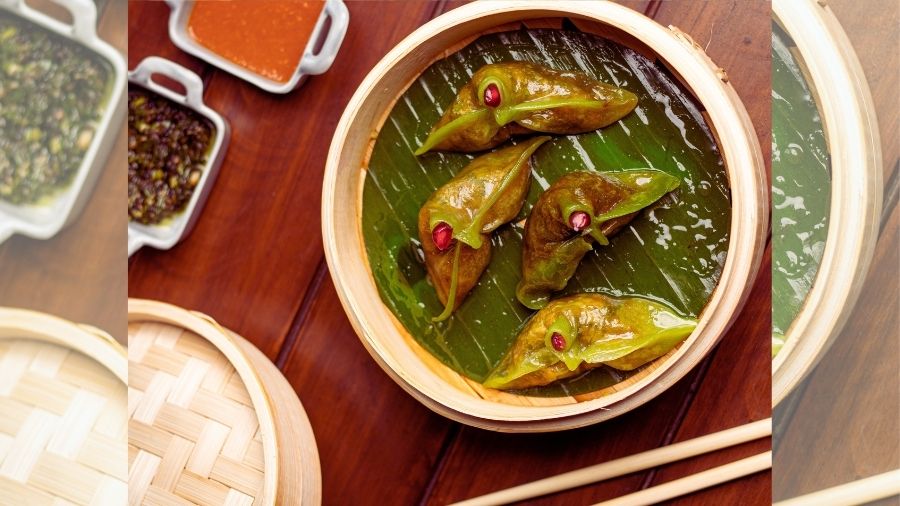 A vegetarian special — Broccoli and Pine Nut Dimsums.
LMNOQ
An inviting combination, the broccoli and pine nut dim sums blend honeyed pine nuts with water chestnuts and broccoli for a moist bite. The tiny dollops are decorated with a pomegranate node that adds a burst of freshness to the rich concoction while upping its aesthetic appeal. Cocooned in a pleasing viridescent potato-and-wheat starch covering (achieved using an infusion of pureed spinach), this dish is a crowd favourite at the two-month-old sky bar on Park Street.
Charcoal Black & White Dumpling from Club Fenicia
Served on a spoon, the dumplings are enveloped in charcoal tapioca and filled with a burst of burnt garlic oil, water chestnuts and Philadelphia cream cheese. The most exciting element on the spoon, one that catches everyone off guard, is the edible 24-carat gold flakes used as garnish. Adding snazzy accents to the midnight black concoction, the flakes make for a pretty plate and are 100 per cent Instagram-worthy.
"The dish draws in customers from all over Kolkata. It's a speciality at our restaurant and we're the only ones in the city that make these dumplings using real gold flakes," said Suman Chakraborty, the general manager of Club Fenicia in Salt Lake Sector V.
Short Rib Dumplings from Royal China Kolkata
Go the whole hog with this dim sum! The short rib is steamed on a slow simmer and tossed in a flavourful black bean sauce. Enveloped in a potato starch wrap, the dim sums are served with a total of four sauces on the side. Take your pick between chilli oil or light soya, a sweet drizzle or a spicy sprinkle. The chef guarantees that every sauce will take this tiny bite of heaven up a notch!