Raksha Bandhan, the beloved Indian festival celebrating the eternal bond between brothers and sisters, is right around the corner. Tying sacred threads and feasting on sweets along with wishing your siblings success and happiness are all part of the festivities. However, along with the ritual of tying the rakhi, a big part of the day is the gifts!
While kuch meetha ho jaye and the fat lifafa are always appreciated, a special personalised gift is just the extra pampering your sibling deserves on this special day. My Kolkata brings to you some helpful recommendations — from gadgets to skincare and food hampers — for all kinds of siblings, even the furry ones.
Satiate cravings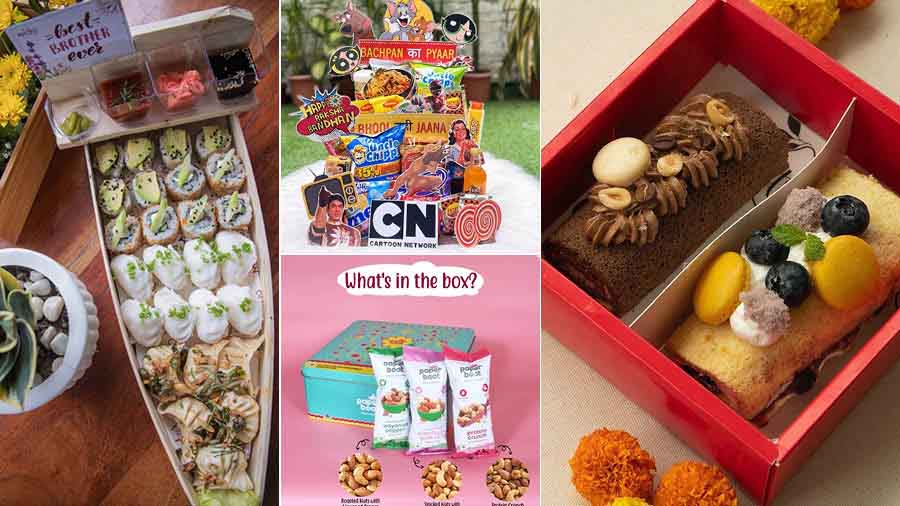 Food is often the reason for sibling rivalry and also, often the reason to end those same cold wars. Lesson of 'sharing is caring' begins at home when you first eat from one packet of chips with your brother or sister. Bonding over food is always special. So, what better than a food hamper for your foodie sibling? Get them a customised tray of their favourite guilty pleasure snacks or healthy munchies. If you are looking for some unique hampers, we have got you covered!
Gifting options: Swiss roll combo by Citron Kolkata, 90s snacks combo by Make It Matter, The Asian Boat by La Macario Cafe, Paper Boat Rakhi gift box
Price: Rs 1,000-2,500
Say cheers!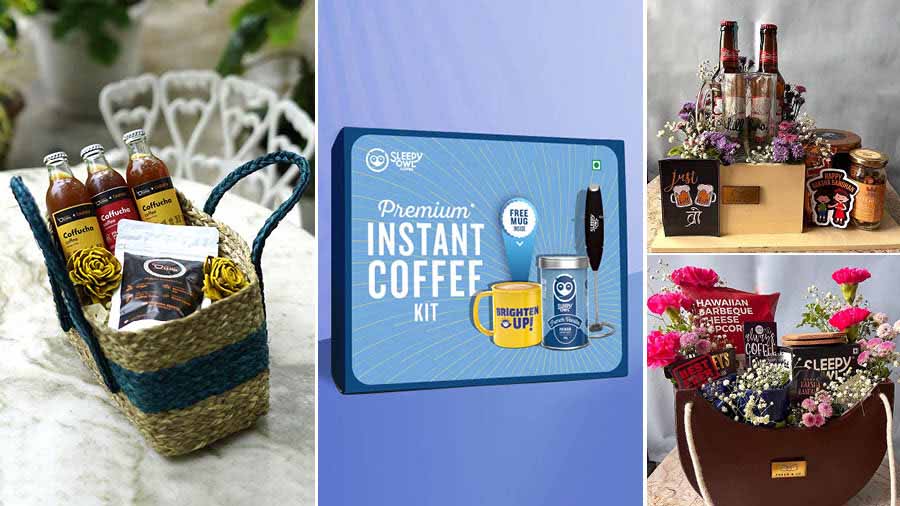 Got a caffeine addict as a sibling? Get them a coffee hamper and see their eyes gleam. Gift packs come with different kinds of coffee, coffee mugs, frothers, snacks etc. Basically, everything a coffee lover needs.
You can also get your hands on some boozy gifts for your resident beer buddy. Bonus? You'll get to share some too!
Gifting options: Coffucha by Craft Coffee, Coffee hamper or Beer Hamper by Tofah & Co., Sleepy Owl Coffee Kit
Price: Rs 2,000 onwards
Pamper hampers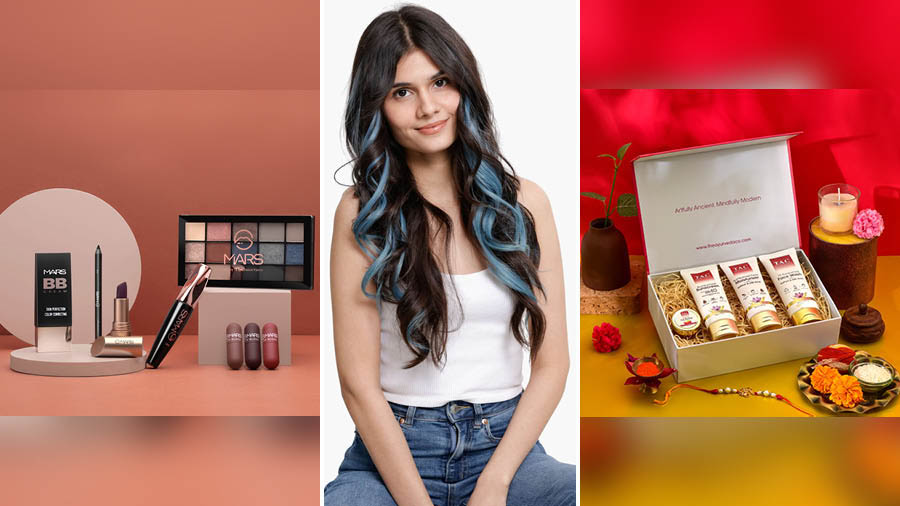 We all appreciate a little pampering from our kin. Doesn't it feel good when our dear siblings take us out shopping? This is the perfect occasion to make your sibling feel loved by gifting them some skincare or makeup products.
For the diva in your life, go for makeup hampers that have some basic daily essential products like lipsticks, kohl, eyeliners, mascara etc. If you are risking buying foundations and concealers, always check for their shade.
For skincare kits, you can check out for products like facial kits, daily cleansing, toning, moisturising products, sunscreens etc.
For some fun accessories, you can look for options in clip-in streaks. These are cool and trendy for anyone who loves to experiment with hairstyles.
Gifting options: Facial Kit by The Ayurveda Company, Daily Makeup Essentials by MARS, Clip in Streaks from 1 Hair Stop
Price: Rs 500-1,500
For tech geeks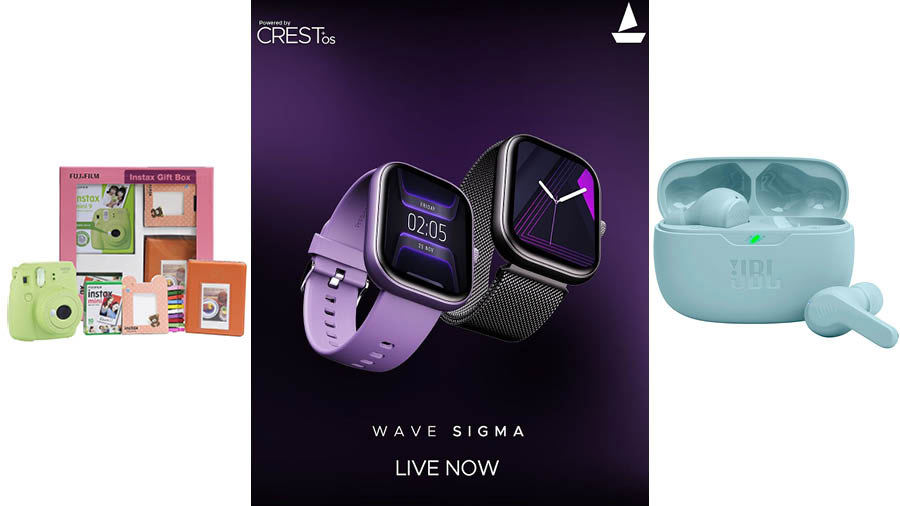 We all have a brother or a sister whose room looks like an electronics showroom with all the latest gadgets! This festive season, take the initiative and add a new addition to their tech collection? Get them handy gadgets or tick off something from their wishlist. Bluetooth speakers, earphones, smartwatches, cameras are great gifting options for the tech freaks. If you want to make it memorable and thoughtful, check out polaroids. Vintage yet classy, one doesn't have to be a techie to love it!
Gifting options: Wave Sigma smartwatches by BoAt, Fujifilm Instax Rakhi special hamper, JBL Vibe Beam
Price: Rs 1,500 onwards
For little ones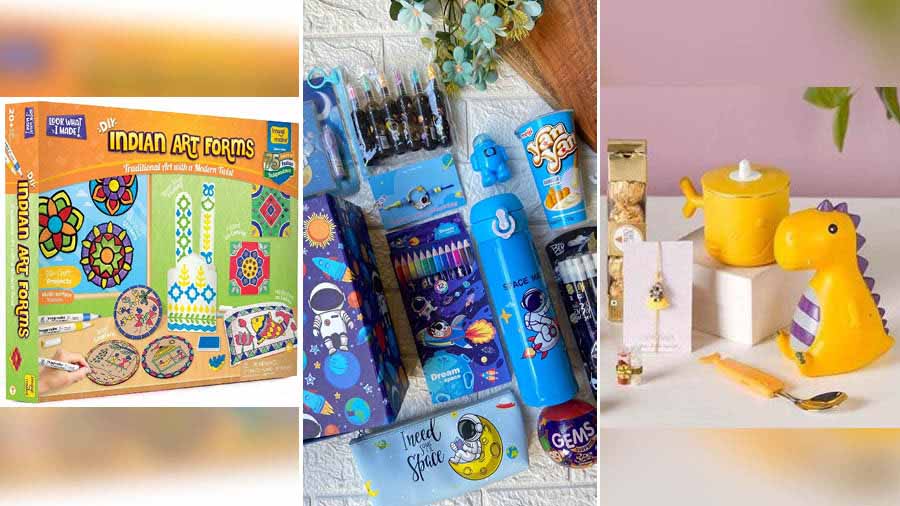 Raksha Bandhan as kids is much more fun and exciting. The joy of new clothes, sweets, good food and gifts is double for the little ones. Make it a memorable day for your baby brothers and sisters with some cute gifts. Get them their favourite toys or board games. You can also look for some kid-themed accessories and stationery. Look for their favourite cartoon-themed options. DIY gift boxes can also be a good option that will keep them engaged in fun activities.
Gifting options: Space themed hamper, Dino Rakhi hamper by Nestasia, Art kit
Price: Rs 1,000 onwards
For those wet noses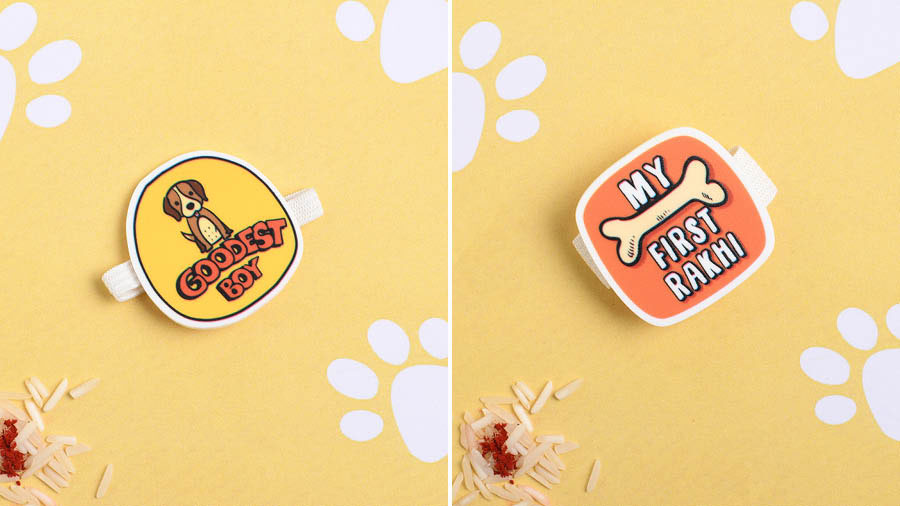 These four-legged siblings might have taken all of our love and attention away at home, but still are the apple of our eyes. For the little pooches, you can buy special Rakhis. Pair them up with a toy and a packet of the favourite treats and watch them wag their tail with joy!
Gifting options: Pet Rakhis from Ferns and Petals
Price: Rs 649