Kolkata's affair with the earthy Nolen gur is long and storied. Its smoky sweetness elevates the humble narkeler naru and patishapta, and is versatile enough for the celebrated kora paak and badam patali. Kolkata's culinary experts and tastemakers were quick to recognise the potential of this seasonal, amber-tinged delight as a contemporary ingredient. Enter Nolen gur truffles, souffle the ambitious Nolen gur pizza (don't knock it till you try it) and even Italian cannolis.
To be fair, there's no replacing the post-dinner gur-er sandesh (or the doi and payesh). But all good things must evolve and the gur too, has effortlessly snuck into new-wave dessert menus across the city. 
From granola and truffles to panna cotta and pizza, Nolen gur can be all sorts of cosmopolitan. My Kolkata lists the city's top picks.
Nolen Gur Souffle from Balaram Mullick & Radharaman Mullick
The pioneers of fusion mishti, Balaram Mullick & Radharaman Mullick, have given the French souffle a desi do-over by adding jhola gur. This baked dessert comes in a pretty pot, filled to the brim with gooey deliciousness. The souffle's spongey centre adds complexity to the dish, the drizzle of almonds gives it a good bite and it's topped off with a swirl of gur which adds a modern flair.
Where: Balaram Mullick & Radharaman Mullick outlets in Kolkata
Price: Rs 350 per serving
Nolen Gur Panna Cotta from Canteen Pub & Grub
Canteen Pub & Grub's Nolen Gur Panna Cotta is a delicious combination of milk, full cream, double cream, vanilla extract and the star ingredient – gur. A splash of pomegranate and fresh mint give it a breathy garnish, along with a slather of jhola gur, which ramps up the aesthetic appeal of this panna cotta.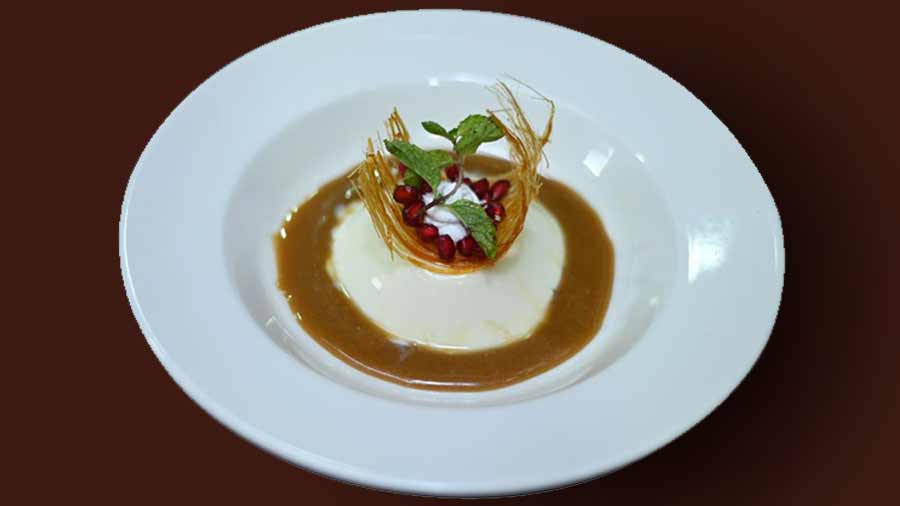 Nolen Gur Panna Cotta from Canteen Pub & Grub, dressed with a slather of jhola gur.
"Nolen gur is a staple in almost every Bengali household. It's a treat for the tastebuds!" says Swastik Nag, director of Canteen Pub & Grub.
Where: City Centre 1, Sector 1, Bidhannagar
Price: 1700/- + taxes for two (approx)
Nolen Gur Ice Cream from Pabrai's Fresh & Naturelle Ice Cream
Pabrai's – Kolkata's all-time favourite homegrown ice cream brand – offers over 60 flavours of ice cream which includes a host of fresh fruit and chocolate options and a smattering of seasonal favourites. The gur ice cream, although seasonal, stays put on Pabrai's menu year-round, thanks to popular demand. Made using 100% natural ingredients, this creamy juxtaposition of milk, cream and gur is a dream come true!
Where: 28, Sarat Bose Road
Price: Rs 375 for 500 ml
Nolen Gur Granola from The Apple of my Eye
Among the host of random food trends that crop up on Instagram now and then, granola caught the eye of 39-year-old baker, Tripti Agarwal. The baker, who runs the home kitchen The Apple of my Eye, whips up trendy gur-infused granola year-round for those who love the winter-special holy grail. The baker's granola is an amalgamation of chia seeds, almonds, oats, sunflower and pumpkin seasons, dressed in gur and cranberry. This healthy, bespoke granola makes for the best breakfast!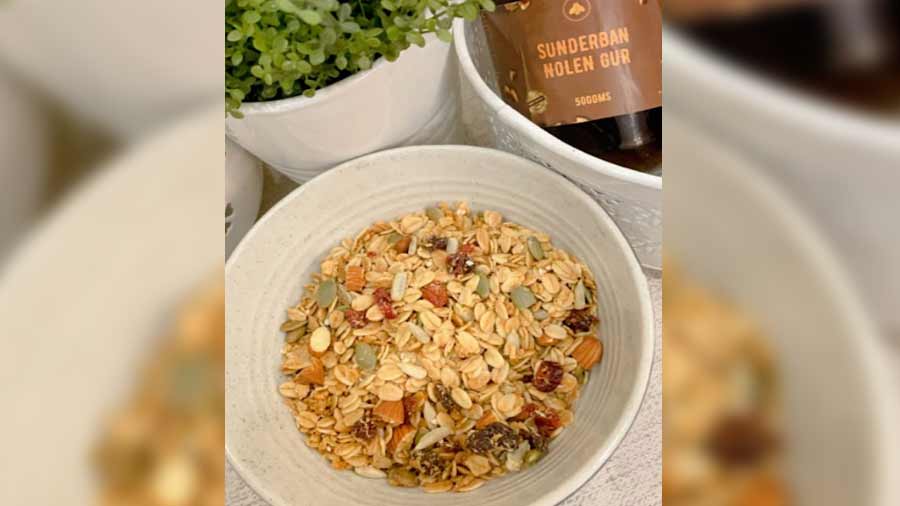 Nolen Gur Granola from The Apple of my Eye is a healthy, bespoke breakfast bite
"The Nolen gur granola has an earthy flavour. Once the gur caramelises, the bar becomes crisp and crunchy. The best part is that it's very healthy since we don't use sugar or maple syrup. Overall, it has a unique flavour so most people enjoy it," says Agarwal.
How to order: Call 9831246770 to place an order.
Price: Rs 150 for 250 gms and Rs 250 for 400 gms
Nolen Gur Cheesecake from Potboiler Coffee House
A rich, creamy cheesecake seals the deal on a perfect meal. Come winter, Potboiler Coffee House levels up its traditional cheesecake recipe with a dash of liquid gur. Garnished with almonds and pistachios, the Nolen gur cheesecake sits on a delicate three-layer crust with a heavenly gur filling smothered between each layer. The crunch of the crust, the gooey gur and the velvety cheese cream create an intriguing textural intricacy.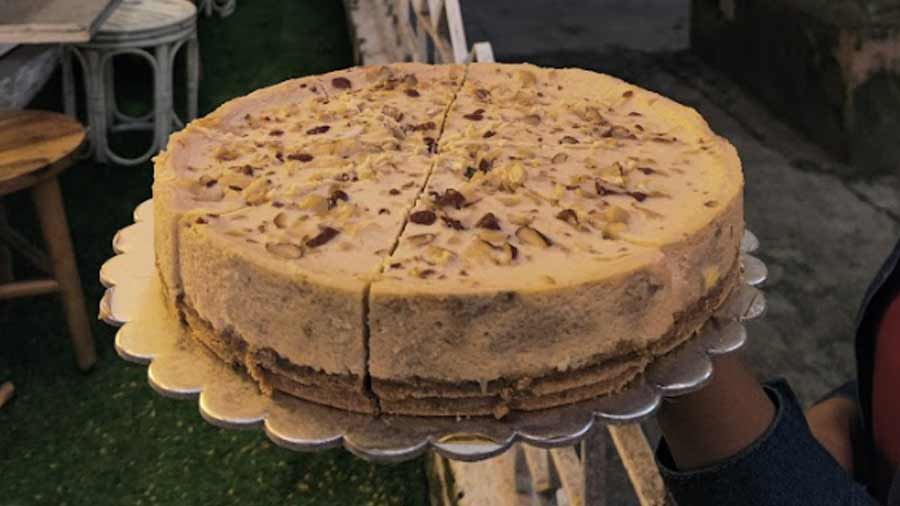 Nolen Gur Cheesecake from Potboiler Coffee House is a decadent dessert
"Come winter, Nolen gur is a must in every Bengali home. During Poush Parbon, we use a lot of gur in our desserts. Our specially curated winter menu is a treat for every gur lover," says Sonali Lakhotia, owner and founder of Potboiler Coffee House.
Where: P-468, Lake Terrace Road
Price: Rs. 700/- + taxes for two people (approx.)
Nolen Gur Sandesh Tart from Lord of the Drinks
Love your sandesh and your tarts? A Nolen gur sandesh tart should be right up your alley. Lord of the Drinks offers a luscious treat where the earthiness of the chenna meets the rich, caramelised gur. The concoction is piped into a crunchy, shortbread tart and topped off with cherries, mint leaves and caramel praline.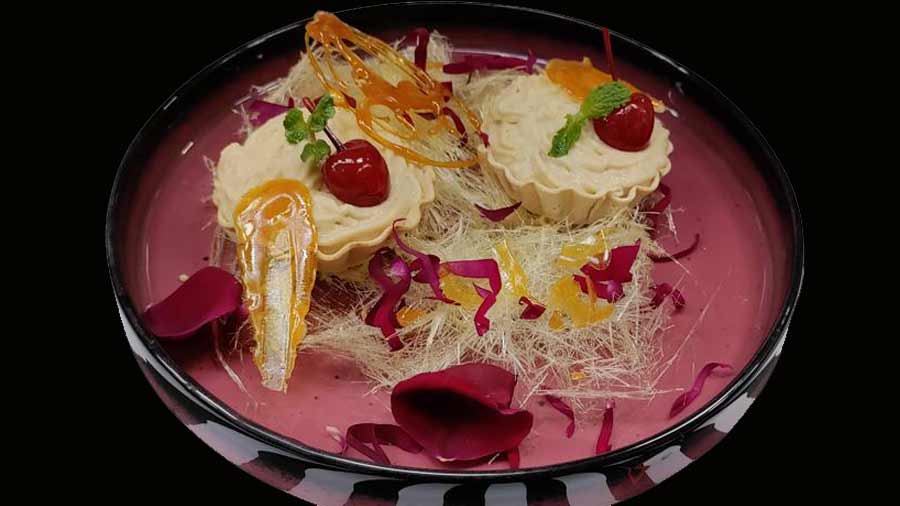 The luscious treat at Lord of the Drinks – Nolen Gur Sandesh Tart
"Our winter menu will surely draw in a host of customers. We are sure about that!" shares Vanita Bajoria, director of Lord of the Drinks.
Where: South City Mall, Fourth Floor, Kolkata 700068
Price: Rs. 1,200/- for two people (approx.)
Nolen Gur Truffles from TRUFFLATES
The Nolen gur truffles from TRUFFLATES are delectable mini cups of chocolate ganache with gur oozing out from its heart. Both milk and white chocolate options are available, so buyers can take their pick. The ganache is light and airy and the chocolate is oh-so-creamy. The gur? Heavenly.
"West Bengal is famous for its gur, we wanted to keep tradition alive by incorporating it in our truffles. We've got an overwhelming response and people in Kolkata have really liked the idea," says Shayan Mandal, who runs TRUFFLATES with Mousumi Mandal and Tulika Paul.
Where: BE - 102, Saltlake City, Sector-1
Price: Rs 40 per piece
Nolen Gur Pizza from Traffic Gastropub
A drizzle of patali gur as a pizza topping, anyone?
Traffic Gastropub puts an extraordinary twist on the Italian mainstay with a sprinkle of grated cheese, mava and patali gur atop a freshly baked pizza. The gur's sweetness, the briny notes of the cheese and the citrusy tomato base are an audacious combination that needs no additional seasonings!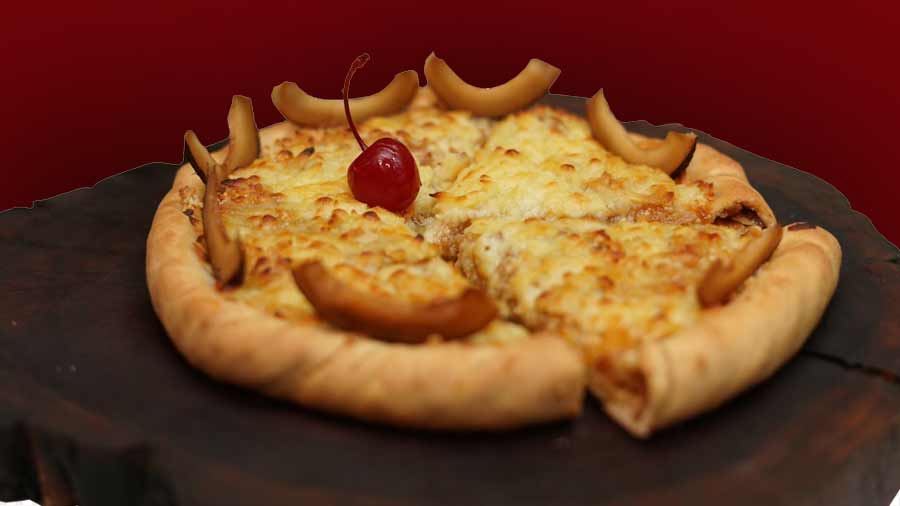 The dubious Nolen Gur Pizza from Traffic Gastropub
"We bring the Nolen Gur specials for those who are looking for a good time. With the Nolen Gur season, we're sure to have a number of customers leaving our place with a happy smile," shares Siddharth Gupta, Sekhar Chatterjee, and Swastik Nag, directors of Traffic Gastropub.
Where: 2nd Floor, City Centre, Rajarhat Newtown
Price: Rs. 1,800/- + taxes for two people (approx.)