Shashwat Goenka has been a busy young entrepreneur. "Lots of challenges... uncertainty, figuring out a market in a Covid recovery scenario...," he tells The Telegraph when we caught up with him on Wednesday afternoon, ahead of the launch of Naturali, from Guiltfree Industries Ltd, the FMCG vertical of the RP-Sanjiv Goenka Group. This marks the group's foray into the personal-care space. The name is a direct one for the consumers to connect with easily. Shashwat, sector head, retail & FMCG, chatted with The Telegraph on the new vertical that comprises Hair Fall Arrest, Damage Repair and Pollution Defence in haircare (prices start at Rs 70) and Pollution Defence facewash and face cream together with a Daily Purifying facewash, in skincare (prices start at Rs 70), and the pandemic shifts and how it has taught us to make time for everything.
Congratulations for things personal and professional. Let's talk about Naturali first.
Naturali is our new personal-care brand and it's going to have a range of haircare and skincare products. If you look at the overall personal-care market, it's almost a 70,000 crore market and the hair and skin categories are 34,000 crore, which is primarily half the market. That's the category we primarily want to play in... hair and skincare. It's a category that is growing at about 10 per cent CAGR (compound annual growth rate) as well and we believe we have an interesting proposition which is otherwise not available today in the market....
Natural is considered expensive. That is where the consumer is moving towards. They want it free of a lot of harmful chemicals, but those products come at a fairly high premium. So, we identified this niche and said you can offer a natural product but at a very affordable prices. There is also a set of people who believe that natural products are not as efficacious as chemical products or don't give results as quickly as chemical products would. So, we've actually worked on interesting technologies to ensure that our products deliver not just on the fact that they are natural and free from harmful chemicals, but they also deliver on the proposition.
What are you launching with?
We'll be having shampoos, conditioners, facewashes and face creams. We'll be launching a few other categories as the winter months come in. They have been specifically designed for the Indian skin and hair types, keeping in mind the Indian weather and pollution.
There were specific places where there was the need for certain products, like for hair fall. We have this hair fall arrest shampoo, which combines a traditional ingredient like a bhringraj with a new-age ingredient like a red onion. We also have a conditioner with that. The initial clinicals we have done, we have seen up to 97 per cent reduction after first use. For the damage repair shampoo, we got results which said up to 100 per cent damage reversed. We have taken the pollution defence range across the entire gamut. Not only do we have a shampoo and conditioner, but also a pollution defence face wash and face cream. The pollution defence shampoo takes avocado and charcoal. Charcoal is a pure cleansing agent which removes any kind of pollution and impurities from any surface... activated charcoal. Then we put avocado which helps with the moisturising angle.
What was the research like?
It was done by a few external agencies. We did a series of consumer tests and individual ingredient tests to see which are the ingredients which deliver on these benefits and what do the consumers associate with those ingredients in their minds. We started working on this almost 12-13 months ago. Even the packaging has a lot of innovation.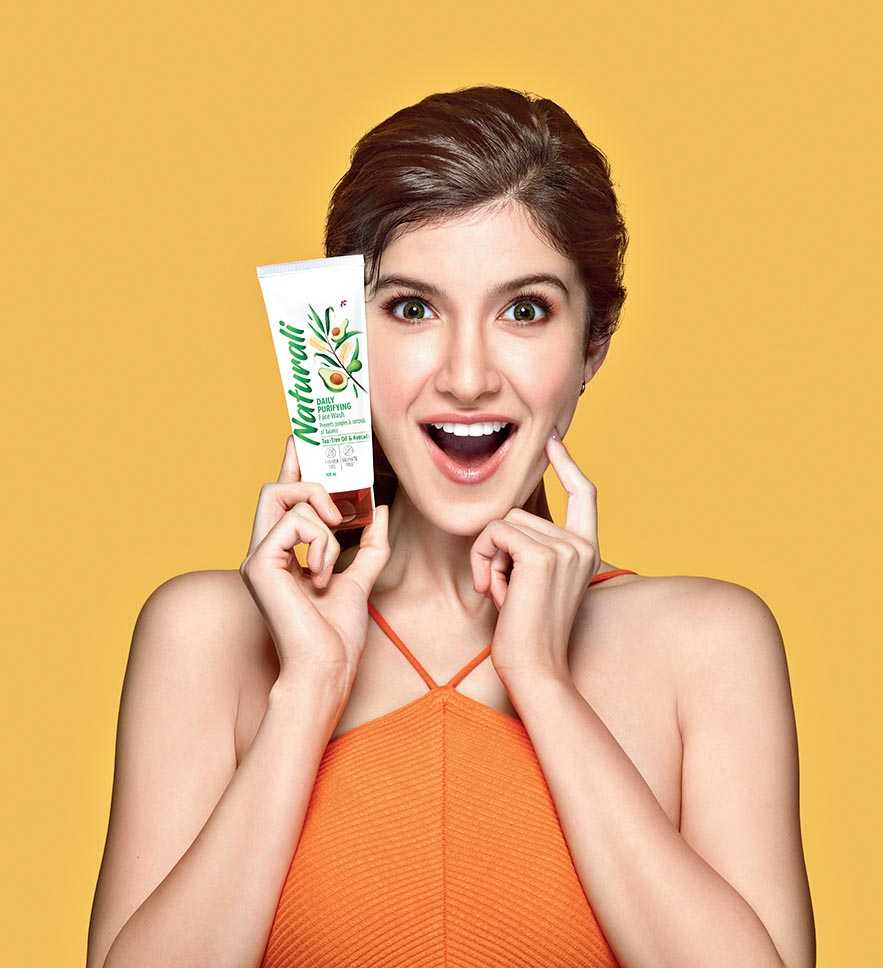 It is exhilarating to be associated with Naturali skincare range. It's a brand that I feel complements my personality and I'm sure, just like me, a lot of young women are going to instantly connect with it. It's trendy, unapologetic, true to its claims, and most importantly, takes charge. What resonated with me the most was the fresh take Naturali offers on nature-based skincare, the exciting ingredients — avocado, tea tree, red raspberry coupled with the free from harmful chemicals promise. As someone who's had to deal with her fair share of skin problems like pimples while growing up, I am certain this range is going to be very useful for girls out there and I can't wait for them to try it out
Shanaya Kapoor, brand ambassador (skincare)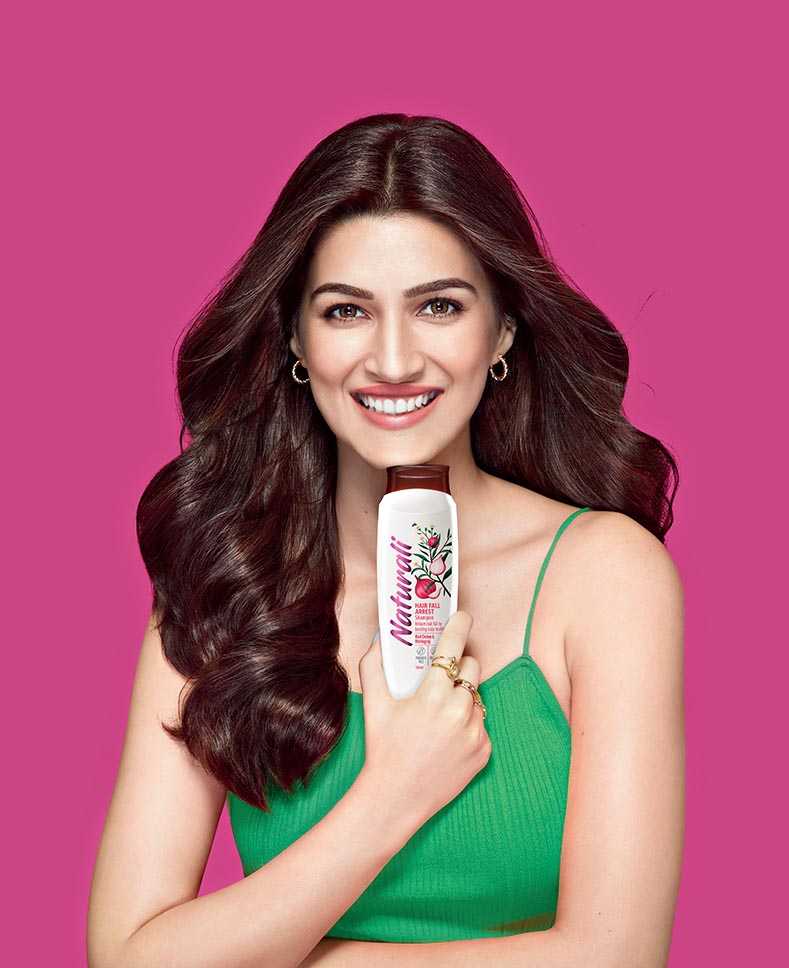 I am extremely thrilled to be associating with Naturali haircare range that is infused with modern, trendy natural ingredients which are free from harmful chemicals. I have always been an ardent supporter of the 'no nasties' proposition when it comes to my haircare needs, hence this association came very naturally to me. Everyone knows that natural products are supposed to be good for you, but they are often believed to be slow in giving results. Naturali changes this, as the range has a unique SuperBlend of natural ingredients, that are optimised to give you quick visible results. I strongly believe that no woman should ever have to compromise, especially with respect to her beauty choices. So, it is extremely fulfilling to see a brand that is not only good for you, being free from harmful chemicals, but also makes you look good
Kriti Sanon, brand ambassador (haircare)
What are your favourites?
For me, the entire pollution defence range is something I am excited about that I have started using ever since we started doing trials. I feel the face wash really unclogs the pores but it doesn't overdry unlike others. It is free of all harmful chemicals... there are no sulphates, parabens, formaldehyde, phthalates or mineral oils which are found in the mass market products available at this price point.   
Where are you launching it?
We are launching it at modern trade outlets across the country, online including Flipkart, Amazon and a general trade launch in two markets... NCR and Karnataka.
As a young businessman, what are your thoughts on businesses with the pandemic bringing about a shift?
The adoption of digital has happened a lot faster over the last year-and-a-half. That is a trend I believe is here to stay. Secondly, the shift towards things that are healthier/ more natural and which in turn is helping you live your life with better immunity. Overall, I have seen a balance, whether it is work-life balance, work-family balance... people have figured out that you can do all of it and everything will still go well. You don't have to sacrifice one for the other.
What have you prioritised?
Something that happened by default was a large amount of socialising (stopped)... spending 18 hours in the office (stopped)... now you know that you can work from elsewhere also. Parenthood has been a whole different thing where you suddenly realise that you have a lot more time than you ever thought because you were short on time, but now you have this whole new human being to look after and you make time for that in addition to everything you do. So, time suddenly does not feel like a finite resource.
What did you rediscover?
Reading, which always used to take a back seat. In fact, that I would say is a new thing... I didn't particularly enjoy reading a lot before. I read about 50-60 books.