Once a heritage industry kept alive by the sheer will and talent of our weavers, handlooms have made a comeback with the appreciation for slow fashion. Among the efforts being taken to revive the handloom industry and change the plight of weavers, was the 2015 declaration of National Handloom Day, to commemorate the Swadeshi Andolan which began on August 7,1905.
On National Handloom Day this year, My Kolkata takes a look at four city designers who are making waves with their eclectic designs on handloom fabrics...
Sayanti Ghosh — Sayanti Ghosh Designer Studio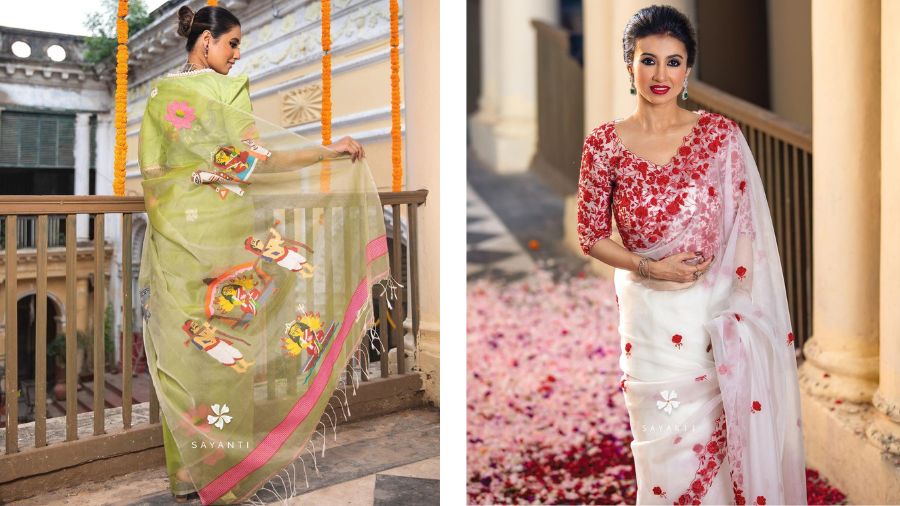 Swastika Dutta and Monami Ghosh in Sayanti's designs
@sayantighoshdesignerstudio/Instagram
A business that began in a small garage with two karigars and many naysayers, now boasts of almost 1,50,000 followers on Instagram, and many celebrity patrons. Sayanti's dreamy saris and handcrafted blouses reaffirm her love for handwoven fabrics.
Sayanti's first love had always been textiles, and after a master's-level research project on linens and home furnishing, she delved into designing. Her initial experiments were with blouses — she wanted to increase the shelf life of expensive sarees by giving them a new twist with a unique blouse. The designs on her saris and blouses are drawn from everyday life, and inspired by nature. From blue summer skies to the fragrant shiuli (night jasmine) that blooms before Durga Puja, the sights and motifs of Bengal feature most prominently in her designs. 
With saris making a comeback as everyday wear thanks to various bloggers and fashion influencers who are promoting slow, sustainable fashion, the awareness about handloom fabrics has increased as well, feels the designer. Yet, the sustenance of the handloom industry depends on consumers as well, she adds. "We should choose fabrics which will help to sustain our weavers because weavers nowadays are losing faith in their craft," says Sayanti, adding that everyone should have at least one handloom piece in their wardrobe. 
Sayanti loves handwoven linen. Even though she has worked with handloom silks, she reckons that "linens are a must because they are breathable and because of their anti-bacterial nature".
Agnik Ghosh — Agnik Kolkata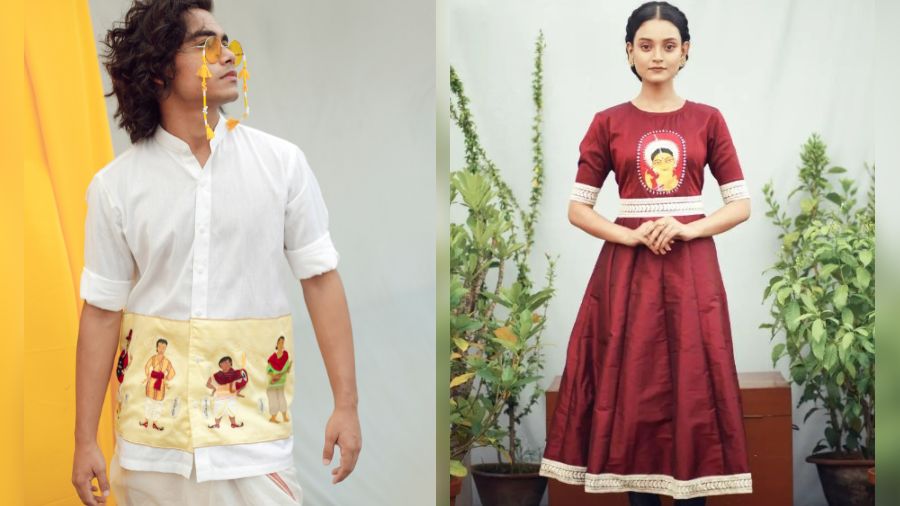 Designs from Agnik Kolkata's 'Goopy Bagha Phirey Elo' and 'Nartani' collections
@agnik_kolkata/Instagram
Agnik Ghosh's brand Agnik Kolkata made headlines after his designs travelled to this year's Cannes Film Festival with filmmaker Gourab Kumar Mullick donning a handcrafted panjabi for the red carpet, Agnik Kolkata made the headlines. A student of NIFT Kolkata, Agnik started working with Anamika Khanna after graduating in 2018. In 2019, he launched his brand Agnik Kolkata. Agnik discovered fashion late in life. He wanted his designs to be an amalgamation of every form of art, and draws inspiration from all things Bengali — films, literature, art, drama. In fact, for his upcoming Durga Puja collection, he has collaborated with artists from various fields. His designs range from popular scenes of Satyajit Ray's Goopy-Bagha movies on handloom cotton to intricate zardosi work on silk. A history buff, he also researches extensively before coming up with a design. 
Agnik believes that the future of the handloom industry lies in revolutionising it. "The handloom industry needs to adapt to the changing times and perhaps be revolutionised in terms of the technology that is used to make it less time intensive and more cost effective," he adds. 
Though his designs are often customised for clients, Agnik has a favourite handloom weave. "Baluchari is a handloom fabric that I love working with and Bishnupuri silk is my favourite. Other than that, of course, traditional tant such as Phulia and Shantipuri tant are what my tant sarees are of and I like to mix and match them often. More recently, I have been quite taken by jute silk because it adds a different texture to the clothes."
Sriparna Ray — Bhomra Design Co.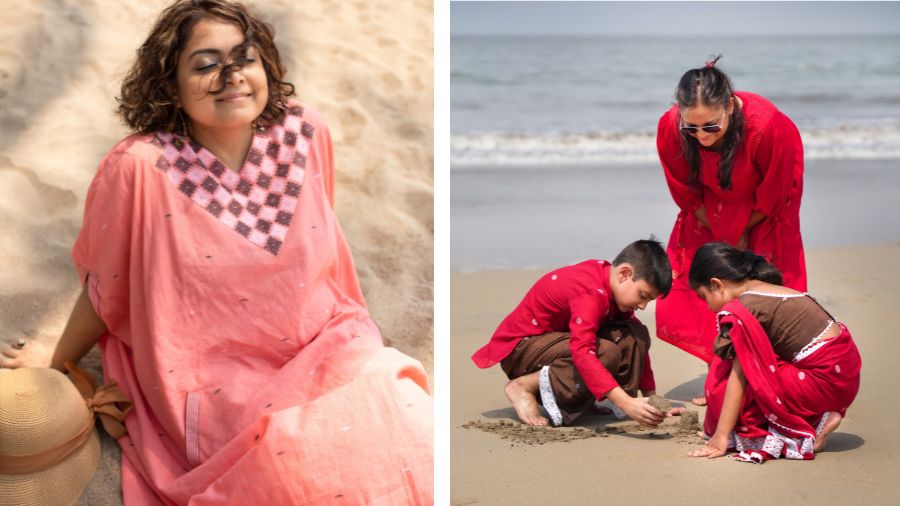 Designs on jamdani fabric from Bhomra Design Co
@bhomradesignco/Instagram
Sriparna conceptualised Bhomra about five years ago with the desire to find a safe place which reminded her of her childhood. Tant was something that her grandmother wore often and she found herself gravitating towards the fabric that always brought a smile to her face. Her market research revealed the disappointing fact that tant and cotton jamdani — another favourite — were going out of fashion because many of the younger generation weren't interested in wearing saris. That's when accessibility became central to her designs — Sriparna wanted to give saris a different structure so they could be worn by everyone, and people accepted it because for most of them tant and cotton jamdani were tied with nostalgia. 
"My structures were very simple because I wanted the focus to be on just the fabric," she says. Sriparna is resolute about her choice of textile. "I want to be the brand that only works with tant and cotton jamdani. It is very challenging to constantly reinvent the fabric but it has pushed me to invent different ways in which I can present it. It also pushes the weavers and it excites them as well. I want to hold on to this immense urge to do something new every time," she adds. From dresses, kurtis, tops to heirloom saris, Bhomra has a range of designs with two fabrics that Bengalis have had a tie with since childhood. 
Sriparna believes that handloom is the future. There are some drawbacks, especially with designs getting leaked and designers not being paid their dues, yet she thinks that the pros of the handloom revolution outweigh the cons."When saree is made to be more accessible, the game changes."
Ratul Dutta — Dutta Ratul Calcutta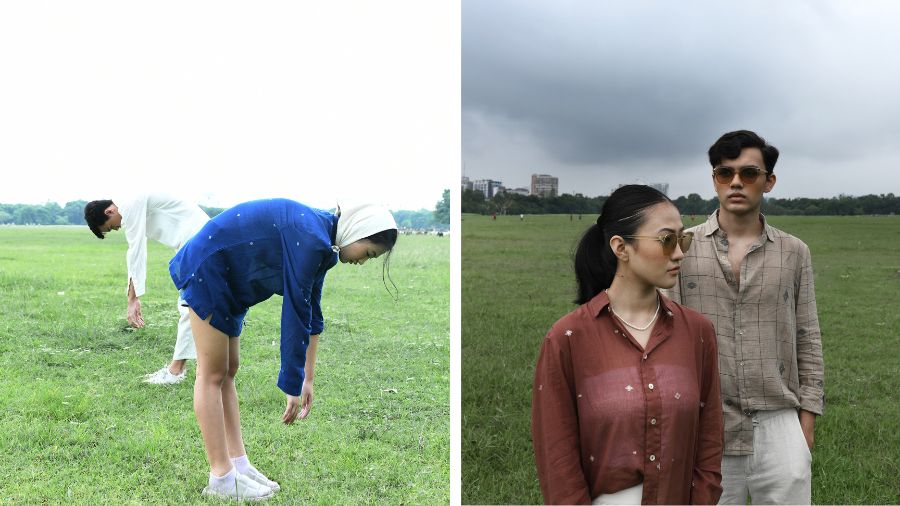 Designs on jamdani from Dutta Ratul Calcutta
@dutta_ratul_calcutta/Instagram
Ratul Dutta co-founded the brand with his friend Koushik Saha in 2022, with the desire to focus on the technique and art form of weaving jamdanis. They want jamdani to be a link that connects West Bengal and Bangladesh. "We have weavers from Bangladesh who weave Dhakai jamdani and we have our small cluster of weavers in West Bengal as well," says Ratul. 
That's not the only boundary they'd like to scale — the brand is big on inclusivity. In fact, their recent collection Kaiteki a range of unisex shirts made with jamdani cotton.
According to Ratul, the excitement for handloom fabrics has increased now because younger people now are looking for exclusive garments — clothes that cater to their changing lives and can be worn for all occasions. "Our brand celebrates the handloom technique every day. When a weaver is weaving, all that goes into the technique is their love for it. A particular piece of jamdani has a lot of affection attached to it. I feel that affection and love for jamdani needs to be passed down the generations."