Samsung has introduced its best selection of Galaxy S smartphones and Galaxy Book laptops this year in the form of the S23 and Book3 line-ups. Instead of making small changes in design, the company has overhauled what's on the inside — faster processor, better performance, integrated experience…. There are zillions of Samsung smartphone and tablet users around the globe. Now think of this: Samsung offers these smartphone users options like easy file sharing, hardware integration and so on. Life will become easy for these users, like it is for any MacBook, iPhone and iPad user.
We are particularly excited about the Galaxy Book3 line-up which has four machines — Galaxy Book 3 Pro (16/14 inch), Galaxy Book3 Pro 360 (16 inch) and Galaxy Book3 Ultra (16 inch). This is the first time Samsung has an Ultra laptop. We spoke to Mincheol Lee, vice-president, head of Galaxy Eco Biz Team, Mobile eXperience Business, Samsung Electronics, in San Francisco. Here's what he told us.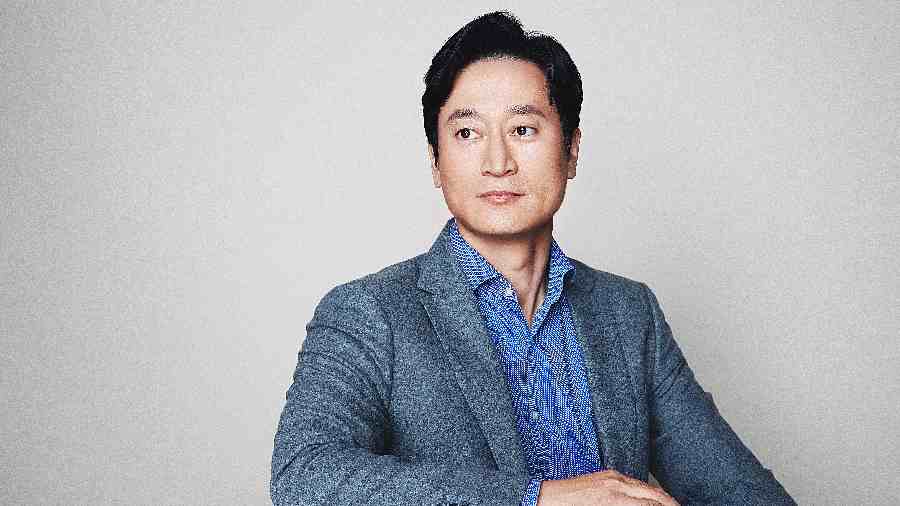 Mincheol Lee, vice-president, head of Galaxy Eco Biz Team, Mobile eXperience Business, Samsung Electronics
It's the first time you have introduced the Ultra model (Galaxy Book3 Ultra) in your laptop range?  Any particular reason motivated you to introduce it?
When you look at the PC market trend and compare it to pre-Covid era, you can see that the market continues to grow. When you especially look at the premium segment, which Samsung is also focusing on, the share of the premium segment is increasing.
For Samsung it's important to continuously monitor consumer trends and based on our understanding, 83 per cent of consumers say they have more than two devices, and 77 per cent of them actually use more than two devices at the same time to do business. According to analysts, the use of Zoom or remote working will continue to grow in the future.
This year we are unpacking the Galaxy Book3 series in parallel with our flagship smartphone (Galaxy S23). What it signifies is that we are trying to embed the leadership DNA of our Galaxy smartphones into our Galaxy Book series, providing a better experience and greater features and performance. With this Galaxy Book3 launch, we have completed our Ultra product line-up. We have a smartphone, we have Galaxy S Ultra, we have tablet Ultra and now we have Galaxy Book3 Ultra.
And Samsung is not moving alone. We are partnering closely with industry leaders including Microsoft, Intel, Nvidia and others. The goal with the Galaxy Book launch this year is that we want as many consumers as possible to actually experience connectivity and greater performance that we provide with these products.
Many Samsung consumers are using your powerful smartphones as well as your tablets. Who do you think will use Book3 Ultra?
This leads us back to the consumer trend that we are witnessing. An increasing number of users actually handle more demanding operations on their PCs. So for our Ultra line-up, our main target consumer are content creators but, at the same time, those who enjoy gaming or enjoy great performance. Besides Ultra, Galaxy Book3 Pro 360 is another form factor users enjoy… the touchscreen as well as S Pen functionality. The Galaxy Book3 Pro is true to the mobility aspect of laptops; it's thinner and lighter with performance that's on par with the other great devices.
What has Samsung done to improve the gaming experience on the laptop?
The Ultra, as I said, targets users who are content creators, so we are not calling it a gaming PC. But since it has 13th Gen Intel Core i9 processor and the latest NVIDIA RTX graphics card (GeForce 4070 GPU), you can enjoy gaming on the machine. As far as cooling goes, with Galaxy smartphones we have advanced our vapour chamber technology and we are applying a similar technology in our PC.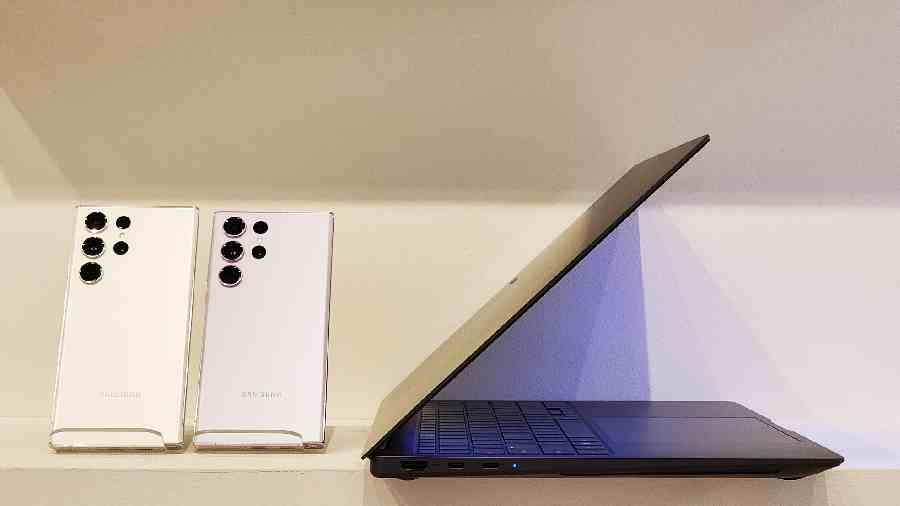 Samsung Galaxy Book3 Ultra is the most powerful laptop from the South Korean company
For Samsung, where does India stand in terms of potential in the laptop segment? In India, you re-launched laptops last year.
For Samsung, the PC category is very important. And when it comes to smartphones, everyone will agree that we have both the best technology and we are continuing to expand the Galaxy ecosystem... it is for the purpose of expanding and completing the ecosystem that we need the Galaxy Book3 series.
In India, as you said, we re-launched our PC business last year and that's because… when you look at Indian consumers, they also have Galaxy smartphones and we want to provide them with an improved cross-device ecosystem experience with our tablet and PCs. The Indian market is important for us for several reasons. One of them is that the demand for premium features and PC device is increasing, and India is also known for higher aspiration in education. With our product we tried to integrate as many premium features as we can fit into the laptops. For example, we offer a 16: 10 screen ratio and 14-inch or 16-inch dynamic AMOLED screen with 120 hertz frame rate. Indian channel partners are also very important for us, so we closely collaborate with them, including Amazon and Flipkart.
We also provide a lot of offline experience possibilities for consumers, so consumers can come and can directly enjoy our Galaxy Connected experience.
How is the enterprise segment doing for Samsung's laptop business? Do you have a larger ambition for the enterprise market globally?
Globally, when you look at the B2C and B2B PC market, the ratio is almost 50:50. So for Samsung, obviously, both segments are very important. That is why in 2022 we introduced Galaxy Book2 for Business, specifically tailored for business customers. For B2B market we are mainly working in two directions. One is closely partnering with well-known big players, like Intel and Microsoft. And in another direction we are introducing and raising awareness among our Galaxy smartphone or tablet users… how they can use our Galaxy Book together if they have a chance to enjoy the connected experience of using our phone withPC or Galaxy tablet with the Galaxy Book.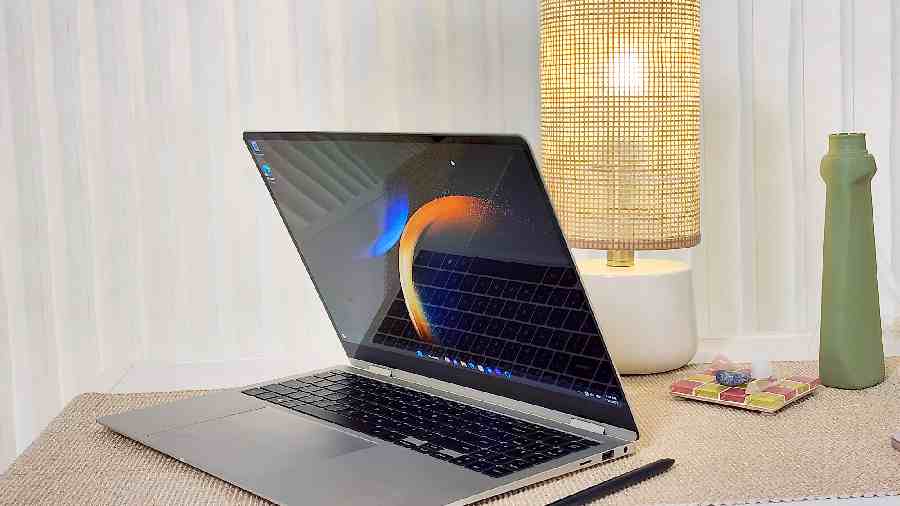 Samsung Galaxy Book3 Pro 360
Do you think the demand for laptops will continue in the postpandemic world?
When it comes to PCs… before the pandemic PC was generally something that you would buy and use for a very long time… it was generally shared by family members. When the pandemic arrived, we witnessed a new trend. Consumers thought one person needs one PC… like it's a daily essential and because they were using it to work from home or using it for video conferences. Performance became a very important factor to consider. In the future, performance will be important. We want to differentiate Samsung from the other Windows PC brands by improving and expanding the Galaxy connected experience.
In the smartphone space, we haveseen innovation in form factor and we are also seeing that coming to laptops. What is Samsung's take on having different form factors in the laptop space?
We are recognised for our technical capability with Galaxy smartphones, we are trying to leverage that expertise on our PC aswell. When it comes to foldables, Samsung is better than anyone else in terms of technological capability.We have to constantly monitor the needs and consumer demand. As and when what the market requires, we will study that… be it form factor or innovation. And these need to be done in close cooperation with our partners to achieve perfection.
Working with, say, Intel also means following a timeline that could be restrictive because Intel supplies many companies. Will you look at a future where you have more control over everything that goes into your laptop, even the chip?
That's where we clearly differentiate from other brands. Our direction is to sustain and further develop open collaborationswith industry leaders. It could be Intel or Microsoft or other partners.We will continue to closely work with them to expand the Galaxy ecosystem so it can improve and offer a better experience for all consumers.