Building a smart home? It's something that has interested me for years and whenever I get an opportunity, I collect devices that help with the endeavour. The latest is the Samsung SmartThings Station.
The first time I heard Samsung work on smart home hardware, it was before the pandemic. The company has made a lot of progress since  2018-19 and this year, at CES, it spoke about the new product. You will want to put this hub in your home because it's built into a wireless charging pad. Now, this is a product that's not available everywhere and I had a chance to add it to my collection during a work-related trip.
It acts as a smart home hub for all your connected devices while having the look and functionality of a charging pad. It converts Samsung's wireless charger into a smart home hub that can control every aspect of your home at the press of a button. The Station will help create routines on the SmartThings app that can then be activated by tapping the Smart Button found on the pad.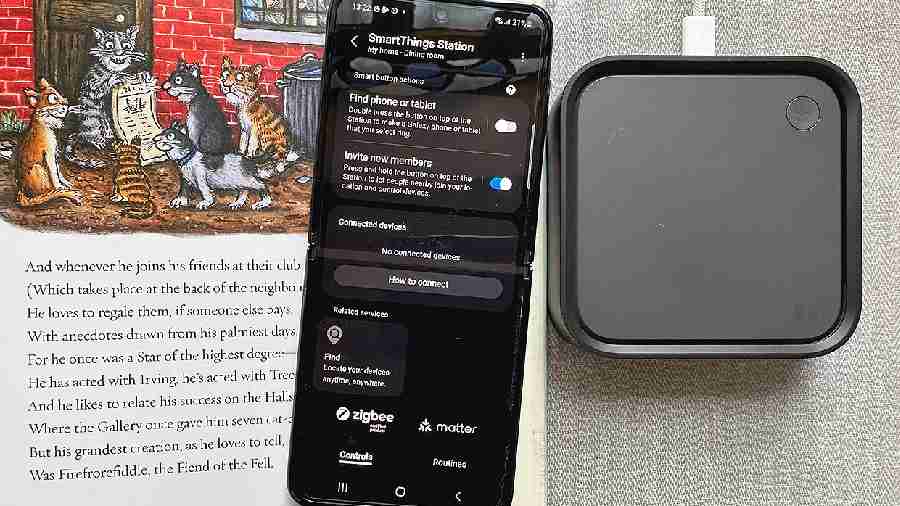 The charging puck supports Matter and Thread to connect devices like TVs, speakers, thermostats, lighting, and plugs to SmartThings
For example, when it's time for bed, a quick tap could trigger a routine for sleep — which could turn off the lights, close the blinds and lower the temperature. Or, if a movie night is on the cards, a movie routine could turn on the TV and dim the lights. When leaving home, the SmartThings Station can turn off power outlets and unused appliances to save energy, and activate a security system.
At the back of the box, it's clearly mentioned that the charging puck supports Matter and Thread to connect devices like TVs, speakers, thermostats, lighting, and plugs to SmartThings. It also works with the new smart home standard Matter to onboard devices to any Matter platform.
Let's get into more details. First, it acts as a 15W fast wireless charging pad for Galaxy smartphones and earbuds (it will charge other phones but not as fast). Lately, I have been charging all my Samsung devices on the Station. To get the SmartThings aspect going, there is a tactile button that triggers it. In case you are into smart homes, this is an inexpensive device — at least in the US — and it's possible to have many of these devices around the house to drop your phone on. Of course, you get to work with all the smart lights, TV and other things.
There's another interesting feature — the charging state of Galaxy phones can be used to trigger an automation. For example, put the phone down to charge, say, after 10pm, and it could turn on a Good Night scene, which turns down the lights and locks your door. Or when you pick up the phone at 6am, the Good Morning scene is turned on.
I have also tried using the device to locate my other Samsung gadgets. I have set up the Station with my Samsung Galaxy Z Flip4 and the pad has been configured to ring the phone on double-pressing the button. It also acts as a Find device scanner, so you are aware of where your smartphones, tablets and earbuds are.
With more than 80 million connected devices, the SmartThings platform can help reduce carbon footprint at home. The company's efforts to enrich and expand SmartThings Energy have led the US Environmental Protection Agency to award Samsung the industry's first mass-market Smart Home Energy Management Systems (SHEMS) certification.
Besides having Matter built in, it's also a Thread Border router alongside a Zigbee SmartThings hub and has Wi-Fi and Bluetooth radios built in. There is no Z-Wave support. Having Matter onboard means it can onboard Matter smart home devices to your home network using any Matter-compatible app, including Apple Home or Google Home.
Being a Thread border router, the Station supports devices that use Thread, a key wireless protocol Matter is built on, alongside Wi-Fi. Thread is a low-power, low-latency mesh network used for low-bandwidth devices, like sensors and lighting.
At a glance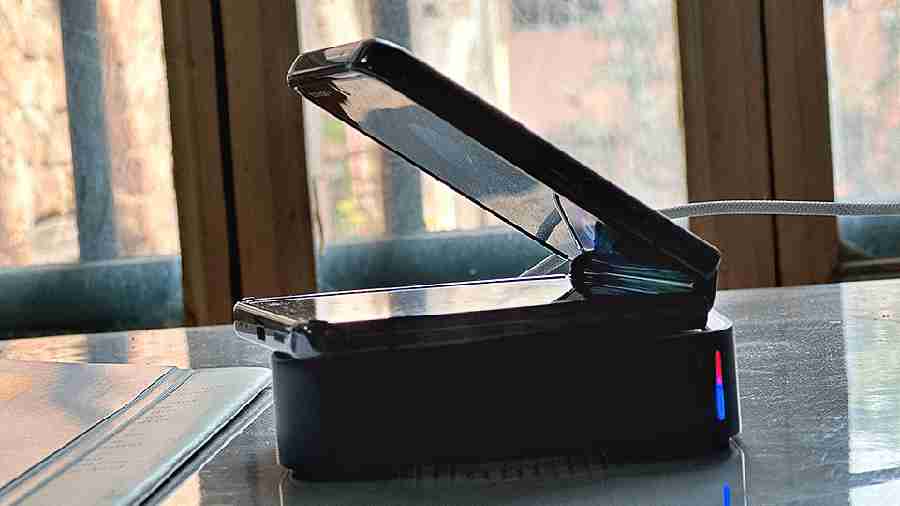 You can tie automations to Galaxy phone charging, like with the Samsung Galaxy Z Flip4
Device: Samsung SmartThings Station
Availability: In case you are travelling to South Korea or the US, you can pick up the gadget
HIGH NOTES
It's a smart hub as well as a wireless charger
You can tie automations to Galaxy phone charging
It's a Matter controller
MUFFLED NOTE
Not many features for non Samsung phones