Here's the deal. A competitor trying to improve its market share might lower prices. A company looking at increasing profit margins may cut costs. And a business that wants to accelerate sales will put out best versions of themselves. Realme is that company which wants to look good and become the next big player.
The company's latest phone is the Realme GT 2 Pro, which is nothing less than a flagship category device. And it will not disappoint because Realme didn't set out on the journey to cut corners. To understand where this phone stands — perhaps the crowning moment for Realme — it's important to see how the company has evolved. Instead of offering phones spread across spectrums, the company slowly gave shape to its portfolio starting with the inexpensive models. So each time they made a phone — no matter how inexpensive — they have tried to put in the best possible hardware to make customer experience shine. This is unlike established brands, which want us to buy their most expensive phones because of high profit margins, in the process compromises get made to their lower-rung devices.
Not that GT 2 Pro doesn't come with a couple of drawbacks but there's nothing seriously wrong with the phone.
The 'write' stuff
Almost everything about the phone is different, even the way it looks and feels. The value-crammed device uses a material on the back which is new. The rear panel is made of a biopolymer, which is part derived from recycled paper, thereby making less use of CO2 to make it. The panel has the look of leather but the feel of recycled paper; in fact, it feels brilliant. The review unit which we have is Paper White. It's possible to take a lead pencil and write on the rear panel and then erase the same off. Maybe it won't add anything in way of value because you will certainly not be taking down notes on the back of the phone but it shows that Realme is thinking out of the box. Agreed that being a part of BBK Electronics — also the home to OPPO, Vivo and OnePlus — Realme has a lot of resources at its disposal but the desire to look beyond the obvious need to come from the brand, which is the case here.
Fun, fun, fun with the camera
I won't spend much time talking about the Snapdragon 8 Gen 1 processor here because Android games have reached a point when last generation chips can do a fairly good job running these titles but where a faster, a more nimble chip comes into play is when you are looking at camera output. There is a tonne of AI calculations that need to be done to turn in a perfect picture.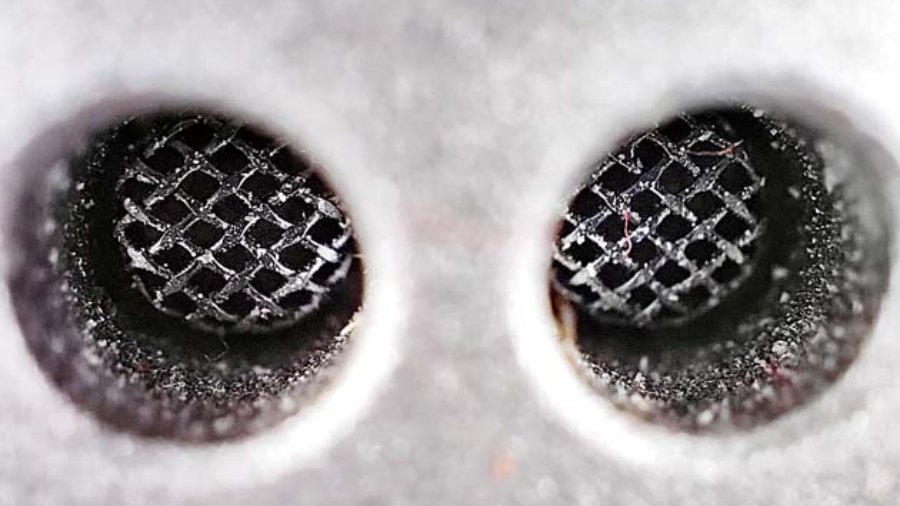 Microcope' feature allows extreme close-up shots
So camera is one of the main attractions of this phone and rightly so. On the back you have two 50MP snappers — one for ultra-wide and the other is the main camera. There is a third camera but more of that later.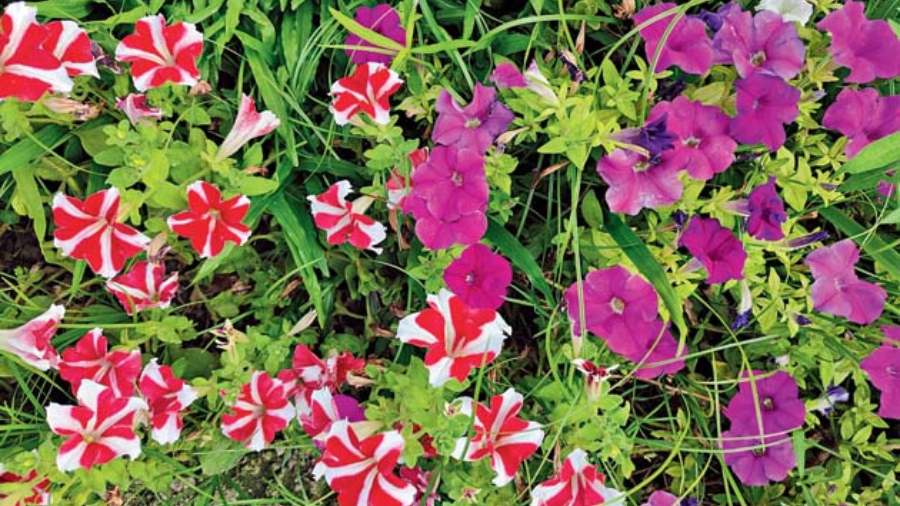 Colours are slightly punchy but they look good on social media
Sharpness and auto-focus are not an issue with the two shooters. Having the Sony IMX766 sensor with OIS ensures your phone fighting power for a few years. Pictures are bright, clear and packs in a lot of colours. Instead of brightening the picture overall, the software makes adjustments to the various parts so that the final image looks perfect.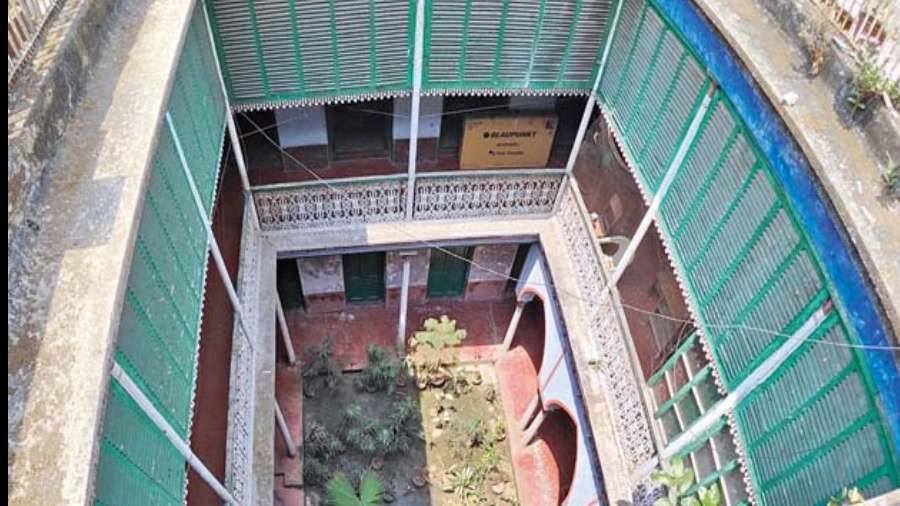 The ultra-wide angle lens offers a 150-degree field of view and can also be used to take fish-eye style photos
But we have seen other cameras do that too. What impresses me the most here is the fun element. There are quite a few modes to make life easier. First, street photography, which ensures high shutter speed as well as depth; it's something I can see myself using often. Movie Mode offers shooting in a cinematic aspect ratio, Duel-View Video records two separate streams at once, and Starry Mode is a long-exposure shot for which we recommend using a stand.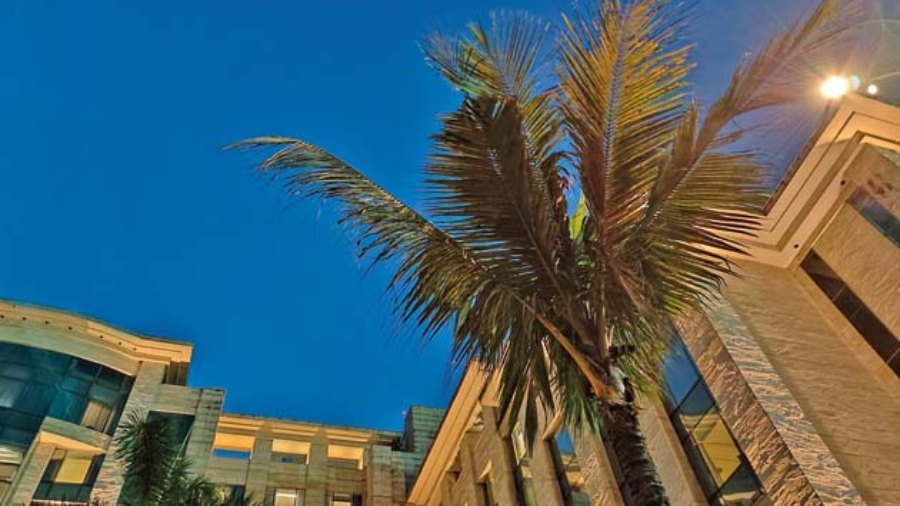 Full 50MP photos allow scope for micro editing
Then there is a 150-degree camera mode, which is helpful. This is ultra-wide on steroids and it works well, cramming in a lot of details. In the same mode, you can also take fish-eye photos. I don't understand why the mode has been kept under "more" section of the camera.
Finally, the feature many are talking about — Microscope, which uses the third camera on the back. Instead of a macro camera, you get the Microscope mode that sort of does what a microscope is supposed to do. It's not the easiest mode to record in and the output is not the best but it's a nice gimmicky feature to have. And there are some more shortcuts that add fun to the camera department.
Also impressive are videos taken on the video but there are a couple of caveats. You can shoot at 720p, 1080p, 4K and even 8K. Within 4K, I prefer the videos shot at 60fps, especially at night because of the level of clarity. Once you turn on AI Highlighting, the video defaults to 1080p@30fps. But when shooting at 4K@60fps I can't shoot ultra-wide, which I can do with 4K@30fps. So there are quirks, which I hope Realme sorts out in the future. A user wants things to get done their way without looking at tech constraints. As for the front camera, it's a decent snapper offering good skin tones.
Things that matter
As important as the camera is the display. Once again, no corners have been cut. It's a super AMOLED display offering deep contrast and there is support for True 10-bit colour, which means a better range of colours. It's a QHD+ resolution, so you have more pixels than you will ever need. Plus, this is a LTPO 2.0 panel, allowing 1Hz to 120Hz screen refresh rate and in the process better battery optimisation. I like the flat screen and the dual stereo speakers. There is no headphone jack but I am not complaining.
Doing justice to the screen are the games you can play. Genshin Impact runs smoothly and there is sustained performance, maintaining 60fps. Like I said, the processor is as nimble as you get on any Android phone at the moment. What Realme has done differently is adding a large cooling system to stop the device from heating up when you are gaming for hours and that way there are fewer dropped frames.
Not enough? Call and Wi-Fi reception on this phone is very good. Antennas are distributed all around the phone, so no matter how you clutch it, there will always be a strong signal. There is a 65W charger in the box to juice up the battery in no time, which is something flagship rivals have started skipping.
Should you buy it?
Yes, there is quite a bit of bloatware, which can be deleted and the Realme UI 3.0 can be a better interface. Software is something that needs some tweaking; it's not bad at all but there is room for improvement. At least, the phone comes with Android 12 out of the box with promise for upgrade for a few years. Also, an official IP rating would be welcome.
This is the phone that may act as the transformative point for Realme. It will no longer be considered a company fighting for customers in a couple of price segments. Though OnePlus also comes from BBK Electronics, I think this is a phone with far more value and features. A new rock star in the premium category has been born and it is called Realme GT 2 Pro.
At a glance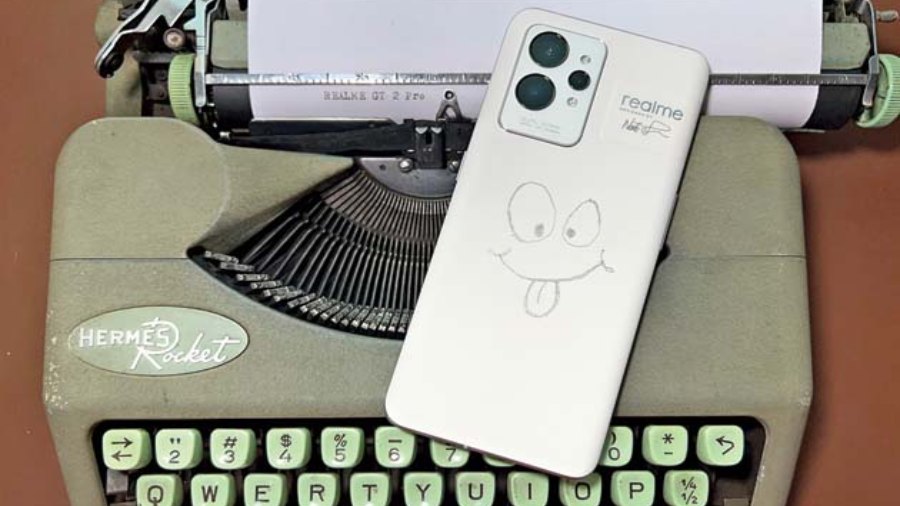 Use a lead pencil to doodle on the rear panel and then use an eraser to wipe it off
Device: Realme GT 2 Pro
Price: Rs 49,999 (offer price: Rs 44,999) for 8GB+128GB variant. Sale date: April 14, noon onwards on Flipkart.com, Realme.com
High notes
• Good set of cameras and features
• Excellent design
• Long-lasting battery
• Fast processor
• Unique rear panel
Muffled notes
• Video recording options can be standised further
• No official IP rating
• No wireless charging