Thriller buffs — and even those who aren't — are all praises for Suzhal: The Vortex. The eight-episode Tamil crime drama series that dropped on Amazon Prime Video on June 17, has become a huge hit, with viewers binge-watching it. Starring Kathir, Aishwarya Rajesh, R. Parthiban and Sriya Reddy, Suzhal focuses on the repercussions of a girl going missing in a small town. The husband-wife pair of Pushkar and Gayathri — who are now remaking their 2017 Tamil blockbuster Vikram Vedha in Hindi with Hrithik Roshan and Saif Ali Khan in the title roles — have penned Suzhal, an idea that first came to them in 2014. A candid chat with the duo.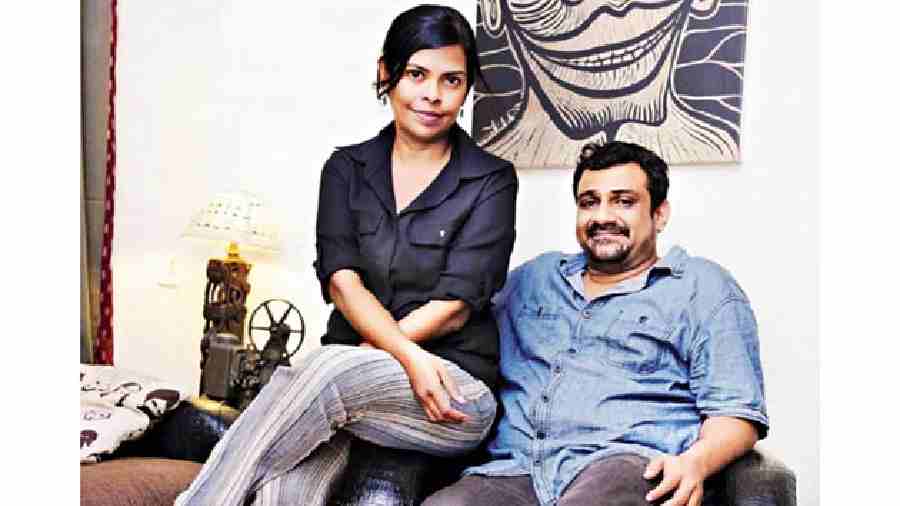 Gayathri and Pushkar
Did you expect this overwhelming response to Suzhal? It's almost been euphoric...
Gayathri: We actually know how theatrical releases work... there is a way to gauge audience response on the big screen. With OTT, we thought it would take some time to sink in and hopefully pick up....
Pushkar: At the end of the day,  we are speaking about a series of eight episodes of 45-50 minutes each. It takes time to watch.... Other than critics and people connected to the film-making industry, the response from the general audience has been very, very heartening. This (crime drama) is not a space that is very mature in India, in terms of a show in this genre being watched on the day of its release. In films, we have that culture. But on OTT, this is something that requires a big investment of time and commitment and to see so many people do that has been very special.
The fact that families are watching together has been a big deal for us because this is not a medium that's built on that. It's a very personal, or maximum husband and wife watching together, kind of a medium. OTT is not a collective family-watching medium like TV is. So the response to Suzhal has been a big learning for us.
Also, the OTT medium, unless the title is a much anticipated returning season or a big show, is more about staggered viewing...
Pushkar: Exactly! We watch a lot of stuff, but even we don't watch eight episodes a day! (Laughs)
Gayathri: Even if we really love a series, we watch two episodes a day. With Suzhal, we have been very lucky... clearly something is working!
This project has been bubbling under for a long time, right?
Pushkar: We actually thought about it in 2014. We had thought of it as a film at that time, but we set aside that idea pretty quickly  because it grew too big to be a feature film. This was primarily in terms of time. At that point, we thought that let the OTT platforms come in and then we will pick this up. 
Gayathri: When you make a feature film, it invariably always has to be about the protagonist. When we started writing Suzhal, we realised we needed a lot of characters, a world needs to be built, a lot of elements need to be explored... and that's when we decided that long-form is better. We eventually started writing it in 2018....
Pushkar: The screenplay and the dialogues... the story was in place before that. Even then it took us a year-and-a-half to write....
Gayathri: We are also a bit slow! (Laughs)
The world has been slow for the last two years, so I guess it's fine...
Pushkar: We were born slow! (Laughs) Vikram Vedha (the Tamil original starring Vijay Sethupathi and R. Madhavan) took us seven years to write, Suzhal took us about four years....
Was there a starting point for this story?
Pushkar: The first imagery that came to our minds is seeing one thing from different perspectives. You see that in the fifth episode where there is a boom box and when you shine a light on it, it looks rectangular from one side and circular from the other. This was the actual starting point for our discussion.... That it would be an investigative crime drama followed soon after that. We wrote some stuff out, but we were getting stuck on what the overall metaphor for this would be, what is the abstraction of the idea.... That's when we chanced upon the festival Mayana Kollai and it all fell into place after that. The myth of that festival and what we were trying to write correlated so beautifully.
As writers, we are always trying to get what we call the birds' eye view of the story. It doesn't happen at the beginning, it happens somewhere down the line. One is always struggling to find that... I think that's why we also use a lot of drone shots (laughs)... just to show that holistic view of things....
Gayathri: If you don't get the birds' eye view, a lot of scripts get aborted. If you arrive at the birds' eye view point, then that's magical for any writer. It's a 'eureka' moment.
Pushkar: We have a bunch of scripts saved in our cloud where the birds' eye view hasn't happened yet.
Suzhal has your stamp and vision written all over it. Was there never the thought of directing it yourselves and weren't you insecure about handing over your project to Bramma G and Anucharan Murugaiyan?
Gayathri: Initially we didn't think of anyone else, we were supposed to direct it. That was the idea of writing it in the first place. But when we finished writing, we had some other commitments and we couldn't have directed it then. Amazon (Prime Video) suggested that we get some other directors... people who we trusted. We trusted Bramma and Anu... we love their work and how they treat emotions and people and their pitching of drama....
But yes, initially we were like, 'No, no, no... we can't hand over our baby'. We did all that drama (laughs). But then when we sat down and thought about it, we realised that the scale of Suzhal is actually that of three feature films and that we needed more collaborators.
Pushkar: Honestly, Bramma and Anucharan are not people we know from earlier. Our decision was purely based on their earlier work. Bramma's Kuttram Kadithal is a National Award-winning film and Anu's debut Kirumi is one of our all-time favourite films. In fact, we know Kathir (who stars in Suzhal) from that film. Pitching of drama is a very important thing for us, how subtle you go or how loud you get. And we found these two directors very good in the way they handle this aspect in their films.
With special reference to Suzhal, how has the thriller genre evolved in India?
Pushkar: What we have in Suzhal — an investigative drama set in a small town, a girl gone missing — is a genre in itself. There have been so many thrillers based on this idea. But Suzhal is not just that. It's not just a police procedural. For us, the social drama that takes place when a big crime happens in a small town, was important. The fact that the investigation is carried out with a certain judgmental look at people, and how that clouds the investigation was critical for us. The metaphor that we were going for required it to be a crime drama because the emotions have to be hard, they have to be big.... And somewhere, when we were tying it to a mythical story, this was the genre and the approach that worked for us. 
Gayathri: Our idea was to always make it very Indian... the drama, the visuals... we wanted it to be unabashedly Indian.
Pushkar: We thought of this as the story of the town called Sambaloor and the people inside it. We examined the insider-outsider complex in that space. We naturally gravitated towards having crime as the central incident to explore the show's various tangents.
When you write and direct, do you have separate duties? And being married to each other, is the conversation at home always about films?
Pushkar: I think we would count as best employees because we work 24 hours! (Laughs)
Gayathri: We have been working together since the first year of college and we don't know how to work otherwise. We would be slightly lost without each other.
Pushkar: We don't divide duties very clearly. But when we write a scene, one of us writes it down, we talk at length about it, make changes, talk some more, make some more changes.... that's why it takes us so long to write!