A ny mention of wicker furniture in India takes one back to colonial times and bungalow verandas. The 19th century was kind to wicker furniture as trade routes from Asia brought in a lot of it to Europe. Of course, the art of weaving objects from natural fibres goes back at least as far as ancient Egypt. One wicker object is of great interest — the peacock chair. It has been a cornerstone of a cultural revolution for decades and can be seen on multiple album covers — from Drake's mixtape titled More Life to James Brown's The Original Disco Man, OutKast's Speakerboxxx to Al Green's I'm Still In Love With You. And Beyonce has used it effectively during her live sets. What's the deal about the peacock wicker chair?
What better place to begin with than Charles Darwin's 1878 photograph in which he is seen sitting comfortably in a wicker chair that has some of the makings of peacock-style option? In 1876 a new extension was built at his house to include a veranda overlooking a well-kept garden. It was on this new veranda that Leonard took another portrait of his father, sitting comfortably on a wicker chair. Back then wicker furniture was a part of almost all verandas. It was found everywhere, resorts to even aeroplanes, like the Imperial Airways. If it was everywhere, then why shouldn't photographers use them? They did this in their studios. Being light, it is easy to move around and being breathable, it could take on all the heat generated by bright studio lights.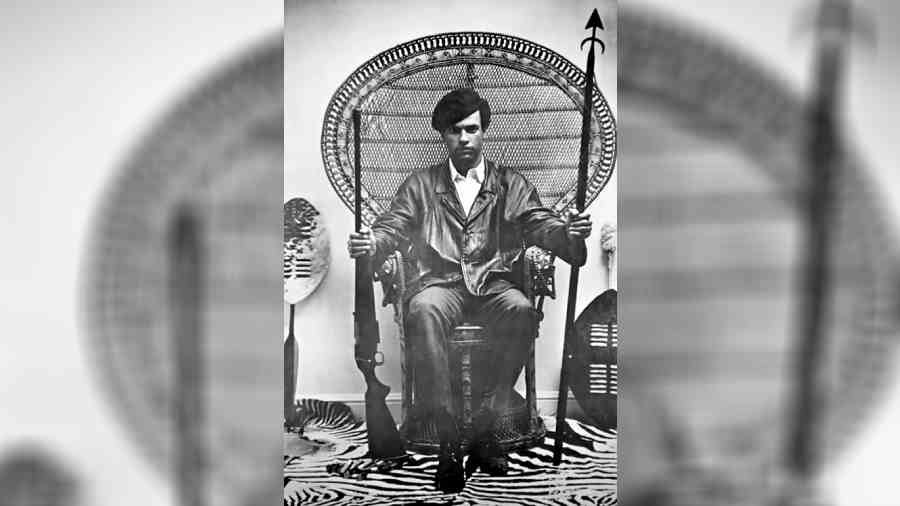 Black Panther Party co-founder Huey Newton
Wicker chairs were common in portrait photographs for much of the late 1800s and a part of the Twentieth century. A derivative of the peacock chair was seen in 1876 at the Philadelphia Centennial Exhibition. Not just common people were pictured sitting in wicker chairs but also the powerful, like John F. Kennedy, Woodrow Wilson, Dwight Eisenhower and Winston Churchill. Also, celebrities: Elizabeth Taylor, Marilyn Monroe, Katharine Hepburn and even the young Dakota Fanning.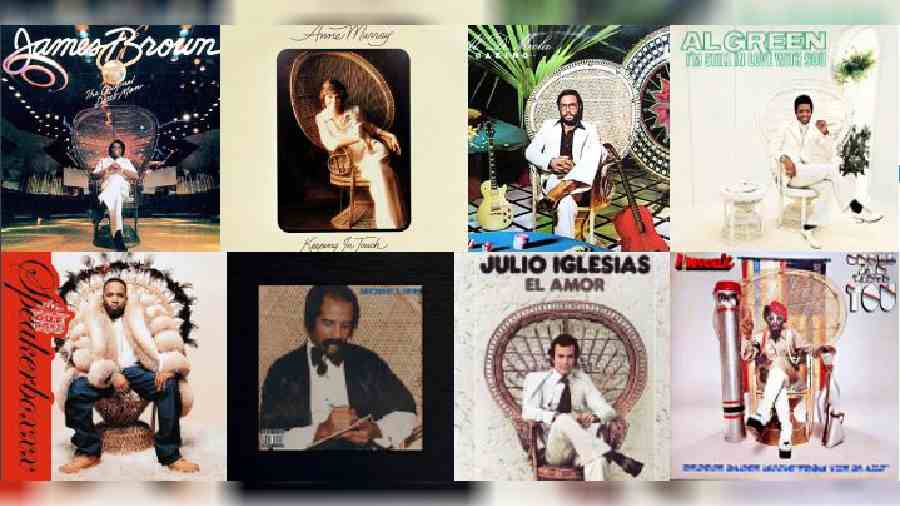 Ideas can't be imprisoned
The peacock chair, the woven-rattan seat with a round back, has an important date attached to it, 1914, when the nowdefunct El Paso Herald published a photograph titled "A Jail Bird In A Peacock Chair", showing a woman in a striped dress, captioned "a convict … seen enthroned in a majestic peacock chair", holding a baby in one arm.
The caption reads: "'Birds of the same feather flock together,' runneth ye hoary adage. In the above picture, however, a Philippine jailbird, in the striped feathers that clothe a convict, is seen enthroned in a majestic peacock chair. The chair takes its name from its beautiful back. It is made of bamboo, a light, plant wood which the artful Filipinos use with great dexterity in the manufacture of furniture. The woman shown in the picture, with her baby that was born in the prison, is serving a life term for the murder of her husband."
The photograph was most probably taken at the Bilibid Prison in the Philippines at a time when the place was under US rule and tourists visited it because it was a manufacturing facility for wicker products. The prisoner was probably involved in the making of peacock chairs.
How then did it become popular in celebrity photographs? First, the wicker chair has always been an equalizer — the rich as well as common people have been seen sitting on them in portrait shots. Second, the photograph of Black Panther Party co-founder Huey Newton. The photograph of Newton — with a rifle in one hand and a spear in the other — was distributed among African-American households while the chair became a symbol of the revolution, being displayed at rallies to represent the party's leaders when they couldn't attend.
Meanwhile, in the 1960s, the peacock chair had a special role on screen, like in the hit TV series The Addams Family, where it served as Morticia Addams's "throne" and when a Dutch actress-model was featured topless in the chair in the poster for the French film Emmanuelle.
In the 1980s, the peacock chair fell out of favour on album covers but lately, it's once again finding favour among interior designers because the chair offers scale, which is handy while decorating. The chair's popularity is seen in photographs on Pinterest and Tumblr. With youngsters showing interest in the Netflix show Wednesday, many of them are returning to the original run of Addams Family on YouTube, finding Morticia Addams in her favourite chair. That's reason enough to give the iconic seat a fresh coat of paint and a velvety new cushion.