THE BITTERSWEET
The whole town was wreathed in twinkling lights. Pretty window displays beckoned shoppers already laden with large bags. Happy faces everywhere, laughter, music and cheer filled the air. It was Christmastime in America. And it made me miss Durga Puja — and Kolkata — even more. 
Right after my undergraduate days at Presidency College — I was about 19 years old then — I moved to Dayton, Ohio, for further studies. It was an American town with a pretty small Indian community, and a very small Bengali community.
So, of course, I missed India, especially during Durga Puja. Back home, we would always wake up for Mahalaya, and gather around the radio to listen to Mahishasura Mardini and agomoni gaan early in the morning. I missed that so much in Dayton! And those were pre-internet days, so you couldn't get anything if you were away from India. One felt really cut off from one's culture. I remember being very homesick during Durga Puja. Also, I was living on campus (Wright State University), so there was even less of Indian culture at that time.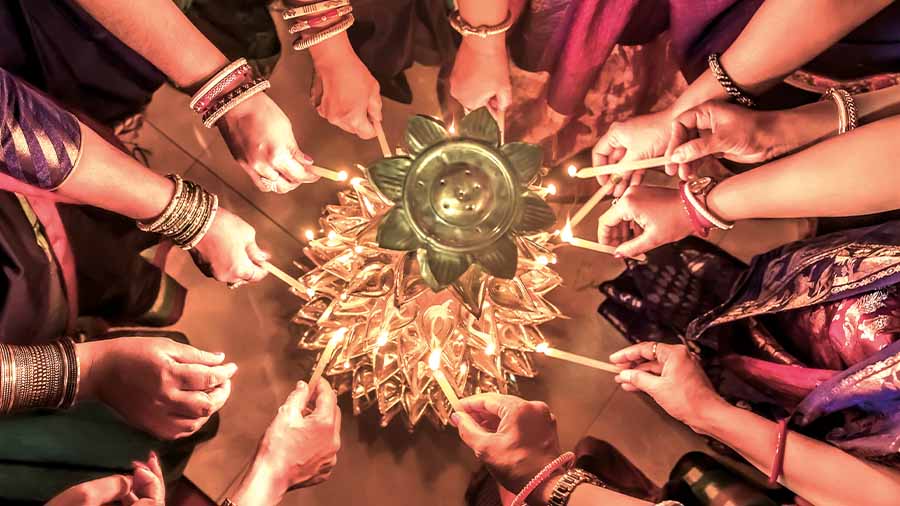 My first Puja in the US was spent in a school hall. At that time (mid-1970s), Bengalis from three or four towns around Dayton would get together and organise Durga Puja on a weekend because that was the only time people could come. Either it was the weekend before Puja, or usually, it was the one after. They would do a one-day puja, more like a one-afternoon puja, and there was neither purohit nor dhaaki. One of the Bengalis would bring out a book of mantras they had carried back from India. Someone would chant them and then we would do the anjali. There would be Indian dances by children who were taught by one of the mothers. That was all.
But it was nice that we could do at least that. We immigrants, at that time, were thankful for whatever customs we could recreate. We had a tiny little Durga murti and there was no bisarjan after the puja. The idol would be stored very carefully in somebody's garage, and out it would come next year!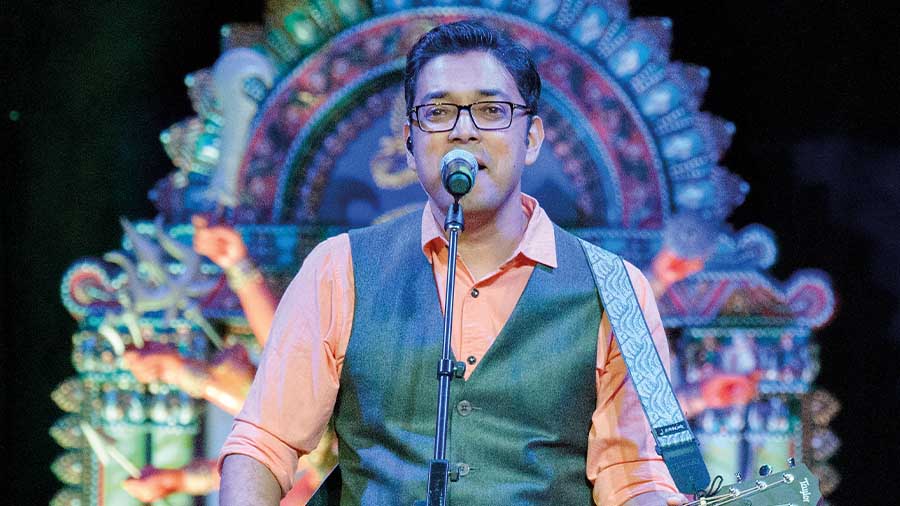 Anupam Roy performs at the Durga Puja celebrations at Tampa, Florida, USA
I could see that it gave people a lot of pleasure to be able to do that much. They would have little performances, and Bengali food would be cooked by the ladies, and everybody would eat together after offering anjali. The older people in the community who had lived in the US longer liked it, but I did not… it just seemed so like not-Puja to me, it just did not satisfy me at all.
In Kolkata, during Durga Puja, the whole city is festive, everybody is festive. Puja is in the air, it's an atmosphere that permeates the entire city, but here, in Ohio, it was like we were trying to create Kolkata in one little room. The moment one stepped out of that room, there was no Durga Puja. And right after that when they had Christmas here, all the stores would be full of Christmas stuff, and I would walk around and miss the real Durga Puja — a whole community, a whole culture, a whole city sharing the same thing — even more.
RITUALS AND ROMANCES
I experienced the heady festivity of Durga Puja that is unique to Kolkata quite late, actually. When I was younger, my father moved around a lot, so we were in different cities. My best memories of Durga Puja are from when we came back to live in Kolkata, when I was in my final years of school.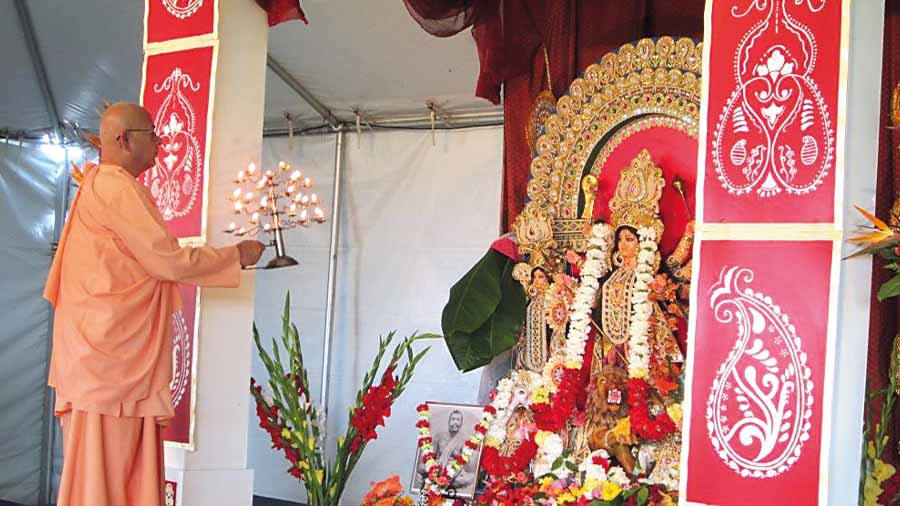 I made up for all the missed Durga Puja fun in my last two years of school and then my college years. I remember clearly how Kolkata transforms itself, almost into another city, during Puja, and I really remember all the excitement, all the new clothes in the shops, all the decorations everywhere, and going from pandal to pandal looking at the Durga pratima... all of that.
We lived in New Alipore, so we had our own puja in our neighbourhood, and we were very involved with that. In fact, as a high schooler and a college kid, I used to help out a lot with the puja, I really liked doing that. I liked going to the mandap in the morning, when I would help with the alpana on the ground and then I would chop up fruits and help out with other puja preparations.
I also loved to sit and watch the actual puja, I loved the smell of the incense, the smell of dhuno, and then the arati in the evening — all of that was quite special for me. And then, of course, we would have the amateur performers. There would be a stage on the other side of the pandal and every evening there would be performances by the people of the para (locality). It was a lot of fun. Our whole family would go and sit in the maath (field), and all my friends would come, too.
And I noticed that the pandal was the place where boys and girls would keep an eye out for each other. At that time, Kolkata was much more conservative, and there was not much of an opportunity for you to meet people of the other sex... so the pandal was where a lot of those little romances would bud.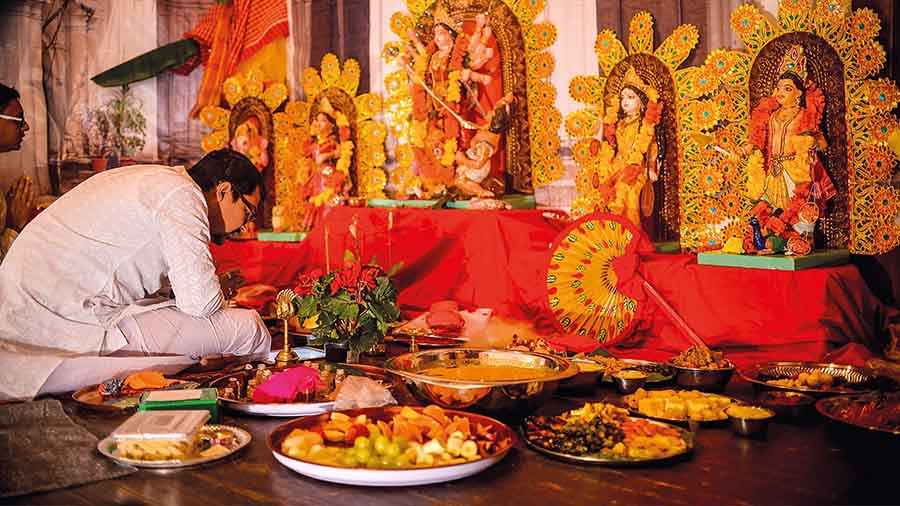 Oslo Durgotsav, Norway
Oslo Probashi Bangali
DURGA PUJA IN AMERICA TODAY
Now, I live in a bigger American city — Houston in Texas. Houston has a Durga bari temple, and that's very nice because Durga Puja is organised very well here, very elaborately, on all the days of Puja. There is a priest who does the puja every day — puja in the morning and arati in the evening... it is pretty authentic. And on the weekend, they have a special anjali for everyone. They hire cooks to come and prepare a real Kolkata-style feast, now we have all those resources available. So Khichuri is made in a really big dekchi and there's that puja-puja feeling… a bit like any pandal in Kolkata.
The organisers put up many cultural events. They bring a drama troupe from Kolkata, or professional singers. The cultural programmes in the evening are of a very high quality. People from surrounding cities like Austin or San Antonio that don't have a Durga bari will drive down and spend a few days in Houston during Durga Puja.
In Houston, we are very blessed, we also have a Vedanta Society — set up by the Ramakrishna Mission. They do a very nice Durga Puja. They too do it on a weekend, so that the maximum number of people come. They will always coordinate with the Durga bari so that they don't do it on the same weekend. Durga bari will usually do it after Puja, and the Vedanta Society will usually do it before Dashami. The puja in Durga bari is very nice because of the cultural aspects and the puja in the Vedanta Society is very nice because it is very spiritual.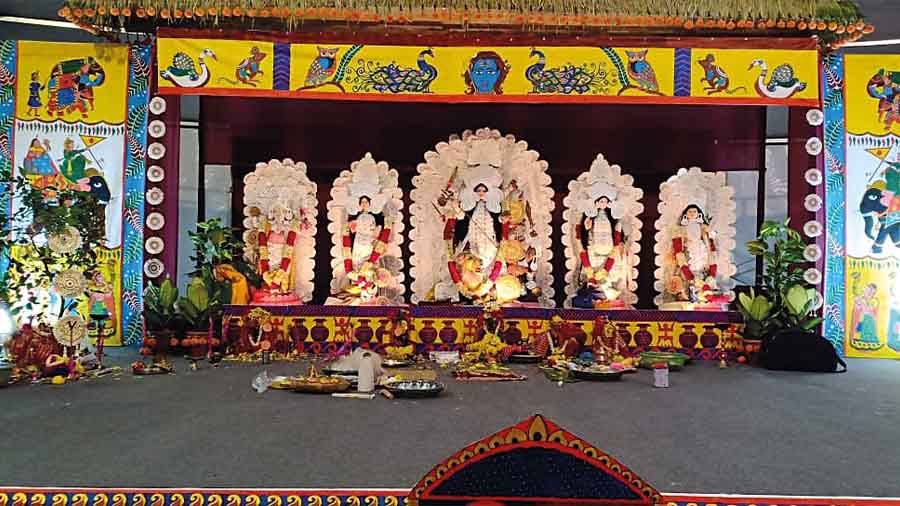 Durga Puja in Singapore
Shiraj Choudhury
IN A FOREIGN LAND
Celebrating your culture in a foreign land can be bittersweet. It is wonderful because we can, at least, continue to have those festivals, but it is also a realisation, every time, that it is never really going to be the same.
It is heartening to see how Bengalis have created a community here; they have very good friends, they come together to celebrate Puja, and their involvement is very hands-on. All the women will get together, they will create puja thaalis and prasad and everything, they will wear traditional Bengali saris — white with red border — and it's really nice to see that.
And they take their puja very seriously! In fact, I think the people attend the pujas here much more seriously. In Kolkata our family was always interested, but many of my friends would only come in the evenings for the very last arati and stay for prasad or bhog. They were more interested in bhog and socialising and hosting the play. But here, I think people are very interested in continuing the culture, so they make it a point to bring their children, from the time they are little, to the cultural events and the puja. At each mandap, there will be someone explaining the rituals in English for the children. So there is a real sense of people wanting to know themselves but also for their next generation to know the meaning of all this. Their hope is that the next generation will continue with it.
DURGA AND ME
Beyond the festivities and fun of Durga Puja, there is the worship of the Goddess. I am very interested and energised and inspired by the whole idea of the Goddess who is the warrior — she is taking charge, she is destroying evil — and I love the fact that in Bengal we have the Mother Goddess who is also the Warrior Goddess. It is so powerful and empowering.
I would like to see more of that translated into our daily life, into how women are treated and how much agency they are given, because it is very much in our culture.
In my books, I try to bring out that aspect of womanhood. For instance, in Before We Visit The Goddess, Sabitri's mother is called Durga. And although Durga is in a very difficult situation — she comes from a very poor family, she is not educated herself — she is determined to send her daughter to college in Kolkata. So, I see the strength of the Goddess in women like her. Many times they are not in a particularly strong position in society, they don't have education, they don't have money, they don't have agency, but I have seen many women struggle through difficulties without giving up, and that is very inspiring.
My hope and my thinking is that having the Goddess right at the heart of our culture gives us women extra strength. And that for me, is my special connection with the Goddess, as a Bengali and as a woman.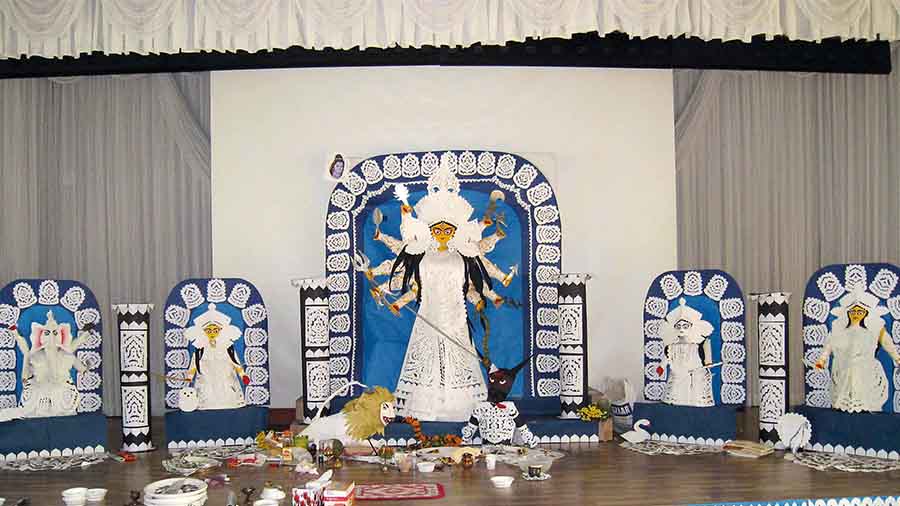 The three-dimensional Durga murti made by Sampa Guha Majumdar in Okpo (near Busan), South Korea
Abhijan Gupta
Chitra Banerjee Divakaruni is the writer of bestselling titles like The Palace of Illusions, The Mistress of Spices, and most recently, The Forest of Enchantments. Her work has appeared in over 50 publications and been included in over 50 anthologies. She tweets at @cdivakaruni.
Excerpted from Durga Puja: The People's Festival produced by The Bhawanipur Education Society College in 2019.