Amid flashy LED signages, market-turned-marts and fancy showrooms at Esplanade, some faded painted letters on a worn-out signboard alert passerby of a quaint little shop with over 77 years of lineage!
The innocuous Pen Hospital on 9B, Chowringhee Road, Esplanade, is still a "fountain" of hope for pen lovers and a one-stop shop to revive and repair their precious writing instruments.
Inside the asbestos-roofed shop stand a few vintage wooden almirahs with glass doors. An elderly craftsman and his two younger associates can be found busy restoring fountain pens from 10am to 7pm six days a week, oblivious to the happenings in the world outside their "operating theatre".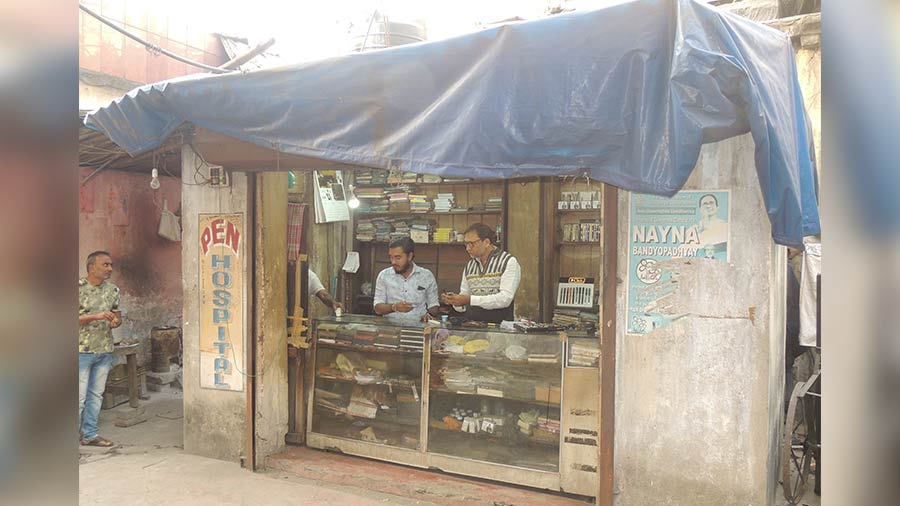 The asbestos-roofed Pen Hospital on Chowringhee Road, Esplanade
Customers come not only from Kolkata, but from across the world. Priceless heirlooms couriered from across the world are kept neatly in the drawers of the workstation of Mohammed Imtiaz.
Bengal's tryst with fountain pens
During the colonial suppression and its eventual overthrow, Bengal set the trend for many expressions of nationalism.
Fanindranath Gooptu did not join the Swadeshi movement directly but felt it more important to make the country self-reliant through indigenous industries. To this end, he launched his company and started manufacturing fountain pens and pencils that fellow Indians could proudly use. Not before long, the business prospered and Gooptu set up his state-of-the-art factory at Beliaghata in Kolkata and his signature items became a rage because of quality and nationalistic fervour. They even won the admiration of Mahatma Gandhi.
Swadeshi ink
But how effective can a fountain pen be without its ink? Here again, two brothers from Bengal, Nanigopal and Shankaracharya Maitra, began their enterprise to manufacture the famed Sulekha ink. A creation of the Swadeshi movement — this act was a proud way to boycott British stationery products. It is needless to say that Sulekha's success was unprecedented and it continued for decades.
Sulekha's resurgence and the sales figures reflect the unadulterated love Bengalis have for the product.
These two instances of history point directly to Bengal and the Bengalis' love for the fountain pen. Of course, the battle with the surge and proliferation of 'ball-point' pens is all too real with the same winning over most occasions across the globe — it is true that the fascination and preference for 'fountain pens' have persevered.
Battle for survival
Pen "surgeon" Mohammed Imtiaz is fighting an ebbing battle.
Mohammed Shamsuddin had launched Pen Hospital in 1945 and after his death, son Mohammed Sultan took over. It was he who paved the way for the next generation — his sons, Mohammed Imtiaz (today's owner) and late Mohammed Riyaz. The family business is likely to continue with Imtiaz's son Mohammed Junaid Imtiaz and nephew Mohammed Shahbaz Reyaz who are honing their skills and await their turn to take on the mantle.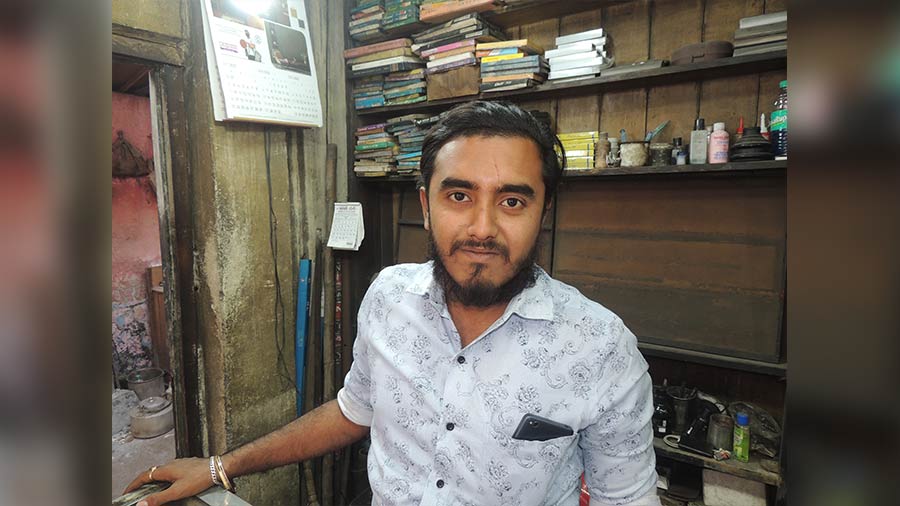 Pen Hospital's future lies in the hands of Mohammed Shahbaz Reyaz (above) and Imtiaz's son Mohammed Junaid Imtiaz
During the Forties and the Eighties, the business rose to the zenith following people's love for writing and Pen Hospital catered to some of the crème de la crème of the society.
The skill, expertise and acumen of the craftsmen at Pen Hospital grew from strength to strength over the decades as they gave new life to masterpieces from Parker, Pilot, Visconti, Wilson, Montblanc, Waterman, Pierre Cardin, Pelican, Sheaffer and other makes.
"Each pen comes with its unique style and problem and it requires patience and expertise to treat them. Whether it is repairing the nib, sometimes gold tipped, attending to a graphite body and or even setting right the refilling system – the 'doctors' of Pen Hospital handle each case meticulously," Mohammed Imtiaz said.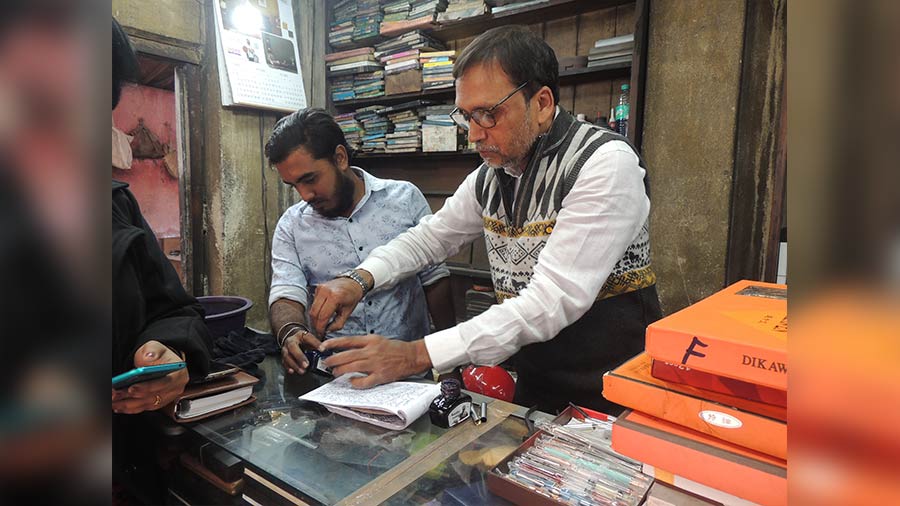 Repairing pens is always a challenge and, at times, the spare parts aren't available thus hindering the repair job. We then have to opt for a modern version of the parts to keep the pens alive.
Most of the repair work is done at the shop while pens requiring bodywork and other repairs are diverted to other workshops and specialists. Some essential parts such as washers are locally manufactured while nibs are procured from abroad.
Resurgence of fountain pens
Elaborating on the present state and resurgence of fountain pens, Imtiaz said: "During the COVID pandemic and the subsequent lockdowns, people have shown keen interest in fountain pens. Probably people had a lot of free time and many had unlocked the vaults and the lockers and rediscovered the fine instruments of writing which they had inherited over generations."
The popularity of fountain pens started to wane in the 90s and it continued till 2010. However, there has been a resurgence and many who used it in their youth have started showing interest in the cherished instruments. Also, the return of Sulekha ink has boosted the prospects of fountain pens.
"Many top barristers, lawyers, doctors, educationists, bureaucrats, litterateurs as well as those from the present generation have given special preference to fountain pens and are not willing to settle for anything less and this love and affection have kept his trade alive, even today," Mohammed Imtiaz said.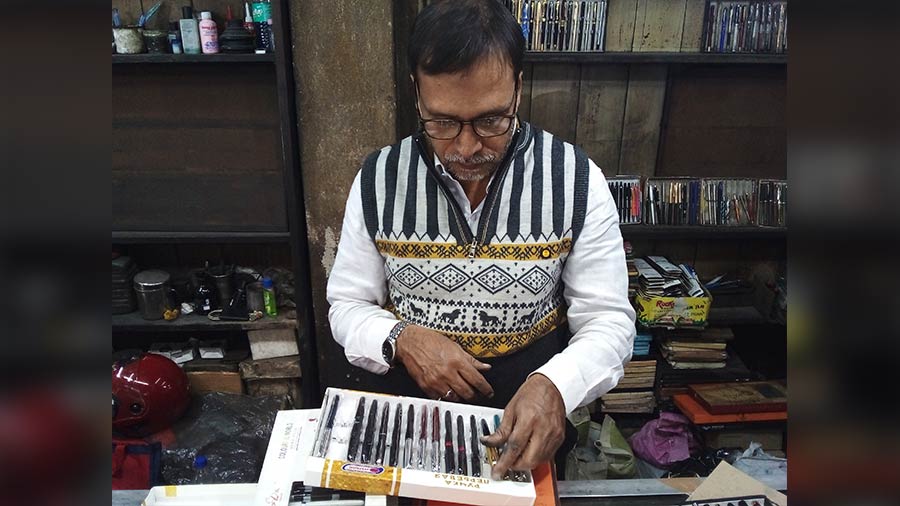 Imtiaz at his usual station inside Pen Hospital
Imtiaz and his family continue to be the final check post that moderates whether a priceless personal artefact would become a mere defunct piece of a bygone history or would bounce back to life and function flawlessly.
Happy customer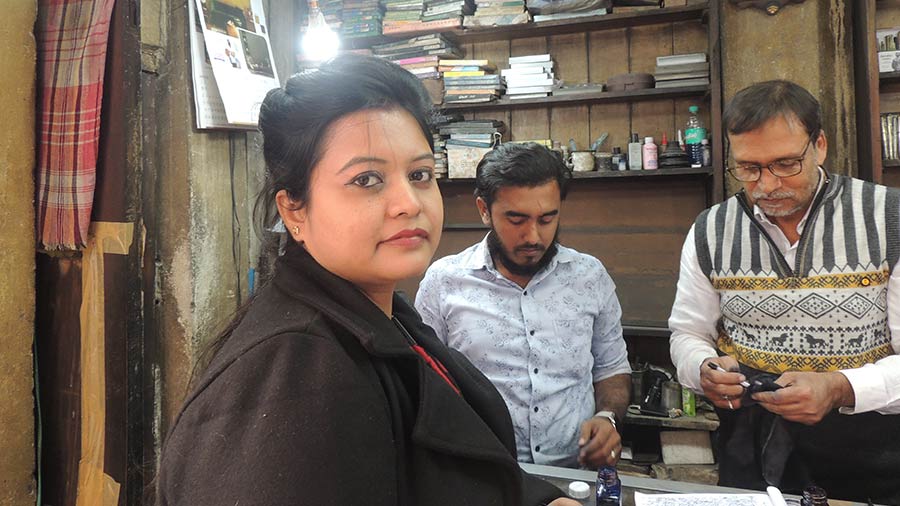 Bandita Biswas, sales manager at Lalit Great Eastern
Bandita Biswas, sales manager at Lalit Great Eastern, has been a regular at Pen Hospital. "My work involves a lot of writing by hand and for that, I have always preferred fountain pens as I find them to be comfortable and satisfying. Fountain pens, I believe, bring out the best of one's handwriting and that fascinates me. I can hardly remember when I came here first but know for sure that for anything related to fountain pens, I wouldn't go anywhere else ever. That is how important the Pen Hospital is for us fountain pen users," she said.