There is a moment in Forrest Gump where a sullen Tom Hanks is sitting on a bench outside his Alabama home. Without rhyme or reason he gets up to go for a little run. He reaches the end of the road and then decides to go further. He reaches the end of town, then the border of Alabama but his run continues. Of course, he took breaks now and then but the run continued. There are Forrest Gumps among us. They love the idea of running and by that I mean, running a few hours each day, unlike me who can only dash to the refrigerator and any address serving a decent steak.
Apple knows this crowd very well. For them exercising is interchangeable with happiness. These are people who push themselves harder everyday to run a few miles extra, dive a few feet extra or climb a few feet higher. They are about endurance and are willing to pay extra to get a smartwatch that lasts longer and don't have to deal with compromises. That's where the Apple Watch Ultra comes in.
Without making you suffer the sound of technical jargons, allow me to tell you about what I think of the Watch Ultra from two perspectives — what's in it for non-adventurous people like me and what's there for the other half.
Refined approach
Every year, Apple has made improvements to its Apple Watch Series like, offering more screen estate, more sensors and a faster processor. But battery life has remained more or less the same. Further, the design factor hasn't changed much. Basically, the Apple Watch Series works so well and has been refined so quickly that huge changes are unnecessary. This wasn't making endurance sports enthusiasts happy. They want to go on, say, a 10-12 hour hike without the smartwatch dying.
Apple decided to change its Watch strategy completely. Major changes have been made to battery life as well as the display and function buttons. It's a new design. In fact, everything about the Ultra is different.
The first thing I like about the Apple Watch Ultra is that it's not on every wrist. I see a lot of regular Apple Watches, which has become ubiquitous. The Ultra has an air of exclusivity. Not only that, there is a bigger problem. Almost everyone's sporting a similar looking smartwatch from a rival brand. These are squarish, slim and come with colour straps. That the Apple Watch has been massive success can easily be understood looking at its fan base of other brands that believe imitation is the best way to increase visits to the bank.
The Ultra is rugged and comes in a titanium case that surround a flat sapphire crystal. It not only looks tough, it is tough. During my everyday adventures of slamming my wrist against the wall, the Ultra has come away unscratched.
Yet, at the same time, it's not extreme rugged look that we are talking about. My marathon runner friends don't want to shout out from the rooftop how many miles they usually run. A Garmin Epix makes it obvious that the wearer is not one of us. Apple has a more refined design, meaning it can work for everyone.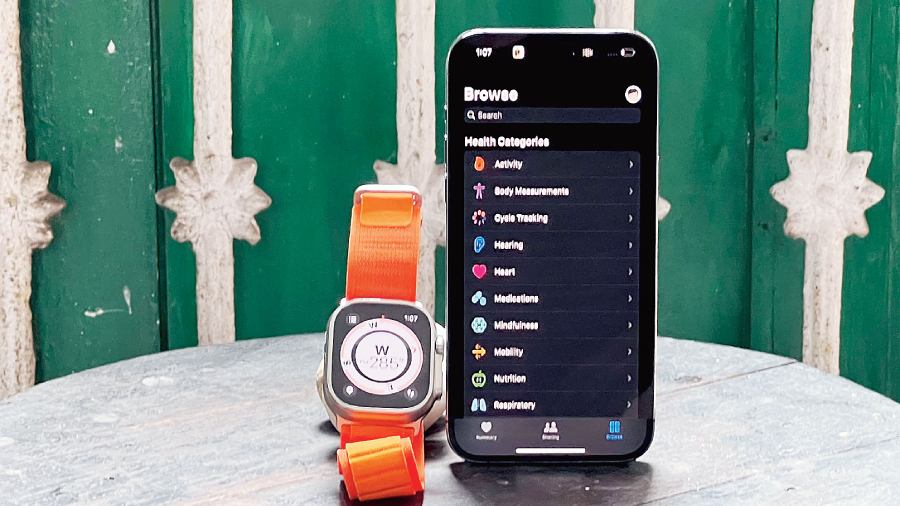 Apple Watch Ultra is most effective when used with the Health app on the iPhone
Getting the weight right
Let's talk about the size and the weight, both of which are perfect. It's a 49mm case, which is obviously larger than the 45mm on the Apple Watch Series 8. Here's the thing: You need to wear it to know if it's right for you. Walk into a store and try it out instead of going by word-of-mouth notes. It fits my not-so-large wrist very well.
Weight is an important issue, which in this case is 61.3g while most rival brands in this category will offer you designs above 70g. Weight can get connected with hardware accuracy. Something like the heart rate sensor doesn't like a lot of movements while heavier watches tend to bounce around the wrist a little bit more. Ultra gets the weight spot on — the straps have been designed so well that there is no chance of the watch moving around.
Having a bigger chassis has allowed Apple to feature a bigger screen, which is twice as bright as that on any Apple Watch. At 2,000 nits you don't have to squint to read anything on the screen. Obviously it's nice for reading texts and if you open something like the calculator app or anything with buttons, you no longer have to be precise with the taps. Less mistakes, easier to use.
Pressing the right buttons
This is an area that will interest both the regular user as well as an athlete. The Digital Crown is bigger, so it's easier to grip while the button below it is also equally accessible. What is different is the addition of an Action button on the left side of the chassis. It's an orange-colour button that can be programmed. If I want to start a workout, I simply press it. If I want to pause, I can simply press the Action button in conjunction with the other side button or Digital Crown.
The only endurance sport I have tackled in life is finishing meals but that doesn't mean I don't go for long walks that, from time to time, move to what some call jogging. While exercising long hours, fingertips become sweaty, which makes touchscreen ineffective. Having more tactile buttons help.
With the Ultra there is a Precision Start feature, which can be enabled in the Workout settings. When you use the Apple Watch Series models, there is a three second countdown before workout recording begins. Here it's different. You get something like getting-ready-for-workout page where the workout is all loaded up and is waiting for you to start the workout the exact moment you want it to. During a marathon run, you don't have to calculate when you can begin the workout. Plus, the Action button has immense potential when third-party app developers begin to work around it.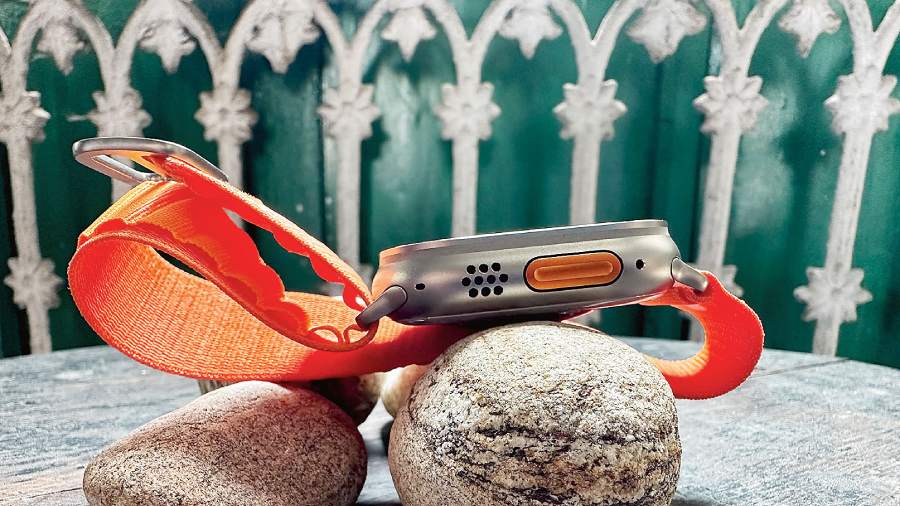 The Action button can be reprogrammed to your liking
Loud and clear
Doing justice to the bigger chassis is the improved speaker. I rarely take calls on my Watch. The few times that I did I have noticed it is really nice to have a louder volume. The three mic array on the Ultra can detect wind noise and pipes your voice only through the clearest mic and cuts out the mic with the most sound interference. You can sound good at the other end of the call.
It doesn't end there. There is a safety feature in the form of a loud siren which you can set off and the sound can be heard up to 600 feet away. If a person is outdoors and can't move, it's a great way to send out a distress signal. Even in urban environments it is a great way of attracting attention in case you feel you are in danger.
Care for more juice?!
Perhaps the most important area of discussion. Apple Watch Ultra has the best battery life of any Apple Watch, reaching up to 36 hours during normal use. There is a low-power battery setting that can extend battery life to up to 60 hours (it will be activated very soon).
First, even though Apple says 36 hours, I am getting a couple of hours extra. Second, if the wearer is preparing for a marathon, 95 per cent of the stuff can be achieved with 36 hours of battery life and when the ultra power mode arrives, everything will be covered. There are rival brands that are offering days of battery life but without giving anything close to the app experience you get on the Apple Watch Ultra.
Personally, I need longer battery life because I want to measure my sleeping pattern. With previous Apple Watches I had to be careful with how and when I charge because to track sleep I had to have enough juices to see me through the night. The 36 hours of "normal" battery life takes care of all worries.
Loud and clear
The Compass app has been completely redesigned. There are waypoints and a backtracking feature. I can mark points on my route with flags of different colours and name them. This will help me travel in unknown places. Plus, there is a backtrack feature which works like breadcrumbs to trace back one's steps.
Also important is the more powerful GPS system that's onboard. The precision dual-frequency GPS integrates both L1 and the latest frequency, L5, plus new positioning algorithms. This helps around very tall buildings, rock faces or tree covers where satellite signals can be iffy, creating inaccurate GPS tracking. Rivals offer the technology but implementation matters and that's what you get on the Ultra.
Should you buy it?
Sure, there can be improvements, like mapping waypoints to the map or having more colour options. What's interesting is the list of "other reasons to buy the watch", which includes the ability to operate in negative 20 degree Celsius, the exclusive Wayfinder watch face, water resistance up to a 100 metres, the IP6X dust resistance, depth gauge (provides real-time measurement of underwater depth down to 40 metres along with water temperature readings) and a full-feature dive computer. These are features that other brands will showoff on premium offerings.
The biggest feature on the Apple Watch is peace of mind. An athlete can be sure that the Apple Watch Ultra will see through all the activities. A hiker will not get lost. The average person is assured of perfect sleep reading. If the mind is at ease, the body will follow.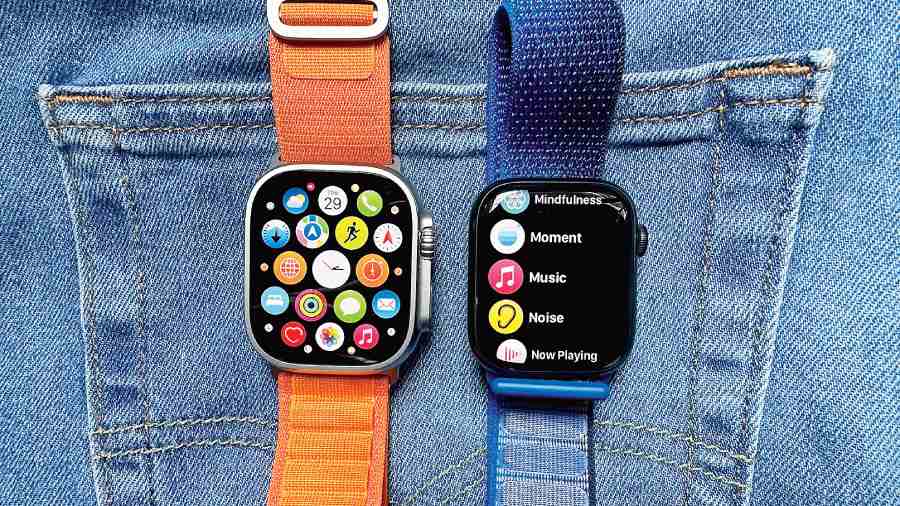 Apple Watch Ultra (left) and Apple Watch Series 8: The former is sports oriented while the latter is perfect for everyday usage
At a glance
Device: Apple Watch Ultra
Price: Rs 89,900
High notes
 Extreme durability
 Uncompromising GPS technology
 SOS siren can also be used in urban areas for personal safety
 Excellent battery life
 Redesigned Compass app
 Action button can be used for various tasks
 Unparalleled selection of straps
Muffled note
 Waypoints could have been attached to Maps
 No colour option