World Pancake Day (or Shrove Tuesday) is a day of feasting before the Lenten season of fasting. It's a day of indulgence, of course! My Kolkata caught up with foodpreneurs Sohini Biswas and Srijit Ghosh of Uncle Peter's Pancakes to unearth a few wacky toppings that will transform your pancakes – taking them from basic to fantastic.
"Uncle Peter's Pancakes offers flavours that are inspired by cuisines from around the world. Akashdeep Dan, the founder of the brand in Bengaluru, is always open to new flavours and ideas, which gives us the liberty to experiment. We've tasted food from across the globe and are trying to incorporate it into our menu. These flavours aren't on our menu just yet, but we're hoping to introduce them soon!" says Sohini.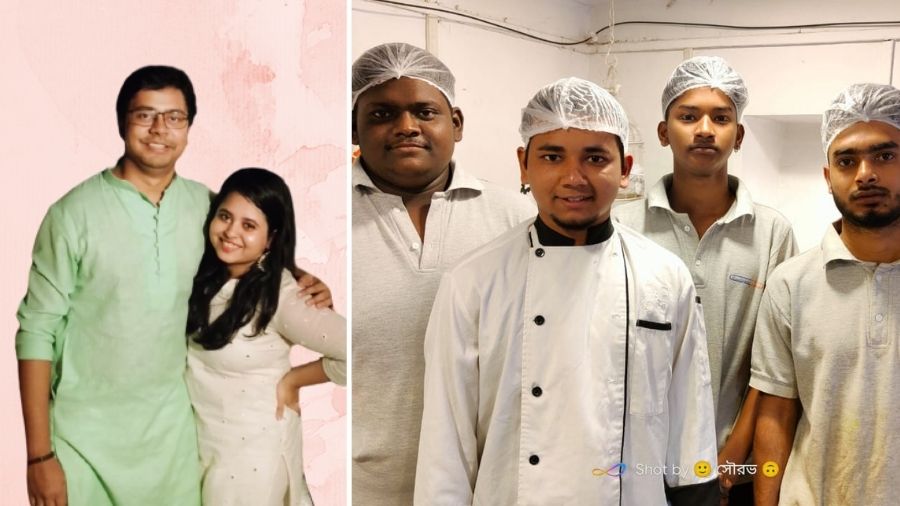 The team at Uncle Peter's Pancakes
Courtesy: Srijit Ghosh
So, whether it's an Australian Pikelet, a Russian Blini or the classic American pancake, today is the day to whip up the perfect batch for a binge sesh. Here are five offbeat toppings to zhuzhing up your pancakes.
Salted caramel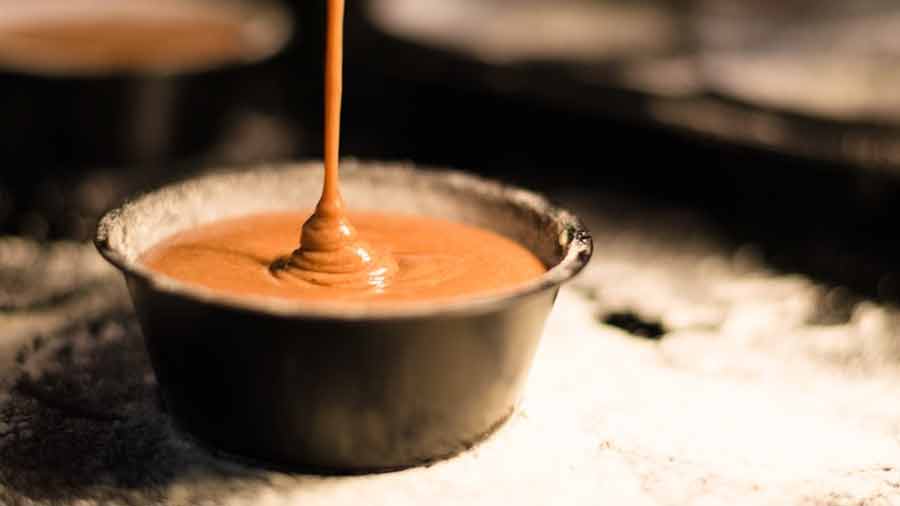 The briny flavour of salted caramel adds a gourmet flair to the home-flipped pancakes
We're already fans of salted caramel-flavoured cupcakes, popcorn, donuts, waffles, instant coffee and even martinis! So it's only fair that we'd give this medley a go as a pancake topping as well. The briny flavour, infused with the understated notes of honey, adds a gourmet flair to the home-flipped pancakes, giving the traditional concoction a modern twist.
Smoked cheese and blueberries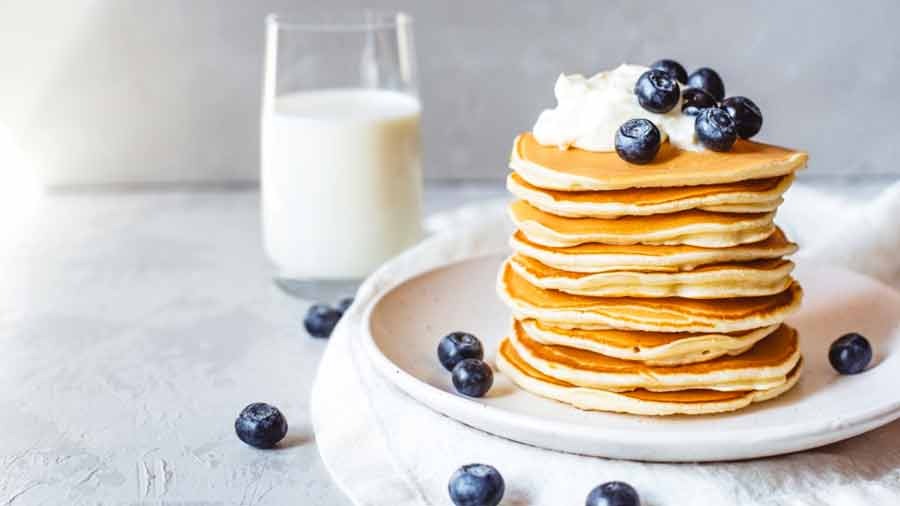 Shutterstock
Blueberry cheesecakes are real crowd-pleasers. Why not try the combination on your pancakes? 
Just combine smoked mozzarella, feta and cheddar (or any cheese you like) with fresh, homemade blueberry sauce and generous dollops of cream for a pretty plate of pancakes! Make sure to procure some fresh blueberries so you don't miss out on that zesty kick.
Peri peri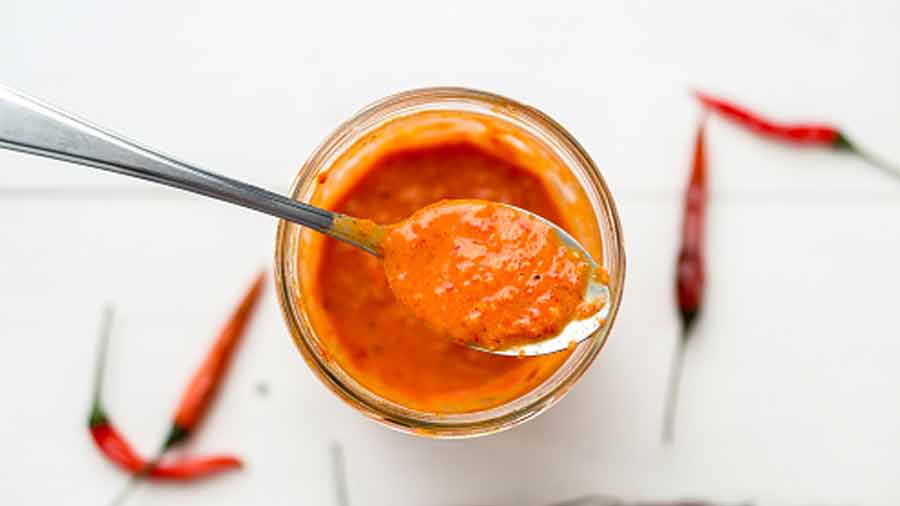 Peri peri can shake up any basic savoury recipe
Don't knock it till you try it. The spicy peri peri can shake up any basic savoury recipe. Try your pancakes with fresh veggies tossed in a peri peri sauce or overload them with cold cuts dressed in peri peri powder. A dash of honey-mustard or Thai sweet chilli can be a game-changer!
Poached eggs and Hollandaise sauce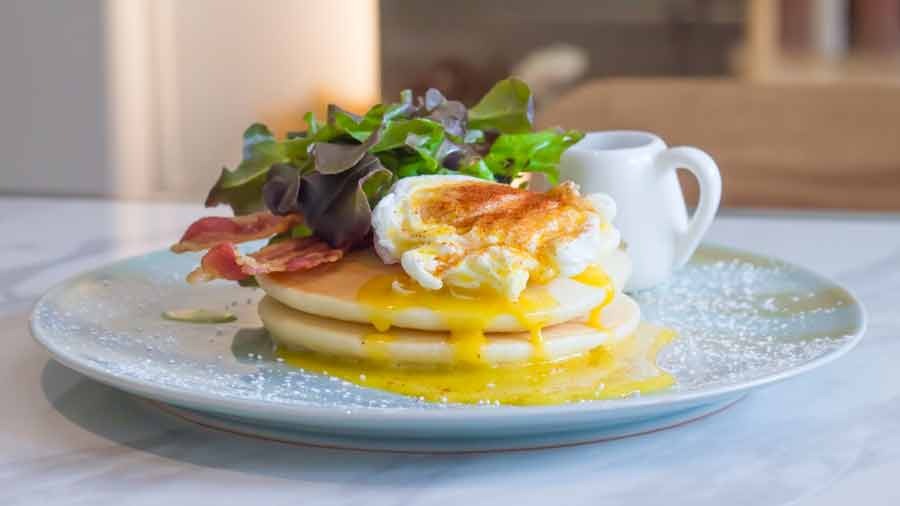 A pancake variation inspired by eggs Benedict
Shutterstock
Wondering if this is inspired by eggs Benedict? Yes, it is!
Swap out the toasted muffins for some fluffy pancakes, slap on some crispy bacon and layer with a poached egg and some creamy Hollandaise sauce for a plate straight out of heaven.
Bacon (dipped in honey!)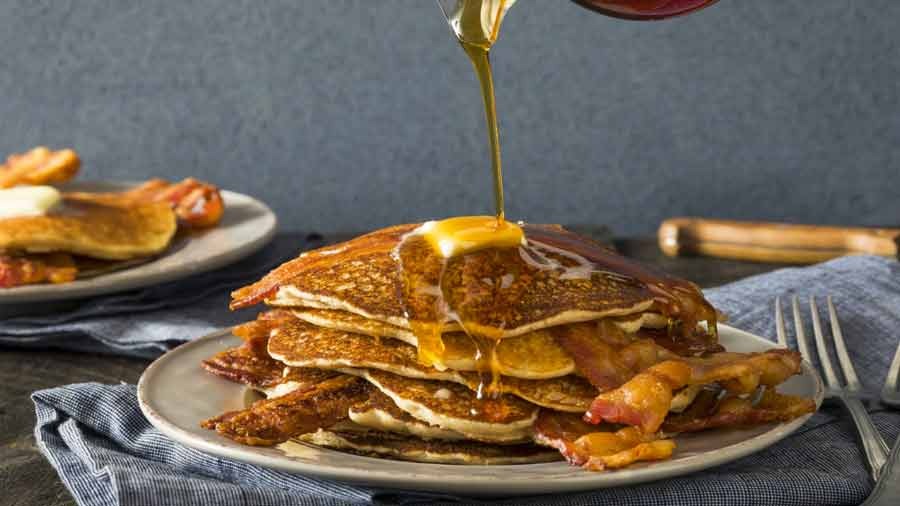 The classic combination of bacon and honey will elevate your pancakes effortlessly
Shutterstock
What's better than regular pancakes? Mini pancakes with crispy bacon dipped in honey! The classic combination of bacon and honey will elevate your doughy pancakes, effortlessly. The bacon gives the pancakes a bit of a bite while the hint of honey adds complexity to the dish. Sprinkle a pinch of cinnamon on top, and your pancakes are ready.
But if you're not looking forward to rolling up your sleeves in the kitchen today, Uncle Peter's Pancakes delivers via Swiggy and Zomato, that too until 1am! Order up!
Here are a few must-haves:
Nutella and Ferrero Rocher Pancakes
Death By Chocolate 
Nutella and Strawberry Pancakes 
Blueberry Garden or Blueberry-filled Pancakes 
Lotus Biscoff Pancakes