Long long before owls entered our homes with J.K. Rowling's Harry Potter series, the bird would fly into Bengali households every year, and in some homes every Thursday, during Lakshmi Puja. Owl or pyancha has always been considered auspicious as she is goddess Lakshmi's vehicle (vahan).
Spotting an owl is believed to be a sign of wealth, prosperity. The 'luck factor' may remain debatable, but ornithologists and environmentalists unequivocally agree on the importance of owls in the ecosystem and as a member of urban wildlife.
Sumit Sen, a noted ornithologist, said owls play a very important role in keeping a check on the population of rats, mice, moles and snakes. But the overuse of pest control methods and rapid urbanisation, has led to these birds fighting for survival. "Rat poison is one of the prime reasons. After a rat consumes the poison, it goes out. At that point if an owl hunts that rat, the poison goes into the bird's body and kills it," Sen said.
Like any other bird species, these nocturnal birds face immense problems during the festive season because of the bright lights and sound. But, at the same time, some of the species have adjusted to this. "There are seven to eight types of owls seen in and around Kolkata, while a couple of them are migratory and can only be seen in winter. I can say at least two types — Barn Owl and Spotted Owlet — have adapted to city life really well," Sen said. 
My Kolkata spoke to several birders from Kolkata who have recently photographed different types of owls. Let's take a look at the most common types of owls in and around the city…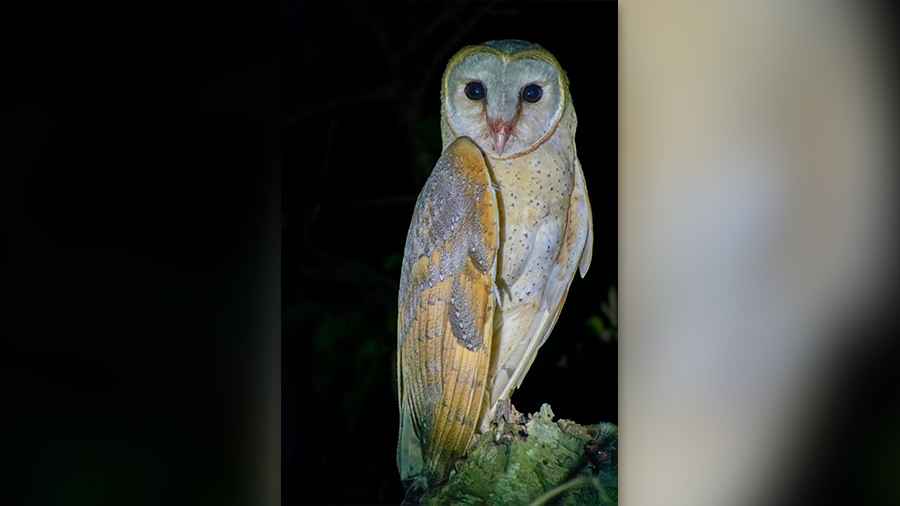 Barn Owl or Lokkhi Pyacha
Kapildev Bag
Barn Owl or Lokkhi Pyacha is dull white in colour. This is the most commonly found owl in Kolkata and its nearby areas. These owls have adapted well to city life and usually nest in concrete buildings and hunt small animals like moles, rats and snakes at night. "This particular owl was photographed at Nepalgunge near Haridevpur in south Kolkata. Unlike other owls, they are very cautious and like to fly away at the slightest disturbance," said birder and photographer Kapildev Bag.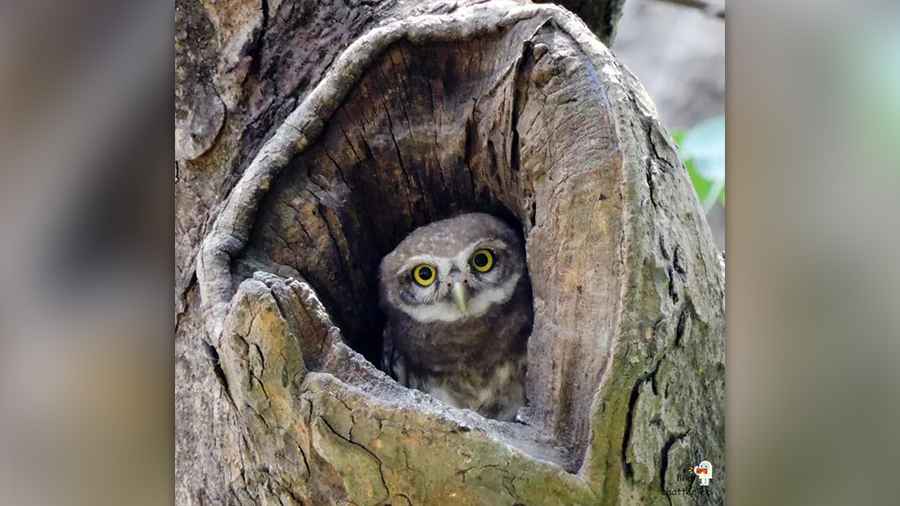 Spotted Owlet or Kuthure Pyacha
Lina Chatterjee
Spotted Owlet or Kuthure Pyacha is a small bird that nests in the hollow of a tree. Environmentalist Lina Chatterjee recently photographed this bird at the Botanic Garden after hours of waiting. "This is another commonly found owlet and the trick to spot them is to find their day roosting location. The common crow is one of their arch enemies and this owlet looked out of its nest, after sensing some trouble outside," Chatterjee said.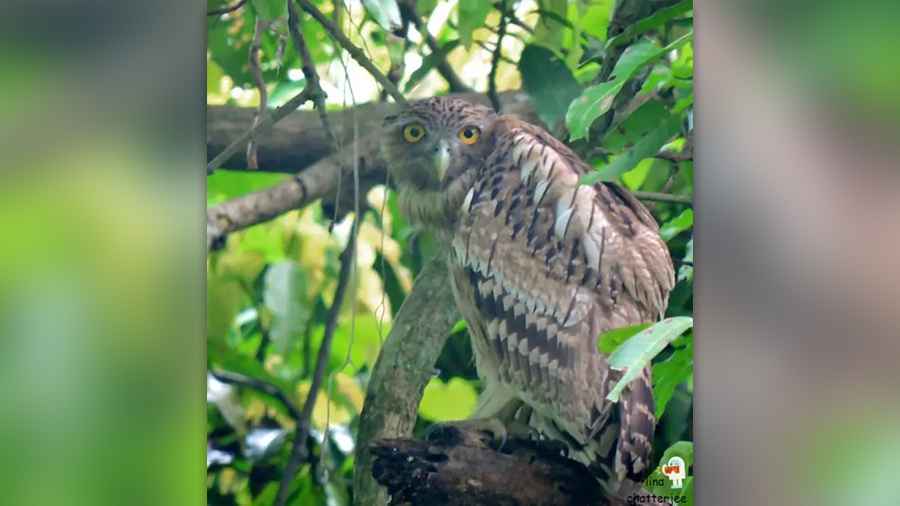 Brown Fish Owl or Hutum Pyacha
Lina Chatterjee
Brown Fish Owl or Hutum Pyacha photographed by Line Chatterjee at Chintamani Kar Bird Sanctuary in Narendrapur. This big owl prefers to stay near water bodies and hunts fish at night. Their call is an eerie shriek.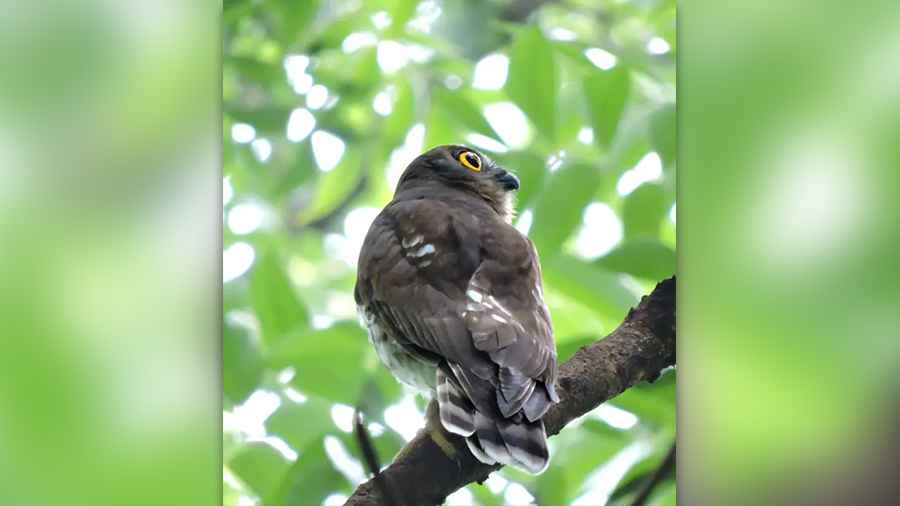 Brown Hawk Owl or Kal Pyacha
Lina Chatterjee
Brown Hawk Owl or Kal Pyacha is associated with several ghost stories in Bengal because of its unusual shriek. This large owl was photographed by environmentalist Lina Chatterjee at Botanic Garden after waiting for hours. "They prefer to nest in bamboo bushes and their primary diet is mice," Chatterjee said.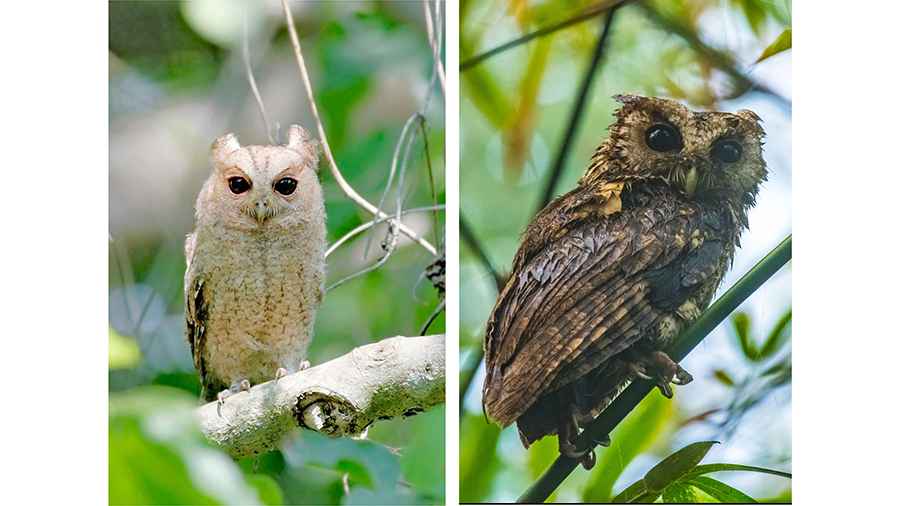 Juvenile Scops Owl (left) and Adult Collared Scops (right)
Sumit Sen (left)/Goutam Das (right)
Scops Owl or Neem Pyacha is not very common in Kolkata, but can be spotted in Sonarpur and Baruipur areas. They love to nest in big bamboo bushes and are difficult to spot. The photo of the juvenile owl (left) has been captured by ornithologist Sumit Sen at Chintamani Kar Bird Sanctuary and the adult bird (right) has been photographed by Goutam Das at Sonarpur.