There's no dearth of good wireless earbuds. There are some good inexpensive wireless earbuds that are great during gym routines or for those who keep losing these sound cans. Then there are the more expensive ones which come with excellent audio quality and it hurts to lose them. One of the much-awaited pair of earbuds in the latter category is OPPO Enco X2, which was unveiled earlier this week.
Some of the parameters to look at before making a purchase are level of performance, reliability, and comfort that elevates it above the pack. Enco X2 has a design that make it secure in the ears and is comfortable enough to wear all day.
Most enjoyable about these sound cans is its consistency while delivering sound, besides not being buggy. Listening to Lizzo's political statement on her new album, Special, one can feel the steamy disco line running through most tracks as well as the horn-laden section on the title track. We shifted gears to Kacey Musgraves and her album Star-Crossed, packed with disco-cowboy beats. At the same time, one can feel the lyrics when she sings: If I cry just a little/And then laugh in the middle/If I hate you/Then I love you/Then I change my mind. There is excellent bass but it doesn't overpower; there is excellent vocal clarity and regardless of genre, nothing gets muddled.
Ensuring you get the best sound is a dual driver — 11mm dynamic driver and surprisingly 6mm planar diaphragm driver. It's a unique combination that simply works well. Helping OPPO is its collaboration with Dynaudio, which is a powerhouse when it comes to speakers. A few more special features need to be looked at because these add to the pricing. Audio codec that you have access to are LHDC, AAC and SBC. LHDC 4.0 is all about offering highest quality of wireless audio, cutting down on audio quality disparity between wireless and wired audio devices. LHDC audio technology is designed for Bluetooth wireless system and can provide both wireless convenient and wired audio quality.
There is active noise cancellation and that too across various levels. ANC is a mode that is helpful when you want to cut off all/most outside noises; it also helps to listen to music without increasing the volume. Though the HeyMelody app can handle the degree of ANC, I enjoyed the feature only when it was turned up to max; somehow the mid-level settings didn't help my experience. There is also transparency and vocal enhancement modes, which deliver what it promises. Transparency mode is particularly help when you go jogging because it channels in sounds around you.
Let's dive into call quality. It's impressive but when it comes to ANC, Apple AirPods are still ahead. People on the other end of the call will know that you are using wireless earbuds to take calls and the call quality will be more than acceptable.
I won't get much into the design department because there is nothing out of the world that's different. What has improved is battery life — keeping the volume at around 50 per cent and turning up ANC you will get around five hours on a single charge and 20 hours with charging case. With ANC off, it is around 6.5 hours on a single charge and 27 hours with charging case. That's impressive.
Should you buy it?
If you are into the OPPO universe, go ahead. Otherwise, you still get excellent sound, which will make competition take notice. Most impressive is the soundstage and the degree of bass that you can enjoy without overpowering the vocals. Plus, Enco X2 is IP54 certified for water and dust resistance.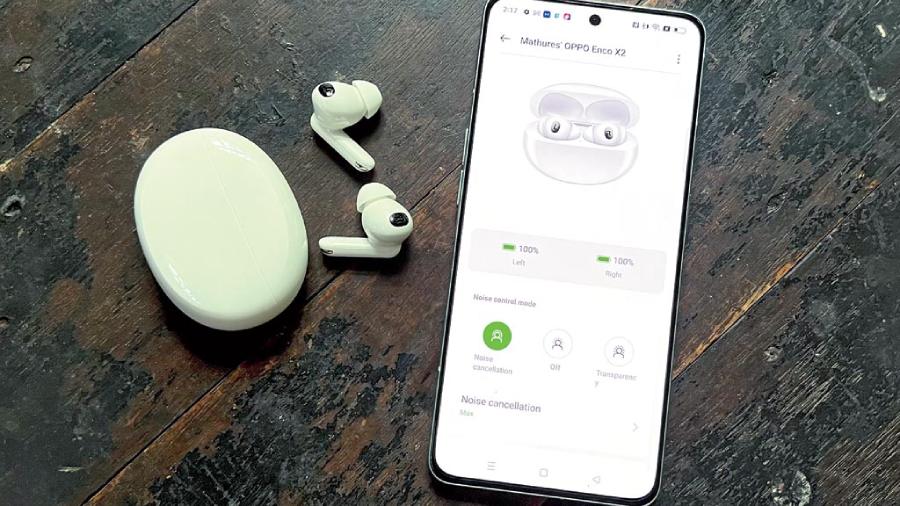 Download the HeyMelody app to get the most out of the wireless earbuds
At a glance
Device: OPPO Enco X2
Price: Rs 10,999 (goes on sale on July 25)
High notes
Excellent soundstage
Good level of bass without distorting vocals
IP54 certification
Enough battery life
Muffled notes
ANC at its highest level works well but at mid-level it's as good as on any other device