'A model of a person or an animal that can be made to move, for example by pulling strings attached to parts of its body or by putting your hand inside it.' That is how the Oxford Dictionary defines a puppet.
Puppetry is an ancient form of theatre prevalent across the world, including in different parts of India. Some say the history of puppets dates back to 3,000 years, some say 5,000 years. The oldest written record of puppets goes back to the fifth century BC in ancient Greece.
In India, there is a wide variety of puppets. Almost every part of the country has its own kind. My Kolkata takes a look at some of the different kinds of puppets and puppetry in India on World Puppetry Day, March 21.
The four major kinds of puppets in India are glove puppets, string puppets, rod puppets and shadow puppets. 
Glove puppets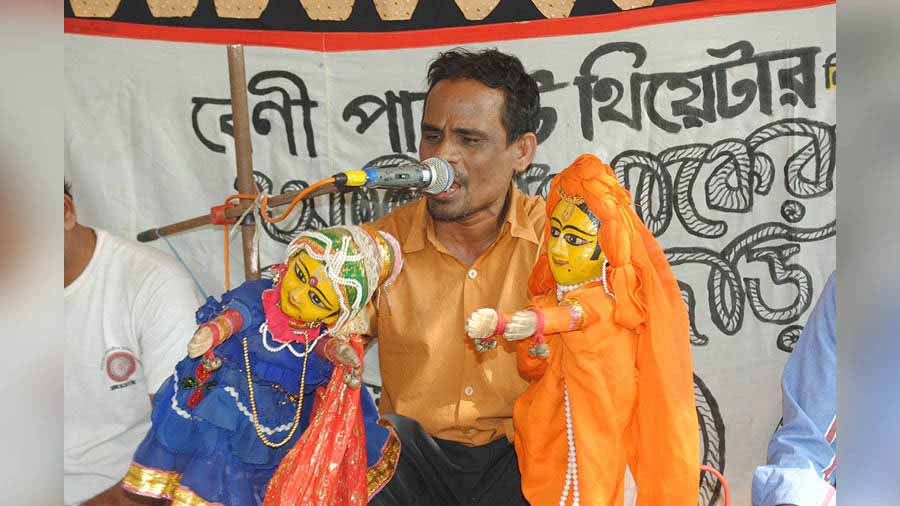 A puppeteer performing with glove puppets in West Bengal
Wikimedia Commons
As the name suggests, these are puppets that can be worn like a glove and their movement is controlled by moving the fingers. In West Bengal, glove puppets are found in Padmatamli, West Midnapore. They are also locally named Beni putul. In Kerala, glove puppets are named Pavakathakali. The faces of these puppets are made of wood, while the costumes resemble those of Kathakali dancers.
String puppets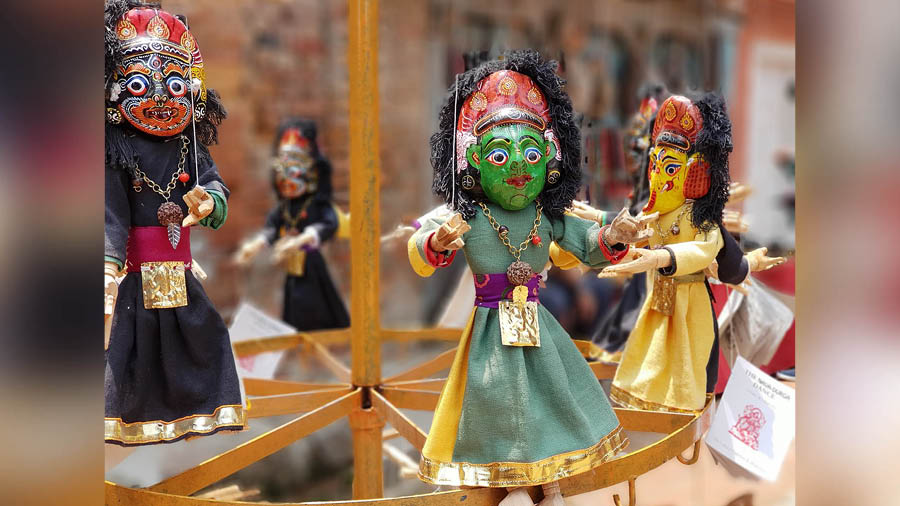 One of the most well-known types of puppets in India are string puppets, known as 'kathputli' in Rajasthan
Wikimedia Commons
The most popular kind of puppets, string puppets, are called Tarer putul or Shutor putul in Bengal. The stories of traditional puppet theatres are usually based on mythology or history like Ramayan, Mahabharat, Laila Majnu, Raja Harischandra and more. There was a time when groups of puppeteers would travel from one place to another, putting up shows. A couple of such groups still exist.
Rod puppets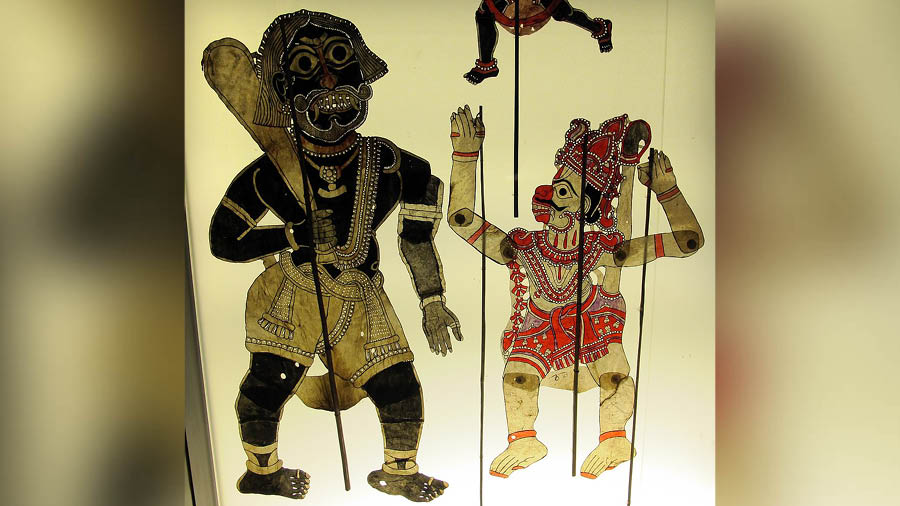 Rod puppets are most commonly seen in West Bengal and Odisha, and are usually much larger than other types of puppets
Wikimedia Commons
Danger putul, as rod puppets are called, are usually huge and heavy models that have to be moved with the help of rods attached to them. In South 24-Parganas, rod puppets are popular. The acts are usually like Jatra pala.
Shadow puppets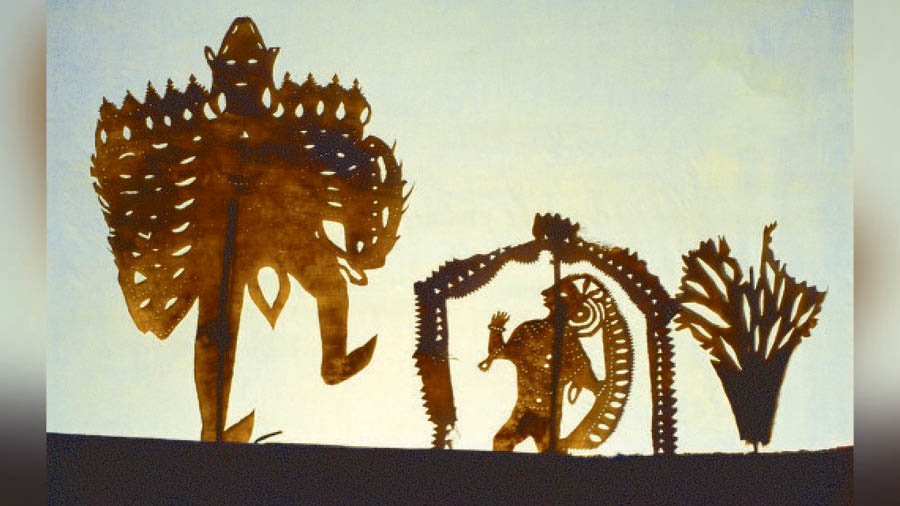 'Ravana chaya', a form of shadow puppetry from Odisha
Wikimedia Commons
These are most popular in Odisha and south India. These puppets are made of leather and very colourful. In Odisha, shadow puppets are called Ravana chhaya and in Kerala they are called Tholpavakoothu. The stage is usually set up opposite a temple and shadows are created from the light of earthen lamps. There are usually 21 lamps denoting the 21 palas of Ramayan. The shows are performed for 21 days.
One art, many names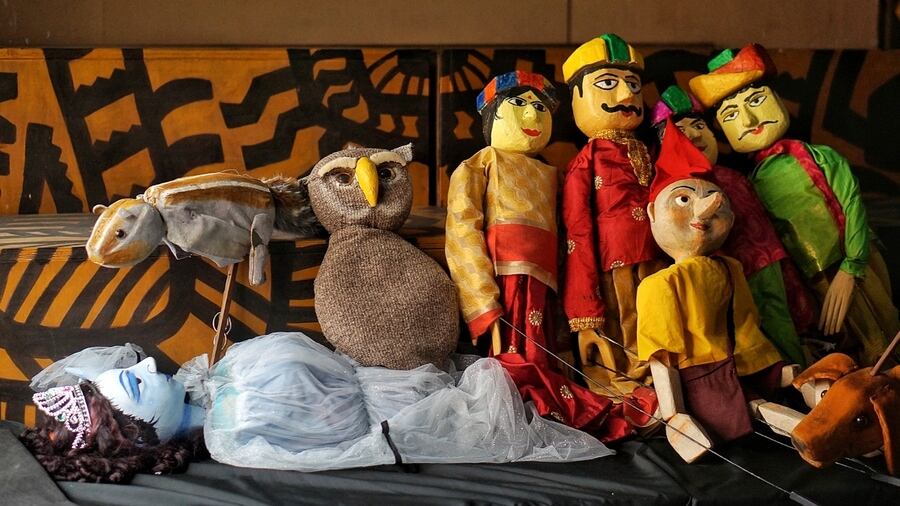 The art of puppetry has evolved to be included in contemporary theatre as well
Soumyajit Dey
Puppets and puppetry are named differently in different parts of India — Putala naach in Assam, Putul naach in Bengal, Laithibi jagoi in Manipur, Todalu gombeyaata in Karnataka, and Kathputli in Rajasthan. The local culture of the region is represented by the puppets.
Modern-day puppets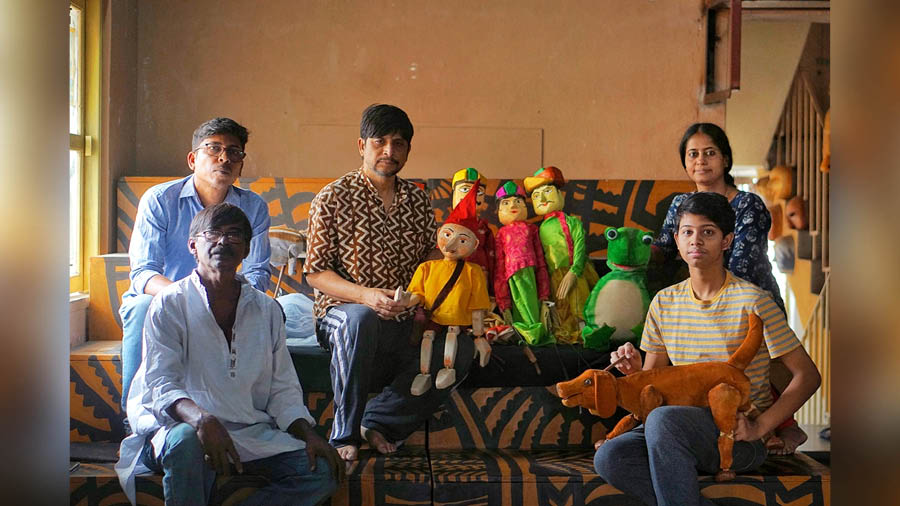 Kolkata's Doll's Theatre, headed by (third from left) Sudip Gupta has been performing puppetry theatre since 1990
Soumyajit Dey
Puppets have also been inculcated into contemporary culture. In Kolkata, Doll's Theatre has been performing puppet plays since 1990.
"I have had the opportunity to see puppets from so many countries. The International Puppet Theatre Festival organised in Delhi in 1990, where 28 countries participated, was an overwhelming experience and a turning point in my career. After seeing puppets from so many countries, I was really intrigued and fascinated. I decided to pursue the art," said Sudip Gupta, the man behind Doll's Theatre.
The group's first production in 1990 was The Taming of the Wild based on the relationship between man and nature.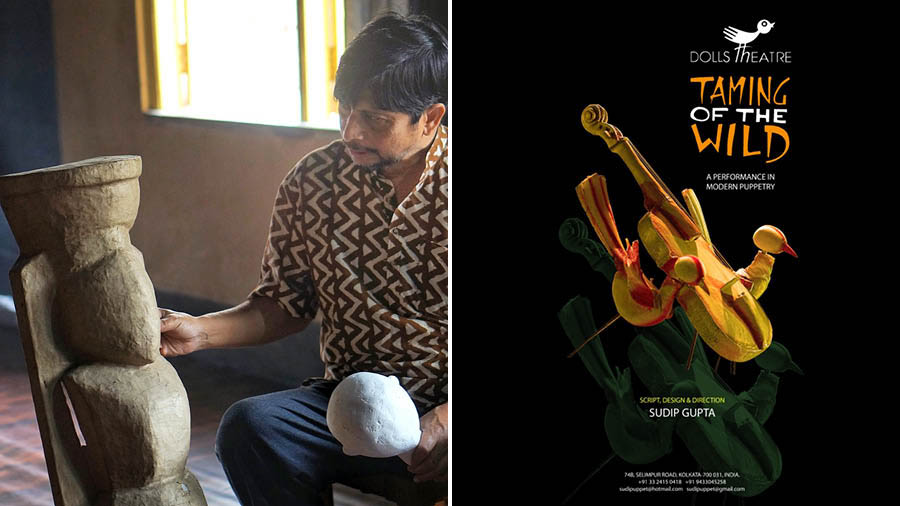 Each puppet has several layers before it gets it final touches, says Sudip Gupta and (right) a poster of their first production 'Taming of the Wild'
Soumyajit Dey, courtesy Sudip Gupta
The puppets are made by the group members themselves. The scripting is also done by them. Sudip Gupta's wife and puppeteer Shreeparna Bhanja Gupta has been into puppet-making since her school days in Burdwan. She can create magic with papier mache, thermocol, wood, cloth and other materials.
"The making of puppets is quite a lengthy process because it has different layers. Everything depends on the mechanism of the puppet," said Shreeparna.
The group also conducts workshops at a small auditorium named Puppetorium at 74B, Selimpur, the official address of the group.
You can see some of their work here: youtube.com/@dollstheatrekolkata8330
This is not an extensive list of all puppetry forms.