The new party anthem Konya sung by Ash King, and featuring John Bhattacharya and Shreyasi Sen in the music video, has gone viral. Shot in an underground location with flashy lights and cars, Konya is all about glitz and flamboyance. "I was quite impressed with the song and I knew that I wanted to record Konya from the very beginning. I have recorded many Bangla songs over the past few years but this song is special. It was a bit of a challenge but I am glad it turned out to be really nice. The track is super upbeat and it was fun recording it," said Ash King. The brand-new party anthem of 2021 is streaming on SVF Music's social media platforms. Siddhant Seth, director of Konya, said, "We, at SVF Music, always conceptualise to create something different from the usual Bengali music videos which are made. Ash King's amazing track was the perfect song to create such visuals. Shot in less than 10 hours, John and Shreyasi's dedication was impeccable." "I'm really moved by the response and the love people are showering on us," said John. "The feedback has been really good. It was a really fun experience given I was working with such a cooperative team who pushed me to give my best and finally we got such a good result. I am not a trained dancer but I tried to give my best. John is a great dancer and he was really good with his moves," said Shreyasi.
The secret chapters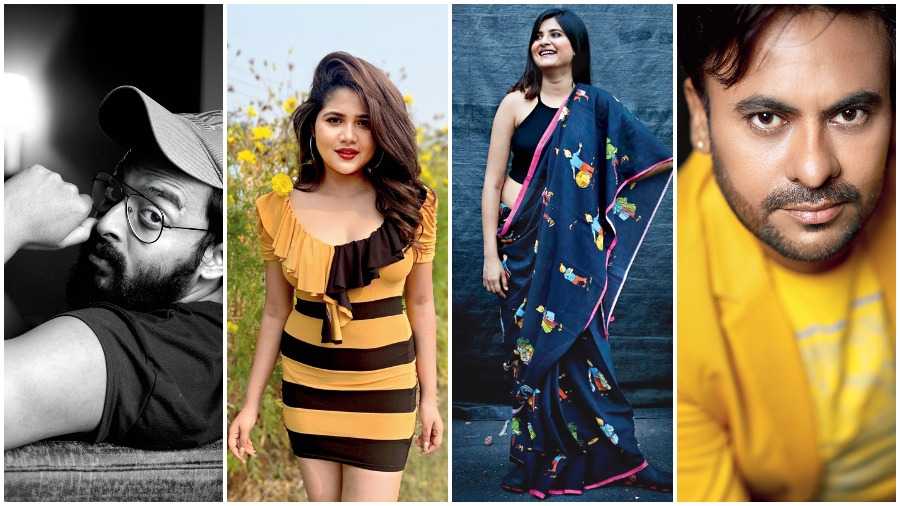 (L-R) Saurav, Jina, Rupsa, Subham
Director Sunny Ray has started the shoot of the film Bishakto Manush starring Saurav Das, Rupsa Chatterjee, Sumana Das, Anangsha Biswas, Jina Tarafder, Subham, Judhajit Sarkar, Sumita Chatterjee, Palash Haque, Rana Basu Thakur and Bimal Giri. In the film, Agnibha Bose, a struggling novelist, who was trying to combat his personal trauma, meets a serial killer, named Taufique Asif, who is serving a death sentence in prison. The film goes on to show whether Agnibha will be able to pull off a winning novel after three consecutive failures. It also raises questions like what will be his chemistry with his publishing partner Rukmini and what are the dark hidden chapters of Taufique's life.