#Feel and # Vibe are unarguably the buzzwords of the moment for Gen Y. Both feel and vibe were definitely the buzzwords at the launch of the trailer of Aranyak earlier this week. The thriller series that marks the digital debut of actor Raveena Tandon and will stream on Netflix starting December 10, involves the search for a missing girl in the forests and hills of the fictional town of Sironah, with Raveena playing a gritty cop.
Manali was where Aranyak — which translates into 'of the forest' and instantly reminds one of the Bibhutibhushan Bandopadhyay novel of the same name — was shot and an impressive attempt to recreate its look and feel was witnessed at the trailer launch of the series in the verdant climes of Lonavala on Monday evening.
Hilton Shillim Estate Retreat and Spa, nestled in the deepest parts of Lonavala, was the chosen spot for the launch of the pulsating trailer of Aranyak, which kicked off with a stunning five-minute visual spectacle made possible through a 3D projection, mapping on the forest cover, hills and foliage around the venue. It made for a breathtaking sight, with camera phones hardly being able to do justice to the visual feast that unfolded, setting off the mood for the rest of the evening.
In attendance at the trailer launch was Raveena — fetching in a red pantsuit ensemble — along with co-actors Ashutosh Rana, Meghna Malik and Zakir Hussain. Also present were Rohan Sippy, who functions as the showrunner, director Vinay Waikul and writer Charudutt Acharya. Representing Netflix was Tanya Bami, director, international originals, and Jinesh Shah, series head, Roy Kapur Films, which has produced Aranyak.
Noticeably absent was Parambrata Chattopadhyay, who plays a key role along with Raveena, in the series. Reason? Param is in London shooting for his new Bengali film Ghore Pherar Gaan. But the actor — who has fast made a name for himself on the national scene, after his turn in Kahaani close to a decade ago — made sure he was present in spirit, or at least on the giant screen, through a video message in which he wished himself and his Aranyak team all the best.
Raveena, whose top cop Kasturi Dogra plays the pivot around which Aranyak revolves, was ecstatic that she's getting to make her streaming debut with Aranyak. "Poori zindagi ek bada case ka wait kar rahi thi main... yeh hain woh bada case", laughed Raveena, in what was clearly Kasturi-speak.
"I made my film debut in 1991 with Patthar Ke Phool (opposite Salman Khan), which was produced by G.P. Sippy Films. And now in 2021, I am making my OTT debut, again with Sippy Films. So life comes a full circle for me," added the still ravishing Raveena.
While there has been many an iconic female cop on screen, Raveena says that her Kasturi Dogra essentially represents the Everywoman. "She's a woman in a man's world and like all women, she beautifully manages her home and her work. That is what attracted me to this character because all women can relate to her, especially our women in uniform. It's so important to get that emotional support and backing at home because the job that they do is both physically and mentally taxing. I am lucky that I have always got support from my parents, husband and children to go out there and do my work. But there are so many Kasturi Dogras out there who don't get the support that I do. She's beautifully strong against all odds."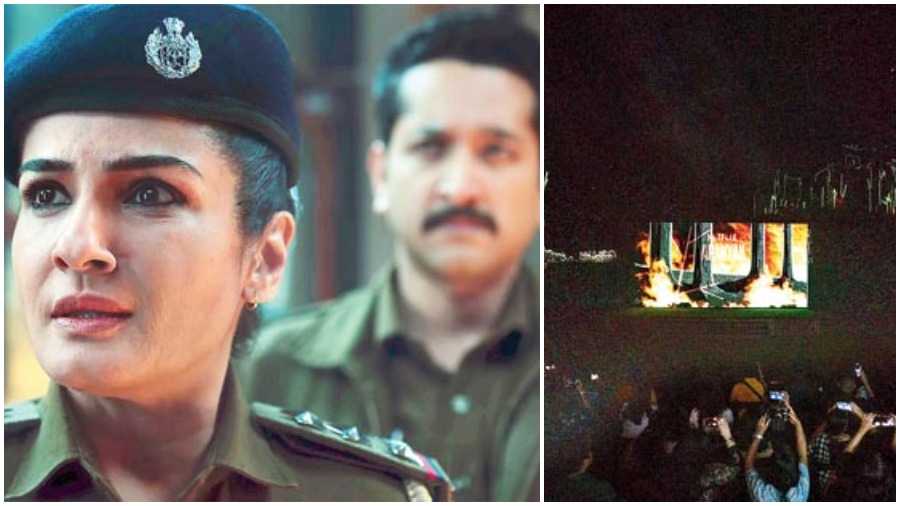 (l-R) Raveena Tandon with co-star Parambrata Chattopadhyay in Aranyak, streaming on Netflix from December 10, A moment from the 3D projection mapping of the Aranyak theme before the trailer launch
The germ of Aranyak came from a holiday that writer Charudutt Acharya came back from and discussed with Rohan Sippy, with whom he has collaborated on quite a few projects before. "On his vacation in Himachal Pradesh, Charudutt encountered a female cop and got talking to her. He spoke to me and we decided to develop this further. Charu writes crime as well as women characters very well," said Rohan Sippy.
Pace is an essential element of a thriller, and while a series gives one the liberty to develop plot and players in detail, how does one maintain the balance between pace and detail? "While the thriller element initially hooks the audience, what the viewer invests in, in the long run, is the characters. If the characters resonate and the emotions are genuine and you identify with their wants and needs, then you achieve a certain balance between emotion and thrill. That's when the story becomes sustainable," Acharya told t2.
For Tanya Bami, Netflix's interest in Aranyak was two-pronged — a good story and a great thriller. "This is a beautifully written thriller that will keep you on the edge of your seat. We believe that stories should be propulsive, and Aranyak is a truly propulsive thriller," said Tanya. We will know on December 10.