Couturier Archie Sinhal Garg's aesthetics is in tune with the evolving sartorial choices of men. Her designs do not conform to conventional cuts and tailoring, rather her treatment is a la mode. And it's her skillset coupled with her vision, that births sherwanis, tuxedos, shirts and kurtas which are beyond the ordinary. As her label, Agape Menswear Studio (housed in 4B Bamun Para Lane, Bondel Road, Ballygunge Phari), turns three, she envisions a collection that blends street style vibe with festive palette to make the fashion-conscious men look smarter and debonair.
In this exclusive Diwali look book, Archie dressed up four men who ace their respective fields — foodpreneur Nikhil Bhambani, DJ Kunal Bose, entrepreneur Chintu Vij, and philanthropist Ayush Sarda. Glimpses from the shoot...
While Nikhil Bhambani wore an open Nehru jacket over a shirt-style kurta in musky yellow, Kunal Bose channelled a blue kurta with printed wrangler sleeves and grey churidar. Ayush Sarda's cut-away jacket over a pastel shade of green and straight pants matched the festive mood. Chintu Vij's simple black linen kurta and white churidar got a glamorous uplift with a printed monotone open jacket and the Punjabi munda rocked the look.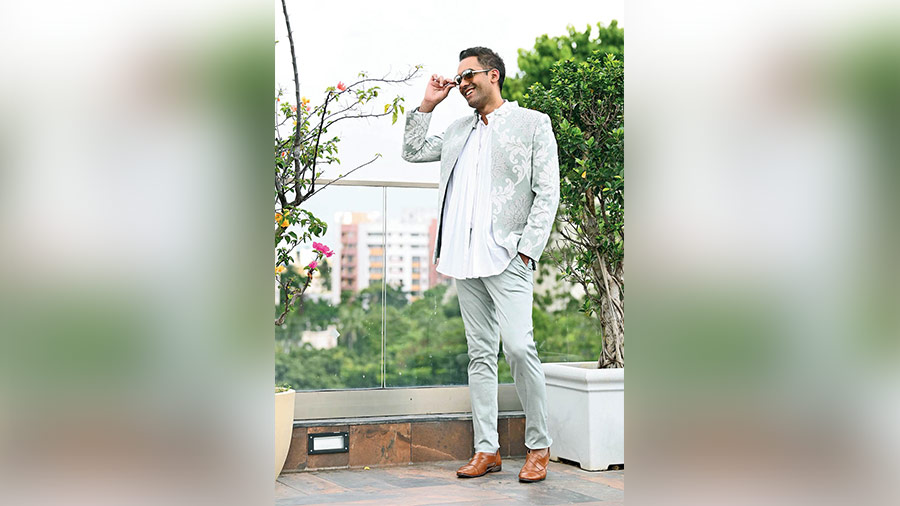 This Indo-Western style stood out for a few reasons. One, the pastel shade; two, the shirt that creates a flow and restricted drama; and three, the floral embroidery on the jacket which has been geometrified with linear thread work. This piece is perfect for destination weddings and Chintu aced the look.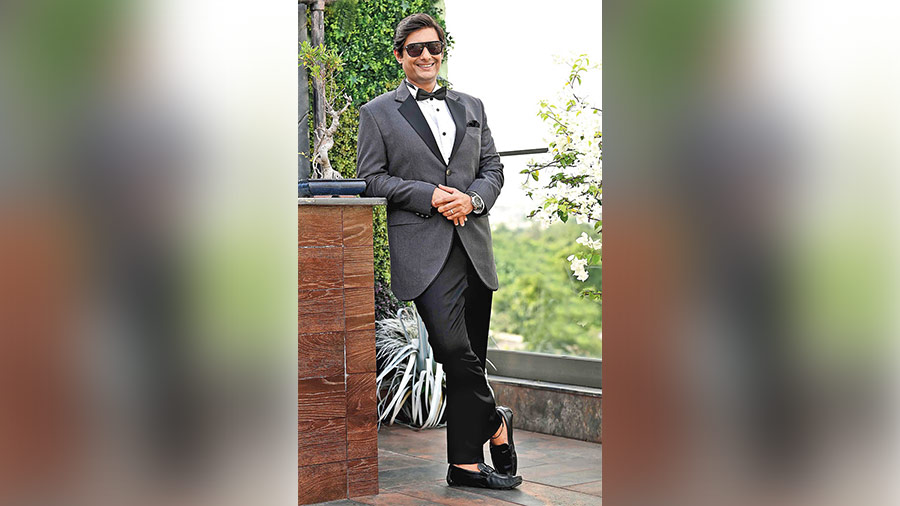 Nikhil is definitely wearing a tuxedo suit but it's not a regular one. The front lapel here is longer with not one but two pockets on the sides, higher than the normal, and outlined with black detailing. This look scored a perfect 10 for its smart tailoring.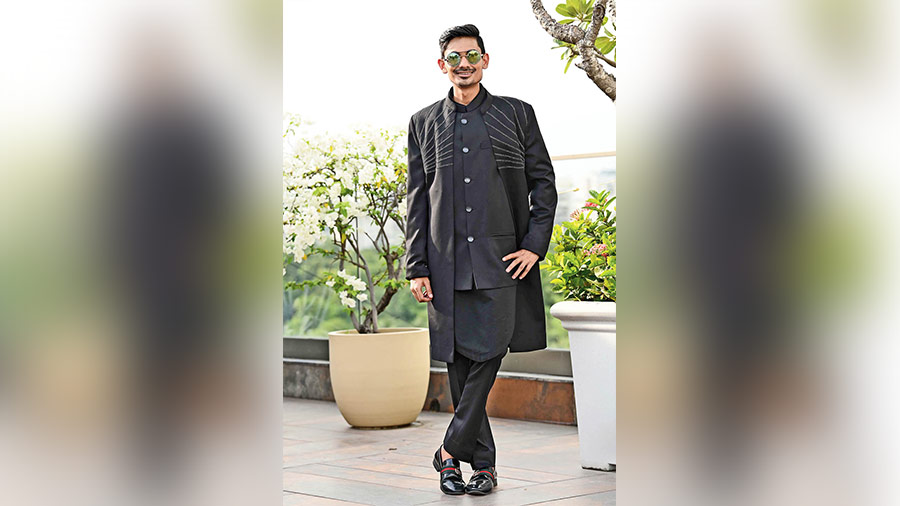 Agape added more character to this open sherwani with a layered kurta and longer Nehru jacket. The cutdana work added a hint of glam and Ayush rocked the look with his smile and aviators.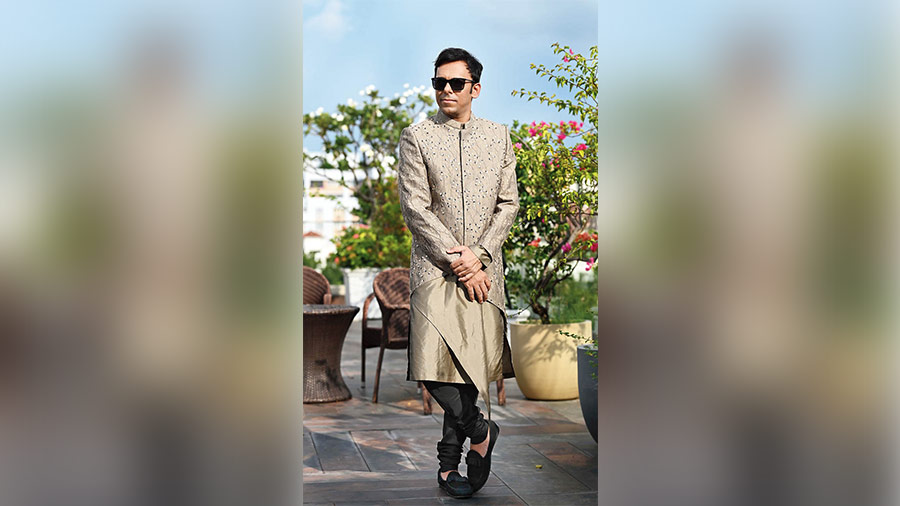 Kunal carries this muted metallic sherwani with mirror and threadwork quite effortlessly, as intended by the designer. The layering in the kurta adds a contemporary edge to it while the black churidar balances the ensemble's tone perfectly.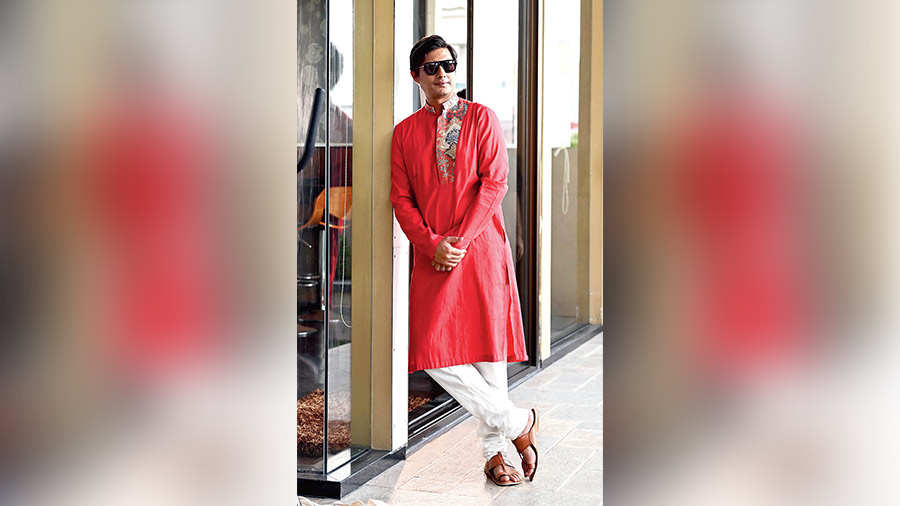 Nikhil who likes keeping it simple during festive occasions, is wearing a pastel red kurta with white churidar. A hint of detailing does all the trick to turn the kurta from ordinary to something stylish. He says, "The other two ensembles were great but I lean towards simpler things in life so my favourite would be this kurta."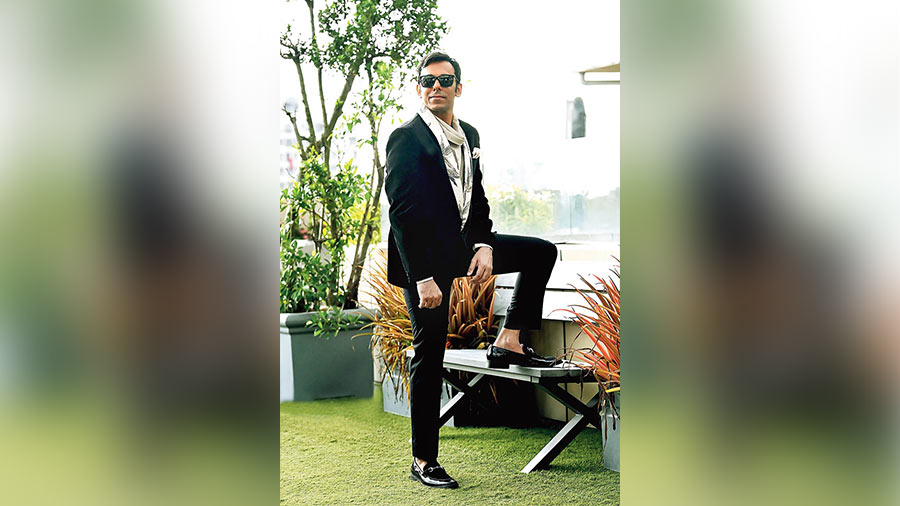 Kunal's second look was another sneak peek into the designer's finesse in designing jackets. The detailing on the velvet tuxedo's lapel added a freshness to the look that was further enhanced with a cowl shirt. A smart pick for card parties, we must say. "I would not have picked this piece if I had gone to the store by myself. It's ony when I am wearing it I can see how well crafted and well-thought this piece is. I loved every element of the suit," said the city DJ.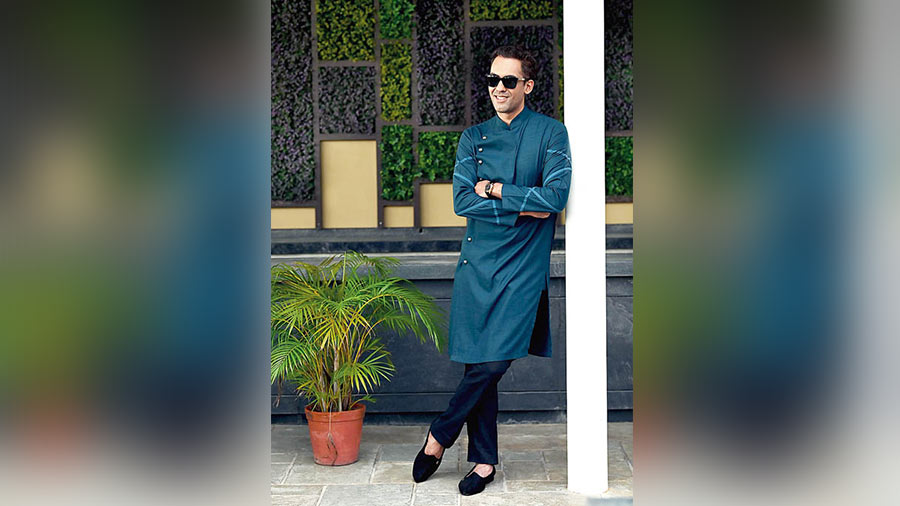 A cross between a sherwani and a kurta, this piece in pigmented turquoise is versatile. Being lightweight, it can be worn on casual occasions as well as during a wedding, points out the Agape owner. Talking about the shoot, Chintu, the co-founder of Iraj Tea, tells us, "A great team led to a great Diwali lookbook. Archie's designs are amazing and it totally suits my style sensibilities."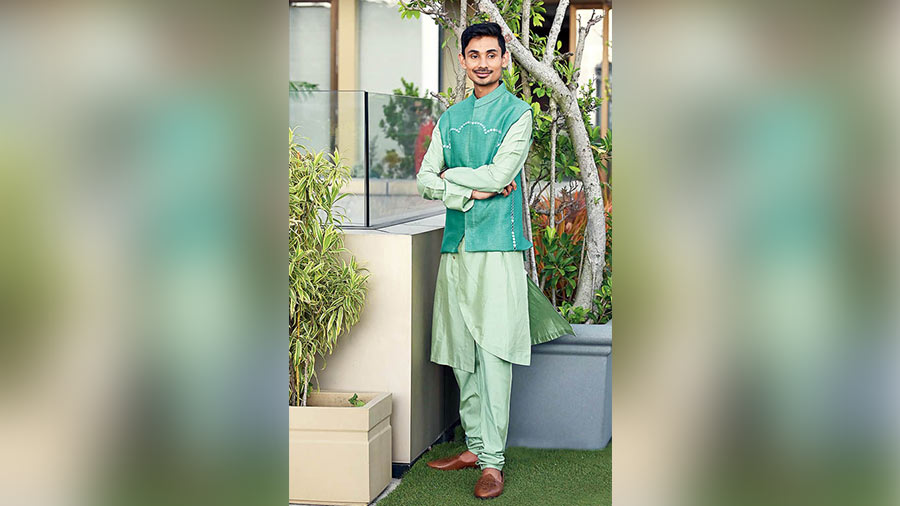 Side panelling in the kurta and subtle mirror work on the Nehru jacket, that's how the designer transformed a classic kurta into a smarter festive wear. Impressed by the collection, Ayush says, "There's something for all occasions in her collection, from puja to card party and casual get-togethers with friends and family."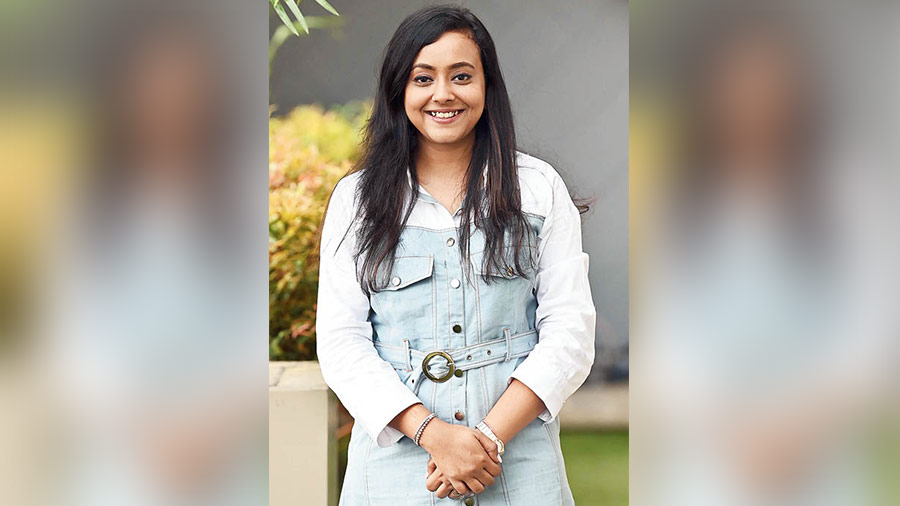 Brimming with new sartorial ideas, Archie Sinhal Garg at times likes colouring within the lines and at other times goes beyond the set rules to create something that's less ordinary. Hence one can find kurtas with modish cuts, churidars with enhanced treatment, classic blazers, Nehru jackets with fresh tailoring — all these adding up to make a collection that's unmatched. Post the shoot we sat with the affable designer who spoke about making stylish yet comfortable clothing for men, opening a new store soon and focussing on taking her label, Agape Menswear, to the next level.
Congratulations on turning three. How has the journey been so far?
It's been a good journey. We did a nice launch with The Telegraph this year and we are glad that as we are growing our customers are staying right with us. We don't care about selling in numbers. All our clients are regular clients and we always have something for everyone, including little boys. In a year or two I plan to open a bigger showroom and take a step further in the direction of showcasing my line at fashion weeks.
The Diwali edit is quite extensive with kurta, sherwani, tuxedo and everything that men might want to wear this season. Take us through it.
My whole point of designing menswear is that it has to be very effortless. So, it is a designer piece for sure but it has to be extremely effortless and comfortable for the person wearing it. Also, in this collection I have merged streetwear with festive pieces so the men feel smarter and less traditional. We have played with prints and solids more this time and everything is in the right proportion. Also, I believe in variety, so we have three types of churidars and multiple types of Patiala. In the first look, Kunal is wearing a churidar with an elastic for a good fit and natural structure. So, I design the piece as a whole and it shouldn't be over the top. Men generally don't like overdesigned stuff hence it's challenging to design under a restrictive process.
We could see some major variations in jackets as well…
For me, a jacket varies in the cut. We have around seven-eight types of Nehru jackets and the same with other classic menswear jackets. We are constantly trying to innovate for men as they are one of the most important parts of the process. We have done variations of styles in tuxedo as well, playing with the pockets, lapels and cuts.
I like colouring within the lines. I like the fact that I have to put in a lot of thought into what is going to work for them. According to me womenswear is the most saturated market and, if I ever do womenswear then it will be something very different.
What else are your plans for this year?
We want to do LFW in probably two to three years as we have positioned ourselves in the same level. We have styled Salim Merchant and Govinda in the past and we plan to dress up more men from the industry.
Pictures: B. Halder