The La Martiniere schools of Kolkata aced the Tollygunge Club fairway at the 16th edition of the Inter-School Golf Tolly Indian Championship.
Hundreds of budding golfers took to the 18-hole course for two days of intense action that culminated with La Martiniere either winning or securing podium places in virtually every category. 
The 4-ball format, where each of the two team members plays their own round as opposed to alternating shots (with the lowest score of the two counting for the team), was chosen for all six categories of the tournament. 
Four out of the top five places in the "Open Under 9 Years" went to La Martiniere for Boys. Krishiv Rungta and Akshansh Modi claimed top spot with a score of 81 while Armaan Bhoopal and Aarav Kanoi finished second on 90. Sandwiched between the third (Shivaansh Modi and Samarth Agarwal) and fifth (Reyansh Goenka and Parikshet More) placed teams, both from La Martiniere for Boys, was Shivaan Lohia representing The Heritage School.
In the "Girls Under 9 Years" category, Devyani Khanna and Vaasvi Himatsingka won after carding 123 on both days of the tournament.
The "Girls Under 13 Years" crowned the La Martiniere duo of Ishikha Bansal and Samaira Chitlangia after an overall score of 195, well below the 220 accumulated by runner-up Julinka Roy Chowdhury of Bharatiya Vidya Bhavan.
In the "Open Under 13 Years", Varish Mohta and Hreedan Raj Bihani of Calcutta International School came up trumps, scoring just 80 in the second round and 158 overall. Trailing them at 162 was Army Public School's Arjun Veer Shishir in second place. The rest of the top five went to the Martinians, with Andrew Baid and Rayan Sao in third, Arrham Jain and Manan Bagrecha in fourth, and Shloke Guha Majumdar and Arhaan Swaika in fifth.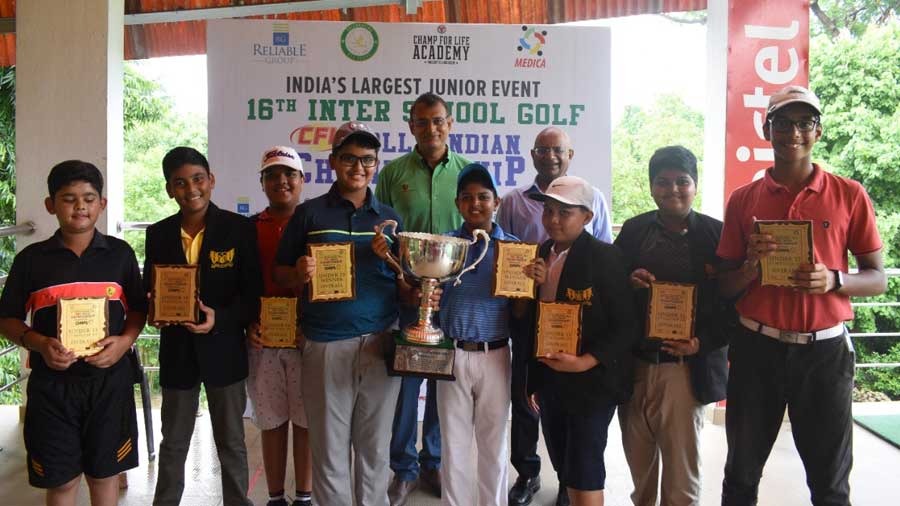 La Martiniere schools were in fine form, overhauling the best of the city's rest to come out on top
La Martiniere for Girls revived the familiar flow of the tournament by propelling their school to another victory in the "Girls Over 13 Years" category, as Anaahat Bindra and Anamika Chakravarty triumphed with an overall score of 154. Sinjini Mukherjee of Basha School came second while Pusti Khemka and Anjika Fatehpuria of Modern High School for Girls secured the third place.
In the "Open Over 13 Years", La Martiniere's Prashant Agarwal and Viranca Poddar returned with the lowest score of the championship, a stellar four under 66 (and an overall tally of 140); but this was only good for second place. The winners, also from the same school, were Rakshik Basu and Suveer Kapoor, who ended on 137. Kabir Mehta and Prasid Dhandhania ensured that La Martiniere for Boys monopolised the podum, while The Heritage School's Anshul Mishra and Dishan Ghosh came fourth.
Supported by Reliable Group, Medica and Champ for Life Academy and organised and managed by Protouch Sports, the Inter-School Tolly Indian Championship was a resounding success.