Classic and cool with a contemporary twist. That's a Kunal Rawal man. And now the Kunal Rawal boy. The designer has launched his range for the men-in-the-making with Boyhood. The ensembles for boys aged four-16 years are both smart and cute and come in creams and ivories as well as wine reds and deep blues. The collection shoot features Zreh and Zane Adajania, Zephyr Panthaky, Nidheesh, Vansh Premnarayen, Aushim Sagar and Kabir Kulchandani and those expressions are oh-so-adorable. Kunal tells The Telegraph more about what to expect.
Boyhood looks really cute!
We have been customising and doing kidswear for literally four, four-and-a-half years. Compared to a lot of other designers, we love customising and the thought of personalising. We believe that with the world getting more and more personalised and everyone's taste getting more and more personalised and events getting smaller, it is important for the clothes to fit into the world of the couple. So, this was an organic and natural progression.
I had done a lot of R&D (research and development) on the market, how kidswear is across India and the markets we cater to globally. What we realised is that with occasion wear, it's a very one-type product, especially for boys, there's not much and everything that's out there is a little more pivoted towards childlike clothing. Boys have blue and girls have pink, the motifs are flowers in prints. So, with kidswear, it is an extension of the same concept we do in menswear. We wanted to bring the same aesthetic to kidswear because I strongly believe kids today are far more evolved and clued into what's happening across the globe. They have more of a take on what they like and don't like.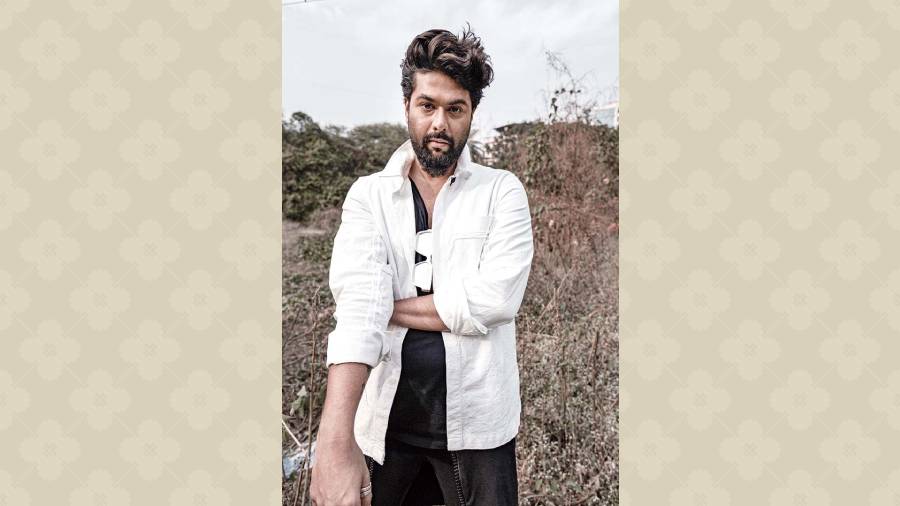 Kunal Rawal
The shoot must have been a lot of fun...
I won't lie... boys will always be boys, so it was an exciting shoot and very fresh and new for us also. The experience has been amazing. Honestly, I am telling you kids aren't the way they used to be. Like all these kids knew what they wanted, what colours they liked and what outfits they wanted to wear.... They were a part of the selection process. They have such strong minds and it is very important to cater to that. Working with them was a starting point for what we want the experience for the kids to be like in the store.
For the younger boys, we are careful about the materials we use. We make sure it is all thread and not something that could hurt the kids. It is all natural dyes. The brand anyway believes in comfort. We already have the sweat-absorbent linings and the hems and cuts are there to aid comfort. Those principles end up having a lot more value when it comes to kidswear because kids are all about comfort. We believe a lot in versatile clothing, pieces that could be repeated and worn in multiple ways. Kids grow out of sizes fast enough. So, parents are also looking for something that kids could use multiple times.
In fact, a lot of the kids today have a certain angle they are used to posing in. The India we are living in is evolving and so are the kids. I take help from kids when it comes to some tech-related thing. Most of our IT people are much younger. People with aesthetics and a slightly modern headspace want their kids to also represent that. You don't see too many people going for their kids wearing printed stuff.
What are your memories of your boyhood and do you remember how you would dress up as a kid?
I had an exciting childhood, especially with fashion. My parents let me do my bit and explore who I was, however crazy I was wearing the randomest of things. That is what has stuck with me and subconsciously made me who I am. I remember back in the day I used to wear printed pants and had golden hair in my teen years. I, in fact, ended up having braided hair extensions when I was 16. I have always believed in trial and error. So, I have tried a lot of interesting looks and have always been into good clothes, jackets, overshirts. If you see my childhood pictures, you will very clearly see where it comes from.
You worked with kids and they are really the future...
From the beginning, I have followed my work life with one thought that the youth of India is far more progressive than the youth of the strongest first world nations. That thought stems from me. I remember when I was back in college, before I started doing occasion wear, I had a label called 'dstress' which was doing contemporary western wear. Even though it was a bit ahead of its time, I have always believed that the young generation carries this guilt of not wearing traditional clothing as often as they like. When I was doing western, all our inspiration came from an India-proud mood board even back then. We all wear western silhouettes like shirts and pants and have no doubt grown up in a global world... but why don't we wear traditional clothing on a day-to-day basis a lot more and that's how this journey started. Young Indians did not have options which were relatable and that's where the conversation started. Occasion wear and young India is moving in a beautiful direction, definitely fashionable and aesthetically on point. There is a lot of be-you rather than dressing to a certain mould and that holds true for kidswear and menswear too. It is far more inspiring and exciting to be creative in young India today compared to the last 15 years of my work life. In fact, it is in the last decade that you have seen the benefits of globalisation and digitalisation. And Covid was such a big denoter for that. Even the older generation was completely digitalised. Young India will make sure that India is one of the superpowers. (In design), I am hoping that the next five global superbrands come out of India.
What's 2022 looking like for you?
This is an exciting year full of changes. 2021 reeled from Covid. Even now we have fear, but we are learning to live with it. This year will see a lot of expansion with the label, sensible expansion. We understand the value of plan A, B, C, in case things start moving in a direction that is not pleasurable to all of us. There will also be a bunch of new launches for us, things which have been pending for the last few years, for which we have been waiting for the apt time.
Years ago I had a bad temper, but I proudly worked on that. I had an eating disorder and I worked on that. Personally, one of my big goals for 2022 is to be less anxious. My anxiety has shot up quite a lot in the last two years. I don't want it to become a permanent part of my personality. I think the biggest strength anyone can have is to know your weakness. Then you can work on it.
The last few months have been chaotic trying to get a grip on the work side and am looking at getting back to yoga. Time management is also something I am going to focus on in 2022.
Pictures courtesy: Kunal Rawal