This is an excerpt from Heritage Retailers of Calcutta: 1785 to 1950, by Ashish J. Sanyal, published by Notion Press. The author has shared stories of the oldest shop in individual categories, as well as those that reinvented themselves to remain relevant. Read more about the selection process here.
----------------------------------------------------
1919 —THE RUSSA PHARMACY, 114B, Ashutosh Mukherjee Road, Kolkata – 700025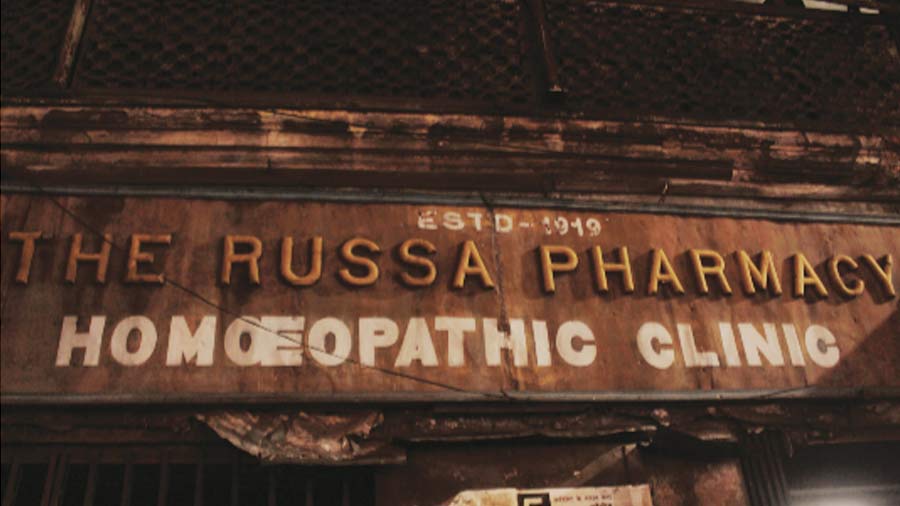 It took some doing to meet Dr Mrinal Kanti Ghosh, the miracle man of homeopathy in Kolkata. After several missed calls to his mobile, he came on the line and was kind enough to grant me a meeting saying, "Come to the clinic at 10.30pm" and then hung up.
When I arrived at the clinic there were seven people seated inside and another ten standing on the footpath. I must have looked disappointed, but an elderly gentleman told me, "Don't, worry the doctor does not leave until he has seen every one." I got to meet him a little after midnight!
During my wait, I used the time to observe the clinic. By no mean a modern clinic, but full of character with old furniture (the doctor's chair is quite an unusual piece made of cane and carved wood), peeling paint, and wall-to-wall cabinets with hundreds of small medicine bottles.
In the large main room sit the patients who have managed to get a seat. The doctor sits in the same room behind a small desk covered with thick notebooks. With each patient he listens for a minute and then, if he feels the patient needs to be examined more closely, takes him or her to a curtained-off side room.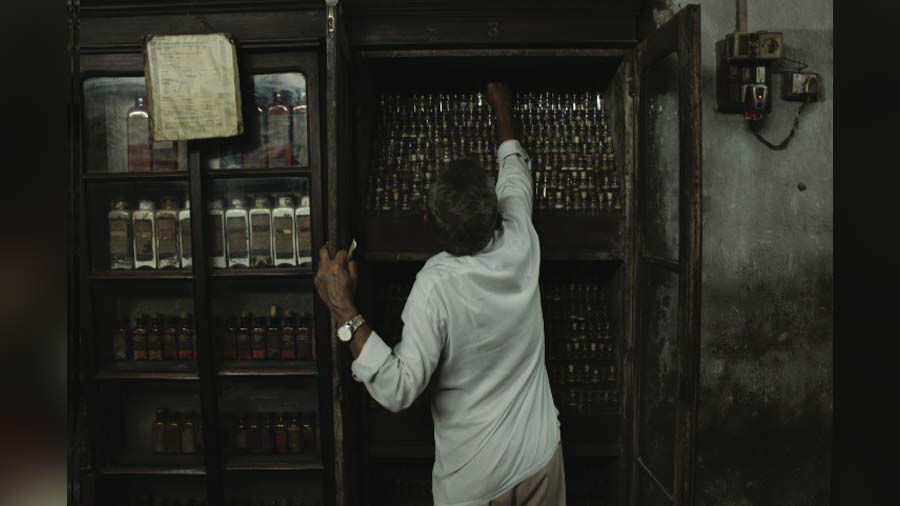 The doctor needs no compounder to find the exact medicine bottle
The doctor needs no compounder as he knows exactly where to find the medicine bottle he requires. He pours the liquid portion into the mouth of the patient himself while gently placing his hand under the patient's chin. After the treatment, a lady in the side room prepares a numbered packet. The patient pays and leaves.
The clinic was started in 1919 by his grandfather Mr Man Mohan Ghosh. Four generations of Ghosh family homeopaths have followed. Dr Mrinal is the 3rd generation. He went to school at Mitra Institution where he was a good student and enjoyed playing football.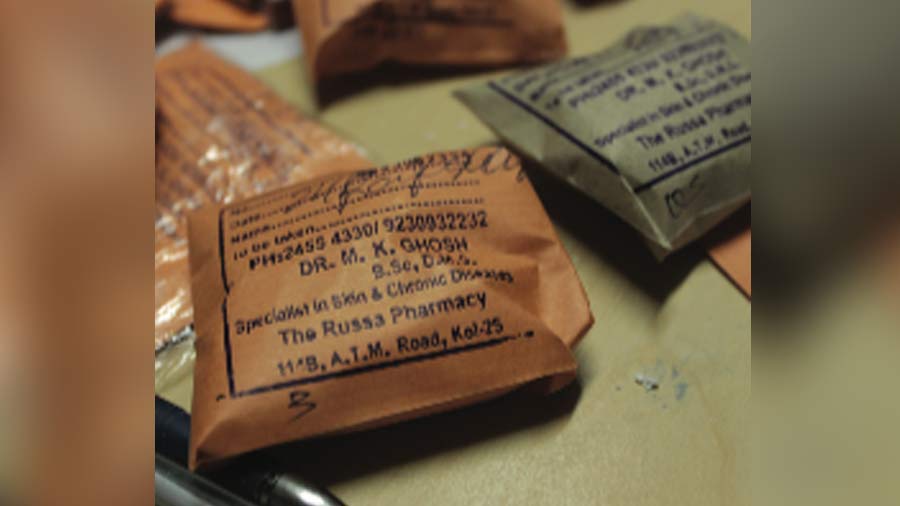 Numbered paper packets of medicine for patients
He decided to become a homeopath when a senior allopathic doctor gave him an injection in his eye, which hurt more than it helped. So he went to see his father, Dr Manindra Chandra Ghosh, who cured him with homeopathic treatment. He regrets that he worked for a very short period with his father as Dr Manindra Chandra Ghosh passed away at a young age. Dr Mrinal is happy that he can work with his son, Dr Mritinjoy Ghosh, who practises in the clinic during the day.
Dr Mrinal Kanti Ghosh is in his early 70s, with a very kind face and a dry sense of humour. Most of the patients are regulars and he is in constant conversation with them. He scolded a young boy for not sleeping enough, saying, "Sleep is the best medicine."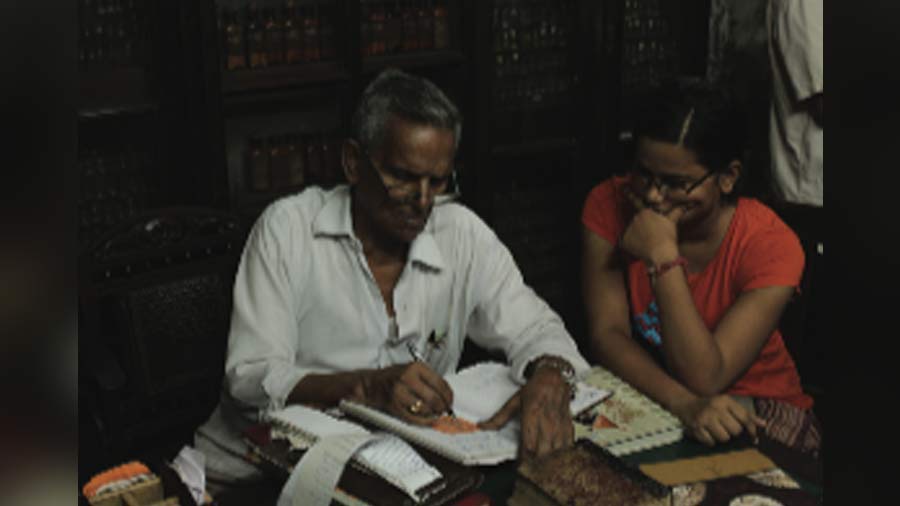 When I asked him if homeopathy really worked, he looked me straight in my face and said, "Yes if you have faith and are in the hands of an intelligent physician."
Clearly Dr Mrinal loves his work in Russa Pharmacy and his patients in return, love him.
---------------------------------------------------------------------------
Get your copy here.