Ever since Season 2 of Aarya dropped, Shataf Figar — who stars opposite Sushmita Sen and has a heartwarming and easy chemistry with her on screen — has been earning praise. The Kolkata boy — who studied at Don Bosco Park Circus and South City College in the southern part of the city — was also lauded for his turn in Shershaah a few months ago.
Shataf, who started acting at age 36, has successfully transitioned from Tollywood and theatre to prestigious projects on the national scene, including films like Extraction, Love Aaj Kal, Made in China and Shershaah and shows like Season 2 of Breathe and now Aarya 2. The Telegraph caught up with the handsome actor — we love his distinctive salt 'n' pepper look — on Aarya 2, expanding his horizons and more.
Congratulations for Aarya 2. This season, like the first, has met with positive reviews. You are, of course, a new entrant to the show. What have you been hearing since the season dropped?
The audiences are loving it! Everyone was waiting for Season 2, and the show being nominated for an International Emmy added a lot more buzz to the project. A large section of the audience binge-watched it in the first weekend itself. Everyone is liking the fact that true to the core of Aarya, even this season is very real and very gripping. It had to be real because the way the series has been shot and the way (director) Ram Madhvani functions is very real... the camera-work, the story, the conflicts, the trials and tribulations.... So ya, 'gripping', 'real', 'can't wait for Season 3'... that's what I have been hearing.
My efforts have been lauded as well. People who know my journey and have seen me from when I started out have been very appreciative and really happy. There are many in the audience who want to see more of me. So it's been really good.
How did the show happen?
All thanks to casting director Abhimanyu Ray. We were all locked down on account of the pandemic and he contacted me for an audition. When Ram went through my audition, he really liked it. I think he saw a lot of honesty in my audition. I had to wait for about a month-and-a-half before I told I was on.
Working with Ram Madhvani has been pure bliss. It's an opportunity I would take up over and over again. He really spoils his artistes, in fact he spoils his entire team. When you go to his set, it doesn't feel like you are going to work... it feels like you are going for a grand celebration!
After I was cast, my first call was with (co-directors) Vinod Rawat and Kapil Sharma who told me that this shoot experience was going to be completely different from everything that I had done till then. On the set of Aarya 2, I was introduced to this amazing technique that allows you to just be. When you are allowed to be, then you are no longer acting... you are being the character. You allow the process to take over. If the process is correct and if you, as a conscientious artiste, are willing to surrender yourself to the process, then the end result is far more impactful. For me, it was a totally life-transforming, as well as an enjoyable, experience.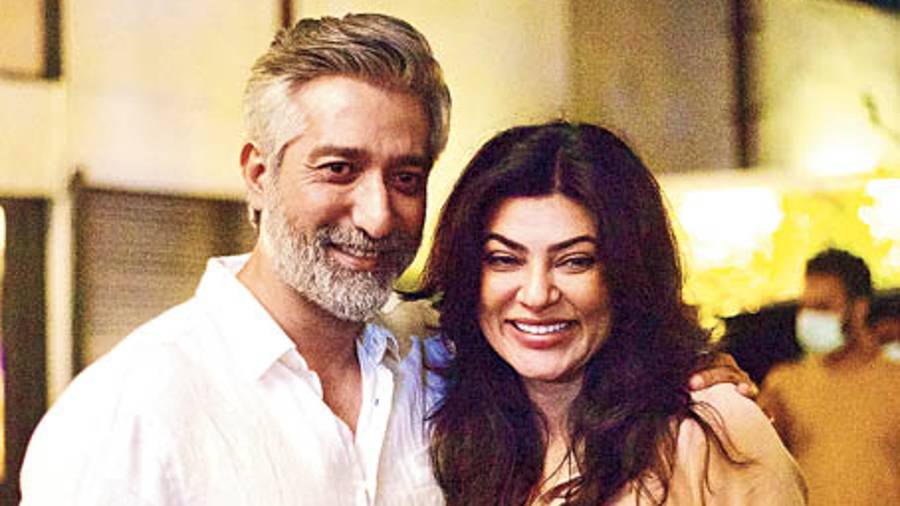 Shataf with Sushmita Sen on the sets of 'Aarya 2'
Most of your scenes are with Sushmita Sen. What was that experience like, given that she's known to be a very collaborative actor?
Absolutely! Collaborative, intelligent, sensitive, sensible... not only as an actor, but also as a human being. Her humanity reflects in her performance. She's also a very giving co-actor. When you are in a scene, you are lucky if your co-actor is 'with' you, and she was always involved, always with me. For me, coming into Season 2, I did have thoughts and questions in my mind.... But the entire team and then Sushmita made it so easy. She kept it real, she kept it genuine. The genuineness that flows from her, the warmth, the energy, that hug that came from her saying, 'Welcome to Aarya' was so real. The rest of it was just a cakewalk for me.
As actors, we have to work with all kinds of people. If someone wants to make it difficult for you, you will still have to do your work. The beauty of an energy like Sushmita Sen's is that you just melt and all your other inhibitions just go away. It's been a very smooth process. And I have been told that we look good together on screen (smiles).
This, of course, comes on the back of the accolades that you received for Shershaah. A lot of work has happened for you on the national scene recently. What would you pick as the turning point?
To be honest with you, I don't know how it happened and why it happened! (Laughs) But I have thought about it and have come to the conclusion that this has happened mystically... if you believe in mysticism, you won't question the process too much.
But I also think the turning point for me was a Nescafe commercial that I did a few years ago. Before that, I was only doing work in Kolkata. Some of the directors I worked with in Kolkata told me, 'You have a national look. You have to go to Bombay, you have to move up'. And then, very mystically, the Nescafe ad came along. That got me noticed nationally, and that space of the father of a school pass-out kid worked for me. After that, a lot of calls started coming in. And quite a bit of work started happening.
I started acting at the age of 36 with theatre in Kolkata. If OTT hadn't happened in the last few years, I don't think I would have reached this far. But then there is so much of work around, that you really have to be able to figure what you want to do and where you want to go. How you preserve yourself for the long run is key, and I think I have been lucky enough to be part of some correct projects. It started with ads and then I transitioned into films and shows on the national level. The whole effort is to be part of projects that are satisfying and help me collaborate with like-minded people.
If we go a little back, what prompted the shift from a corporate job to acting?
I come from that state of mind that thinks it's never too late (laughs). One can do anything at the time one wants to. I was a corporate trainer and I would stand at the podium for eight hours a day conducting workshops and impacting peoples' lives. I had an audience of about 100 people every day, who would come in with a smile and would leave with a smile, wanting to come back the next day. I had mastered that and it was quite an amazing feeling to help people improve and in the bargain, improve myself.
And then one day I thought that the 18 or 19 years that I had spent doing this had built me in a way that I could try my hand at something else, something more. That's when I did some theatre projects in Kolkata called Unspoken Monologue with Alyque Padamsee. That was the first time, at age 36, when I ended up being on stage in front of a real audience. But my background as a corporate trainer, talking to hundreds of people every day, convinced me that I could also do this.
I then did some plays with Ranan, which is run by Vikram Iyengar. I wasn't thinking of movies then. I was doing my corporate training and was acting on stage at the side and really enjoying the process. And then Mainak Bhaumik's film Kolkata Calling happened. That was the first time I saw myself on a monitor and more than that, I was looking at how people were looking at me. And that look in their eyes told me that I was doing the right thing.
Kolkata is where I learnt everything. I didn't go to acting school, so all that I have learnt has been between 'action' and 'cut'. At 43, I am in a happy place. Things are good, but the best is yet to come.
The lockdown has been great for you in more ways than one. You also got married recently...
Ya! (Laughs) My girlfriend (Kristina) was down to visit me and because of the pandemic she couldn't go back. We ended up living-in together and fell deeper in love and decided to get married. All thanks to the lockdown!