This is a good week to be a splurge-thrift in Kolkata because Kendall Jenner's go-to street-style accessory has landed in the city and is up for grabs. The Burberry Lola which was originally a part of Riccardo Tisci's autumn/winter 2019 runway collection, is now in stock at the Burberry flagship in Kolkata's Quest Mall.
"We have most of the shades at our Kolkata flagship including vanilla, beige, black and there's a pink variant that's been doing really well. If a specific model is not in stock we can get it shipped from any of our other Indian outposts or from London, which can take around 3-4 weeks. Buyers can always come down and get in touch at the flagship since Burberry does not sell online," says Rima Sharda, a senior fashion consultant at Burberry, Kolkata.
The Italian-made horse ferry print quilted bag has a cotton body, a stylised lambskin trim, along with hand-painted edges and a Thomas Burberry Monogram and can be carried as a clutch, shoulder bag or a crossbody. Lola is quintessentially English in aesthetic - it was named after the 1960s song Lola by The Kinks and was introduced as part of the Tempest line that was inspired by the contrasts in British culture and climate.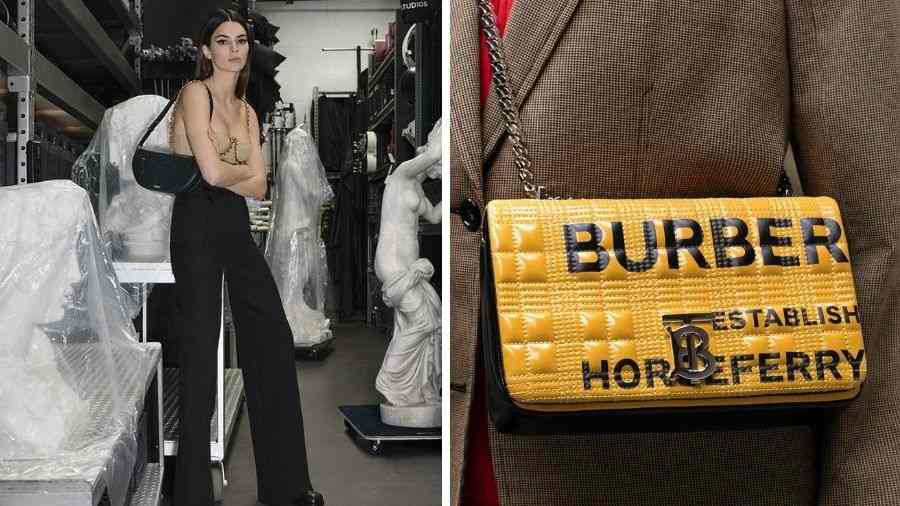 Kendall with the Olympia bag and (right) the Burberry Lola
Lola was conceived as the 'little sister' of the iconic Burberry TB bag, which is an elegant and structured envelope bag for the shoulder. The Lola is noticeably less structured than the TB carrier and comes in many shapes, although the work-friendly clutch styling is beloved by most Gen Z icons owing to its versatility. In the last few months, Kendall Jenner, Irina Shayk and other noteworthy names in fashion have been spotted carrying the Lola, usually as an off-duty statement.
For Burberry loyalists, this bag is a collector's item since it was a part of Tisci's first-ever A/W line for Burberry, "I thought a lot about England as a country of contrasts, from structured to rebel and free, and I wanted to celebrate the way these elements coexist. My first season in Burberry focused on developing my brand alphabet, and on identifying new letters and codes. Now, I'm starting to put these letters together to start writing my story here, to shape the first chapter of Burberry's new era," Tisci had shared.
Interestingly, another Kendall Jenner-approved Burberry 'It' bag has also made its way to the city. The sleek, Olympia baguette pouch from Burberry's Spring/Summer 21 line, In Bloom, is available at the store as well. The canvas and leather pouch was inspired by the idea of hot British summer and features the iconic half-moon silhouette. The In Bloom collection also marks Tisci's collaborative creative partnership with artist Anne Imhof.
"Among the bags, Lola has been one of our biggest sellers during the festive season. Sales for Olympia have just started picking up among city buyers in the last few weeks," confirms Sharda.