INFOCOM, the ABP Group's flagship business-technology-leadership conference, organised its 20th edition in early December, in a virtual format. The focus of INFOCOM 2021 was 'Accelerating Digital', with the final Spotlight Session, named 'The Future of Media & Entertainment', witnessing active participation from an esteemed panel comprising actors Richa Chadha and Rasika Dugal, film-maker Aniruddha Roy Chowdhury and Tanya Bami, series head, Netflix India. The hour-long discussion was moderated by journalist-entrepreneur Govindraj Ethiraj. Excerpts: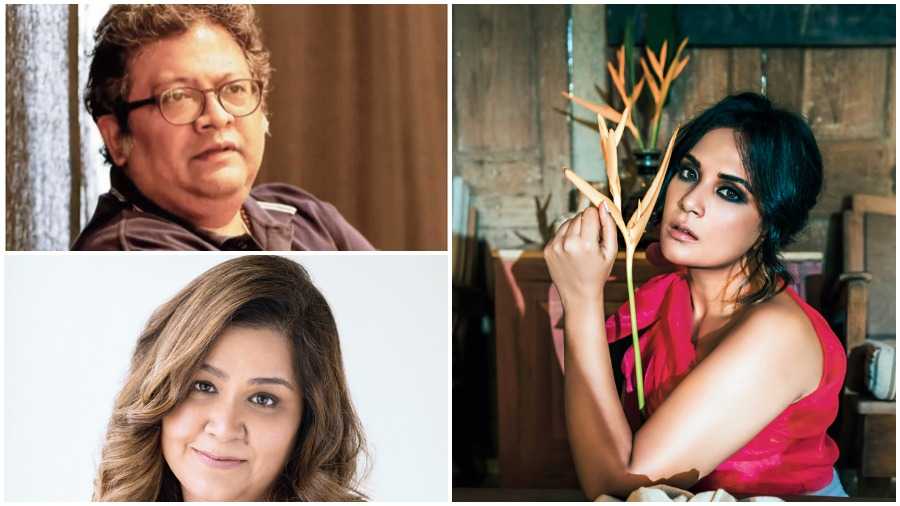 Clockwise from top left: Aniruddha Roy Chowdhury, Richa Chadha and Tanya Bami
Govindraj Ethiraj (moderator): Entertainment is a very critical need today. OTT is a big phenomenon and there are about 50 million subscribers on streaming platforms today. But do actors and film-makers today feel that they have the freedom to practise their craft in the way they want to because pressures can be both political as well as business driven? In what direction do you think the entertainment industry is heading?
Aniruddha Roy Chowdhury: What's beautiful about the times we are living in is that people have such ready access to content, which is educating them along with entertaining them. The audience is getting treated to good content and is also demanding good content. The language of content has changed and the nature of demand from the audience has also changed. I don't know about the business aspect of it, but from the creative point of view, it's a really good time. It's also a symbiotic relationship... if we make good things, they will watch it; if they want good things, we will make it. Stereotypes are being shattered, non-commercial content is doing well. Streaming platforms have given makers like us scope to tell our stories without any baggage. We no longer have so much pressure to score, we don't have a gun pointed at our heads all the time. Art is about participating, one should not always look to win.
Rasika Dugal: The advent of the streaming services has ushered in a great time for actors like me. I did a lot of independent films early in my career. The content I was part of was very good, but the bottleneck was distribution. It was very discouraging because such beautifully written and directed stories were not reaching a wider audience. Whenever we would try to sell a smaller film, the feedback was that the audience wasn't ready. I totally disagreed with that claim at the time. The audience, I felt, was very versatile and we were not giving them the variety that they had the ability to consume. Every time I brought this up, I was told, 'You are an actor... you know nothing about marketing, about the situation. This is what sells and this is what doesn't sell'. At that time, we had no option but to stay quiet.
But the entry of the streaming services has dispelled the myth that audiences only want a certain kind of content. A few years ago, I had worked on a film called Qissa, with Irrfan, which I believe is a very beautifully made film. At that time, it had released in just two theatres in Bombay and to every meeting that I went to, I would carry a DVD of the film and would say, 'Have you watched Qissa? Please watch it'.
I am glad that I don't have to do that anymore. I am glad that there is so much variety in content today. There is a show like Made in Heaven and a show like Mirzapur — two completely different shows that are consumed with the same amount of gusto. It is a very encouraging time. But it's not that all the content on digital platforms is great... there is the good and the bad. But at least, there is room for variety, for different genres and for different aesthetics. I am celebrating that. Yes, political pressure is a problem. It's something that a lot of us should discuss.
Richa Chadha: I owe my career to small, independent films that have become cult over the years, whether it was Oye Lucky! Lucky Oye! or Masaan. What is great about the times we are in today is that we have stars who have been born out of the OTT space. Like Jaideep Ahlawat, who was first seen in Gangs of Wasseypur, but only became a star after Paatal Lok. Or Pratik Gandhi, who had done theatre and a few films, but only shot into the spotlight after Scam 1992.
Or a fantastic actress like Shefali Shah who, after Delhi Crime, doesn't have dates anymore. I definitely think that this has created some amount of democracy, at least for the actors in the industry because we have always had these discussions about what it means to be an insider, an outsider and how to break into these places.
I completely agree with Rasika regarding the issue about bottleneck of distribution. Sometimes, for a small film, the production budget was Rs 3 crore, but the P&A (publicity and advertising) cost would be around Rs 5 crore, which was, frankly, unaffordable for most. And there were many films that were stuck because they weren't considered commercially viable or the producers didn't have the money to do the P&A. Without P&A, you can't even think of having your film register in the minds of the audience.
In that sense, the OTT platforms have come as a breather. When Netflix released their first film a few years ago, I was sitting with a bunch of producers who said, 'Okay, they have rendered the distributor obsolete'. I don't fully agree with that in the Indian context, but I think that today, we are slowly getting there. Today, especially in the light of Covid-19, the Hindi film industry owes a very big thanks to the streaming platforms because they are the ones who have given film-makers the funds to make the films they want to and at the scale they want to... and they also support them when it comes to release and publicity.
The other thing that makes me happy as a creative person is that when a series is written, because the involvement from the streaming platforms during the development stage is very high, it's forcing film writing to be better. The audience is no longer accepting the 'leave-your-brains-at-home' kind of cinema. That, of course, has its place in the world and we will all coexist happily. But, it's forcing writers and directors to work that much harder. People are watching content like never before. Everyone has their own phones and tablets, data penetration is very high, and viewing content has become a private experience. I think the future is bright for streaming platforms in India, for them to grow along with the cinemas. Many people think that it's mutually exclusive, but the fact is that they are co-dependent in a very real way.
So many directors have struggled with releasing their films, but have now got a platform on OTT. The biggest example is Sudhir Mishra. He's made amazing films which have won international laurels, and with Serious Men on Netflix, he not only won praise but it was also nominated for an International Emmy. It warms my heart to see him flourishing in this phase of his career and wanting to make more and more cinema. We have accepted this change in the same way that we have accepted other changes in technology and what technology does to the viewing experience. Video killed the radio star, but I don't think cinema will be killed by the presence of OTT. On the contrary, I think it will be helped.
Tanya Bami: In the last 15 years, entertainment has made the journey from being distributed to now being present at our fingertips. The rising tide lifts all boats, and that's true for both business and creativity. It's a golden phase for entertainment now. What works for streaming platforms is the freedom for creative expression that they allow. The medium doesn't stipulate a particular format, duration or the kind of content. There are diverse audiences to cater to, within the country and beyond. One doesn't really need to struggle too much to have one's voice heard. Word-of-mouth takes our stories beyond home territory... it's an experience only this medium can bring it, and at this scale.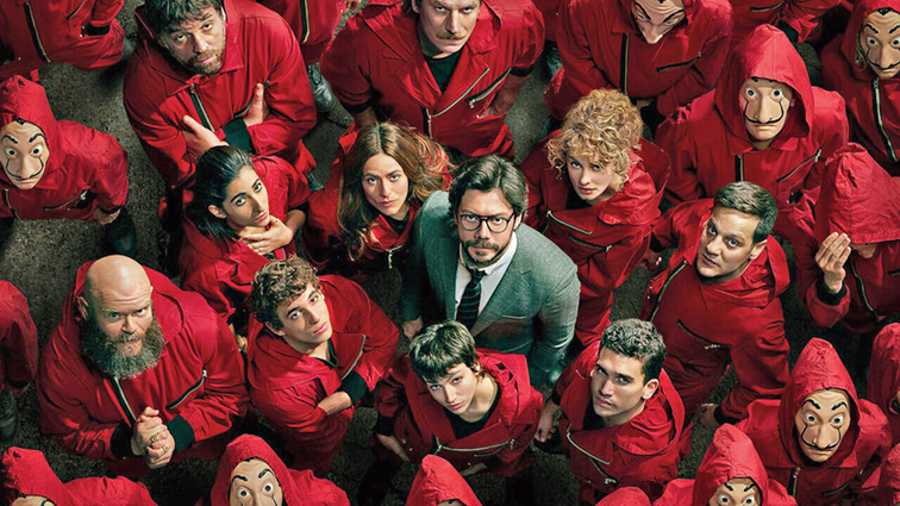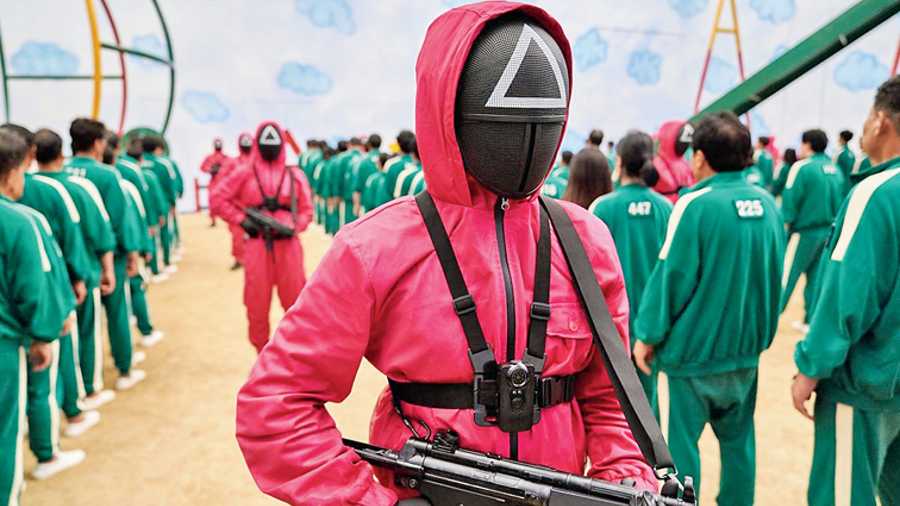 Money Heist (above) and (top) Squid Game are prime examples of local content which have become global phenomena
It's also about the kinds of stories we can tell. There is a broad-basing and diversifying... whether it's female-led stories, the hidden stories that one knew as folklore or stories that are born out of leaps of imagination.... Squid Game came and became a phenomenon, not just in South Korea but across the world. So did Money Heist. It tells us that the audience has matured enough to be able to make those choices and to ask for content that resonates with them individually. When Bong Joon-ho won the Oscar for Parasite, he spoke about getting past the one-inch barrier of subtitles, and we think most of us have now overcome it. Closer home, our regional titles like Jagame Thandhiram and Navarasa have trended in 25 countries for two-three months. Our content is travelling everywhere. The numbers are staggering, and so are the prospects.
Govindraj: The audience in India is now consuming a global palette of content. How does that inform and impact your own work?
Aniruddha: Local is the new global. One needs to tell a story that one believes in and which resonates. I am working on the subjects I believe in strongly. My next film Lost (starring Yami Gautam) is a woman-centric film. It focuses on a crime journalist who is trying to find out the truth. This is a story which I heard from a journalist in Calcutta. Now is the time to tell true stories, meaningful stories.
When I made Anuranan in 2006, I tried very hard to release the film everywhere. I travelled to the US, I would travel frequently in local trains in Bombay and go to people with the film on my laptop and try and show it to them. I would request them to distribute it... I had no idea how to do it... it was very difficult to distribute a Bangla film. Even though Bangla is the sixth most spoken language in the world, we couldn't distribute it. But now, because of streaming platforms, you know your film will reach many people. Why do we make art? Because we want people to consume it. Things are much, much better now.
Govindraj: When it comes to creative expression, are we able to stretch freedom to the point of what Western democracies enjoy?
Rasika: The thing about creative expression is that it finds its own way. One can't curb expression. I believe that stories dictate how they need to be told, some are overt and some are more subtle. I hope that there is always room for the overt and the subtle. As a creative person, there is constant worry about that.
Richa: I honestly feel that this question of how much can one say and in what way is more for directors, producers and streaming platforms. Perhaps when I get to a stage when I write something, I will look at trying to circumnavigate the rules in some way.
Govindraj: Tanya, how much does the sword of censorship and the fact that anyone can take offence to even a line in a series or a film and go to court against content creators and platforms, affect your eventual output?
Tanya: Our journey has been to find distinct, unique, creative voices from the country. People who have a creative expression that will connect far and deep. All of us are learning to be responsible in our storytelling. Does that change the direction of our storytelling? I don't think so. We are so early on in this curve of optimising and maximising the potential of this medium that I think it's far from restrictive. It's a shared responsibility between us and our creators and at some level, our audiences, to create and consume content.