Quick on the heels of the distinctive-looking LinkBuds, Sony has launched a more traditional set of noise isolating and noise cancelling earbuds called Sony WF-LS900N, which has a premium price tag and is a tad behind the company's flagship offering, the WF-1000XM4. The new pair has plenty in terms of sound appeal. Can it become your everyday device and how does it differ from the WF-1000XM4?
Feather-light and fits every ear type
The first thing you notice about the WF-LS900N is how lightweight and smaller the earbuds are compared to the WF-1000XM4. Sony is, in fact, calling this its smallest and lightest, noise cancelling, hi-res truly wireless earbuds. All those tags hold good here.
There is support for Sony's near-lossless LDAC audio codec as well as SBC and AAC.
It's also good to see Sony continuing with an environment-friendly design. Like the rest of the latest audio series, all packaging on the earbuds is plastic free and the earbuds use recycled materials from automobile parts.
There is really nothing to dislike about the design, including the matte finish of the case, which ensures the device remains scratch free. The standard ear tips fit my ears well and they are quite comfortable even after hours of usage. Plus, it helps that it doesn't stick out of the ears too far. Inside the box are plenty of ear tips to accommodate all ear types. It's important to get a tight seal on any noise cancelling wireless earbuds. A tight seal is crucial for both optimal sound quality and optimal noise cancelling.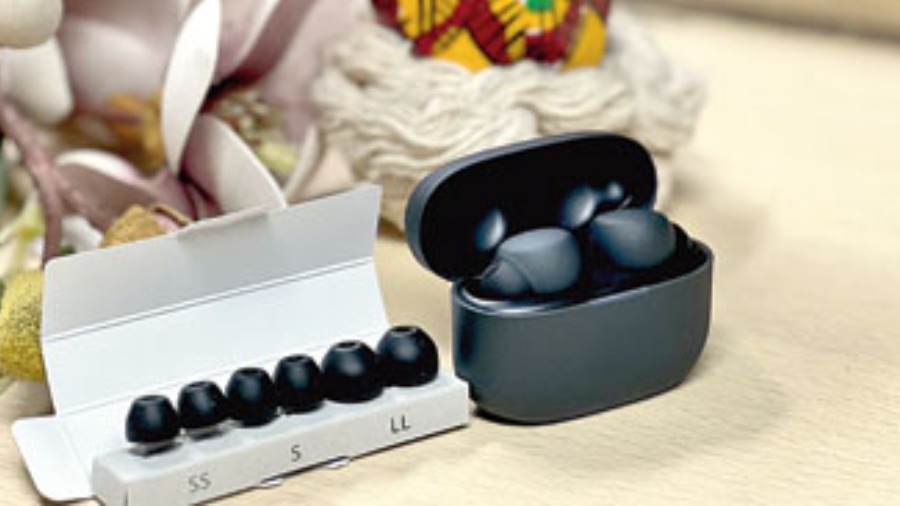 There are enough ear tips in the box to offer a perfect fit
Instead of keeping it for the end, an omission needs to be pointed out — wireless charging. There is a Type-C port and also support for fast charging but sadly, no wireless charging, despite the price point.
Sound department
The sound processing on the earbuds is done using the V1 processor, which we also saw on the WF-1000XM4, one of the finest devices of the year. The processor is able to create immersive sound patterns and authentic sound reproduction using a 5mm driver unit. It's not just about reproducing the perfect sound, a lot depends on how far can distortion be reduced. Like I mentioned at the start, there are differences between the WF-LS900N and WF-1000XM4. For example, on the latter you get a 6mm driver unit.
The level of noise cancellation you get here is top-notch and most environment noises get cut off. Does it do better than the WF-1000XM4? Well, it's as good as the more expensive option.
Where I feel the new set of earbuds win is in ambient mode that has adjustable levels, allowing you to tweak how much sound you want to let in from the outside world. Sony implements a very different technology than what Apple has done on its new AirPods Pro 2, which is far more expensive than the WF-LS900N.
Transparent mode is important when you are walking outdoors, where there are lots of noises that you want to drown out but not completely. For example, while riding a bike you don't want to hear the ear-piercing levels of an ambulance siren or drilling on the road. Yet, you don't want to drown them out completely because it's safe to be aware of one's surroundings.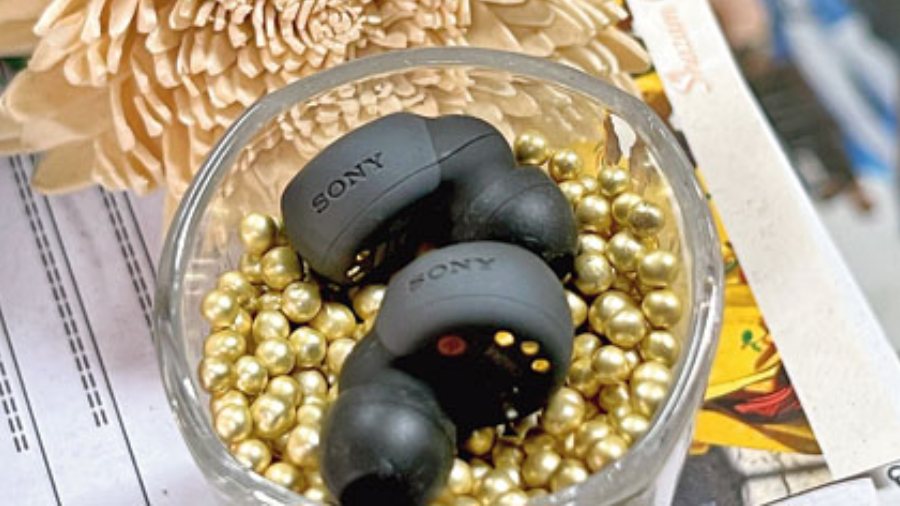 The earbuds are among the lightest and smallest in the market
Sony's earbuds integrate Adaptive Sound Control, which adjusts ambient sound settings depending on where you are. It takes place effortlessly and it's among the best you will find in this price category. Apple does it differently using the H2 chip, which can sample outside noise 48,000 times per second. What? You enter a zone where drilling is taking place. The earbuds can handle it real-time or before any sound reaches your ears. All the outside noises are being allowed to pass through but anything harsh or loud gets tackled to a point that it doesn't hurt your ears. Obviously this comes for a substantial price difference.  If you are looking for something pocket-friendly yet gets the ambient sound feature almost right, Sony does the job.
There is also Sony's Quick Attention mode that allows you to tap and hold to muffle the music you're listening to and enter ambient mode, so you can hear what's going on around you and have a conversation. Also present is Speak-to-Chat that's essentially hands-free quick attention. If someone comes up to you and wants to have a conversation, you can simply start talking. "Hey, how you are doing," and your audio pauses while the earbuds go into ambient mode; the audio resumes after a short period, anywhere from five seconds to 30 seconds depending on your preference or you can manually resume it by tapping on either bud.
There are plenty of EQ settings in the app to tweak the sound and support is also present for Sony's 360 Reality Audio for which you need to have access to a streaming service that offers the technology.
The overall sound is quite detailed and there is sparkle in the treble while bass is well-defined. The overall soundscape is exciting. Given the size and weight of the earbuds, you'll be hard-pressed to find a better sounding set, especially if you a device that supports LDAC Bluetooth streaming.
The set supports multipoint connection, meaning it can be paired with two Bluetooth devices at the same time. When a call comes on your earbuds, it knows which devices is ringing and connects to the right one automatically.
Let's also talk about voice quality for calls because that's become an important feature for a lot of people. What I like most about Sony earbuds is how far it can reduce wind noises. There is AI algorithm to help reduce background noise in general and call quality is not bad at all.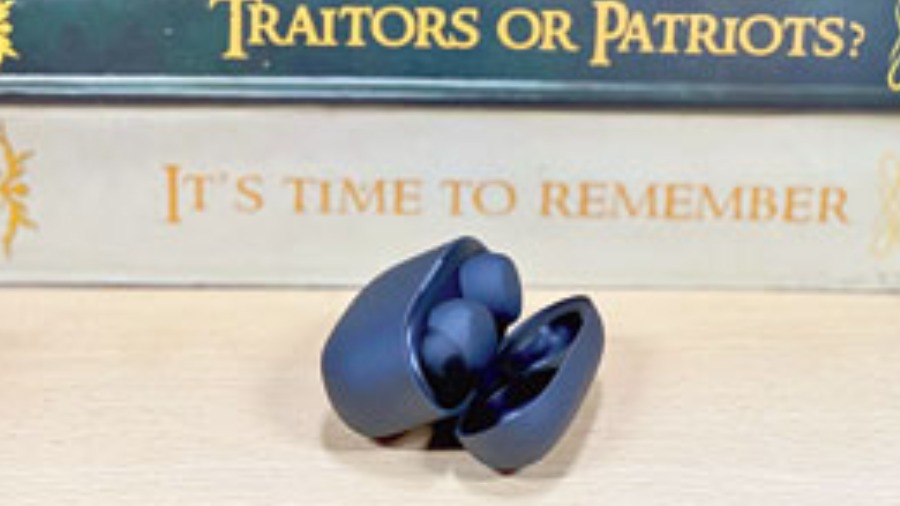 Battery life is about six hours with noise cancelling on and there is 20 hours from the charging case
Should you buy it?
Coming with IPX4 splash proof rating, you can use these for sporting activities and they stayed in my ears securely even though they don't sport ear fins. Battery life is about the same as on rival devices, offering six hours (depends on the volume) with noise cancelling on and storing 20 hours of juice in the charging case while a five-minute quick charge gives you up to 60 minutes of playtime. The secret sauce to the earbuds lies in the app support Sony offers; it's among the best. If you are looking for a rich audio experience, Sony WF-LS900N does a good job.
At a glance
Device: Sony WF-LS900N
Price: Rs 13,990 (best buy; including Rs 3,000 cashback)
Availability: November 25 onwards
Colours: Black, white and beige
High notes
 High level of noise cancellation
 Excellent ambient mode
 Acceptable battery life
 App support is among the best
Muffled note