While Yves Saint Laurent is often credited with designing the first modern pantsuit for women (the Le Smoking tuxedo suit), the pantsuit's history goes further back. Turns out, it was a French actor named Sarah Bernhardt who went against gender norms in the late 1800s and started commissioning suits for herself. Other famous women were quick to follow suit!
Marlene Dietrich, Eleanor Roosevelt, Elsa Schiaparelli, Coco Chanel — history is chock-a-block with rule breakers who braved the fashion storm. Today, all you have to do is find the right fit!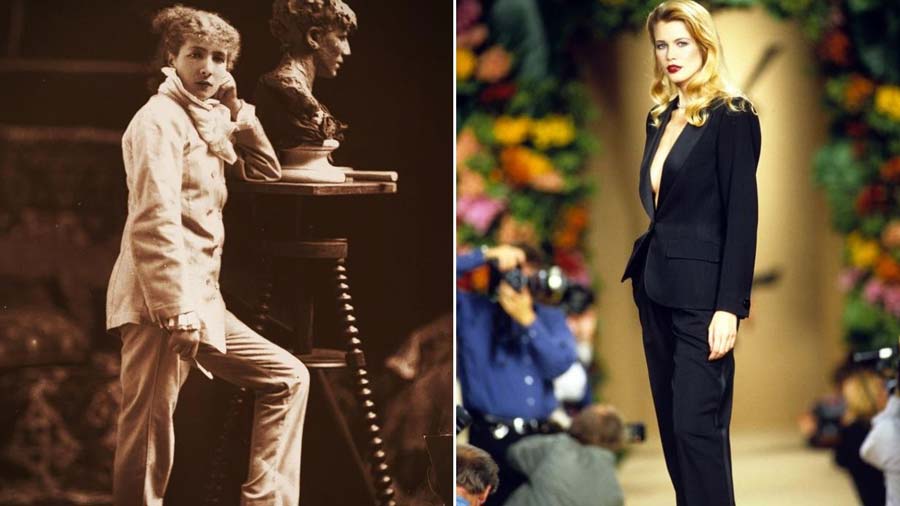 Sarah Bernhardt who first wore men's pantsuits in the 1800s (left) and Claudia Schiffer in a YSL Le Smoking suit
Instagram
There's no one way to wear the pantsuit — crisp, tailored vests, statement blazers, wide trousers, shoulder pads, cinched waists — the options are endless. Here's a bunch of inspiration to get you started:
Bold colours
Power colours can be great picks. Kiara Advani wears a gigot-sleeved violet suit by T Skaff that makes for a fantastic monochrome number. From bright orange to hot pink and even lime green, you can pick your colour of choice and look absolutely dapper!
Belt it
Another effortless way to give structure to your pantsuit is to belt it up as our Desi Girl did. This creates a gorgeous V-silhouette while accentuating your waist making sure the suit fits like a glove.
Sequins
Who says off-the-rack pantsuits have to be boring? Janhvi Kapoor's sequin Zara ensemble begs to differ. The sequin adds sheen to the outfit creating quite a statement every time the lights glaze over.
Athleisure
Remember when Sonam aced this look by Beyonce's Ivy Park? The effortless sporty pantsuit is this season's biggest trend. The fitted trousers are actually a-line track pants which makes the number so versatile.
Sharp waistcoats
Gigi Hadid's little white vest can effortlessly replace your blazer. Vests can also help you pare a formal look down for summer. Just go for tailored or true-to-size fits.
Sexy bralette
Megan Fox channels a 'casual Bratz doll' in this savvy business suit and we love this for her! Add some extra oomph to your pantsuit by switching your shirt for a bralette! This balances out the proportions of your outfit and you can flaunt your summer bod.
OTT shoulder pads
This '80s styling makes for a snazzy accent as it gives volume to your upper body and creates a strong silhouette, balanced by the fitted trousers. Karisma Kapoor's floral Rahul Mishra pick is a floral wonder.
Bold prints
If monochrome is not your vibe, go for bold prints like the mono-lined power suit worn by Rakul Preet Singh. You can also opt for vivid animal prints, abstract patterns or even over-the-top florals.
Smart casuals
Simple, easy and utterly effortless—smart casual pantsuits are all the rage. Aahana Kumra wears the breezy stripe and Tencel blazer suit by MellowDrama, which is good for brunches, office meetings or a day out.