The music festival season is upon us and curators and venues are updating their formats to fit the next normal. While the popular Bacardi Nh7 Weekender rescheduled the dates for its Kolkata, Delhi and Pune shows to adjust to city-specific health regulations, Goa's Sunburn Festival opted for a limited-capacity set-up and also switched its venue.
There may be additional restrictions on activities, food vendors, drinking, or even accommodations. Needless to say, packing for a post-pandemic music festival entails more work, but just a handful of travel essentials will make sure you have a safe, worry-free festival experience.
Smart wearables are a big priority for festival-goers today, be it smart masks or watches with in-built oxymeters. For instance, the Fastrack Reflex VOX features a heart rate monitor, blood oxygen saturation (SP02 monitor), stress monitor and a menstrual tracker. It also lines up music and camera controls and hydration alerts.
"Smart wearables have become an essential part of youth lifestyle. With Fastrack Reflex VOX's design and its unique features like built-in Alexa, 100+ watch faces and many more, we are excited to cater to the needs of the young who are always looking for something new and fashionable," says Fastrack's Marketing Head Mr Ajay Maurya.
So, if you're packing for a music festival this year – be it Weekender or Glastonbury – keep these travel essentials close:
Luggage
Opt for high-capacity bags that help you organise better and travel light. There may be certain regulations pertaining to luggage sizes (a 20 x 15 x 9 size is considered pretty standard) especially at campsites. The best hack is to assign smaller, packable bags for each group of essentials – one for cards and permits, one for medicines and hygiene essentials, an outdoor pouch and so on. Here are the most festival-friendly carriers:
Cardholder or lanyard cases
It's easier to stash your ID, vaccine cards, festival passes, food coupons and credit cards in one case. Go for soft-bodied cases with multiple slots or skinny wallets that weigh less. Nappa Dori offers chic envelope clutches and harness organisers that can help. Buy them here. Here are some other useful carriers that might come in handy at a music festival.
A hands-free bag (belt bags, mini crossbody pouch or fanny pack)
A small outdoor bag is a must-have so you can keep your hands free when you're hopping from stage to stage or bopping to live music. Opt for a belt bag or a crossbody pouch to carry your spare masks, coupons, sanitisers, cash, chargers etc. Kolkata brands like House of SL and Kompanero have stores in the city where you can find a versatile range.
Clear backpack
Instead of a duffel or padded bags, go for clear backpacks. Not only are they lighter but makes it easier for you to find your essentials. PVC bags are durable and usually have multi-functional compartments.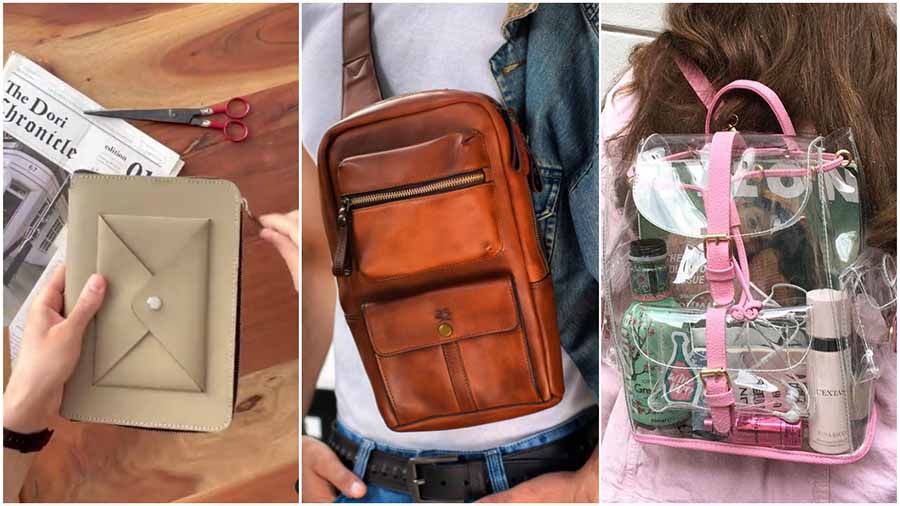 An envelope clutch by Nappa Dori, a belt bag by Kompanero, a clear, PVC bag with adjustable straps
Living essentials and weather necessities
Think in terms of maximising storage and minimising effort. If you're planning to live in camps, pay extra attention to what you can and cannot share with friends, to reduce contact.
Protective gear
Don't forget your umbrellas and hats! Whether you're headed to the rainy North East or going glamping in Rajasthan, it's best to prepare for weather inconsistencies and carry umbrellas, caps, shades and rain boots. Pack at least one camp shoe, preferably the hiking-friendly Birkenstocks since they're lighter than Crocs and are designed with added weather resistance. Buy them here.
If you're packing light, pick a walking shoe designed for long wear. The Skechers Arch Fit line features podiatrist-certified arch support technology and removable insoles. "We realised early on that our consumers have a growing need for better foot support, and this is what gave birth to Skechers Arch Fit. It is a blend of what we are all about at the core – comfort and technology," shares Rahul Vira, CEO, Skechers, South Asia Pvt. Ltd. Buy them here.
Foldable chair
Packing a makeshift seat will serve you terrifically well, be it to rest your weary legs or to get a closer view of the stage. Coleman offers foldable, portable camp chairs featuring a touch of polyester fabric. Explore here.
Hanging shelves
Fabric or polyester shelves will come in handy if you're sharing your living space with others and need more room for storage. House of Quirk offers light polypropylene shelf organisers and bedside caddies. Buy them here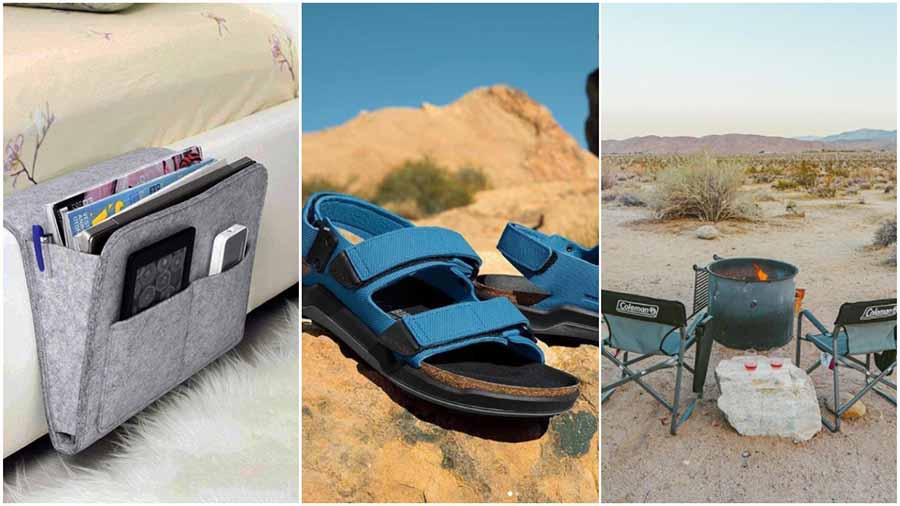 A bedside caddy by House of Quirk, a pair of Birkenstocks and portable chairs by Coleman
Safety essentials
Even if the venue promises sanitisation stations, it's best to be equipped with your own supply, along with masks, spare masks, emergency masks and masks for your forgetful friends! There are some easy ways to help you keep your outdoor and indoor safety in check.
Sanitiser pens
Klenza offers alcohol-free sanitiser pens that you can just rub on your hands. It fits in a pocket and offers at least 75 sprays. You can also shop for disinfecting wipes and sanitiser holders that can be attached directly to your belt or bags, so it's more accessible. Face shields are a good idea when you're in a big crowd, since it protects you from splatter. Allen Solly offers sleek, visor-less, anti-fogging shields. Buy them here.
Mask chains
Mask chains are perfect when you have to take off your masks frequently and need it to stay in place. You can also match it with your clothes. You can find some pocket-friendly ones here.
Superkey/contact minimiser
Alternative gear label Supervek has come up with a contactless key that helps you avoid direct contact with surfaces, you can press elevator or ATM buttons with it and even open or close doors! Buy them here.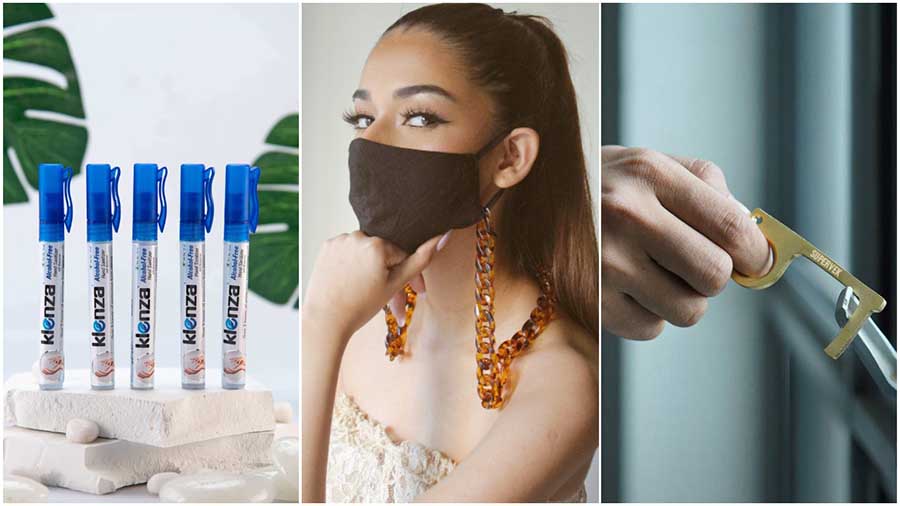 Klenza sanitiser pens, Pipa Bella's multi-use mask chains and Supervek's Superkey
Tech accessories
The right tech can elevate the festival experience for you and even help you travel better. Earplugs and trackers aside, consider spending on a smart band or multi-tasking wellness monitors that will help you on multiple occasions. Here are some must-haves:
High fidelity earplugs
Hearing protection is a concern for many, especially at electronic music festivals where music can easily exceed the danger zone of 80 decibels. Alpine MusicSafe Pro Earplugs are a great option for festival use. These high-fidelity earplugs are meant to protect your ears from excessive noise levels. They come with interchangeable filters that allow differing levels of noise attenuation depending on the situation. Buy them here
AirTag
Apple's coin-sized trackers can help Apple users find lost everyday items, especially when they're travelling. They are water and dust-resistant and can be attached to keys, belts and wallets and can be tracked using Bluetooth right alongside Apple devices. Your iPhone will also pick up any unregistered AirTags that are moving with you and send an alert. Buy them here.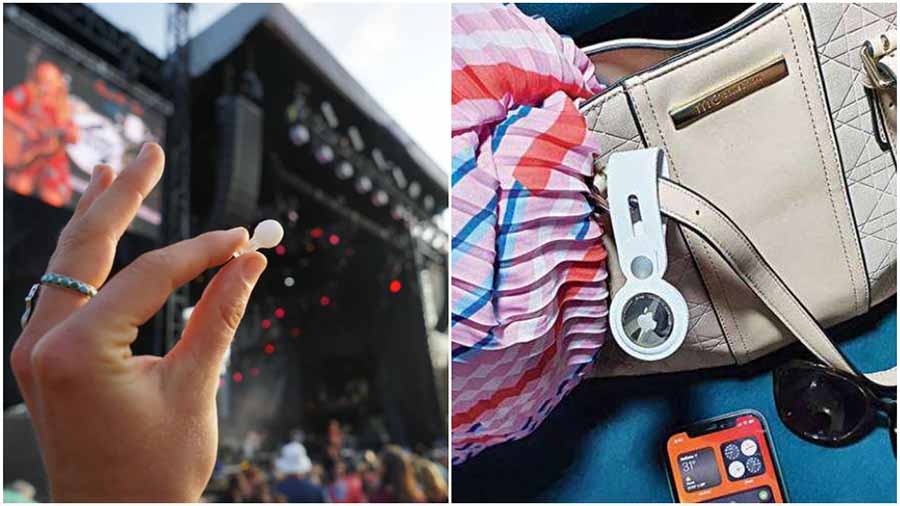 High-fidelity earplugs by Vibes and Apple AirTags (right)
Miscellaneous (non-perishables, hygiene and grooming essentials etc.)
Tampon alternatives
Shripriya Khaitan Dhelia and Upasana Todi Prakash's Kolkata start-up Fabpad offers leak-proof period panties that are reusable and is an environment-friendly alternative to sanitary pads that don't usually decompose. It can be worn without a tampon, a cup or a sanitary pad. It absorbs 5 times more than regular sanitary pads or tampons. Buy it here.
Kombucha
No one expects to eat healthy at music festivals and bringing your own Kombucha can be a great idea. Not only can they help with hangovers but they can also aid digestion and prevent bloating. Labels like The Local Ferment Co and Kolkata brand The Kombucha Co. offer convenient bottled kombuchas. "Our kombuchas are easy to carry in a coolbox with ice (since they're not pasteurised and have good living bacteria). Our Shrub sodas and Ginger Beer are also great for travel, since they don't need to be refrigerated," says Akash Devaraju, co-founder, Local Ferment Co. Buy them here.
Travel-safe toiletries
Don't forget your bathroom essentials if you're attending a multi-day festival. Pantyliners, seat covers, instant seat sanitisers, urine funnels, underarm sweat pads will help a lot. Sanfe also offers a cramp relief roll-on that can help you with period blues. Buy them here.
Personal cutlery kits
Consider carrying your own cutlery to reduce contact as much as possible. Most festival foods are designed to be shareable, so even if you're eating from live counters, try to use your personal spoons and glasses. Bare Necessities has a cutlery kit that also comes with a reusable metal straw! Find them here.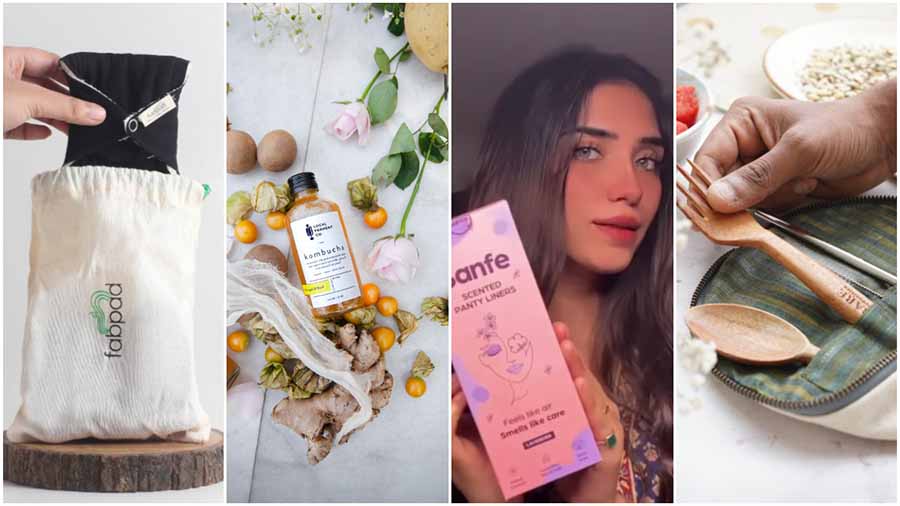 Fabpad's reusable pads, The Local Ferment Co's bottled Kombucha, Sanfe's pantyliners and cutlery set by Bare Necessities