As a Bengali there's no way you can avoid the influence of Satyajit Ray in your life. However, being brought up in a typical Bengali household, I was introduced to Upendrakishore Ray Chowdhury, Sukumar Ray, Leela Majumdar even before I came across Satyajit Ray; he was obviously the next natural stop. Like all Bengalis, I was an avid fan of Feluda and Professor Shanku. Naturally, the first Bengali film I ever watched was Goopi Gyne Bagha Byne and I guess it was destined to be a life that would be influenced by Ray!
Ray is an amazing teacher. The eye for detail is something you learn there. I think a costume designer's biggest success is when you don't notice the costume. They look so real on a character that you don't notice it unless it is quite iconic or dramatic. I must admit my sense of realism, no drama unless needed, came from watching Ray films and studying his sketches, use of fabrics etc.
Anik Datta is a perfectionist. He sent me the script to read and asked me to do the basic looks so that we can discuss. Even after agreeing on basic looks,we disagreed often on things and came to some kind of an understanding.
We exchanged ideas on how we should do things. I remember that my husband was in England and Anikda told me that if possible, I should ask him to look at hats, bow ties etc. These were not even needed for a significant character, but merely to create a look and feel. Anikda is as fastidious as that and even after all kinds of disagreements, I respect this, because this makes me grow as well. We used to dress and check each character in a crowd and there were hundreds.
I borrowed books from a friend who is a Ray fanatic and probably has almost all the necessary books. I read up whatever I could get my hands on, studied the sketches to understand his pattern and looked up photos from the period.
It was some work to get the right shape, style and design in everything, because apart from the main and significant characters there were many small characters and a lot of people.
Thankfully, the film is shot in black-and-white and that gave us some leverage. Our wardrobes were not spared, starting from my father-in-law's ties, bow ties to coats. So, whenever we couldn't make or source something, we begged and borrowed. Accessories like watches and glasses too were hired and bought. But all said and done, the whole team seemed to work together towards one objective… the film must work and we must give our best.
After the initial research and sourcing, it was more about staying as close to the look as possible. Every day it was some new challenge.
The actors, from the young to the elderly, were all very nice! They carried the look from the moment it was set. Some asked questions sometimes but most followed what was set. Jeetu (Kamal) and Saayoni (Ghosh) almost made it their style statement. The rest followed the characters and would wear clothes in the exact manner. It was quite touching how they looked after them and never left it unattended. One of the actors was so scared to take off his glasses himself that he would ask us to remove the glasses. Senior actors like Barunda (Chanda) and Paranda (Bandopadhyay) made some useful suggestions and I am quite grateful to them.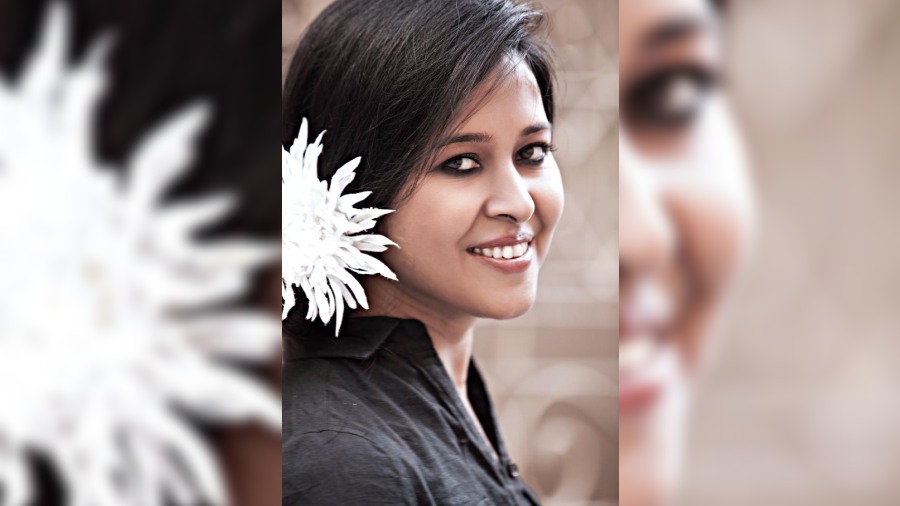 The author is the stylist and costume designer for Aparajito