"I have spent the last two decades creating a brand rooted in heritage, craftsmanship and a point of view that is authentically Indian. It's time for me to share this with the world" — says Sabyasachi Mukherjee in an official note shared by his company on the launch of his New York store. His first international flagship store that will open doors to patrons from today was soft-launched for a select crowd earlier this week. The pictures trickled out on social media soon. And left us awed! As always! Opulent, regal, decadent… the chandeliers, the artwork, the carpets, the woodwork… the same aesthetic that define his Kolkata and Mumbai stores…. The aesthetic that can now be called the Sabyasachi design DNA.
"Tucked away on a historic street in the West Village and housed within the Romanesque Revival architecture of The Archive Building, is Sabyasachi's New York flagship store. Between tall, stained oak archways, the signature Sabyasachi retail experience unravels — a labyrinthine immersive space that merges a cultural savoir faire with Indian decadence, craftsmanship and history. A non-linear sensorial journey from Kolkata to New York, a sort of new silk route, embodies the spirit of the store," says the note. While the overall creative direction of the store is by Sabyasachi, the architecture is by Luay Bahoora and light design by Wald Studio.
"While the intimate and indulgent interiors are reminiscent of the magpie-styled decadence of the old mansions and palaces of Kolkata, the brand's home and muse. Antique Dutch pottery, hand-fired tiles from Utah and inscribed aged mirrors are framed between curiosity cabinets sourced from souks and arrogant brass sculptures made in Kolkata. Leather-bound books and odd antiquities lie on retrofitted turn-of-the-century furniture with fine inlay work.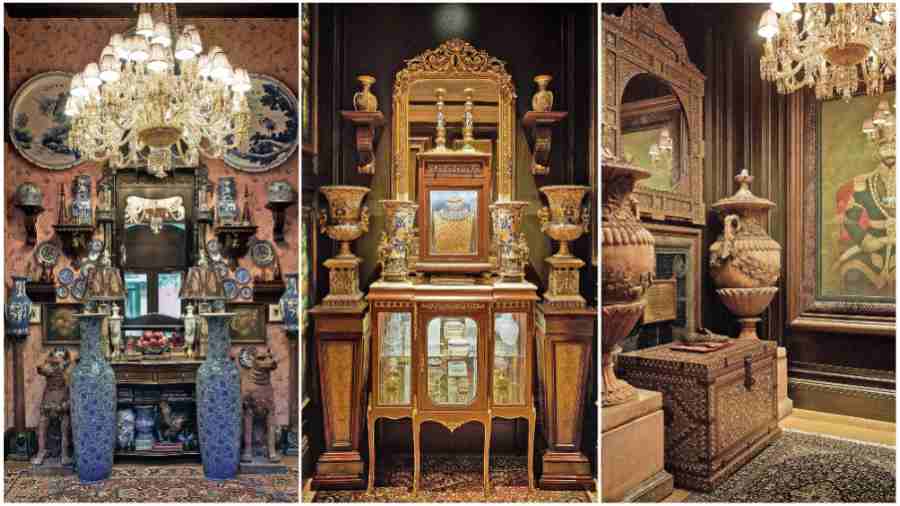 Glimpses from the Sabyasachi store in New York.
Store pictures: Bjorn Wallander
"The walls are lined with art made by the Sabyasachi Art Foundation and inspired by Qajar paintings from the Persian Dynasty, 16th to 18th Century Mughal miniatures and 19th century Company Paintings. These Modernist interpretations are juxtaposed with old Indian Pichhwais, vintage photography and rare lithographs. From Rajasthan to Bengal, vintage handwoven and crafted textiles from across India can be found all across the store, showcasing a sliver of India's grand crafts legacy," it elaborates, painting a vivid picture of the store.
While we feasted our eyes on the pictures, we reached out to Sabya in New York to talk about the store.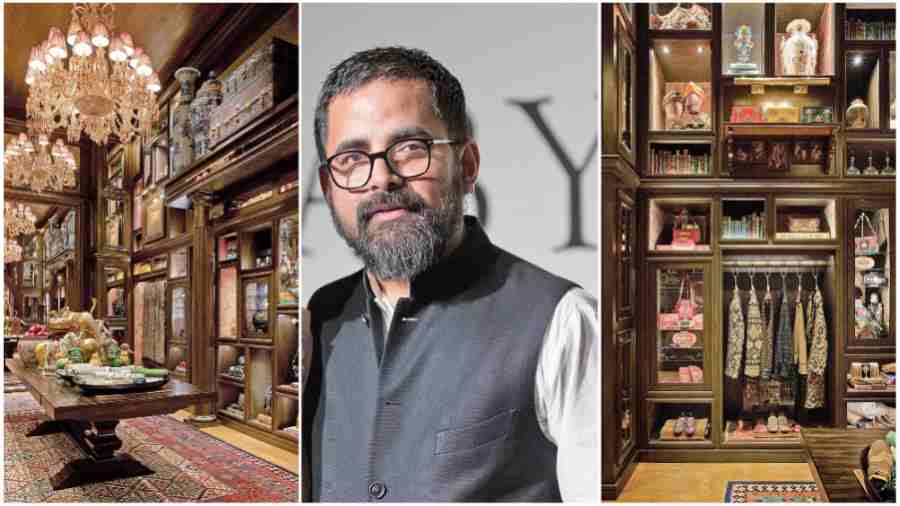 (L-R) Sabyasachi store in New York, Sabyasachi, his NY store
Congratulations on the New York store! Tell us how it feels to have your own flagship store in New York... it must be quite a dream come true....
I was always upset by the fact that while India has such a deep history of luxury but we weren't seeing Indian luxury brands proliferate the markets. I knew early on that I wanted to change that narrative. I wanted to create a design narrative that was entrenched in heritage and craftsmanship but that could be made relevant to our lifestyle today.
It was on my flight back to India from my New York Fashion Week showing that I realised that I was doing this all wrong. I got a great response there — I was even selling at Browns and Selfridges. But it didn't feel right. I realised that I had to first own my space in my own country and create a brand that was authentically Indian before I took it to the world. And now the time has come. So yes, it's definitely a bit of a dream come true.
From the pictures, it looks like the store is designed on the same aesthetics as the Mumbai and Kolkata stores. Does it follow the same design template or did you do anything differently in this store in terms of the design?
I think the aesthetic behind all my stores, including New York, comes from the spirit of Kolkata, that is so beautifully embodied in the old homes and palaces of the city. It's where art, culture, craft, heritage and history come together seamlessly but with a distinct point of view. It's layered together in this almost heady mix. Where legacy meets a certain intellectual sense of modernity, in how hybrid it is. And yet each is distinct and unique, there's a certain site-specificity to it. Each space and location renders a certain je ne sais quoi that is its own. The store in New York became almost a metaphor for the journey from Kolkata to New York.
After New York, which city are you eyeing for your next store?
After New York, I'm coming closer home and will be working on my new Mumbai store.