A few weeks ago when the Sony WF-1000XM4 released in India, there was hardly any room to fault it — perfect noise cancellation, Speak-to-Chat feature, adaptive sound control, lossless audio streaming… it was a sonic punch that knocked out many rival brands. It didn't come cheap and not everybody wants all these top features.
In case you don't have any need for noise cancellation, there is an option from Sony — WF-C500. It has signature Sony soundstage but the company had to cut corners to make it fit a budget. The obvious question is: Are these important cuts?
The feature that powers this pair of wireless earbuds into the top rung is the support for Sony Headphones app, which allows control over the sound profile with a number of equalizer settings to the point you can manually adjust things the way you want to. There is DSEE or Digital Sound Enhancement Engine, which basically takes any amount of compression you hear in the audio and make it sound as close to studio quality as possible. It upscales your audio and does a very good job with it. DSEE is a required feature because the only two codecs the pair supports are AAC and SBC. There is no AptX or LDAC but, given the price point, DSEE makes up for it. It's a great pair for most activities. And I didn't face any compressions issues or lag while films or playing games, even though it comes with Bluetooth 5.0 and not 5.2.
Where the pair of sound cans score well is sound, both in way of microphone and while listening to music. Even with only two microphones, calls come through clearly and far better than most inexpensive wireless earbuds in the market. As for sound, there is a good punch to it while the bass is not overbearing. What you have are a pair of 5.8mm dynamic drivers which pushes the buds to the limit to deliver mids that are clean while the treble is not just right and not too bright. In simple words, be it David Bowie or Kacey Musgraves, you will enjoy a fantastic soundstage.
There is IPX4 rating, allowing you to go running and it can even withstand splashes but don't go dropping them into the pool. I like the set of silicone eartips in the box, which offers a good seal while battery life is acceptable at 10 hours, plus 10 more hours from the box. Though wireless charging is not there, you can get an hour of usage with a 10 minute charge.
The device comes in a slightly longish box that easily slips into the pocket and uses button controls instead of touch. Like we said, it's for people who know their needs well and simply want excellent sound without any big features or out-of-the-box design, even though this one comes with a very good looking semi-transparent cover. What Sony has aimed for is top quality sound without breaking the band. WF-C500 does just that by offering a versatile soundstage.
At a glance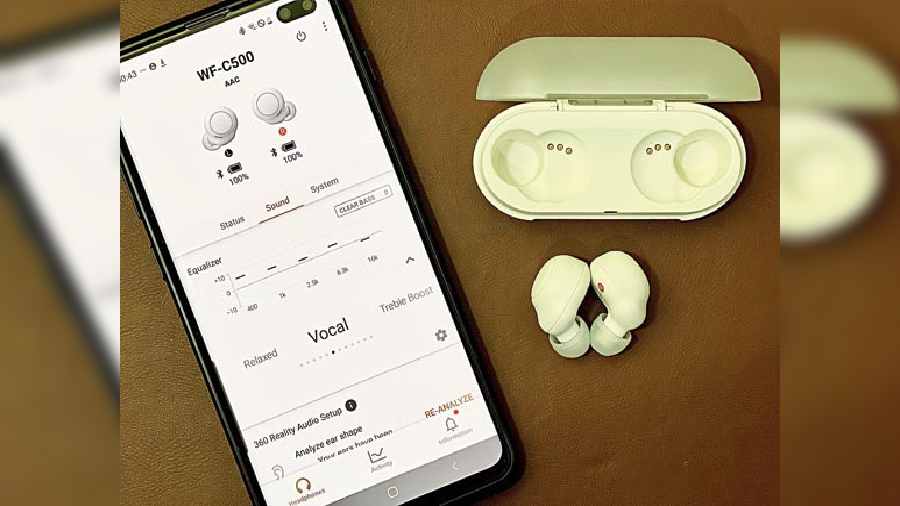 Sony WF-C500 works with the Sony Headphones app, giving users excellent control over sound profile
Device: Sony WF-C500
Price: Rs 5,990
High notes
• DSEE does a good job in upscaling audio
• Good soundstage
• IPX4 rating
• You can control EQ settings
Muffled notes
• No AptX support
• Battery life is slightly more than average