The festival of Bhai Dooj is celebrated across most states in India. In Bengal, it is known as Bhai Phota. The day, marking the bond between the siblings, is rounded off with mishti, savoury delectables, exchanging gifts, and the quintessential adda.
Several Tollywood celebrities celebrated Bhai Phota today, and they also did not forget to share a slice of their special moments with their fans and followers on social media. My Kolkata takes a look.
Veteran actor Prosenjit Chatterjee took to Instagram to share a throwback of himself receiving the phota because he couldn't be in Kolkata this time due to work commitments.
National Award-winning actress Paoli Dam, dressed in a peach and pink sequin-work saree, was all smiles as she posted a snapshot with her sibling and the rest of her family.
Popular television and film actor Vikram Chatterjee was also spotted having a good time with his sister. The Elaar Chaar Adhyay actor, who is set to star in Aditya Sengupta's forthcoming film, penned a heartfelt message wishing his supporters.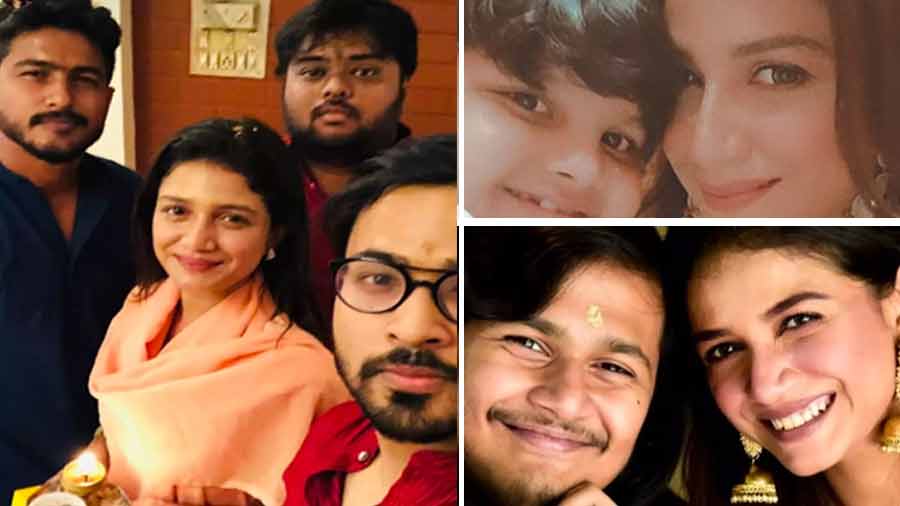 Sauraseni Maitra celebrated Bhai Phota with her siblings and fellow actor Rwitobroto Mukherjee
Instagram
Model-turned-actress Sauraseni Maitra, whose latest film Ekannoborti was recently released, recounted her Bhai Phota celebrations. The actress, who is close to fellow actor Rwitobroto Mukherjee after playing siblings in Mainak Bhaumick's Generation Aami, also shared a photo with him.
Sauraseni also shared a series of Bon Phota stories in which sisters exchanged phota.
Singer Iman Chakraborty shared her Bhai Phota plans while participating in a popular television cookery show, Rannabanna - Baro Mashe Tero Parbon, a few days ago. The National Award winner comes from a large family and talked about the gifts she receives each year on this day. The Rangabati singer is also known to celebrate the day with her bandmates.