Even as people grappled with COVID-19, came another new monster — monkeypox. The first known case of monkeypox was reported in India in mid-July. India has recorded 10 cases of monkeypox till date.
Here is all that you need to know about monkeypox:
Cases in India
The first person to be detected with monkeypox in India was a 35-old-year male who had come to the country from the Middle East, according to the World Health Organisation's South East Asia Regional Office in New Delhi.
The region "has been on alert for monkeypox" and countries (including India) have been taking up measures to quickly detect and take necessary steps to prevent the spread of the viral infection, said Poonam Khetrapal Singh, South-East Asia regional director of WHO.
The outbreak
Within a week of the first case being reported in India, WHO director-general Tedros Adhanom Ghebreyesus announced on July 23 that over 16,000 cases of monkeypox had been reported from 75 countries and territories. The multi-country outbreak meant a public health emergency of international concern. Such an announcement — also made for diseases like COVID-19 and polio — is the "highest alarm" from WHO and is meant as a "wake-up call" for countries, particularly when a coordinated international response is needed.
Origin of the infection
Monkeypox virus has been in circulation in some parts of Africa for decades, but, the current multi-country outbreak has sparked concern across the globe, with 48,844 cases and 15 deaths recorded across the world, as per the latest (August 29) figures from US Centers for Disease Control and Prevention (CDC).
Until now, India has recorded 10 cases of monkeypox and one death has been reported due to the viral infection.
What is monkeypox and how does it spread
Monkeypox is a viral infection that commonly presents with fever, headache, muscle pain, rash (that lasts for two to three weeks) on the face, palms and soles, mouth, throat, eyes, groin, and genital areas. Caused by the "monkeypox virus", the infection can transmit from animals to humans; however person-to-person transmission of the infection can also occur.
Person-to-person spread of monkeypox takes place through close contact such as face-to-face, skin-to-skin, mouth-to-skin or mouth-to-mouth contact (including sexual contact) with an individual who suffers from a rash because of the disease, WHO has said.
"Environments can become contaminated with the monkeypox virus, for example when an infectious person touches clothing, bedding, towels, objects, electronics and surfaces. Someone else who touches these items can then become infected. It is also possible to become infected from breathing in skin flakes or virus from clothing, bedding or towels," WHO said.
Travel can be a significant route for spread of infection and so airports need to be monitored.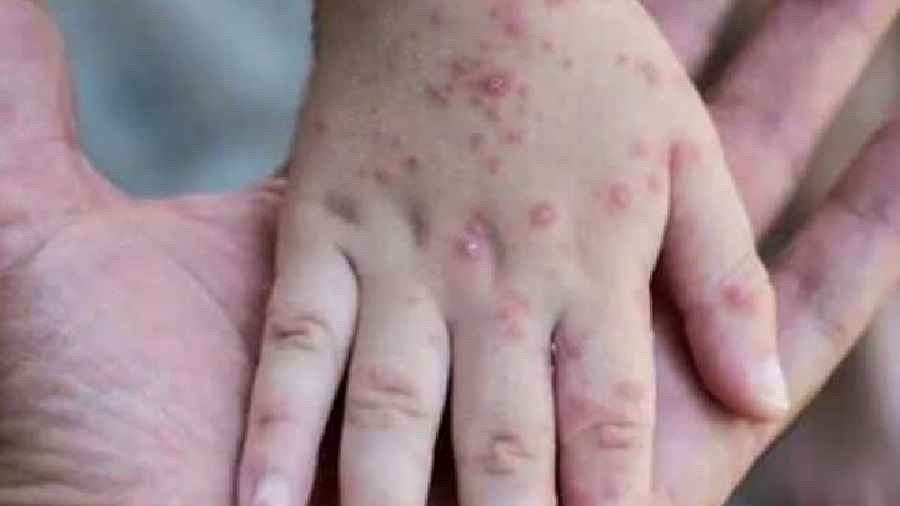 Monkeypox is a viral infection that commonly presents with fever, headache, muscle pain, rash
TT Archives
Symptoms of monkeypox
Symptoms of monkeypox usually persist for two to three weeks and subside on their own or with supportive treatment with medicines for fever and pain.
Asis Manna, vice-principal of the Infectious Diseases and Beliaghata General Hospital, said the virus causing monkeypox is similar to the smallpox virus. "Cases of monkeypox reported in Europe mostly involved younger people. The reason is younger people did not receive smallpox vaccine as they did not see smallpox epidemics owing to global eradication of the virus. But, older people in Europe and elsewhere, who witnessed smallpox epidemics in the past (and had received smallpox vaccine as routine), are unlikely to suffer from monkeypox infection, as they are, to some extent, also immune to the disease (monkeypox)."
In India too, older people who had received smallpox vaccines (until the 1970s) will be relatively less prone to monkeypox, as they already have some immunity against the virus, he explained.
Manna said individuals at the extremes of ages and people with co-morbidities might suffer more complications of monkeypox (for instance, skin infections, eye problems, sepsis, brain and lung infections). For infants, chances of pneumonia and multiple organ failure are relatively high. Ulceration (due to the viral infection) and subsequent scarring in the eye, for example in the cornea, may cause vision loss.
"As far as our country and our city is concerned, people who did not undergo smallpox vaccination in the past, those with low immunity or co-morbidities (due to any reason), infants, women with pregnancy and elderly individuals should remain cautious about monkeypox as they are more likely to catch the infection," Manna said.
Precautions to be taken
To prevent monkeypox, Manna suggested, people need to practise all the precautionary measures for COVID-19 virus — masks, sanitisation and distancing.
In addition to staying informed about the infection and its occurrence in an area, an individual should cut down his risk of catching the infection "by limiting close contact with people who have suspected or confirmed monkeypox, or with animals who could be infected", WHO has said.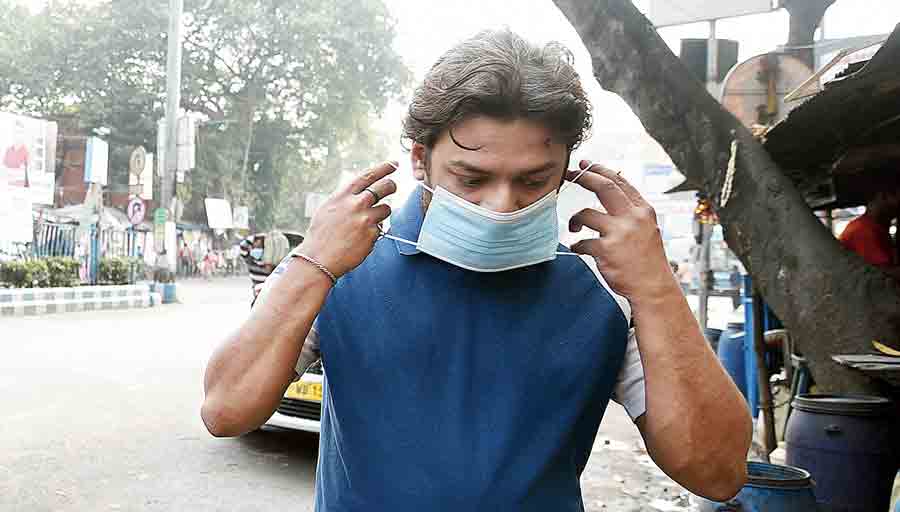 Precautionary measures for COVID-19 virus — masks, sanitisation and distancing — also apply for monkeypox prevention
TT Archives
Research on monkeypox
Researchers from Kolkata are involved in encouraging research related to the current multi-country monkeypox outbreak.
One such study co-authored by Chiranjib Chakraborty, a professor at the Kolkata-based Adamas University, explores "deeper disease investigations… to find out the transmission events of the recently rising cases of monkeypox virus infection in multiple non-endemic countries beyond Africa, which would help in formulating appropriate disease prevention and control measures".
Chakraborty stressed the need to educate people about the epidemiology of monkeypox, vaccination and treatment.
Dr Sanjeet Bagcchi is a physician and independent medical writer.