The famous Mumbai Marathon is on January 15. People from all over the country will participate and so will, in a way, the Apple Watch, which continues to gather steam in terms of sales.
A few months ago, Apple introduced the Watch Ultra, which is for anybody who wants to squeeze into a wetsuit to dive deep and equally for those who have marathons in mind. At the same time, Apple continues to make improvements to its regular line of the Watch, the latest of which is the Series 8.
There's a massive slate of sports and fitness features, especially in the endurance sports realm. For example, there's new heart rate zones that are now showing your workouts. You've got more expanded data field customisation. You can add running power and running efficiency metrics on your running workouts, you can get multisport mode that automatically switches between any sequence of swimming, cycling, and running workouts by using the motion sensors in your Apple Watch to detect workout patterns. If the iPhone had made its users fall in love with photography, the Apple Watch makes users improve their fitness game.
"With every race I fall a little more in love with running. At the end of every run, I'm better than I was before I started. I know my body better, because of the data I get through my Apple Watch — my heart rate, pace and cadence without which I could cause myself more harm," says Diya Nayar, triathlete and runner.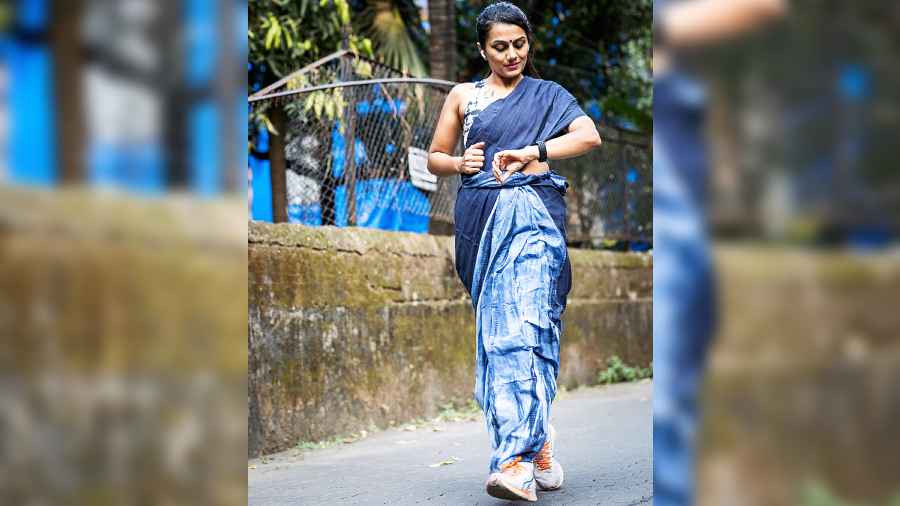 Swati Mukund, runner and fitness enthusiast, says it helps that the Apple Watch and the phone are independent pieces, yet connected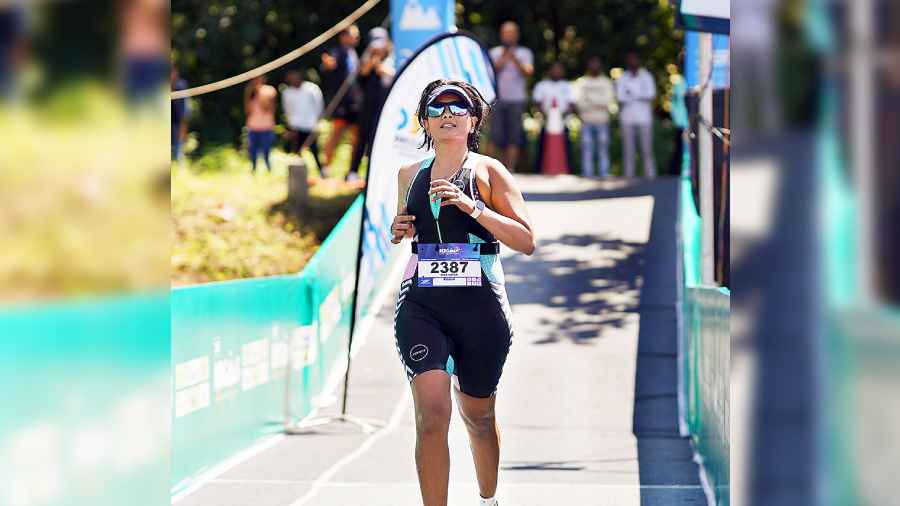 Diya Nayar, triathlete and runner, relies on the data she gets through her Apple Watch
Apple Watch Series 8 comes with all-day 18-hour battery life and builds on best-in-class health and safety features like the ECG app and fall detection by introducing temperature-sensing capabilities, retrospective ovulation estimates, Crash Detection, and international roaming. The device is powered by watchOS 9, introducing enhanced Workout app, sleep stages, AFib History feature, and an all-new Medications app. So, it's a device for everyone.
"My tryst with fitness began about five years ago and the activity log on the Apple Watch is testimony to how incredible the journey has been. With every upgrade, Apple has only made it more accurate and has encompassed more aspects to fitness and health," says Swati Mukund, runner and fitness enthusiast. She says that her Tata Mumbai half Marathon training with Apple Watch series 8 in tow has been a dream. "I've been tracking my speed runs, my long distance runs and the strength and weight training workouts on a weekly basis. The split wise analysis along with the pace, heart rate zones and cadence plays an integral part of the schedule, while being extremely user friendly at it."
It's not just about the hardware. The focus of Apple on the software side has made the Watch a lifeline for many. WatchOS 9 has new updates inspired by high-performance athletes. The Workout app now includes all new running form metrics like vertical oscillation, stride length, and ground contact time. There are new ways to visualise them with Workout Views including Activity rings, Elevation and Running Power, and Splits. Plus powerful training experiences like Heart Rate Zones, Race Route, Pacer, and a new Custom Workout help improve performance.
"I clear my head of any distractions, just listening to music on my AirPods. It's my body moving to the rhythm of the music. To fully enjoy the sport, I've learnt to tune in to my body — hydrating regularly, taking in the right amount of nutrition at the right time and adjusting my pace depending on how I'm feeling. It's been two years, and I can't wait to run the Mumbai Marathon," says Diya.
One aspect of the Watch that is of importance to people like Diya and Swati is cardio-respiratory fitness, as measured by VO2 max. Apple Watch estimates cardio fitness, or VO2 max, using multiple sensors including the optical heart rate sensor, GPS, accelerometer, gyroscope, and barometer, as well as user inputs like age, gender, and certain medications that affect maximal heart rate. The estimate captures a wide range of cardio fitness levels as users walk throughout the day, whether or not they are tracking a workout. Users can view their cardio fitness levels in the Health app on the iPhone.
In its latest software iteration, a big redesign has come on the Compass app, which now offers more in-depth information, new zoomable views for directions and orienteering, and the ability to add customisable Compass Waypoints to mark your position or a point of interest, and retrace your steps with Backtrack if you get lost or disoriented.
"The icing on the cake for me is the fact that the Watch and the phone are independent pieces and I'm still connected to the phone, without having to carry it on my runs. Being someone, for whom music forms an indispensable part of the workouts, the AirPods Pro and the GPS watch work like a charm. The music keeps playing and I keep running," says Swati.
The Apple Watch Ultra obviously offers more battery life but you can squeeze a lot out of Apple Watch 8 with Low Power Mode. Turning it on after a full charge can give you up to 36 hours of battery life on Series 8, based on typical use with your iPhone connected.
If not anything, there are Rings to keep one motivated to take care of the rings around the waist. "The thrill of closing the Rings feels fulfilling," says Swati.