What the audiences have really latched on to is the world of Shamshera. That is what is translating into a lot of appreciation for us," says Karan Malhotra, the director of the much-awaited period action film that brings Ranbir Kapoor back to the big screen after four years.
Set to release on July 22, Shamshera — that also stars Sanjay Dutt and Vaani Kapoor — has already built intrigue for its world-building and the looks of its characters. It also has Ranbir Kapoor in the first double role in his 15-year career. The Telegraph chatted with Karan — the man behind the remake of Agneepath, starring Hrithik Roshan, and Brothers with Akshay Kumar and Sidharth Malhotra — to know more about his latest big-ticket film.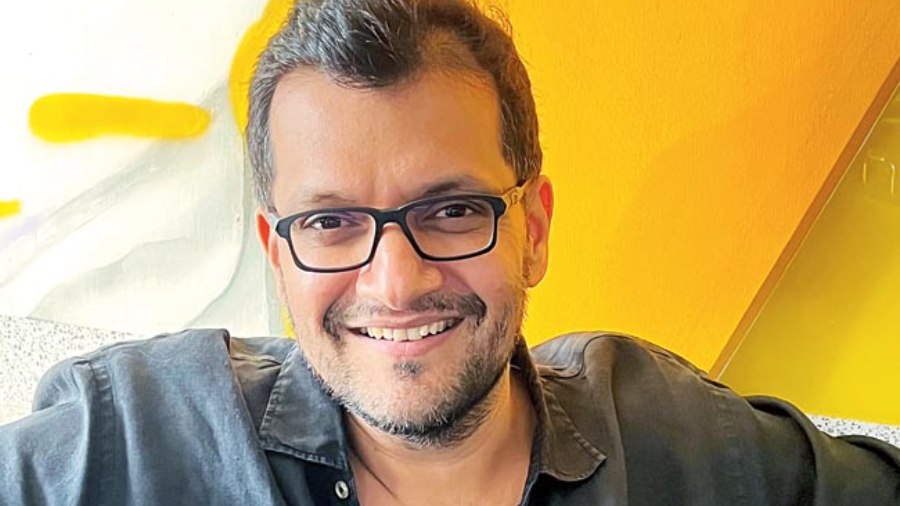 Karan Malhotra
As you mentioned, the world of Shamshera has grabbed instant attention...
Yes! In this film, we always wanted to build a world which, even if the viewers have never seen it, should look convincing to their eyes and mind. I love world-building and Shamshera is a film about that. It is one of the main characters of the film. And I think that we have achieved a world that should make people think ki pata nahin yeh hua tha ki nahin lekin ho sakta hain zaroor.
Shamshera is a period fiction film. It's not a chapter from history, it's not a social film... it's a period masala entertainer with the crafting of 2022. The sets were humongous, the looks of the actors had to be worked on rigorously — we had to make them creative, but at the same time, not dated or boring.
What was the starting point of Shamshera?
It started when I met Adi (producer Aditya Chopra of Yash Raj Films) and he offered me a couple of ideas. I latched on to this core idea, which eventually became Shamshera. My wife Ekta Pathak Malhotra and I built a structure, wrote the screenplay and that's how it all came to life.
Ekta and I have huge tiffs at home, there are a lot of screaming matches, but ultimately, we understand each others' emotions and look at how best we can put it on paper.
Ekta is the prominent writer in the team... I am the guy who narrates; I am good with my expression of emotion. But the sensitivity, the scale, the visuals that you will see in Shamshera is something that Ekta is an expert with putting on paper. It was a privilege for me to translate what she has written on paper into reality.
Working with Adi has been an eye-opener for me in many ways. As a producer, he didn't let me worry about the administrative and production part of film-making. I never had to worry ki yeh kaise hoga aur kab hoga. Whatever I wanted I was provided with. To make Shamshera the kind of film it has become today, I was given whatever I desired unconditionally. Everyone was absolutely on board with both the commercial and the aesthetic aspects of the film. Working on this film has been very liberating for me as a director. 
Agneepath was a remake of the eponymous 1990 film, Brothers was an adaptation of the American film Warrior. Without a reference point, were the challenges more with Shamshera or at least were they different?
First of all, you are the only journalist I have spoken to who has ever used the word 'adaptation' for Brothers, and I am grateful for that. Coming to your question, the challenges of making any film. In terms of production, Shamshera is definitely the biggest film I have done so far.
Honestly, when one is making an adaptation, there is a certain subconscious pressure to deal with. That's because you were working on a version of something that's already out in the public domain and people have loved it. With Shamshera, I had the freedom to fly high without someone looking over my shoulder and saying, 'Theek bana raha hain ki nahin? Better bana raha hain ya worse bana raha hain?' (Smiles) Not having that burden of judgment or comparison to a previous work definitely helped me soar higher.
The pandemic paused everything globally for two years. What was it like waiting with a film as big as this for close to four years?
There was a bit of frustration. But I have to say that there was not a single day in all these years when we stopped nurturing Shamshera. Shamshera, I think, also demanded the kind of time it took. I can't complain. I got enough time to nurture my film, love it and now eventually give it out to the world. I feel that the film has the best possible presentation I could ask for.
There's been so much talk about Brahmastra being Ranbir's big comeback, but Shamshera releases a good 45 days before that film. The audience always expects a lot from a Ranbir film, and now even more so, with Shamshera releasing four years after Sanju. Are the expectations a little worrying or is it a good pressure to have?
I think it's a very healthy pressure to have. I need pressure to not be complacent and also to up my game every time. I hope we live up to the expectations of what the audience expects a good Ranbir Kapoor film to be.
This is also Ranbir's first double role...
His journey in the film can't be encompassed in words... you have to watch the film to understand it. The two characters (Shamshera and Balli) that he plays are complete opposites, in terms of their graph, their catharsis, their journey, their language, their body language and all of that. Ranbir has pulled off both these extreme characters with huge finesse.
His process is very internal. Looking at him, you will not feel that he's trying a lot, but the moment he comes in front of the camera and gives a shot, you realise how much thought and effort has gone into each scene.
His look is very interesting. How did you arrive at that?
Whether it was Agneepath, Brothers and now Shamshera, this part of film-making is a very organic process for me. I do like to see actors in spaces and appearances where we might not have seen them in before. Doing a period film is a great opportunity for a director like me to create a new look for an actor. I normally make sketches for every character and every scene, and the looks, by default, automatically appear on paper. That's what happened with Ranbir's looks in Shamshera, and they are really being praised after the trailer dropped.
Are you a fan of the genre? Any firm favourites?
I definitely am a fan of the genre. If I wasn't, I wouldn't have been able to make Shamshera. But my love for films is not limited to one genre. I like films as varied as Ek Ruka Hua Faisla, McKenna's Gold, Saudagar, Eyes Wide Shut.... I am fortunate to be educated by some great cinema and that's been my only education as a film-maker.
There's been so much talk about how big Bollywood is not working as much as south Indian cinema. A few months ago we had RRR, a film in the same genre as Shamshera, making a killing at the worldwide box office. Why should the audience, now increasingly used to waiting for big-screen releases on streaming platforms, go to the theatre and buy a ticket for Shamshera?
I think all the successes that have happened of late, irrespective of the industry they belong to, have been inspirations. It just shows us that we have to constantly keep upping our game... do better work and successful work. So whether it's RRR, Bhool Bhulaiyaa (2), Pushpa or KGF (Chapter 2), they have all made a huge mark at the box office. The audience has accepted these films on a huge basis and that's a fact that no film-maker can deny.
I try not to take this pressure because it hampers my work. When I am shooting, I go in all guns blazing with my conviction and make what I would like to watch on screen as an audience. I stop my outside-world thought process there.