Once upon a time' got a whole new meaning with the launch of a delightful track (the national anthem of Bombagarh) from the highly anticipated Puja release Hobu Chandra Raja Gobu Chandra Mantri. The fairy-tale drama, which has been imaginatively mounted and lavishly executed, will air on Jalsha Movies on October 10 at 2pm.
"It was very important for me to produce this film. I am extremely happy and honoured to have worked with a talented group of actors. Arpitadi (Chatterjee) was perfect as Rani and Subhasishda (Mukherjee) was so good as Mantri. The song is a favourite of mine," said Dev at JW Marriott Kolkata.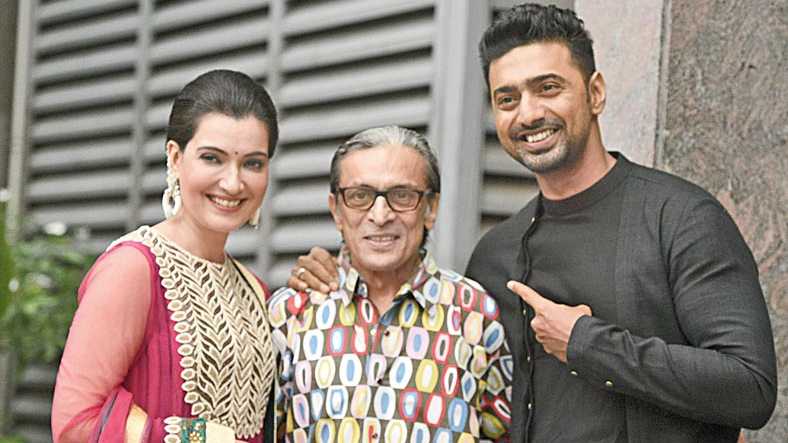 The title track evokes nostalgia and memories of childhood. Kabir Suman has composed the music of the film. "Cinema is language agnostic now. This film has an archival value. From Day One, I was really excited to be a part of this film. Dev as a producer works with so much passion. He believes in the content and executes it with honesty," said Arpita. A large part of Hobu Chandra Raja Gobu Chandra Mantri — directed by Aniket Chattopadhyay — was shot on the awe-inspiring sets of Bahubali.
The film tells the story of a king named Hobu Chandra, who was the king of Bombagarh. He was very kind and generous. His subjects were happy and content. There was enough food and drink for everyone. The king had a wise octogenarian prime minister who used to give good advice to him. Everyone in Bombagarh was happy with their king and prime minister.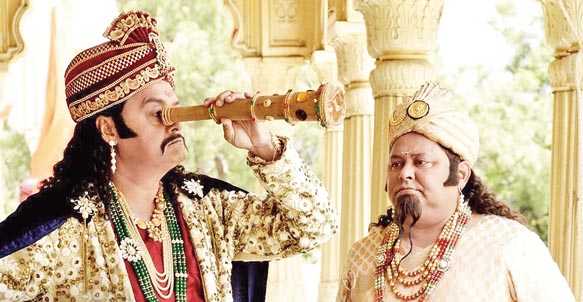 Saswata Chatterjee and Kharaj Mukherjee in the film
Then the king got married to the princess Kusumkumari of Chandragarh. It was a time of celebration. There were magic, song and dance performances. And then one day the king saw someone standing and staring at them, his dress and look was not like the others, he seemed to be a foreigner in Bombagarh. The king called him. The man came and introduced himself as Gobu Chandra from Gujjar Kingdom.
"Fairy tales attract us. We feel really happy when we as adults watch these stories unfold on screen... when imagination and visuals match. Hobu... is that kind of a film with that huge grandeur... it is so colourful, the film transports you to a different world... and the characters are so relatable," said Subhasish Mukherjee. The film is produced by Dev Entertainment Ventures.
Pictures: Rashbehari Das