Newly launched Calcutta-based designer label Kloth By Trineel held its first luxury fashion show at Roots on August 29. Called Agomony, the show was a star-studded affair and was classified into five segments, the first four for womenswear looks for the four days of Durga Puja and the last for menswear. The collection consisted of gorgeous saris and lehngas, as well as casual dresses and office fits, reflective of Kloth's inclusive collection. The menswear collection also turned heads for its eclectic mix of traditional prints and Western designs.
The event was attended by several Tollywood celebrities including the cast of host Trina Saha's latest project Pilkunj and by celebrated city designers. Tolly actors Aparajita Adhya and Saurav Das were the showstoppers for the evening. Aparajita looked like a dream in the colourful lehnga she so gracefully carried, while Saurav made the audience go wild with his experimental look in a black, heavily studded blazer. The beautiful rooftop space of Roots with Victoria Memorial shining in the background was the cherry on top as the guests enjoyed sumptuous dinner and drinks. Snapshots.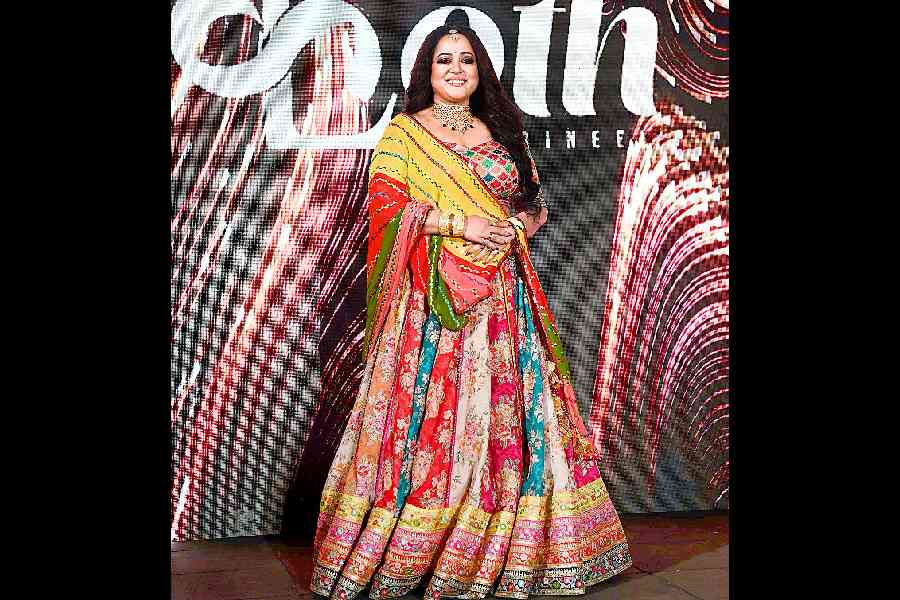 Showstopper and Tollywood actress Aparajita Adhya looked stunning in a multi-coloured, gorgeous lehnga appropriate for wedding rituals. Different coloured panels of a similar fabric were stitched together to create this look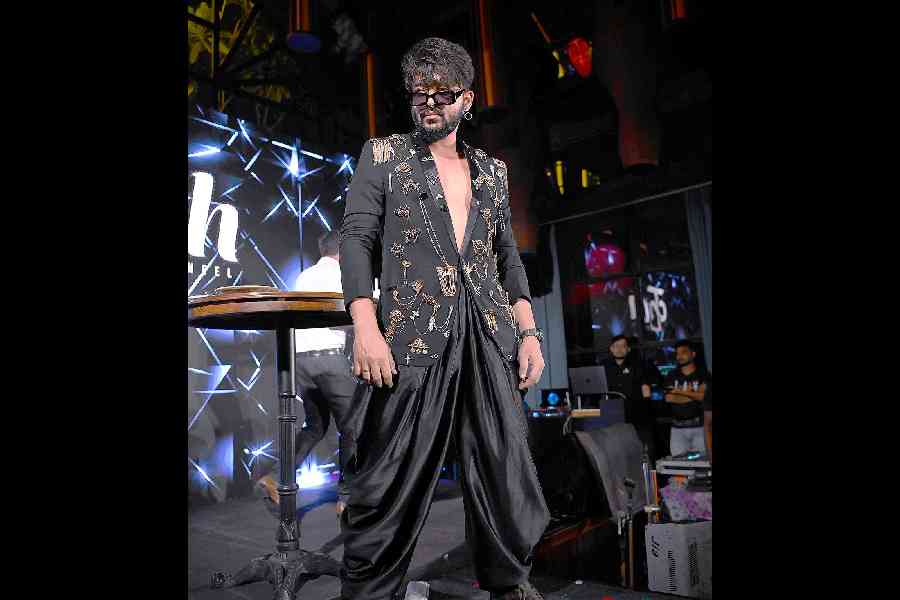 Menswear showstopper Saurav Das aced experimental fashion as he posed in gold and black. He nailed the look with an embellished blazer with lots of brooches on it, paired with layered dhoti pants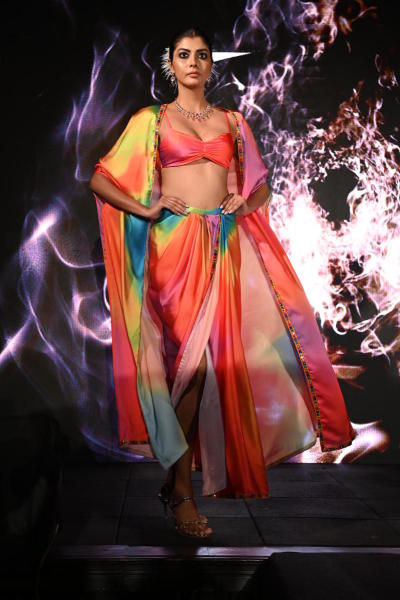 Model Barbie in a rainbow three-piece co-ord. The bralette blouse was teamed with a cape and a draped skirt. Made of poly satin fabric, it looked comfortable and lent itself to beautiful colour-blending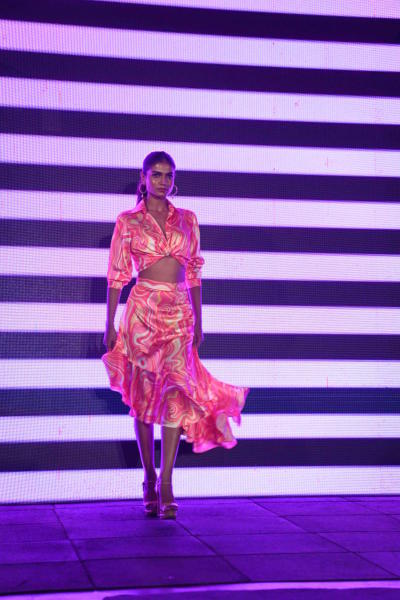 Model Ankita sported a shirt and skirt co-ord set. It was flamboyant yet subtle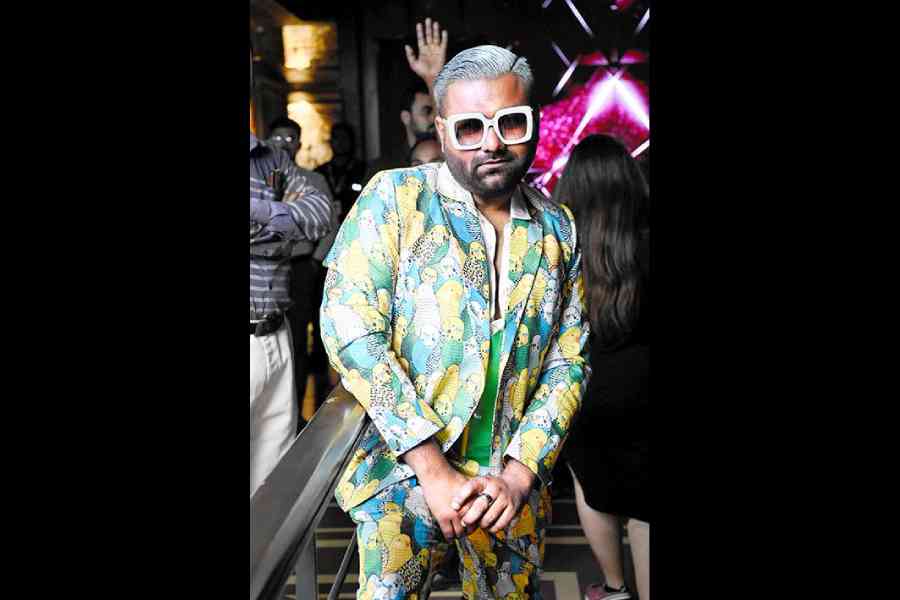 Kloth by Trineel designer Neel Saha looked stylish and quirky in a budgie-printed pantsuit with a latex waist corset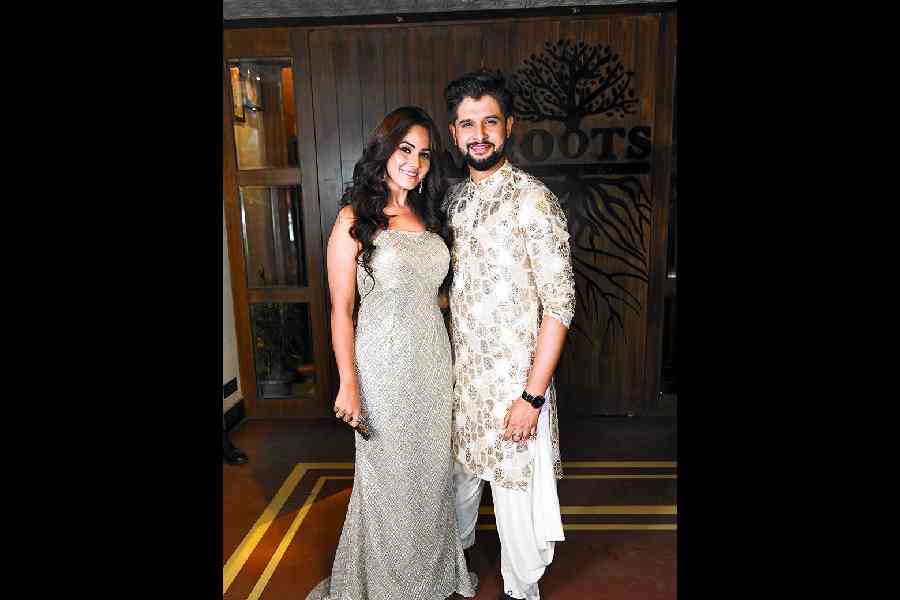 "My experience of curating this collection was fantastic. Neel (Bhattacharya) and Trina (Saha) were both involved intimately in the designing process. Trina is a fashion icon to me and she incorporated every notch of her design sensibility into this project. Our aesthetics matched and we gave our everything to create this collection of saleable art," the designer said.
"We have been planning to launch our fashion brand for quite some time now. But our work commitments had been keeping us busy. Finally, we decided to devote time and work hard to make it happen and here we are. A special thanks to Neel Saha, our designer, for turning our vision into a reality. We hope everyone visits our store at Jashoda Bhavan in Gariahat ahead of the Pujas. The speciality of our store lies in the choice of customisation given to customers. We mix and match prints and designs according to their choice and make the size tailor-made for the wearer's comfort. We are extremely enthusiastic about fashion and I hope our new endeavour receives a lot of love and acceptance among the city fashionistas too," said co-founders of Kloth by Trineel, Trina Saha and Neel Bhattacharya.