The pandemic saw a cloud burst of cloud bakeries and it hasn't stopped raining since. If you're looking to satisfy that sweet tooth with a cheesecake or craving a bite of oven-fresh cookies, try ordering in from these promising city home bakers.
Sakura Bakery by Shirley Chen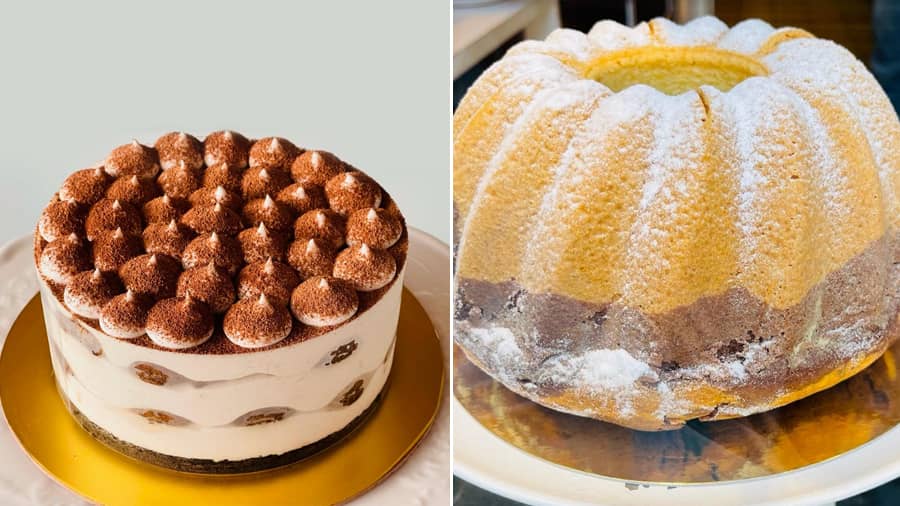 Tiramisu and Mango Chiffon cake
Sakura Bakery
From Japanese cheesecakes to Swiss rolls, muffins, cookies and brownies, this three-month-old home bakery brings to the plate what many offline bakeries do not. 
It was started by 42-year-old Shirley Chen in May 2022. "I always wanted to follow my passion, which I hoped to share with everyone. At the same time, doing something on your own is empowering and challenging. I hope my brand will resonate with others and motivate them to pursue their dreams," says the graduate in business studies from Bhawanipur Education Society College.
Shirley and her small team operate from her home in Tangra and offer delivery and takeaway options. "Apart from our regular menu, we also offer customisation as per clients' requirements," she signs off.
How to order: DM the page on Instagram and Facebook or ping them on Whatsapp at 9860826888, two to three days in advance (approximate price for two — Rs 650)
Upcoming menu: Sakura Bakery tries to incorporate new items every 15 days, details of which are available on their social media accounts.
Citron Patisserie by Radhika Chatterjee and Srishti Seal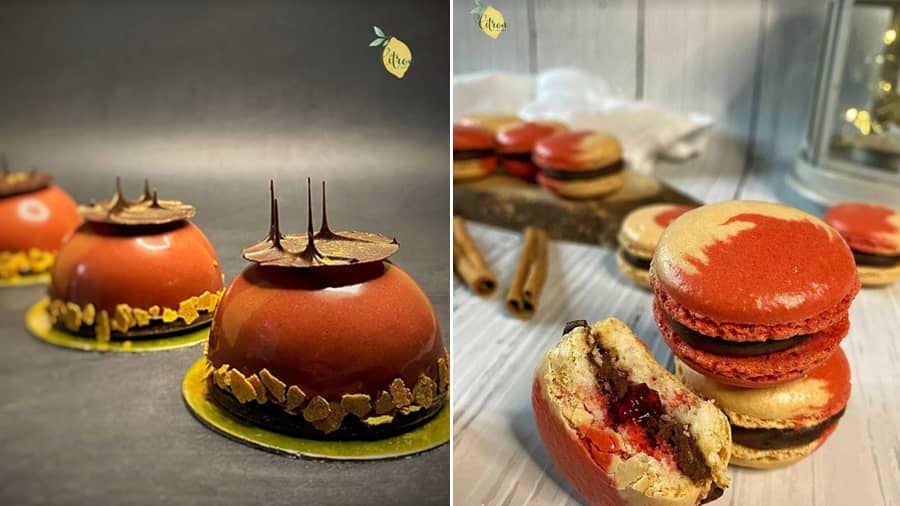 Spiced berry and dark chocolate cake, and berry and dark chocolate dome
Citron Patisserie
Citron was founded in August 2021 with the goal of "bringing beautiful yet hearty desserts to the table".
"We wanted the food that we create to stand out in terms of flavours, using the best quality ingredients," says co-founder Radhika Chatterjee.
Some of the items that are selling like hot cakes are the Butter Croissants, Opera Cake, Mushroom Galettes and Cheesecakes.
"Apart from the regular menu, we have special weekend bake-sale menus and festive menus. Customers generally prefer having delivery arranged, but pick-ups are also welcome," adds Chatterjee, who, with co-founder Seal, operates from their cloud kitchen based in Salt Lake.
How to order: Reach them on Instagram or call / WhatsApp on 7439928387, 24-48 hours prior depending on the order. (Approximate price for two — Rs 400)
Upcoming event: Catch them at The Festive Tour by The Art and Flea Project at the Villa, 8 Madeville , Ballygunge on September 3-4, 2022.
Moodie Foodie by Manasvi Kabra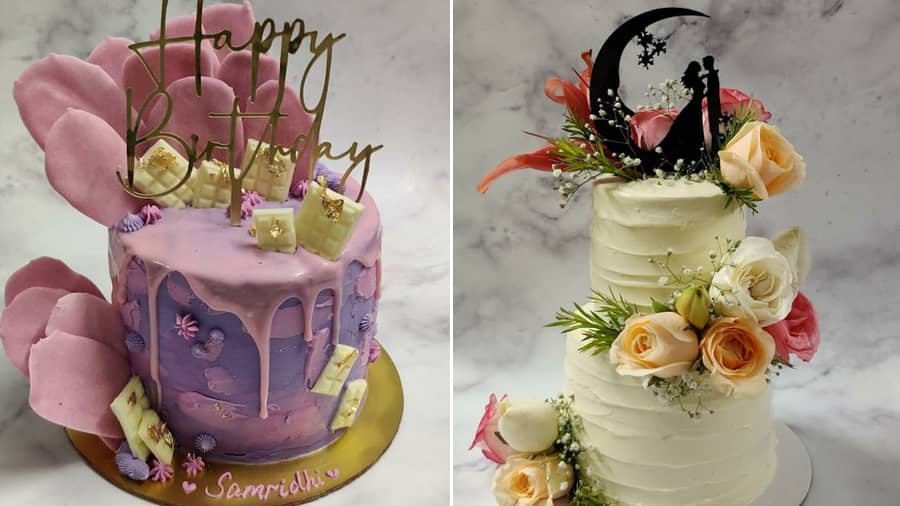 Custom buttercream with chocolate ganache cake and a two-tier wedding cake with fresh flowers
Moodie Foodie
Manasvi, 23, did not let the pandemic defeat her dreams of being a baker.
"I had my bags packed for Singapore when the world suddenly stood still because of the pandemic. Over the next year, I realised that my dream of becoming an entrepreneur was about to be a reality sooner than I had anticipated. Instead of starting on a grand scale as I had planned, after I had amassed some capital, I decided to take fate into my hands," says Manasvi, who started Moodie Foodie in March 2021.
Customised cakes are the USP of Moodie Foodie. There are also brownies, regular cakes, tarts, cookies, doughnuts and a host of desserts. "I even make fresh bread on occasions," says the IHM Aurangabad graduate, who operates from her cloud kitchen in Tollygunge with an assistant.
Apart from the regular menu, there are special menus/sales depending on the occasion. "Thanks to Swiggy Genie and Dunzo, I deliver across the city, but you are very welcome to drop in for a pick-up as well!" she signs off.
How to order? You can reach out through Instagram or call/WhatsApp on 9875445373. Orders need to be placed ideally two-three days in advance. In case of bulk/party orders, at least five-seven days in advance. (Approximate price for two — Rs 500)
Upcoming event: Catch her face-to-face at the Pili Taxi Devi Edit at Sudha Hall, Ballygunge, on September 9-10.
Cookey Monkey by Simran Kapur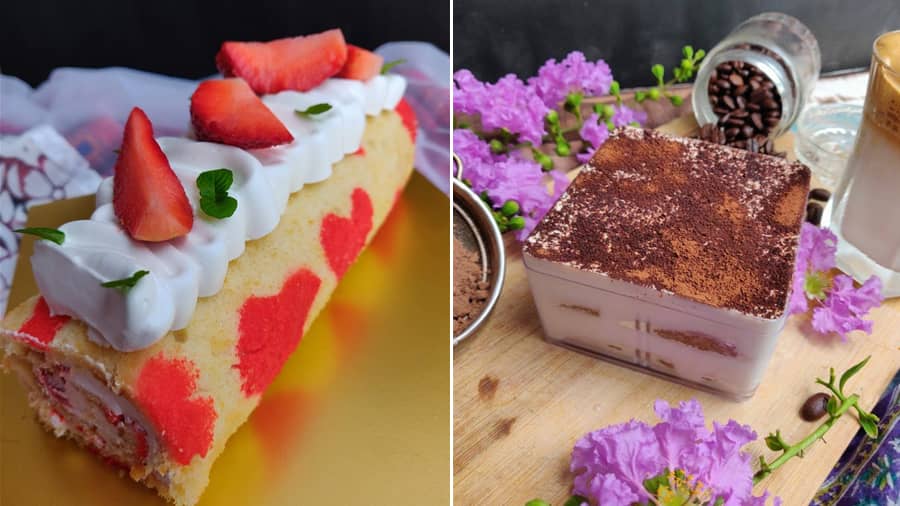 Vanilla strawberry Swiss roll and a classic tiramisu
Cookey Monkey
When Cookey Monkey started in August 2020, there were only 10 products on the menu; now there are more than 45 sweet and savoury treats.
Some of the best-sellers are the Stuffed Garlic Bread with a Cheesy Dip, Double Chocolate Chip Cookies, Sweet Chocolate Buns, Brownies and Cookie Sticks. And even Date Night Meals/Family Dinners!
A self-taught baker, Simran Kapur shot to local fame when she won the IIHM Young Chef India Schools 2013 edition. She went on to pursue journalism in Ireland, and was between jobs when the pandemic hit.
"I had to pack up my entire world and move back to India in a day. I found myself without a job or purpose. Cooking and baking was literally the only thing that kept me sane during this period. This is when I started Cookey Monkey and it was supported by the entire Kapur clan," says the Modern High alumna.
It's a family affair now. "Mom manages the finances, nanima is the sous chef and dad fills in as delivery executive in times of dire need," smiles Simran, who runs the cloud kitchen from her Salt Lake residence.
How to order: Contact them via Instagram and Facebook or through WhatsApp on 9007204775 between 9am and 10pm. Orders are taken at least 24 hours prior and in case of customised cakes and hampers, 48 hours prior. (Approximate price for two — Rs 600)
Upcoming menu/events: Cookie Monkey has recently launched Crunchy Nutella Twisties, Choux Buns with Coffee Mousse and Sweet Chocolate Buns. Coming soon – a bake sale on the occasion of their birthday.